Microsoft gearing up for Xbox One X launch events around the world
By Dan Thorp-Lancaster published
We're just two weeks out from the Xbox One X launch, and Microsoft is gearing up for launch events around the world.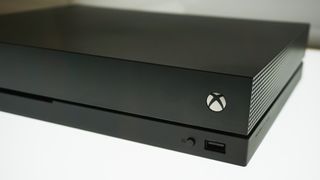 Microsoft has revealed (opens in new tab) its launch plans for the Xbox One X, announcing how gamers around the world will be able to participate in release events for its latest console. Not only will there be the livestreams to check out, but Microsoft Stores and other retailers will be in on the launch as well.
The easiest way to tune in will be via the Xbox Mixer channel, where Microsoft will be offering a look at its launch activities. The stream will run for one hour on November 6 at 8:00 p.m. PT/11:00 p.m. ET until 9:00 p.m. PT/midnight ET when the Xbox One X launches in the U.S.
If you happen to live in the New York area, Microsoft is also hosting an event at its flagship Fifth Avenue store on November 6. You'll be able to pick up your preorder, place an order, or just grab some Xbox swag and enter a contest to win a Samsung QLED TV. If you're outside of New York, Microsoft says its store locations across the U.S., Canada, Puerto Rico and Sydney will also host events (opens in new tab) on November 6. Other retail locations, including Best Buy (opens in new tab), GameStop (opens in new tab), and EB Games (Australia and New Zealand), will open up late for the launch as well.
Finally, gamers across Germany, France, and the UK will also have some special events to check out. Here's a look at what to expect:
Germany: On November 6, fans in Germany will be able to attend a gaming event hosted by PietSmiet, LefLoid, Gronkh and Ninotaku on Berlin's largest 4K theater screen for 700 fans. The event will be also streamed on mixer.com/xbox.
France: On November 6, fans are invited to tune into a seven-hour non-stop livestream on mixer.com/xbox hosted by one of France's top YouTubers in central Paris. More than 200 French fans and celebrities will gather to play new titles and celebrate the launch of Xbox One X, culminating in a midnight launch event at France's flagship store at the Champs Elysees.
United Kingdom: Broadcasting live from the Xbox One X Loft in London on November 6, join us for the "Countdown to Xbox One X" on mixer.com/xboxuk and all Xbox UK channels for our extended livestream as we count down to launch with some of our favorite games.
Xbox One X is set to for launch on November 7 around the world. Microsoft's latest console packs a ton of extra horsepower over the base console in order to deliver 4K resolutions, enhanced visuals, and better framerates across a swath of games. The console is largely sold out at most retailers, but Microsoft is still taking preorders (opens in new tab) ahead of launch.
Will you be attending any launch events for the Xbox One X?
See at Microsoft (opens in new tab)
Xbox One X Enhanced games list
Dan Thorp-Lancaster is the Editor in Chief for Windows Central. He began working with Windows Central as a news writer in 2014 and is obsessed with tech of all sorts. You can follow Dan on Twitter @DthorpL and Instagram @heyitsdtl. Got a hot tip? Send it to daniel.thorp-lancaster@futurenet.com.
Can't wait. This is a proper new console.

The industry is moving away from generational upgrades. The old days of a new console launch with a handful of games that launch with it while you wait a year for new games to come out for it are over. The Xbox One X is a new generation ending console. Think of it this way: Take the most expensive PC money can buy, say $3500 gaming PC, install a game that shows it worthiness on it, then put that same game on the One X(or even pro for that matter), it the game looks very similar, play very similar, and perhaps the only difference is fps and texture quality, AI then...Generations are over... My point is this, what could a next gen console look like that's not already out there in some form compared to a high-end PC?? The same (aside from fps, texture, draw distance, AI) Remember when console where fun and arcades had the best stuff, Now arcades are basically dead because consoles have enough power to create games that look and play better than a $20k arcade board.

It's not "the industry" that's moving away but that's what MS announced last year. MS already said that all upcoming XB1 will be playable on the original XB1, the XB1s and XB1x.
If they weren't lying, it means that the XB1x won't have games that will only be playable on it. So this basically mean that it's just a more powerful XB1. Technically older hardware will always have limitations. So there will be a time in the future where games will no longer be able to run on the original XB1. At that time MS will either have to announce a new console (new gen.) or have games that are going to only run on XB1x (which meant that they lied to us). If they bring a new console that can run certain games that won't run on the original XB1 then it is a new generation. You are obliged to have generations. Even PC has generations. Generations of OS, GPU, CPU.

Didn't PlayStation just do this? Isn't that "the industry" now? You can't even count Nintendo in the mix anymore as they just do whatever they want and are already doing what Microsoft thinks it will do in the mobile space, compete by itself on the side of the main two. I'm not aware of another game console company at the moment. Also, the PC does not have 'generations' as PC games are almost always backwards compatible and can be played on nearly all future hardware. You also have many, many different configurations of machines that play current and past games. Some with new and old hardware at the same time!

Yes, Sony has also done a more powerful mid gen update. But I'm not complaining here. I'm just saying that there are going to be generations. That's why they are called PS4pro and XB1x. PC has a whole doesn't have generations but we've had OS, GPU and CPU generations.
BC isn't the definition of a new generation. The Wii U is still a new generation even though it can play most Wii games.
But a new generation of OS for example will eventually mean that upcoming games won't run on older version. (I can't run Recore on my Windows 8 PC)

MS will release a new Xbox in 2020/21. It's not a new generation. Xbox One S will stop having all games made for the console when the next arrives. That hardware will be 7 years old. The one X will become the new base model till 2024 when they release another. Each console will have a lifespan of 7-8 years. And each console will be the most powerful for a time and the base model for a time. Meaning power gamers can upgrade every 4 years. And those who aren't fussed can upgrade every 7 if they wish. This is what MS meant by no generations. It's nit hard to understand. And with MS track record BC will be always with you I'm sure.

All you posted is just speculation. And even then your maths is all wrong. The XB1s was released in 2016. If a "new XB1" comes in 2020/2021 then it means just a 4-5 year lifecycle. Also you're basically telling that generations will still exist. Your specualation is just that they are just adding a new mid gen console in between generations. lol Meaning spend 500 + online bucks in 2013, spend another 500 in 2017 another 500 in 2021. Plus spend 60 bucks/year for online. That's like 1240 bucks in 4 years. LOL And that's not including the 500 bucks or so if you want the amazing game pass and EA access renting services). Who said gaming on XB1 is cheap... :)

What is best buy doing for this, aside from opening late?

Wait, from some of the comments we have been seeing here lately, everything Microsoft shipped for consumers was late, inferior to the competition, and DOA. So why is Microsoft shipping when they said, receiving rave reviews and verifiably better than the competition (who released a product that was only half way complete), and with consumers ordering in large quantities?

What comments? Can you post the links here?

If you have not seen the comments on this web site falsely claiming that Microsoft is doomed because everything they ship is late, a poor product, will be shut down within days being shipped, then you don't read here too often. Edit: Oh, what the hell. Here is a comment that someone wrote yesterday: "Nothing new here. Same old bull coming out of Microsoft lead by a admitted failure at giving the consumers what they ask for." From today's article about Microsoft supposedly being behind the competition, when the competition has not shipped their project yet while Microsoft has: "Microsoft, late to the party again??? No!!" or "I think Microsoft is doomed from now. No one is standing with them". Or even more simple "Microsoft is dead" I could go on and on and on and ... Try reading first before commenting.

Oh sorry but I don't read EVERY topic on this site. I only read XBOX topic. You see I'm not a MS fanatic to read news of every of their product. These people were commenting on various Ms products based on their feeling/experience. None of the comments you posted said that every product from MS was coming late. The problem is that you sound like a MS "fan" and every criticism of MS sounds like a personal to you. If you have something to say to people why don't you say it to them there and not come here and complain? I don't think anyone here in the XBOX section said this was DOA and it won't get released in time or something. You really need to relax. MS is just a company, we consumers can criticise it. And when we do we are not insulting you personally.

Microsoft's world has 21 countries.

LOL Here they talked about 7 countries...

Does anyone know what ms is offering for trades on one s

Gamestop rep said today that the now rate for a x1s 2tb is 130 but after launch it should be 180. I'm debating on trading or just selling it or keeping it for extra room. I really don't like doing business with them! I donate games to goodwill or salvation army before I sell to them for a few $.

The launch seems almost guaranteed to be a snooze-fest. . .
Windows Central Newsletter
Get the best of Windows Central in in your inbox, every day!
Thank you for signing up to Windows Central. You will receive a verification email shortly.
There was a problem. Please refresh the page and try again.