Microsoft gives Zune users update details plus 1,000 MS Points for Xbox Music launch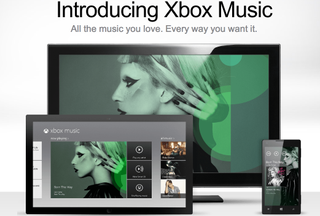 If you're a current Zune Pass subscriber, you may want to check your email. Microsoft has just sent out the Xbox Music update details for those who are using Zune Pass and what's more, they're throwing in a 1,000 MS Points to celebrate.
Those points (worth $12.50 or an average album) can be used "on any of the music, video, or game content on Xbox LIVE". (Wait, we're still calling it Xbox LIVE?)
The email gives a straightforward description of what Zune users can expect. Zune accounts are automatically migrated over to Xbox Music meaning there is nothing to do except redeem your 1,000 MS Points. From the email:
"There's nothing you need to do. Your Zune Music Pass is now an Xbox Music Pass, giving you access to everything you enjoy today and a whole lot more."
More music – Stream or download songs from one of the largest digital music catalogs on the planet ... over 18 million songs and counting.
Cloud connected – Build your music collection and create playlists. They effortlessly sync across your Xbox 360, Windows 8 tablet and PC, and Windows Phone 8 so your music is accessible anytime, anywhere.
Save your favorites – On your Xbox 360, create playlists and pin your favorite artists for easy access to the music you love.
Import playlists – On Windows 8 tablets and PCs you can import your Zune Music collection, including playlists you've created.
Keep listening – Your Xbox Music Pass will continue to work in the Zune PC software and on Windows Phone 7 devices.
Not a bad deal and while we're at it, you can head to the new Xbox Music website (opens in new tab) to get even more details.
Daniel Rubino is the Executive Editor of Windows Central, head reviewer, podcast co-host, and analyst. He has been covering Microsoft here since 2007, back when this site was called WMExperts (and later Windows Phone Central). His interests include Windows, Microsoft Surface, laptops, next-gen computing, and arguing with people on the internet.
Awesome! Can't wait when everything is done released this year! Microsoft looks like it'll take 2012.

The end of 2012 and 2013 are going to be demolished by Microsoft. And that's no fanboy statement. You can just feel it and smell it in the air.

Mmm nice touch Microsoft!

I was just wondering if I should renew my zune pass when it expires in a month. Looks like I'll keep my pass then. :)

um I dont see my 1000 pts and dang it I thought they were gonna get rid of points

I just got the email a few minutes ago, make sure to check your spam folders just in case.

The email contains a code you have to redeem on xbox.com to get the 1000 MSP. If you click the "redeem" link in the email it will send you to that page with the code already entered in the textbox.

they'll be getting rid of codes probably at the end of the year. Here's a recommendation to everyone, get points while you can at a discounted price, b/c once the transfer happens, they're not going to discount $10 to $8 if you're following me.
WPCentral is quick! Got the email 3 minutes before the article was written, nice job!!!

They are not getting rid of points. Microsoft already said that Microsoft points are here to stay. They just wont be used on WP8(just like WP7) and Windows 8. They will only be used on Xbox.

my apologies, didn't know it has updated very recently, b/c the word on the street way back in January of 2012 was that they were going to be a thing in the past. Thanks for clarifying

Just got the email. How cool is that?! I am still praying that they don't neuter my $15, 10 songs a month plus unlimited streaming/downloading is sweetalicious. Unless someone else knows something I haven't heard?

Hmmm...Odd, I put mine to the 9.99 plan two months ago still had credits, cancelled it last month, still got charged again today!

They won't. I recently pre-paid for a year and I still have the 10 song per month account.

Whee, points! Time to spend it on Happy Wars, lol.

I'm still grandfathered into the original Zune Pass plan that gives me 10 free tracks per month along with the rest for $14.99. I wonder how/if this is going to work going forward.

Same here, though I am hoping nothing changes as I read some time back when they came up with the 9.99 subscription...

Nice, a couple more free movies. Thanks MS!

Mines doesn't contain redeem code I clicked everything

Be sure to read through the email. It says what the code is written in the email.

Mine did but my wife's did not. Interesting.

Yeah, I got my email a little while ago. I love the pass, I still have the original where I get 10 song credits a month. They'll have to pry it from my cold dead hands if they want to take it from me. It pretty much single handedly made stop torrenting. It's just so damn convenient to be able to find and stream or download almost anything I want. The 1000 ms points were very nice too.

+1 not torrenting music since I got Zune pass

I received the e-mail, but do not see anything about getting 1,000 points free. My points total is still the same as well. /current Zune pass subscriber.

No word about supporting out Zune devices....or has that already been announced?

My g/f has the 8gb Zune and am wondering the same if she'll be able to use her device on Windows 8.

They say this "Your Xbox Music Pass will continue to work in the Zune PC software and on Windows Phone 7 devices." which I would assume means Zune devices should be okay too...I don't see why they woudln't.

Exactly. No worries there mates.

No email or points...but I do have a question. If you have a win 8 PC, but still have a WP7 device, how are you supposed to sync your phone? XBOX Music software or the "formely known as Zune" software?

Right now you just use Zune. Will probably remain like that.

Is it only the $15 subscription cuz I dropped mine to $10 no need to keep 10 songs a month if u r gonna renew every month

I'm wondering the same thing. $10 plan and no email yet.

Nevermind, just got it :-)

Just received mine and the quick redeem link that auto populates the code for you was a nice addition. Took less than a second to get points.
points will still work for a long time even if you have the option for straight cash. As their is a large amount of cards out there in retail and a lot of people with balances. I was one of those people that did not mind the point system as I understood why they did it. But I think the option either way is great.

Its says Zune still works for Zune and wp7 and ur subscription as well

Its says Zune still works for Zune and wp7 and ur subscription as well

If Zune does not exist for Windows8, what happens after you upgrade?

It already does exist. You can run Win 7 applications on Win 8. I have had Windows 8 since developer preview and have used Zune with it through every iteration including the current RTM. No one panic. Windows 8 is like Windows 7 but they gave the start button it's own screen and made it all way faster!

Got mine too and now going to watch the walking dead with them. Thx Microsoft!

Received the email exactly as it's pictured, but no code to redeem.

You gotta love the way MSFT takes care of early adopters. 25 gigs of SkyDrive storage for O.G hotmailers, WP 7.8 to keep our 1st. Gen hardware feeling current, now basically a free album for being a Zune user... That's awesome.

Will it work if I have my account pending and on the $10/month one?

This 1000 MS points is sweet! This is why I love you Microsoft. Looking forward to Xbox music too

Literally hit this email 30 seconds before your article, way to keep up on things Daniel

Can we still stream it via zunehd? Or even put music on it anymore?

I got email with points. But my wife has a Zune subscription too and she got an email without the points

Xbox Live was never part of the Windows Live offerings. I doubt that name will change ever.

No sign of a link for redeem 1,000 points. I don't think it's for everyone.

my email from them has no points wtf...I have had this service for years

Same here....email w/o point. Maybe it's because I pay for the whole year and not month to month

Paid for whole year too and no points lol

I pay for the whole year and got my 1000 points. I've had the Zune Pass two years, first year was with the 10 free tracks, but I dropped it when I renewed late last year. Doesn't seem like monthly vs annual or with/without tracks makes a difference, but who knows.

Ya....no redeem points for me either!! :/

got the email, no point. what gives?

Did you scroll al the way down my link was near the bottom.

Got my points! I love how MS rewards you for being loyal. I've also gotten free xbox games just for filling out surveys for them.

Nothing yet. Been a Zune Pass subscriber for three years. Are they still going to grandfather those of us on the $14.99 plan where we get to keep 10 songs a month in, or is that gone?

I am pretty sure they'll keep that. Or at least I hope so.

Awesome!!! Got my 1000 points. Thanks for the heads up!!!!

Happy like the hippo. :D

Roughly 15 songs, 5 SD TV episodes, or 4 HD TV episodes (with some leftover points)... not a bad freebie at all. I don't see that kind of awesomeness from the leading music content provider...

Got my 1000 points about an hour ago! It's nice to see Microsoft helping out current-gen Zune subscribers. Zune Pass is definitely my pick as a music service. I do have a free Spotify account I use on the side, just as a backup.

I got the email but no code

For those who received no code, do you mind me asking what subscription you have or how long you've been with the service? I have the old $14.99 a month pass that lets me keep 10 songs permanently per month. I have been a subscriber for three years. I have yet to get an email about the switch, but was told there may be a delay as they email out subscribers.

RDIO has earned my business in Canada.

Email with no points. Currently on the $9.99 a month no free music download. This sucks but still love Microsoft

Thanks for the points MS.

Ok looks like im gettn a Zune pass again oh shit I mean Xbox music pass

I know this is off topic but they just aired the surface commercial during dancing with the stars..

Well, if you go to the website and then look at their picture for a phone... it looks a lot like the tablet... and I think they are showing their Surface phone or at least a draft.

is this to US subscribers only ?

I've had my zune pass since windows phone 7 first came out and not yet had any email :(

Same here, nothing for me in the UK.

Another one here in the UK without such a gift :(

Me too, nothing, nada, nichts. Looks like it's US only. It sucks to be in UK at the moment.

Well, Microsoft finally sent me some points, 8 days later. Maybe I'll be more patient in the future. Thanks Microsoft.

Looks like us Brits are out in the cold... no email yet... MICROSOFT THERE ARE NON US USERS USING YOUR SERVICES... I've got an Xbox 360, WP7, W7, planning to get W8 on my desktop and perhaps MBP too, WP8, and maybe a Surface. But I want to know I'm getting the rewards same as everyone else...

Got my email earlier today but it didn't have any code. Grr.

I got the email, but it doesn't have any place to redeem points.
I pay for a full year of what would be the $9.99 service and I'm in Canada.

Haven't got my email yet....waiting...

Free Points should be noted in the message header, like; "Welcome to XBox Music - and some Microsoft Points just for you". Two year Zune Pass (annual payment) subscriber here with the 10 free tracks per month option. Got my email at 6:05PM EST.

No points in my email, that makes me a sad panda from Canada.

Got my code.. Notice that the market place name changed also, plus it loads things a lot faster now..

Still never received an email and I pay for the full year subscription. US resident. :-(

Wonder if this will be available in any other countries, wouldn't mind trying it in New Zealand...

I haven't had an email yet about Xbox music never mind free points and yes I am a Zune pass subscriber.

If im not Zune Pass subscriber, i cant listen free music?? pls answere

The press release only mentions that free streaming will be available for Windows 8 and Windows RT devices in 15 markets initially. In the small print it goes on to say that there will be limited hours of free streaming after six months. From the same small print it looks as though there will be no free option for Xbox 360 owners as it mentions you'll need additional subscriptions (each sold separately).

This is all anyone knows at this time.

Saw this article, went to email, got my 1000ms points. Redeemed it on my account. Then my Xbox can't read my games now and looks like I have to send it in.

Well haven't received mine yet. I have the month to month Zune pass subscriptiion. Jealous.....

must have been random customers getting 1K in MSpoints. I am a monthly Zune customer and an annual Xbox live customer, I received the email, but no redeem button and still no 1K in MSpoints in my account :(

Were the hello are my points I have hard Zune pass for a year now

I still haven't gotten the email yet and I have had my Zune account in good standing since Zune first came out! What's up with that?!

I got the email but but no points. I was wondering if its an XP vs W7 kind of thing. I am still running XP (for a few more weeks).
Update: An online customer support personnel told me it was only sent out to a "subset of customers". When I asked her what was the criteria for the subset, she replied, "That information has not been released to us."
The plot thickens.

I just found my email, but no mention of points or any codes on it. I have used the Zune Pass for years, but some months I stopped/paused my subscription. Currently am using the $9.99 plan but had it for this whole month and had no points. US resident. Sad.

The subset appears to be the grandfathered 10 free tracks users. And the reason may be that the grandfathered plan is going away. My friend also has the 10 free track plan and just had his monthly renewal today. The charge on his bank acct was $9.99 for the first time and he did not receive any credits. This could be bad.

I've not received an email yet; I'm hoping they are staggering it in certain countries (UK).

I never got an email, or 1,000 MS points. Figures Zune worked just fine, so they roll out a poor exuse for an upgrade called Xbox music. Good job on ruining a good thing Micro$ucks
Windows Central Newsletter
Get the best of Windows Central in in your inbox, every day!
Thank you for signing up to Windows Central. You will receive a verification email shortly.
There was a problem. Please refresh the page and try again.