Microsoft has trademarked a mysterious 'S' logo for 'video games and consoles'
A new trademark "S" logo has emerged, specifically for use with "computer game software" and "video game consoles."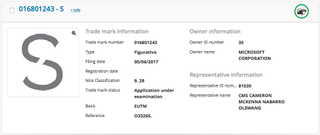 As we draw ever closer to E3 2017, the hype is reaching fever pitch, and Microsoft are positioning their pieces for the big holiday console war.
The headline for Xbox fans will be the full unveiling of Project Scorpio, Microsoft's beastly 6 TF console designed to power 4K gaming.
One of the biggest mysteries about Scorpio revolves around what it will actually be called. Microsoft may have provided us a clue today with this recent trademark filing.
The trademark shows a mysterious "S" with a gap through it. The idea of it being a logo for the new Xbox seems slightly odd, considering we already have the "Xbox One S," but perhaps it could be a brand specifically designed to highlight the Xbox One S as Scorpio's cheaper, 1080p cousin.
The details of the trademark listing refer specifically to both games and consoles:
Computer game software for use with personal computers and video game consoles.
Video game consoles for use with an external display screen or monitor; video game interactive remote control units.
The official EUIPO listing was unearthed by the steely-eyed denizens of NeoGAF (thanks Nick!). Whether the "S" refers to the Xbox One S, Scorpio, a game, or something else entirely, we shouldn't have to wait too long to find out the truth.
Stay tuned to Windows Central for all the latest news and rumors emerging from E3 2017, which kicks off on June 11, 2017.
Get the Windows Central Newsletter
All the latest news, reviews, and guides for Windows and Xbox diehards.
Jez Corden a Managing Editor at Windows Central, focusing primarily on all things Xbox and gaming. Jez is known for breaking exclusive news and analysis as relates to the Microsoft ecosystem while being powered by caffeine. Follow on Twitter @JezCorden and listen to his Xbox Two podcast, all about, you guessed it, Xbox!
Xbox Surface. A surface specifically for Xbox play anywhere games

I hope it's for a game. For a console it would look weird juxtaposed with the Xbox logo.

Xbox One S (2nd gen) ?
Xbox Scorpio (you can fit X on the gap Xcorpio, 8corpio sounds similar :))

That barely seems trademarkable...

I hope they keep the name Scorpio in the final console.
It just feels spicy 😃.

Xbox Surface!
No need to push, I know my way out.

Okay guys, It's a Surface Box. Cheers!

SXbox pronounced "sexbox"

"It's muh sexbox and her name is sony!"

At this point, after one year of calling it "Scorpio" and having created awareness about that particular name in consumer minds, Microsoft would have to be pretty stupid to not just call it "Xbox One Scorpio". Yes, it doesn't convey anything about the console. But then again, neither does "Xbox One" or "One S" anyway. And at least everyone already knows what the Scorpio is.

You posted something actually meaningful! You get a gold star :)

Well, they used Project Natal for about a year before changing the name to Kinect. So it's not unlikely that they would do the same here. Hopefully not since Scorpio is a nifty name.

Let's not forget Project Spartan before they rebranded to Edge.

Both valid arguments. HOWEVER Spartan was the codename for a browser no one really cares about and Natal was the codename for something that no one wanted.
My point is, the level of consumer awareness for both (aka hype) was nowhere near that of the Scorpio.

Xbox Scorpio. No need for the "One" :)

The original XBox One was so named because it was supposed to be the "one" system you'd need to manage all your media (TV, cable/satellite, DVD/Blu-ray, streaming video, video files, music, games, etc.). So yes, the "One" does have meaning.

Except that concept is long dead. So the One no longer carries any meaning ;)

S stands for Hope..Or Sup...

Maybe they are going to have it on the game box or in the store page to signify 'Made for Xbox Scorpio' or 'Looks the dogs boll**ks on Xbox Scorpio'

I actually like the name scorpio, so personally I think it would be nice if they keep that name. I hope this is a new game though. I think they NEED more games.

I don't see an S, I see a broken 8 or two C's playing footsies.

XBox Surface. It would fit with the premise that Surface is a premium brand and add the console to the family, only thing missing would be a mobile device (not a phone, been made clear that if a new device is forth coming it will be way more than a "phone".)

S for Xbox-Supreme Edition!

It's an Xbox that is running Windows 10 S, no physical media, download titles only. God I hope that isn't the case.