Microsoft Health app updated with golf-based challenges for Microsoft Band owners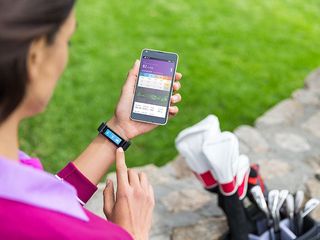 Windows Phone and Microsoft Band users who are also fond of walking around a golf course and hitting balls down the fairway now have some new things to try out. The Microsoft Health app for Windows Phone has been updated with ways for golfers to keep track of their activities if they own the wearable fitness device.
Microsoft announced these features would be coming a couple of weeks ago, in collaboration with golf club company TaylorMade. Here's a reminder of just what golf players can get out of the update:
Before you play - Take advantage of TaylorMade's comprehensive course finder on your mobile Microsoft Health app to quickly find the courses near you, and once you're on the green, the tees you are playing from.
During your round - As you step onto the tee box, our on-board GPS sensor will automatically detect the hole you are on and display your score for the hole you just completed. A simple press of the Microsoft Band action button, whether on the fairway or off in the deep rough, will give you accurate distance to the front, middle and back of the green. The Microsoft Band keeps track of your score with its automatic shot detection and simple swipe interface for those gimmies or occasional mulligan. There may never be a need to carry a paper scorecard again. Meanwhile, advanced sensors track not only your strokes but also your steps, heart rate and calorie burn, seamlessly adding a round of golf into your fitness routine.
After your round- Afterwards, dig into the data behind your performance on the Microsoft Health phone application (iOS, Android and Windows Phone) or web dashboard. Check your score, longest drive, number of pars or better per round, pace of play and by signing into TaylorMade's myRoundPro, view your shots plotted on a map of each hole on the course. You can also view how your heart rate and calorie burn varied during your game – hole by hole – and analyze how it affected your performance. Your golf rounds will be accessible to you via Microsoft Health, allowing you to look back at your prior performance without needing those old scorecards.
In addition, the Microsoft Health app also has some unnamed "bug fixes" as part of this update.
Download Microsoft Health from the Windows Phone Store
Windows Central Newsletter
Get the best of Windows Central in in your inbox, every day!
These new additions to the Microsoft Band really are making it a very versatile piece of tech. Excited to see where it goes in future.

This was a pleasant surprise. Can't wait to try it out. Already requested a couple of courses that I play that aren't on the list.

I just broke my screen last week! I was so excited for this feature. Hopefully, I get it replaced soon.

This is very niche, but very cool. These types of things will bring people around to Microsoft without being all "in your face" like Apple Music.

Since I am a golfer I am now convinced that I need one of these Bands! :)

Band 2....soon to be on a wrist near me :)

Yet no decent social sharing. Unbelievable!!!!

Always a cry baby in the crowd. This update is great news, don't try and rain on our fun.

Capablities look great, but I would have thought that there should have been a social component in there. It'll get people aware of MS Health and the Band as well.

Crybaby my a*s, the comment is pertinent, instead of adding niche features you should have a complete social sharing. Electronics for fitness heavily rely on social integration to be successful. Get real.

Golf Acessories are not exactly a niche. Only because you are not interested in this sport does not not mean that noone else is. I personally wouldn't know what to do with social sharing on such a device. A golf feature seems like a very feasable addition to me.

What social sharing do you need?

If you are asking this then you have never tried to share your Run (or anything else) to facebook for example. Only a sad string is shared both from app or website. And while you might not use social sharing you have to know that it is a very needed feature for fitness electronics and far easier to implement than this golf feature. Realeasing this and not decent social sharing shows (once again) that MS does not have direction.

I sync with Strava which makes sharing via Social media a breeeze, don't need another method

Workarounding is not fixing :)

I cannot download it it says band error anyone know what the problem is?

Same, guess we will see another update in the near future

I also get the "Band Error".

Try reinstalling the Health app, that fixed the band error for me. After reinstalling it, I got a firmware update, and I can use golf now.

Not as big of a course selection as I would have hoped. I can play a good four courses near me and only one is available... (the one I play the least) so that's kind of frustrating

Request one right in the app. Do it now!

Very anxious to hear some feedback. Might be a good reason to take the plunge.

So far only for USA and UK

It appears that some of you are able to get it turned on and saved. I am also getting the "Band Error" when saving after flipping on the tile. For those who have it working WP8.1 or WP10? I get a band error on the latest WP10 build and was wondering if that is the issue. A.

It works to reinstall the Health app. I was not getting the Firmware update, but after reinstalling the Microsoft Health app, I got the firmware update popup. Did the firmware update, and now I can use Golf.

I can't download the update on the storeS on win10 mobile 10149... Only the previous (non golf) version will install...
Store will throw an error during install (OS version not supported)...
Store Beta only gives me the previous version.
I guess i will have to wait a big more...

Yep. Same issue here. I cannot update my band.

Try to reinstall the Health App, that fixed it for me. I believe the app will offer the firmware update in a few hours or so, but if you don't want to wait, reinstall it.

yep, this worked for me. WP8.1, L920. Can't wait to try it. I'll stop by any golf course on the way home.

I am so stoked for the Band... 2. :) Can't justify buying the current version right now though. This is very tempting in terms of functionality though.

Maybe my battery level is too low? I'll give it a whirl when I get home...

Anyone else having trouble logging into the Microsoft Health dashboard today?

Reinstalling worked! Thank you for the tip!

Actually works on Win10 mobile build 10149 now. It will give a connection error sometimes but just keep trying and it eventually syncs correctly. I had to re-pair my band and try syncing about 5-6 times before it took. But it finally works now! Yay!

The app won't reinstall now. Guess I'll try again tomorrow

I just noticed that with the newest firmware my Band actually renders emoticons now!

Apparently background synching is also a thing now :-o

Wow, I asked for this at MS store last month, never expected to actually get it.

Who cares a golf app? It would be better if finally alternate email accounts would be displayed in the region setting Germany.

Requested two courses near me this morning. Hope they are quick to update. With TaylorMade as the vendor partner, should be. Once you update the app (uninstall/reinstall if you get the "band error"), go into the app hamburger menu and go to the "Find a Course" menu and watch the video to see not only what the app can do now... But also what the plan is for the future with TaylorMade Pro service. Very nice feature for us duffers! Just requested a similar feature for skiing and hiking.

WOW ... Now I definetly need to get my hands on a Band. Is it available in Europe?

After unstalling and reinstalling app to get new update to work I have come to find out that Cortana does not work when I go to push the action button on my band. Is any body else having this problem? If so please advise.

So too fix this I had to factory reset my band and pair again with my phone.

C'mon Fitbit, Tag Heuer...license the Band tech already​!

Has anyone got the update that is using TP W10? I have checked several times today and nothing. Also uninstalled app and reinstalled from Store Beta.

I'm on the latest version of W10 mobile and after a couple hours of trying last night was finally able to get the MS Health app to update. I tried using the store beta, the old store, and installing it from an SD card. I don't know which one worked but I eventually saw the ability to choose a course and sync it to my band. Luckily I did that last bight because when I went to open the app this morning it wouldn't allow me to, saying there was an error with my SD card. Anyway, I went golfing using the band and it was quite the experience. It took almost a full round to realize I could go back and forth to different holes and correct the score by double pressing the action button. If you aren't a really good golfer and have to chase your ball around on or near other holes you will have to make sure to tell the band to stay on this hole or it will move on to the one you're playing from or are near. When tee boxes are near the greens it sometimes thinks you're on the next hole too. It did a pretty great job at recognizing shots vs practice swings. I would actually say it didn't score a single practice shot as a stroke but it did miss a couple of actual shots. Now the only problem is that when I uninstalled and reinstalled the health app from the Store Beta it is back to the old app without the golf activity section. When I check my tiles the golf app is now listed as a 3rd party app. How how how can I get this app back up to date?! I really want to look at how it scored my round and all the data!

What's the difference between this and the other Microsoft health app?

This Dowloaded perfectly on my Android Samsung S4. I used it the same day and it was decently accurate, I could not find how to go back to a previous hole to make corrections. If I got to the tee on the next hole, the band automatically noticed and moved on. I agree with the person about social sharing. I would love an easy button press to show some of my other buddies final score ( with or without handicap) and on what course for competition purpouses and fun. I was a little suprised it does not have a sharing feature. Also I was able to sign up on the Taylor Made site, but they are not ready for login's yet. It is still down.

Loving the Golf App!!! can hardly wait for the TaylorMade app to be available. I wonder how they will handle tracking which club was used on which shot.
Windows Central Newsletter
Thank you for signing up to Windows Central. You will receive a verification email shortly.
There was a problem. Please refresh the page and try again.