Xbox One to include six months worth of free Skype calls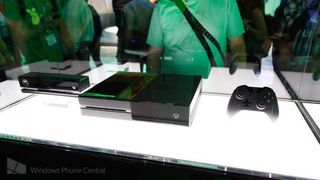 With the launch of Xbox One on the horizon and approaching quickly (November 22nd, should you require the quick recall), the Skype team has published a new blog entry to detail some improvements and new features incoming with Skype for Xbox One. If you've been crying out for notifications and multitasking you're in luck with the next version of the popular communications client.
Not only is the team working hard to implement new features, we're also looking at free calls. Read on for all the details.
Notifications are pretty self-explanatory. You'll be alerted when the Xbox One has received an incoming call or new message (see below image), regardless to what you're currently doing - be it racing in Forza Motorsport 5 or watching live TV. You can then command Xbox One to hop into the call or reply to the message in the Skype app, switching seamlessly.
Skype notifications on Xbox One
Next up is the wide view camera with auto zoom and pan - and yes, it looks as cool as it sounds. Thanks to Kinect's new wide view lens and auto zoom functionality (all software-based with no motor support), you'll be able to fit the entire group into view or have the Kinect instantly focus on callers in the frame, zooming automatically to ensure a sound experience. Let's not forget there's 1080 HD support.
Moving on from video calling, we have snap support. Multitasking is a new feature in Xbox One and Skype is set to take full advantage of the new capability. Want to do some web browsing or watch a video while chatting with friends? You can now do that with relative ease. Lastly, Microsoft will be offering free group calling and 100 worldwide minutes with Xbox One.
This is a similar deal to what we've seen the company do with its Surface tablets. Consumers will be able to use 100 worldwide minutes per month for calls to mobiles and landlines in over 50 countries. The offer covers six months use with an Xbox Live Gold subscription. Who needs to get up to fetch the mobile when you can use Xbox One to order your pizza?
​If you'd like a quick look at some of the new features in Skype for Xbox One, check out the below video (Skype section starts at 4:53):
Windows Central Newsletter
Get the best of Windows Central in your inbox, every day!
Rich Edmonds was formerly a Senior Editor of PC hardware at Windows Central, covering everything related to PC components and NAS. He's been involved in technology for more than a decade and knows a thing or two about the magic inside a PC chassis. You can follow him on Twitter at @RichEdmonds.
After all of this negative publicity and MS lack of a proper explanation, they Should include ALL services for free for 1 year. That will shut up PS fans for that 100 dollar bit and will make alot of people jump on board.

Well, depending on the market.. I for one don't care for Skype minutes but I get approximately 180 euros worth of "freebies" with my Xbox One. That includes 2 games, 2nd controller and 1 year subscription to a local gaming magazine. Now the magazine has nothing to do with Xbox per se, but hey, that's a sweet deal when I'm paying the "normal price" for the console.

Will this tack onto the end of my free year from my surface?

I was wondering that myself.

man i wondering the same thing!

maybe not, since I had free calls to landline from office 365, and now world minutes free from surface , both disputing same talked minutes LOL

Very nice this is a powerful move

Really? So you think GAMERS are suddenly interested in xbone because ms are offering free skype minutes???

It adds value. It just depends on if you want that added value or not. MS is pushing a bigger idea than games here. This is a Microsoft platform in your living room not a gaming console anymore. You can either appreciate that or don't.

Well I'm a gamer and I also use Skype all the time to call my patents over seas. So this is going to save me a few bucks.

Meh! They never offer anything free for games.. I just don't get the point of this console?! These features just don't interest me at all

Don't get it then.... In fact why post?!?

1 person out of millions.......who gives a f*#& Retro dont buy it then

I got myself a surface pro 2 will this add up to my 1 year skype free calling i got with it?

Pardon my ignorance, but "Skype free calls"? I've always used Skype for video chat, even overseas, and I've never had to pay a cent. Is this kind of a VOIP feature?

It means like if you are calling from VoIP to a mobile phone or landline that's what cost money

This is for calling landlines and cell phones. This way, the recipient doesn't have to have or be near a computer/tablet/tv/smartphone with skype, etc. You can always call skype to skype for free.

For people like myself that has family spread coast to coast and over in Europe, this will be great especially during the Holidays and family events. Much easier to get everyone around the TV than around the PC. I can see the kids calling up their cousins more often using Skype on Xbox One. May not be for everyone, but I bet this will attract a lot of families in similar situations

I can totally related to you. This a great feature to me BC I call my parents over seas.

Positive news generates way less hits.

so will skype be compatible with xbox 360 kinect video chat?

Still waiting for Skype on my Xbox 360. This better come.. Got 1 year free with surface, should be another year free plus another 200Gb on your Skydrive. Its called customer loyalty..

Its not coming to the Xbox 360 hardwear limitations. The 360 has only 512 Mb of ram.. Odds are less than your phone...

I'm going Xbox green on my phone until launch of the Xbox one. I do like the yellow on my yellow 1020. But lets all go green on windows phone!!!

Is the group calling free with xbl subscription or is it only free for 6 months?