Microsoft just outed Cortana for iPhone, iPad and Android
In a new video Microsoft's Joe Belfiore has confirmed that Cortana is going cross-platform sometime soon.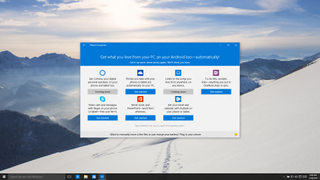 The video is for the new Phone Companion app coming to Windows 10 but in it, Joe Belfiore clearly shows this screen that seems to confirm our favorite virtual assistant is indeed destined for a cross-platform future for iPhone, iPad and Android.
On iPhone and Android, for example, Cortana will show up as an app and can be used in much the same way as Cortana on Windows Phone. Ask questions, get answers, reminders and so on.
We'll be back with more on this soon, but for now, check out the video for yourselves below. Cortana's going to be everywhere with Windows 10, and Microsoft really means everywhere.
Thanks to everyone who tipped us!
Richard Devine is an Editor at Windows Central. A former Project Manager and long-term tech addict, he joined Mobile Nations in 2011 and has been found on Android Central and iMore as well as Windows Central. Currently you'll find him covering all manner of PC hardware and gaming, and you can follow him on Twitter and Instagram.
Don't think this was an accident...

Agreed, looks like they're just showing the public what's in the pipeline.

I am sure Cortana on iPhone and Android will rule over and beat the shit out of Cortana in windows phone /s\

It will. No sarcasm needed. Time to look forward to iPhone 6 deals.

Or at the LG G4. The camera's pretty awesome. Posted via the Windows Central App for Android

Or an awesome Xperia rocking Cortana.

Yea, G4 is looking like my next since HTC crippled the M9's camera.

The M9 has the same camera sensor as the Lumia 930. mate. How extactly is that crippled?

The M9 doesn't have OIS. If it had it, it would be my top choice. I actually like the ultra-pixel sensor on my M8 so to go back to neither OIS or UP is regression.

Eh, LG hardware looks great on paper spec-wise, but the quality control is third rate. Had both an LG smartphone and a LG tablet, and both developed hardware issues a year into ownership. And since it's LG, post sales support is pretty wretched to non-existant. They do make great washer dryers and TVs though, so there's that.

Personally waiting for the next Moto X. Their Moto Display is like Glance but better. At this point there's not a single reason to stick with WP, all the exclusives are exclusives no more.

Except design. All the android WP launchers are mediocre at best and seem to have security issues. Also, some features are just "frames" last time I downloaded one of the popular ones.

That's all the G4 has going for it, search for G4 lag, they still haven't fixed it from the G3, and yes, I had two and it was bad.

You do that...ill look forward to you threatening to leave in a years time again

This is just like when people "threatened" to leave over Spartan strike going to iOS. Cortana being available on iPhone doesn't tempt me one little bit to switch. I'm happy with Windows for many reasons.

And what reasons are those?

Cortana being completely integrated for one instead of being just another app.

Tell me one thing.... Can you have continuum on phones other than windows?

Then why is everybody crying..... Nothing could put windows on the back benchers in terms of features.... It is the most personalised OS in the market.... So giving Cortana as an app to android or iPhone doesn't mean's Windows lost everything to boast about.... Its too rich in features to stop boasting.

It tempts me. Better outlook and office mobile experience, good camera, apps galore. I don't like the is nearly as much, but I may start living with it.

You do realize that outlook and office will be much improved with W10, right?

...and with Continuum integrated with next major phones?

LOL. You're awesome. Staying put myself :)

Nope. It will be crippled without the Live Tile and being non-native.

We could just call it a widget and have it on Android :)

Keep telling yourself that.....

The Live Tile is basically useless. I'd much rather not have the flip at all for aesthetics and just see Cortana. I get one news article of the dozens I can read, and maybe the weather, which is handled better on my weather apps Live Tile. Sports are also handled better on sports apps.

I've recently started using the live tile and those two things you've mentioned are exactly why I've kept it. It prompted me to click through when I otherwise would not have.

Turn off interests. Problem solved. So many noobs here...

If I turn off Interests, I don't get to go into Cortana and read the news I want to WHEN I want to. How about an option to turn off the live tile functionality? That would make more sense so as to give more customization options. So many douche bags here...

Then make the tile small? or dont have a tile and press search when needed.

@rockstarzzz How? Cortana it's based on Cloud. Backend upgradable, but I don't expect you understand that.

Don't for get Windows (Mobile) is the only mobile OS platform to have "live" notifications. The closes thing is iOS ticker count.

There are a couple of launchers for Android that give an experience very close to Windows Phone, and that includes live tiles with live notifications.

But it's not "official"! Live tiles! It's third party!! Oh, wait. so that argument doesn't work when talking about Android or iOS, only Windows?

I've never had a problem with 3rd party apps on Windows Phone. If I need it, and if the app works, then I'll use it whatever platform is in my pocket.

This is bad because if you.wanted to use Cortana on your phone you had to get a Windows phone but now WP isn't necessary.

This isn't bad at all. Cortana was never luring people over to Windows Phone to begin with. If anything this is GOOD, as now it gives consumers a reason to actually use Cortana on Windows 10 tablets & PC's. A feature they would have otherwise avoided like the plague because they previously would have only been able to access Siri or Google Now when using a mobile device.

I agree. These features don't necessarily pull users into the ecosystem. A feature such as this is great for exposure. When the application parity does indeed make its way to Windows, I think we'll see people more inclined to make the jump. I think Microsoft's approach is spot on.

But, it helps ios and android to be better.

Not really. These days people choose a smart phone based off what works for them. Not because any device is really "better" than the other. And digital assistants aren't a selling point of a mobile device in 2015. You guys are really looking at MIcrosoft's new approach completey wrong.

We are looking at Microsoft's approach "critically". While I understand the reasons, I don't agree with them. That doesn't make me "wrong". I do think that having NO differentiating features for the home OS is a decision that is ripe for scrutiny. When one can get the best of Microsoft and everything else, why would anyone consider switching. They seem to have unfolded the towel, preparing to throw it in. Nadella wasn't a fan of the Nokia deal and I still think he'd love to continue to devalue that division, write it off, and move on with his cloud plans. We may be the last ones still around here when he decides to give Windows Phone/phone/Mobile the Kin treatment. People complain about "market share". Sure, most don't know what they're talking about, but how do you GAIN users when you continually pump up the competition? If someone has a great experience with Cortana on iPhone, do you think they are going to leave iPhone? If someone loves Sway, are they going to go to Windows...oh right, they absolutely would NOT because Microsoft doesn't make Microsoft apps a priority on the Microsoft operating system. This is sacrificing one division for exposure (not revenue) for the others.

I so agree with you. A typical example was how fast OneDrive launched in the video with no flash screen and unnecessary loading times

And how about windows phone users. still handicaped by the lack of apps and now cortana to android and ios, which must be told, are at their highest for the time being.

In my experience, I would disagree with your statement. I recently left Windows Phone for iPhone and Cortana was the one thing that kept me itching to go back.

Not bad at all. Essential in fact. I use a Blackberry and Windows 10 TP, and the only thing missing was the ability to set reminders with Cortana on my phone and have them show up on my computer, or set reminders on my computer and have them show up on my phone. This feature would not be enough to lure me to Windows Phone, but having it will mean I will ACTUALLY use Cortana on Windows 10 TP. Up until now the feature was useless to me, because I had no access to it on my mobile device. So while it may not encourage me to use a Windows Phone (I own 2, but use a blackberry), it WILL encourage me to use the Windows Ecosystem and all of its features, which will encourage app development and integration with Cortana, which will make the Windows Ecosystem stronger and more robust. So it's a very good thing. And before you say "but it's only for iOS and Android", Blackberry 10 runs Android apps, so I can use it just fine.

Yes, I agree, I think ultimately this is a good thing for Microsoft. Let's face it, they have been losing mindshare over the last several years. When was the last time you heard/saw someone outside this forum talk about their OneDrive files, use a hotmail/Outlook email, Bing, use Office Online, Xbox Music, etc, etc? "Everyone" uses Google search, Dropbox, Google Docs, Gmail, Spotify/Google Play/iTunes... it is absolutely essential for Microsoft to get a larger and more active userbase for these services, in order to get users for their paid services as well as ads. Keeping a legitimately great service like Cortana only on an OS that has a miniscule userbase, just out of loyalty, would be misguided and harm WP long term. They NEED to compete with Google on iOS and Android, there's no way around it if MS wants to stick around and not get relegated to being providers of business networking/office products. We may feel "betrayed" by this, but believe me, WP (or W10M) won't survive without these services being in as many places as possible. It might not survive anyway, but it has a much better chance of doing so with more people using the Microsoft ecosystem.

I disagree. While I expected MS to make Win10 Desktop sell Win10 Mobile, this is a smarter move. If they didn't do this, they'd be cutting off their nose to spite their face. Some people simply love iPhones. It doesn't matter what else you show them - that's what they want. If you don't cater to that user, they become far more likely to drift into Apple ecosystem for everything. Their iPhone will link nicely with a Mac, so the user is in constant temptation to go there. I know many Mac users who had previously been PC all the way until the iPhone came along. This is the best thing MS can do - extend connectivity to them, and if possible integrate an iPhone even better with a PC than it can be done with a Mac.

But on WP the integration will be better.

Lolz i'm sure it will be shitty on shit phones. Windows phone has OS integration and Apple and IOS will have Apps. THERE IS A LOT OF DIFFERENCE BETWEEN OS INTEGRATED AND APPLICATION.

How would you know?? AFAIK, integration on Windows Phone is very poor! Till date, the app contracts sharing capabilities on Windows Phone are so freaking bad as compared to Android!

In this one case I don't think it will. At least on iPhone, cortana won't have access to some of the api's to be rally effective. for that reason Microsoft Band is a lot better on WP than iOS and android.

I read that as /s\ means "sure". Nice one!

Don't have to apply with that /s. Cortana will sure to outshine the version on Windows Phone. At the vesy least, perhaps availability of Cortana for different countries will be even much better on Android than on Windows Phone. That being said, since most of the MS services are now appearing on iOS and Android, why do I even care about Windows Phone anymore, especially with its poor app selection choices.

yea but after all, cortana is from windows family..so it wont

Time to switch to iphone. At least they will update their own Apps.

Just go then. Or are you all whine and no cheese?

I moved back to Android, and the experience has not been as tortuous as I thought it would be. I do still miss Windows Phone, though, so I have W10M TP loaded on my L735... currently testing it against the LG G3 with respect to battery life. The lack of a unified interface design in Android apps is annoying, and is one of the things I miss. The LG G3 is a superb phone that even lets you move apps to an SD card, which is great news. Privacy isn't an issue - privacy settings are available in Android, though they are, by default, hidden. Using App Ops makes those privacy settings visible, so I can set more priviledges than is possible with Windows (or iOS.) I really hope WIndows 10 for mobiles hits the mark. The hamburger menu doesn't bother me, though the lack of 'swipe from the left' on Windows phone makes it a lot more awkward to use than on Android or iOS.

Material design is suppose to be that unified interface.

Indeed. Agree with the points mentioned. Now my daily driver is Note 4. No more 1520. Getting things done on Android are so much easier than on Windows Phone.

6+! I ended up switching about 2 weeks ago now. Haven't looked back or missed WP since! I was a huge fan of it since the beginning. Enough is enough for me though. I hope MS gets WP act together!

And Microsoft doesn't update theirs? Jeez...

In other news..siri wont ever come to WP...and google is still f*ckin WP...and we are giving away something that was the hallmark of WP...cool...

Cortana will just be an app on other platforms, it won't enjoy the deep OS integration that it enjoys on Windows. That will limit it's functionality on other OSs.

Yeah maybe iOS and Android users can only like ask Cortana to tell a joke like,"Hey Cortana.. Tell me a joke"... Cortana: What is the worst thing that could happen to me?...AI trafficking :P

Well, perhaps on those platforms it won't just sit in Beta, and be avaiable for only 3 countries...

On iOS, this is true. On Android, Cortana will almost certainly gain abilities she doesn't (and can't) have on WP.

Not without taking over from Google Now completely, which won't happen considering just how much Google like to f*ck over Microsoft and WP.

Google won't do any such thing becuase they can't do any such thing. Android is an open platform.

Don't be navie. Apps capabilities on Android are so much better than on Windows Phone. In fact, WP is so restricted. I bet Cortana integration will be so much better on Android. Also, I think availability of Cortana will be vast much better as compared to Cortana on windows phones.

Um, Cortana will just be an app on Windows mobile phone as well. The point of Windows 10 was to make the OS modular, so every part of it, is an 'app'.

You're right, Cortana is just an app on W10. I asked this question at Ignite and they confirmed it.

Just with more integration with the OS on Windows 10 than on Android and iOS.

Integration will be tighter on Android than WP because of Android's more and better APIs.

What are you giving away?

Giving away bragging rights...the fact that we 'had' an awesome exclusive personal assistant..unlike many out there...but nevermind..you probably wont get it..

Bragging rights? LOL.... funniest thing I've heard all year. Thank you for that.

Thank you for your words..

Yeah should maybe have watched the video first :P

It's no an accident: http://blogs.windows.com/bloggingwindows/2015/05/26/your-windows-10-pc-w...

Precisely. MSFT have an amazing product they've spent a lot of resources on - it would be insane to think they wouldn't make use of it and keep it limited. Cortana is a service and as such needs to be used. The majority don't use msft devices so there it is.

No. Someone thought, "I don't think there's enough hate in the WC comments section. Let's stir 'em up!"

+1020 So True. Windows might have the most negative fanbase ever :'(

Well folks we knew it was coming! :-) And here it is in all of its controversial glory. We're looking forward to more tidbits regarding time tables and more examples of how our favorite AI will make her claim on rival space. Exciting times guys. I think this is a great way to pull Windows 10 into the forefront. Just about all of our iPhone and Android toting friends have a PC. If this companion app with Cortana brings the Windows 10 experience more into thier mobile experience users may begin to see a more in depth Windows 10 mobile experience as increasingly appealing. Coupled with coming flagships this just may be a great boost to help Windows 10 Mobile along. Hey also don't forget we at Windows Central talked about the implications of this move of bringing Cortana to Android and iPhone in our two part AI Wars series. We encourage you to revisit and share those as well as this and the upcoming pieces that will bring you more information on this hot news!!! Windows Central. This is your place for news and commentary on all the Microsoft ecosystem. Keep the conversations going! http://www.windowscentral.com/ai-wars-part-i-hey-cortana-you-my-iphone http://www.windowscentral.com/ai-wars-part-ii

Thank you!!! Someone who actually reads and understands the articles!! I think it will get more people into windows 10 hopefully

Hmmm... This article is the first time I am now seriously considering moving to a Galaxy phone.

Go ahead nobody is gonna miss you!

The decision is up to you, i did it too, moved to a Galaxy S5 and now i have for over 5 months a Note 4 and i am very happy! I still have my Windows Phone but only to test Windows 10 and to remind me of the good times my L920 gave me, but the experience i have with Android 5.0.1 is absolutely amazing :) I still wish Windows Phone soon to be Windows 10 to succeed and gain more market share ;-)

Microsoft pushing me to use android be like
http://a.disquscdn.com/uploads/mediaembed/images/2089/5777/original.gif

Why should I stick to Windows Phone if all the goodies are going to iPhone? Would rather purchase iPhone then....would be more useful.

True that. MS is being a bunch of suckers. First they give office and now Cortana. Someday may be they will also give android and iOS the right to use wp logo and live tiles and whatever......

So why does someone need a Windows Phone exactly?

Lumia windows phone 8.1 here. I still don't have cortana in my region. Guess I'll get an android to test it.

How long before Windows is just an app that runs on Android & iOS? lol

One more chance to switch from windows phone or one nor chance to own a iPhone or an Android.

Or, looking at the long term, a massive chance to show exising android and IOS users what the Windows 10 experience and a unified experience offers, potentially bringing more people to windows 10

Meh, we knew it was happening.

Yeah, we knew that and we still don't like it. Google will never give us their official YouTube app, don't know why is Microsoft doing this?

Microsoft don't want be the second Google

To show that we aren't as bullheaded as google! MSFT's services run on whatever you want them to, not what Google wants you to. How is this bad? Please....enlighten me. Google is anti-competitive and bullheaded; Microsoft is being smart and customer -focused.

Google doesn't have their services on Blackberry, Symbian or Ubuntu either. Windows Phone isn't being singled out, it just doesn't have the user base to waste time on.

This is bad news if you are interested in seeing Microsoft, or any company for that matter, continue to produce Windows Phone handsets. As Windows Phone continues to bleed market share, it will no longer be profitable to be in the Windows Phone business. They aren't going to produce handsets for just you and your three friends.

@terrokkinit you know that Google holds the most of global mobile market share, right? Microsoft is giving them Office apps, Skype, Cortana, Xbox apps etc for free. So, what does makes Windows Phone unique? What will make people stand out from Android and make them buy Windows Phone? Nothing..why? Because they can have it all on their android devices..which is bad!

Oh trust me, I'm very well aware of this fact. But here's the thinking: You start using Microsoft services...and you then decide you like their services other than Google. Then what happens? You might try a PC, a Surface, an Xbox One. Then what happens? You want other stuff to sync with it because it doesn't work as well on other non-Microsoft stuff ;) Apple uses this technique beautifully, and it's proven effective for Microsoft as well recently with Surface Pro 3 and Xbox One.

Things won't change, Google won't open up their applications to Windows phone, now opening Cortana in cross platform would end to kill to Windows phone definitely

In fact have to do something else to show and get out of people the stereotype of a greedy company but the way of bring all the applications to other platforms the only thing that would cause is an migration of platform since MSFT, is being neglecting by send the updates quickly, the no flagships releases and other issues

Let's see what the EU has to say about some of this...*grabs popcorn*. But in effect, it doesn't matter. Windows Phone is dead...Windows Mobile won't go anywhere anytime soon. It's perfectly OK to not be the market leader and still compete. You may not have the userbase as the upper two, but you still have a growing fan base. :) Just look at underdogs in any market...it works, happens, and again, is perfectly OK.

Who's "we"? Just because you think you need exclusivity to get validation doesn't mean we all do. So dont "we" me. Lmao @ all you mads still buttupset over this
Im gonna buy a lagdroid as second handset and use Cortana just to make y'all mad.

I still see absolutely no reason to give Cortana to IOS and Android. Other than Microsoft fans on WC, literally nobody else I've asked who have IOS and Android phones said they would use Cortana. I mean, why would they want to use an app assistant over an integrated assistant specifically designed for their OS? Or maybe they want to ditch it just to use an extra feature or two that Cortana has? Does Microsoft really think Cortana is so superior to Siri and Google Now that those people will actually use it?

Well now all that is left are live tiles, and then WP is no more a novelty... Why do you always find reasons to hate you huh Microsoft???

I don't give a sh*t.. She will be nothing more than an app on their platforms.

Exactly, I have it now and don't use it, never liked Siri either, but the more platforms it's on the better for msft, good on them :)

Could you see Siri on Android? It's basically diluting the brand and making it less clear why someone needs a Windows phone.

You would never see siri on android because apple is the driving seat. Google now went to ios but not to wp because google is seen as second. Microsoft has to make it for all 3. That's the only way it's gonna get people over. (and Microsoft is the nicest of all 3 Imo because Microsoft services are available on everything). Apple and google want to kill wp, why would they make apps for it? I think its a good strategy and hopefully it will give users an incentive to join windows

I don't see how this strategy will cause users to abandon Apple or Android and come over to Windows Phone. Cortana will either be: a) a crappy, unintegrated app that doesn't resemble the true experience on Windows Phone like a lot of people are saying here in the comments, so no one will be impressed enough to move to Windows Phone. or b) It will be just as amazing as the baked-in Windows Phone app and they won't have a reason to come to Windows Phone. Either way, no one is buying a Windows Phone because of Cortana.

I see your point but windows phone isn't just about Cortana, its about windows 10 mobile. Its a about universal apps, about a unified experience about continuum, about being productive wherever, wherever, with whichever device you own, about hololens etc etc.Microsoft cannot act like a company with 40% market share in smartphones by keeping its features exclusive. MS has to act like a company with 3% market share who is looking for an increase, and looking for the most people using its services. Apple and google can afford to boycott each other because they are both leading the smartphone market. Microsoft can't. The other thing is that it is much harder for MS to catch up now that the smartphone market has matured a lot. Diminishing returns means that the more mature the market gets, the harder it is to really make the 'next big thing' because phones nowadays have everything you need in a phone. First it was apps. Then it was AI assistants, then it was widgets, then NFC, then accelerometer, wireless charging, fast charging, big phone screens, stylus, fingerprint sensors, heart rate monitors, metal body, good build etc. What is there left for Microsoft to make a big impression? Hardly anything. Windows hello and continuum may be promising, but amazon's fire phone may say otherwise. It is hard but I believe that Microsoft can at least make a dent in google and apples market share by universal apps, releasing it's apps for other platforms, get people using bing through Cortana, and the new app porting tools announced at build. I think they may be able to do this, but of course, only time will tell. And I respect your opinion Edit: And of course, they need to go all out on marketing for windows 10 and their flagships when they come

It think on ios and andriod they should make Cortana only integrated with Microsoft apps e.g. Say you want to listen to music, you say shuffle music and the Xbox music app opens. Same goes to taking notes(oneNote), sending mail (outlook), messaging and video calls(Skype) etc. This should be a good compromise and advantage Cortana on WP will have over others. Maybe it can improve user base on those MS apps

Exactly! It's much better on the Windows platform, so it won't be that awful. In fact, it rocks that Microsoft is being customer-focused and allowing its services to run on anything you want. :) Google could take a lesson here.

LOL. It is obvious you are just saying this to feel a little better about this. The truth is, Windows services are way better on iOS. I know this because I own both a Lumia 1520 and an iPhone 6 Plus. Windows apps are just better on my iPhone. And, I can bet you Cortana will be fantastic on iOS. It has to be. On Windows phone it is a niche product reaching a small segment of smartphone users. On iOS and Android, it is a big product that has the potential to be a beast of a product. Hmmmmmmm, I wonder which one would get the A team developers....... Don't kid yourselves, Cortana on iOS and Android will be solid and better than the one on windows phone. And, you know what? I do not have an issue with that. Microsoft is running a business. Not a fanboy club.

Well, quoting someone above, Cortana might not be as feature-rich in iOS because of the limitation, and if Apple decided to pull that "no duplicating iOS function" (Siri) veto. But it would be in Android, with access that might not be available from Windows Phone's API.

Realistically speaking, you're probably right. :) but because I like being unique (my friends can attest this to you), I refuse to have a phone that has icons anymore. Plus, WP's keyboard blows iOS out of the water. I type WICKED fast on this sucker ;)

Haha I know the feeling. At this point I keep using WP mostly to be a contrarian! It is a great OS and my Lumia Icon is a fantastic phone, but the main reason is that I like to be different. :)

I have no issues touch typing on my iPhone 6 Plus. And iOS can use alternate keyboards if you want now. Not that it matters. I don't know anyone who chooses which mobile platform, ecosystem, and services they want to use based on what on screen keyboard is in the phone's operating system.

Well now you know one ;) I go off usability, uniqueness, keyboard response time, phone specs, and minimalistic preference. In the words of Cortana when asked about the platform, "Windows Phone suits me perfectly." :) Go customer choice!

This will help in training the assistant in many international languages though. I'm personally looking forward to a wider release of Cortana across the world.

Why buy the milk when they are giving the cows away for free?

Because we should be lazy to take the milk out of the cow /s\

Put the coconut in the coconut...

Put the lime in the coconut.

This might just be a front end app for Bing search, which allows iOS/Android users to get a taste of the Cortana milk, but only full fat Cortana on WIndows allows it to fully integrate with the phone, launch apps, do all the good tasting stuff. ..of course this is Microsoft, and it will probably be the full dairy.