Microsoft just outed Cortana for iPhone, iPad and Android
In a new video Microsoft's Joe Belfiore has confirmed that Cortana is going cross-platform sometime soon.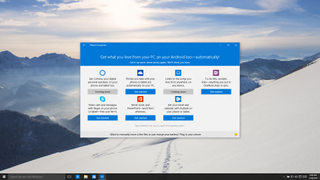 The video is for the new Phone Companion app coming to Windows 10 but in it, Joe Belfiore clearly shows this screen that seems to confirm our favorite virtual assistant is indeed destined for a cross-platform future for iPhone, iPad and Android.
On iPhone and Android, for example, Cortana will show up as an app and can be used in much the same way as Cortana on Windows Phone. Ask questions, get answers, reminders and so on.
We'll be back with more on this soon, but for now, check out the video for yourselves below. Cortana's going to be everywhere with Windows 10, and Microsoft really means everywhere.
Thanks to everyone who tipped us!
Windows Central Newsletter
Get the best of Windows Central in in your inbox, every day!
Managing Editor - Tech, Reviews
Richard Devine is a Managing Editor at Windows Central with over a decade of experience. A former Project Manager and long-term tech addict, he joined Mobile Nations in 2011 and has been found on Android Central and iMore as well as Windows Central. Currently, you'll find him steering the site's coverage of all manner of PC hardware and reviews. Find him on Mastodon at mstdn.social/@richdevine
Don't think this was an accident...

Agreed, looks like they're just showing the public what's in the pipeline.

I am sure Cortana on iPhone and Android will rule over and beat the shit out of Cortana in windows phone /s\

It will. No sarcasm needed. Time to look forward to iPhone 6 deals.

Or at the LG G4. The camera's pretty awesome. Posted via the Windows Central App for Android

Or an awesome Xperia rocking Cortana.

Yea, G4 is looking like my next since HTC crippled the M9's camera.

The M9 has the same camera sensor as the Lumia 930. mate. How extactly is that crippled?

The M9 doesn't have OIS. If it had it, it would be my top choice. I actually like the ultra-pixel sensor on my M8 so to go back to neither OIS or UP is regression.

Eh, LG hardware looks great on paper spec-wise, but the quality control is third rate. Had both an LG smartphone and a LG tablet, and both developed hardware issues a year into ownership. And since it's LG, post sales support is pretty wretched to non-existant. They do make great washer dryers and TVs though, so there's that.

Personally waiting for the next Moto X. Their Moto Display is like Glance but better. At this point there's not a single reason to stick with WP, all the exclusives are exclusives no more.

Except design. All the android WP launchers are mediocre at best and seem to have security issues. Also, some features are just "frames" last time I downloaded one of the popular ones.

That's all the G4 has going for it, search for G4 lag, they still haven't fixed it from the G3, and yes, I had two and it was bad.

You do that...ill look forward to you threatening to leave in a years time again

This is just like when people "threatened" to leave over Spartan strike going to iOS. Cortana being available on iPhone doesn't tempt me one little bit to switch. I'm happy with Windows for many reasons.

And what reasons are those?

Cortana being completely integrated for one instead of being just another app.

Tell me one thing.... Can you have continuum on phones other than windows?

Then why is everybody crying..... Nothing could put windows on the back benchers in terms of features.... It is the most personalised OS in the market.... So giving Cortana as an app to android or iPhone doesn't mean's Windows lost everything to boast about.... Its too rich in features to stop boasting.

It tempts me. Better outlook and office mobile experience, good camera, apps galore. I don't like the is nearly as much, but I may start living with it.

You do realize that outlook and office will be much improved with W10, right?

...and with Continuum integrated with next major phones?

LOL. You're awesome. Staying put myself :)

Nope. It will be crippled without the Live Tile and being non-native.

We could just call it a widget and have it on Android :)

Keep telling yourself that.....

The Live Tile is basically useless. I'd much rather not have the flip at all for aesthetics and just see Cortana. I get one news article of the dozens I can read, and maybe the weather, which is handled better on my weather apps Live Tile. Sports are also handled better on sports apps.

I've recently started using the live tile and those two things you've mentioned are exactly why I've kept it. It prompted me to click through when I otherwise would not have.

Turn off interests. Problem solved. So many noobs here...

If I turn off Interests, I don't get to go into Cortana and read the news I want to WHEN I want to. How about an option to turn off the live tile functionality? That would make more sense so as to give more customization options. So many douche bags here...

Then make the tile small? or dont have a tile and press search when needed.

@rockstarzzz How? Cortana it's based on Cloud. Backend upgradable, but I don't expect you understand that.

Don't for get Windows (Mobile) is the only mobile OS platform to have "live" notifications. The closes thing is iOS ticker count.

There are a couple of launchers for Android that give an experience very close to Windows Phone, and that includes live tiles with live notifications.

But it's not "official"! Live tiles! It's third party!! Oh, wait. so that argument doesn't work when talking about Android or iOS, only Windows?

I've never had a problem with 3rd party apps on Windows Phone. If I need it, and if the app works, then I'll use it whatever platform is in my pocket.

This is bad because if you.wanted to use Cortana on your phone you had to get a Windows phone but now WP isn't necessary.

This isn't bad at all. Cortana was never luring people over to Windows Phone to begin with. If anything this is GOOD, as now it gives consumers a reason to actually use Cortana on Windows 10 tablets & PC's. A feature they would have otherwise avoided like the plague because they previously would have only been able to access Siri or Google Now when using a mobile device.

I agree. These features don't necessarily pull users into the ecosystem. A feature such as this is great for exposure. When the application parity does indeed make its way to Windows, I think we'll see people more inclined to make the jump. I think Microsoft's approach is spot on.

But, it helps ios and android to be better.

Not really. These days people choose a smart phone based off what works for them. Not because any device is really "better" than the other. And digital assistants aren't a selling point of a mobile device in 2015. You guys are really looking at MIcrosoft's new approach completey wrong.

We are looking at Microsoft's approach "critically". While I understand the reasons, I don't agree with them. That doesn't make me "wrong". I do think that having NO differentiating features for the home OS is a decision that is ripe for scrutiny. When one can get the best of Microsoft and everything else, why would anyone consider switching. They seem to have unfolded the towel, preparing to throw it in. Nadella wasn't a fan of the Nokia deal and I still think he'd love to continue to devalue that division, write it off, and move on with his cloud plans. We may be the last ones still around here when he decides to give Windows Phone/phone/Mobile the Kin treatment. People complain about "market share". Sure, most don't know what they're talking about, but how do you GAIN users when you continually pump up the competition? If someone has a great experience with Cortana on iPhone, do you think they are going to leave iPhone? If someone loves Sway, are they going to go to Windows...oh right, they absolutely would NOT because Microsoft doesn't make Microsoft apps a priority on the Microsoft operating system. This is sacrificing one division for exposure (not revenue) for the others.

I so agree with you. A typical example was how fast OneDrive launched in the video with no flash screen and unnecessary loading times

And how about windows phone users. still handicaped by the lack of apps and now cortana to android and ios, which must be told, are at their highest for the time being.

In my experience, I would disagree with your statement. I recently left Windows Phone for iPhone and Cortana was the one thing that kept me itching to go back.

Not bad at all. Essential in fact. I use a Blackberry and Windows 10 TP, and the only thing missing was the ability to set reminders with Cortana on my phone and have them show up on my computer, or set reminders on my computer and have them show up on my phone. This feature would not be enough to lure me to Windows Phone, but having it will mean I will ACTUALLY use Cortana on Windows 10 TP. Up until now the feature was useless to me, because I had no access to it on my mobile device. So while it may not encourage me to use a Windows Phone (I own 2, but use a blackberry), it WILL encourage me to use the Windows Ecosystem and all of its features, which will encourage app development and integration with Cortana, which will make the Windows Ecosystem stronger and more robust. So it's a very good thing. And before you say "but it's only for iOS and Android", Blackberry 10 runs Android apps, so I can use it just fine.

Yes, I agree, I think ultimately this is a good thing for Microsoft. Let's face it, they have been losing mindshare over the last several years. When was the last time you heard/saw someone outside this forum talk about their OneDrive files, use a hotmail/Outlook email, Bing, use Office Online, Xbox Music, etc, etc? "Everyone" uses Google search, Dropbox, Google Docs, Gmail, Spotify/Google Play/iTunes... it is absolutely essential for Microsoft to get a larger and more active userbase for these services, in order to get users for their paid services as well as ads. Keeping a legitimately great service like Cortana only on an OS that has a miniscule userbase, just out of loyalty, would be misguided and harm WP long term. They NEED to compete with Google on iOS and Android, there's no way around it if MS wants to stick around and not get relegated to being providers of business networking/office products. We may feel "betrayed" by this, but believe me, WP (or W10M) won't survive without these services being in as many places as possible. It might not survive anyway, but it has a much better chance of doing so with more people using the Microsoft ecosystem.

I disagree. While I expected MS to make Win10 Desktop sell Win10 Mobile, this is a smarter move. If they didn't do this, they'd be cutting off their nose to spite their face. Some people simply love iPhones. It doesn't matter what else you show them - that's what they want. If you don't cater to that user, they become far more likely to drift into Apple ecosystem for everything. Their iPhone will link nicely with a Mac, so the user is in constant temptation to go there. I know many Mac users who had previously been PC all the way until the iPhone came along. This is the best thing MS can do - extend connectivity to them, and if possible integrate an iPhone even better with a PC than it can be done with a Mac.

But on WP the integration will be better.

Lolz i'm sure it will be shitty on shit phones. Windows phone has OS integration and Apple and IOS will have Apps. THERE IS A LOT OF DIFFERENCE BETWEEN OS INTEGRATED AND APPLICATION.

How would you know?? AFAIK, integration on Windows Phone is very poor! Till date, the app contracts sharing capabilities on Windows Phone are so freaking bad as compared to Android!

In this one case I don't think it will. At least on iPhone, cortana won't have access to some of the api's to be rally effective. for that reason Microsoft Band is a lot better on WP than iOS and android.

I read that as /s\ means "sure". Nice one!

Don't have to apply with that /s. Cortana will sure to outshine the version on Windows Phone. At the vesy least, perhaps availability of Cortana for different countries will be even much better on Android than on Windows Phone. That being said, since most of the MS services are now appearing on iOS and Android, why do I even care about Windows Phone anymore, especially with its poor app selection choices.

yea but after all, cortana is from windows family..so it wont

Time to switch to iphone. At least they will update their own Apps.

Just go then. Or are you all whine and no cheese?

I moved back to Android, and the experience has not been as tortuous as I thought it would be. I do still miss Windows Phone, though, so I have W10M TP loaded on my L735... currently testing it against the LG G3 with respect to battery life. The lack of a unified interface design in Android apps is annoying, and is one of the things I miss. The LG G3 is a superb phone that even lets you move apps to an SD card, which is great news. Privacy isn't an issue - privacy settings are available in Android, though they are, by default, hidden. Using App Ops makes those privacy settings visible, so I can set more priviledges than is possible with Windows (or iOS.) I really hope WIndows 10 for mobiles hits the mark. The hamburger menu doesn't bother me, though the lack of 'swipe from the left' on Windows phone makes it a lot more awkward to use than on Android or iOS.

Material design is suppose to be that unified interface.

Indeed. Agree with the points mentioned. Now my daily driver is Note 4. No more 1520. Getting things done on Android are so much easier than on Windows Phone.

6+! I ended up switching about 2 weeks ago now. Haven't looked back or missed WP since! I was a huge fan of it since the beginning. Enough is enough for me though. I hope MS gets WP act together!

And Microsoft doesn't update theirs? Jeez...

In other news..siri wont ever come to WP...and google is still f*ckin WP...and we are giving away something that was the hallmark of WP...cool...

Cortana will just be an app on other platforms, it won't enjoy the deep OS integration that it enjoys on Windows. That will limit it's functionality on other OSs.

Yeah maybe iOS and Android users can only like ask Cortana to tell a joke like,"Hey Cortana.. Tell me a joke"... Cortana: What is the worst thing that could happen to me?...AI trafficking :P

Well, perhaps on those platforms it won't just sit in Beta, and be avaiable for only 3 countries...

On iOS, this is true. On Android, Cortana will almost certainly gain abilities she doesn't (and can't) have on WP.

Not without taking over from Google Now completely, which won't happen considering just how much Google like to f*ck over Microsoft and WP.

Google won't do any such thing becuase they can't do any such thing. Android is an open platform.

Don't be navie. Apps capabilities on Android are so much better than on Windows Phone. In fact, WP is so restricted. I bet Cortana integration will be so much better on Android. Also, I think availability of Cortana will be vast much better as compared to Cortana on windows phones.

Um, Cortana will just be an app on Windows mobile phone as well. The point of Windows 10 was to make the OS modular, so every part of it, is an 'app'.

You're right, Cortana is just an app on W10. I asked this question at Ignite and they confirmed it.

Just with more integration with the OS on Windows 10 than on Android and iOS.

Integration will be tighter on Android than WP because of Android's more and better APIs.

What are you giving away?

Giving away bragging rights...the fact that we 'had' an awesome exclusive personal assistant..unlike many out there...but nevermind..you probably wont get it..

Bragging rights? LOL.... funniest thing I've heard all year. Thank you for that.

Thank you for your words..

Yeah should maybe have watched the video first :P

It's no an accident: http://blogs.windows.com/bloggingwindows/2015/05/26/your-windows-10-pc-w...

Precisely. MSFT have an amazing product they've spent a lot of resources on - it would be insane to think they wouldn't make use of it and keep it limited. Cortana is a service and as such needs to be used. The majority don't use msft devices so there it is.

No. Someone thought, "I don't think there's enough hate in the WC comments section. Let's stir 'em up!"

+1020 So True. Windows might have the most negative fanbase ever :'(

Well folks we knew it was coming! :-) And here it is in all of its controversial glory. We're looking forward to more tidbits regarding time tables and more examples of how our favorite AI will make her claim on rival space. Exciting times guys. I think this is a great way to pull Windows 10 into the forefront. Just about all of our iPhone and Android toting friends have a PC. If this companion app with Cortana brings the Windows 10 experience more into thier mobile experience users may begin to see a more in depth Windows 10 mobile experience as increasingly appealing. Coupled with coming flagships this just may be a great boost to help Windows 10 Mobile along. Hey also don't forget we at Windows Central talked about the implications of this move of bringing Cortana to Android and iPhone in our two part AI Wars series. We encourage you to revisit and share those as well as this and the upcoming pieces that will bring you more information on this hot news!!! Windows Central. This is your place for news and commentary on all the Microsoft ecosystem. Keep the conversations going! http://www.windowscentral.com/ai-wars-part-i-hey-cortana-you-my-iphone http://www.windowscentral.com/ai-wars-part-ii

Thank you!!! Someone who actually reads and understands the articles!! I think it will get more people into windows 10 hopefully

Hmmm... This article is the first time I am now seriously considering moving to a Galaxy phone.

Go ahead nobody is gonna miss you!

The decision is up to you, i did it too, moved to a Galaxy S5 and now i have for over 5 months a Note 4 and i am very happy! I still have my Windows Phone but only to test Windows 10 and to remind me of the good times my L920 gave me, but the experience i have with Android 5.0.1 is absolutely amazing :) I still wish Windows Phone soon to be Windows 10 to succeed and gain more market share ;-)

Microsoft pushing me to use android be like
http://a.disquscdn.com/uploads/mediaembed/images/2089/5777/original.gif

Why should I stick to Windows Phone if all the goodies are going to iPhone? Would rather purchase iPhone then....would be more useful.

True that. MS is being a bunch of suckers. First they give office and now Cortana. Someday may be they will also give android and iOS the right to use wp logo and live tiles and whatever......

So why does someone need a Windows Phone exactly?

Lumia windows phone 8.1 here. I still don't have cortana in my region. Guess I'll get an android to test it.

How long before Windows is just an app that runs on Android & iOS? lol

One more chance to switch from windows phone or one nor chance to own a iPhone or an Android.

Or, looking at the long term, a massive chance to show exising android and IOS users what the Windows 10 experience and a unified experience offers, potentially bringing more people to windows 10

Meh, we knew it was happening.

Yeah, we knew that and we still don't like it. Google will never give us their official YouTube app, don't know why is Microsoft doing this?

Microsoft don't want be the second Google

To show that we aren't as bullheaded as google! MSFT's services run on whatever you want them to, not what Google wants you to. How is this bad? Please....enlighten me. Google is anti-competitive and bullheaded; Microsoft is being smart and customer -focused.

Google doesn't have their services on Blackberry, Symbian or Ubuntu either. Windows Phone isn't being singled out, it just doesn't have the user base to waste time on.

This is bad news if you are interested in seeing Microsoft, or any company for that matter, continue to produce Windows Phone handsets. As Windows Phone continues to bleed market share, it will no longer be profitable to be in the Windows Phone business. They aren't going to produce handsets for just you and your three friends.

@terrokkinit you know that Google holds the most of global mobile market share, right? Microsoft is giving them Office apps, Skype, Cortana, Xbox apps etc for free. So, what does makes Windows Phone unique? What will make people stand out from Android and make them buy Windows Phone? Nothing..why? Because they can have it all on their android devices..which is bad!

Oh trust me, I'm very well aware of this fact. But here's the thinking: You start using Microsoft services...and you then decide you like their services other than Google. Then what happens? You might try a PC, a Surface, an Xbox One. Then what happens? You want other stuff to sync with it because it doesn't work as well on other non-Microsoft stuff ;) Apple uses this technique beautifully, and it's proven effective for Microsoft as well recently with Surface Pro 3 and Xbox One.

Things won't change, Google won't open up their applications to Windows phone, now opening Cortana in cross platform would end to kill to Windows phone definitely

In fact have to do something else to show and get out of people the stereotype of a greedy company but the way of bring all the applications to other platforms the only thing that would cause is an migration of platform since MSFT, is being neglecting by send the updates quickly, the no flagships releases and other issues

Let's see what the EU has to say about some of this...*grabs popcorn*. But in effect, it doesn't matter. Windows Phone is dead...Windows Mobile won't go anywhere anytime soon. It's perfectly OK to not be the market leader and still compete. You may not have the userbase as the upper two, but you still have a growing fan base. :) Just look at underdogs in any market...it works, happens, and again, is perfectly OK.

Who's "we"? Just because you think you need exclusivity to get validation doesn't mean we all do. So dont "we" me. Lmao @ all you mads still buttupset over this
Im gonna buy a lagdroid as second handset and use Cortana just to make y'all mad.

I still see absolutely no reason to give Cortana to IOS and Android. Other than Microsoft fans on WC, literally nobody else I've asked who have IOS and Android phones said they would use Cortana. I mean, why would they want to use an app assistant over an integrated assistant specifically designed for their OS? Or maybe they want to ditch it just to use an extra feature or two that Cortana has? Does Microsoft really think Cortana is so superior to Siri and Google Now that those people will actually use it?

Well now all that is left are live tiles, and then WP is no more a novelty... Why do you always find reasons to hate you huh Microsoft???

I don't give a sh*t.. She will be nothing more than an app on their platforms.

Exactly, I have it now and don't use it, never liked Siri either, but the more platforms it's on the better for msft, good on them :)

Could you see Siri on Android? It's basically diluting the brand and making it less clear why someone needs a Windows phone.

You would never see siri on android because apple is the driving seat. Google now went to ios but not to wp because google is seen as second. Microsoft has to make it for all 3. That's the only way it's gonna get people over. (and Microsoft is the nicest of all 3 Imo because Microsoft services are available on everything). Apple and google want to kill wp, why would they make apps for it? I think its a good strategy and hopefully it will give users an incentive to join windows

I don't see how this strategy will cause users to abandon Apple or Android and come over to Windows Phone. Cortana will either be: a) a crappy, unintegrated app that doesn't resemble the true experience on Windows Phone like a lot of people are saying here in the comments, so no one will be impressed enough to move to Windows Phone. or b) It will be just as amazing as the baked-in Windows Phone app and they won't have a reason to come to Windows Phone. Either way, no one is buying a Windows Phone because of Cortana.

I see your point but windows phone isn't just about Cortana, its about windows 10 mobile. Its a about universal apps, about a unified experience about continuum, about being productive wherever, wherever, with whichever device you own, about hololens etc etc.Microsoft cannot act like a company with 40% market share in smartphones by keeping its features exclusive. MS has to act like a company with 3% market share who is looking for an increase, and looking for the most people using its services. Apple and google can afford to boycott each other because they are both leading the smartphone market. Microsoft can't. The other thing is that it is much harder for MS to catch up now that the smartphone market has matured a lot. Diminishing returns means that the more mature the market gets, the harder it is to really make the 'next big thing' because phones nowadays have everything you need in a phone. First it was apps. Then it was AI assistants, then it was widgets, then NFC, then accelerometer, wireless charging, fast charging, big phone screens, stylus, fingerprint sensors, heart rate monitors, metal body, good build etc. What is there left for Microsoft to make a big impression? Hardly anything. Windows hello and continuum may be promising, but amazon's fire phone may say otherwise. It is hard but I believe that Microsoft can at least make a dent in google and apples market share by universal apps, releasing it's apps for other platforms, get people using bing through Cortana, and the new app porting tools announced at build. I think they may be able to do this, but of course, only time will tell. And I respect your opinion Edit: And of course, they need to go all out on marketing for windows 10 and their flagships when they come

It think on ios and andriod they should make Cortana only integrated with Microsoft apps e.g. Say you want to listen to music, you say shuffle music and the Xbox music app opens. Same goes to taking notes(oneNote), sending mail (outlook), messaging and video calls(Skype) etc. This should be a good compromise and advantage Cortana on WP will have over others. Maybe it can improve user base on those MS apps

Exactly! It's much better on the Windows platform, so it won't be that awful. In fact, it rocks that Microsoft is being customer-focused and allowing its services to run on anything you want. :) Google could take a lesson here.

LOL. It is obvious you are just saying this to feel a little better about this. The truth is, Windows services are way better on iOS. I know this because I own both a Lumia 1520 and an iPhone 6 Plus. Windows apps are just better on my iPhone. And, I can bet you Cortana will be fantastic on iOS. It has to be. On Windows phone it is a niche product reaching a small segment of smartphone users. On iOS and Android, it is a big product that has the potential to be a beast of a product. Hmmmmmmm, I wonder which one would get the A team developers....... Don't kid yourselves, Cortana on iOS and Android will be solid and better than the one on windows phone. And, you know what? I do not have an issue with that. Microsoft is running a business. Not a fanboy club.

Well, quoting someone above, Cortana might not be as feature-rich in iOS because of the limitation, and if Apple decided to pull that "no duplicating iOS function" (Siri) veto. But it would be in Android, with access that might not be available from Windows Phone's API.

Realistically speaking, you're probably right. :) but because I like being unique (my friends can attest this to you), I refuse to have a phone that has icons anymore. Plus, WP's keyboard blows iOS out of the water. I type WICKED fast on this sucker ;)

Haha I know the feeling. At this point I keep using WP mostly to be a contrarian! It is a great OS and my Lumia Icon is a fantastic phone, but the main reason is that I like to be different. :)

I have no issues touch typing on my iPhone 6 Plus. And iOS can use alternate keyboards if you want now. Not that it matters. I don't know anyone who chooses which mobile platform, ecosystem, and services they want to use based on what on screen keyboard is in the phone's operating system.

Well now you know one ;) I go off usability, uniqueness, keyboard response time, phone specs, and minimalistic preference. In the words of Cortana when asked about the platform, "Windows Phone suits me perfectly." :) Go customer choice!

This will help in training the assistant in many international languages though. I'm personally looking forward to a wider release of Cortana across the world.

Why buy the milk when they are giving the cows away for free?

Because we should be lazy to take the milk out of the cow /s\

Put the coconut in the coconut...

Put the lime in the coconut.

This might just be a front end app for Bing search, which allows iOS/Android users to get a taste of the Cortana milk, but only full fat Cortana on WIndows allows it to fully integrate with the phone, launch apps, do all the good tasting stuff. ..of course this is Microsoft, and it will probably be the full dairy.

Don't worry...Apple will reinvent the bitch...and get full credit...

A software and services company that gives EVERYONE access to its goodness except their own platform. It's like they hate us for using Windows. It's not about just an app or Cortana, even Skype is better on Android than Windows. Being a fan is one thing and being stupid is something else.

Everyone except their own platform? So where has Cortana been and been not in the past year?

As I said its not just about Cortana which by the way they were probably testing as a beta so they could provide a better experience on Android and IOS. They prefer Android and IOS over Windows. All of their apps are not only available for Android and IOS but are also way better in every aspect they possibly could be.

What better way to get people using your services? Just wait for windows 10, this is the reason our apps aren't as good yet, they're still being developed. We'll see who's apps are better once windows 10 mobile gets launched

Well, I have to hand it to Microsoft fans, no matter how badly Microsoft screws them over they STILL hold onto hope that somehow the next version of Windows will solve all problems. How did waiting for Windows Phone 8 and Windows Phone 8.1 help us out? We ended up having to sit and watch when Microsoft was putting all its effort into developing for Android and iOS and ignoring Windows Phone.

Well now its not ignoring windows phone at all Imo, its just that windows phone is getting a major update, so instead of developing for the current 8.1 they are developing for 10. Rather than have half the devs working on new office apps for 8.1 which will be discarded in half a year, they're working on brand new apps which will come with the next update, apps which cannot currently run on wp8.1. I can see where you're coming from but I'm not convinced yet that they have ignored windows on phones, especially because of the new universal app platform, and windows 10 mobile

I'm surprised they didn't release Cortana on iPhones first actually

Yeah why didn't they release it first on android and iPhones? They were getting it anyways

Maybe taking out google first? Apple is using Bing right?

Needs to come out of beta in WP and go international, which Windows 10 should accomplish

That's right, remember: We are only beta testers...

No. Microsoft. No. *Whining like never before.

This is good for the eco system!

For which eco system? Android or iOS? Definitely not WP.

The ecosystem is Microsft. Not iOS, not Android or even Windows. If you have a Microsft account you get all these good apps no matter the phone/platform you pick.

Yep agreed. Microsoft wants as many people using its services

Eh it was expected anyway like Android app support too. I don't care anymore lol.

It has to take Google's approval first.

Google isn't Apple. They don't veto apps in the Play Store just because they don't like them.
Microsoft will probably have a harder time passing it through to Apple's Store. Posted via the Windows Central App for Android

Doubtful, if I could fuck over my competition, I'll help anyway I can...

Would have said f**k it, but I don't think it will matter. 3% global share, right?

But it's seems like Cortana she is gonna work only for Microsoft apps .

Cool. I wish more companies made their services cross platform.

Companies like.....Google for example.

Agreed, but if Microsoft shows some success with their recent approach to making their services avaiable across multiple platforms, Google will be forced to do the same.

Google does make their services available across multiple platforms, just not the small ones. You don't see Google or Microsoft apps on the irrelevant platforms like Ubuntu Mobile, Symbian, Tizen, Windows Phone/Mobile, WebOS, etc. If any of these platforms gain respectable userbase/market share then you will see Google/Microsoft expanding thier services to them. You cannot expect them to support such small, niche platforms.

Yeah right.. We don't need whiners like you... Just Go... Close the door after you please

Ya slowly everyone will leave and close the door and some fans like you will shut in there forever..

Well I may or may not be a fan of WP .. But I'm not a fool to switch an OS just for the sake of an app being crossplatform ... He is talking like " MS have released Minecraft for iOS, damn it.. I'm leaving WP " ... Such an Idiot

Its not about an app..Its about the attitude of Microsoft..Cortana is in alpha and beta state on Windows phone and also not available on many parts of the World. They should have made that better before bringing it to other platforms..Also they have a habit of making apps better on other platforms than on their own, this sucks big time. Apple, on the other hand value their customers the most..

Have you used MS apps in iPhone before? .. It's never as fluid as in WP .. And who told you that they are gonna bring Cortana to every country for Android or iOS? ... And who told you that they are not gonna change Beta and Alpha state of Cortana in some countries before releasing it for Android or iOS...
so be patient buddy

Yes my iPad is full of Microsoft apps( outlook, Ms Word, skype, OneDrive etc) and trust me they are flawless..

The only way to train a machine learning algorithm is to have many users use it. This will actually help Cortana exit Beta and alpha states. Also, quit being shortsighted reserve your judgements until they release universal apps. Everyone knows that universal apps are WIP. Microsoft is not foolish to make these apps better in rival platforms. Windows 10 is big deal for Microsoft, give them some time.

Before this Windows phone 8.1 was supposed to be big but that didn't happen actually..5 years is a long time and market share is still stuck at 3% which is a big disappointment..Tell me how much more time Microsoft needs? And can you give a guarantee that Windows 10 will change everything? We only can assume and have patience like we were doing for the last 5 years..Nowadays I don't see Lumias on the road, workplace or among my friends so I guess not everyone has the patience..Lets cross our fingers and see whether Windows 10 really can turn the table..

I'm not talking about anything big at all. All I am saying is that there is no business justification to making MSFT services better on rival platforms when windows 10 is so important for Microsoft. All I'm asking is for patience, wait till final versions of universal apps ship with windows 10 and then judge whether the services are indeed better in rival ecosystems. In contrast, I see Lumias all around me and everyday I see apps getting updated all the services are available in India and my phone works great. I don't really know what the dissatisfaction is WRT to Lumias.

How are you saying all apps are updated regularly? Top apps of windows phone like facebook, whatsapp, instagram etc lacks many features..Recent apps like send anywhere are much better and functional on other platforms.. Latest sensation Dubsmash is not available on windows phone.Snap chat is not available till now( though I personally don't care about snap chat).Hotstar is not available. I have to buy a new phone and I m just waiting for Windows 10 to see whether things will actually change.

Give me the link please.. I am pretty much sure official hotstar app is not available on windows phone..

Maybe our usage patterns differ man. Yes facebook might not be feature rich and I miss editing my post on Mobile. WhatsApp, as a messenger it allows me to chat and also use groups. This is more of an SMS replacement for me and it does very well. I don't use Instagram, if I have to post photos I do it on Facebook. Snap Chat I don't even think I'll ever use it. I don't care much about latest games. I'm happy enough playing a casual pocket tanks game, the most time that I spend on is in news apps, Economic Times(Recently Updated), Bing News, Outlook India(Great app), Occasionally Flipboard. Also, I use the utility apps more, Ola(Recetly updated with even Ola Cafe), TaxiForSure, Zomato, (Regularly updated), HDFC Bank(Feature Packed App), ICICI Bank, Axis Bank, Dominos, Truecaller, Hike, IndiGo, Cleartrip, PayTm and Redbus. Hell most of my 1 GB data on mobile is used within one month because of all the app updates. I am sure that this won't be make everyone happy but in India at least we have over 80% use cases covered.

Dubsmash was the dumbest app I tried on my M8. Windows folks like productivity, not fads.

Agreed judgement should be reserved until Windows 10 mobile is released

Actually, you need as many people as you can to stay with Windows Phone. Zero market share means you will eventually have to choose between Android and iPhone.

And leave the lights on please.

And if not i will gonna jump to iPhone and forget about windows phone

Yeah go, get lost lol Just for one app, jeez

Every other site has almost all positive comments regarding this news. And then there is this site.... Guys, wake up - people like using other platforms besides Windows Phone. If putting their services everywhere is the only way for MS to stay relevant then this is good news.

Yup. Are you new here? ;-) Seriously, this is good news. Microsoft is being what Google claimed to be. A software and services company that gives EVERYONE access to its goodness.

Hahaha... He is definitely new here :D

Then where is the Cortana app for Blackberry, Linux, Tizen, WebOS, Symbian, etc. They all have similar market share to Windows Phone. The reason Microsoft doesn't support these platforms is the same reason Google doesn't support Windows Phone/Mobile. They all have miniscule market share (<3%).

What all other site? Android central? The iPhone forums? Of course they have positive things to say. They know it's not same the other way. Ms bends over......they throw sand on it. They know we wont get google services so there more like craking up ;D

Agreed. And to the naysayers. If one app is all it will take you to jump ship, then you weren't really invested in the ecosystem anyway.

Cortana isn't just one app, its the last of Microsoft's services to be ported to Android/iOS. Did you forget that Bing Rewards, Smartglass, Xbox Live, Xbox Music, MS Office, Skype, Microsoft Health, OneDrive, OneNote, and Outlook have all already been ported? Did you read the article about Samsung selling Galaxy S6s with Microsoft Services baked in? https://www.youtube.com/watch?v=_elqLDSt36k

So why get a Windows Phone? To have less apps or outdated apps.

didn't meant to hit the report button! Sorry bud.

It's only good news. If W10 is going to be big and better, a taste of Cortina is a taste of W10 and a lure for other platform users to jump across. It won't be as deeply integrated as an app anyway.

But will it also be Beta, as it is on WP, and available for only US, UK and (some other country I have forgotten about). If so it is, like, no news.

@Chris, unfortunately no it won't. The same thing was said about WP8. "We're sorry WP7 users, but the new kernel in WP8 will bring a new experience to the platform, bringing more users to WP." Blah, blah, blah. I enjoy my Windows devices, but I agree, I'm tired of seeing our unique services ported to other platforms. There are less and less services specific to only the Windows platform. MS is making it so there is no reason to switch to WP. There used to be a time when companies tried to have their own unique services. My wife is an iphone/ipad user. You think putting Cortana on her iphone is going to convince her to switch to a WP? You're fooling yourself. iPhone users just won't use Cortana if it doesn't work completely with ios.

Sliiightly different scenario here moving to W10 than the upgrade to W8 from 7.5 don't you think? People don't think long term enough. MS is playing the long game but everyone is so "now now now" they can't see the wider strategy.

Microsoft isn't going to lure anyone away if the Cortana experience on their handset isn't amazing. And if it's amazing on their iPhone or Android handset, why would they jump to Windows Phone?


We have no idea what the new W10 handsets look like or can do. If they are shit hot and with what W10 promises plus Cortina and marketing and advertising and high street awareness, it could make a difference.

Thank you. People like you still give me hope about the comments sections of this site

I'll just get an android phone then..

As you wish..all the best

CORTANA is a SIRIal killer.........

it's not.
or maybe you should apply for the CEO's post at Microsoft. :)

Anybody would be better than that moron Nadella.

Actually he's quite good, seems like he has his head screwed on

He will sink Lumia phones. The software business will do well though! Posted via the WC App for Galaxy S6

Whiners... Let's begin the show..

Throughout the comments you have been technically whining about people giving their opinion (freedom of speech) so technically your also whining. Good job :D

" I'm leaving WP... I'm switching over to iPhone .." I don't call those as openion... That's called idiotic whining... When Cortana made available in iOS and Android... They are switching to iOS ... One day apple will make iCloud crossplatform.. And he will switch to Android .. And one day Google may release a superb Gmail App for iOS ..and he will move to... Ooppzz.. There is no more OS left.. Meh :D

Eh.. Did somebody change the meaning of the word "whine" :/

Stop whining goddamit Posted via the WC App for Galaxy S6

Nice.
I have no complaints about Google Now but if I can have Cortana syncing with my Windows 10 PC and Outlook, even better. And I'm sure someone will find a way to hack her into the shortcut place of Google Now on Android. Which would also be nice. Posted via the Windows Central App for Android

Lol they could be able to hack your personal informations too. Oh wait, there's already an entire os for that

YEahhhhhhhhh I was waiting for this integration!

This is good news! Cortana would be more useful and it will help people love Windows 10. Maybe in the future, these Android and iPhone users might switch to Windows 10 Mobile for a better Windows 10 experience.

Yeah...Not gonna happen. Posted via the Windows Central App for Android

Yeah, those 3% market share approves.

Keep the dream alive.....

Say hi to Peter Pan next time you see him...

Legit made me laugh. So naïve it's funny.

Tears of laughter in my eyes mate! Posted via the WC App for Galaxy S6

Gone are the days of exclusive features.

Let me tell you something......the Indian ceo HATES Windows Phone......

Yup, one more reason to leave Windows Phone. What's next?

He uses his right three-fouth part of his mouth to talk! Haha... No offence! :)

In some ways, Microsoft is actually making the operating system irrelevant. If you're on an iPhone but using 100% of Microsoft's services, it's not that much different than being on a Windows Phone and doing the same (especially now that Windows 10 is basically free and not a major source of revenue anymore). Microsoft is taking their services and bringing them to people, as opposed to Apple and to a certain extent Google who expects people to come to them. This could pay off big time in the long run.

Except all these "services" are freaking free. So Microsoft is taking the Google business model and becoming an advertising company that dabbles in software. Great...

There is one major benifit to Microsoft. Contana is powered by Bing. If more people use Cortana on Android or iOS than Microsoft will gain more market share in search engine indirectly. Bing is already gaining some marketshare in direct search and this move will make more dent in Google search and ads revenue. And cortana is just an app. Not integrated to the os same as WP or W10 for Mobile.

She's just an app for us too! Albeit a universal app, but an app nonetheless.

Yes but an app with deep integration

So.. What's the Windows Phone unique feature that an average user should see to pick up an Windows Phone and not other

Camera on high-end Lumia phones....cheap bugdet phones.

Windows Phone is dead as of later this year. Windows 10 is the future. And this is part of it.

Live Tiles.
That's it. And that's until someone hacks those into Android probably. Posted via the Windows Central App for Android

There's already a Windows Phone 8 Launcher on Android. All someone needs to do is base the launcher tiles on widgets and there you have it. Live Tiles. It's not that impossible to happen. It just doesn't because few people like the Tile interface.

True. And if MS decides to kill live tiles we're dead.

Google won't let that happen to their OS. Custom ROM is the way.

You just need a Launcher. Google doesn't meddle in that.

Live Tiles. Faster than iOS. More secure and faster than Android. Deeper integration into Microsoft's services. These are the things that matter to me.

Arguably best phone cameras, stable and reliable low-end phones, deeper integration with Windows PC, and Live Tiles on the home screen that you can pin almost anything on it (honestly, it's severely underrated)

Oh, Xbox and Continuum too

Stable and secure code, from someone who is able to do it. But if you are willing to exchange that for some games or a fingerprint scanner good for you

I think we are beyond that now...

Slick! UI is definitely smoother and faster than Android. My 32Gb is almost use up, hope future phone got 64gb. Got cool live tiles which I like it. Double tap to wake the phone, tap an app to lock a phone(app).. Well HTC got the double tap now. Live tile folders, beautiful! Camera, love it, PureView! Cortana, hey babe haha! Cortana is very handy and helpful. If im not wrong WP consumes less battery than Android. Lastly, The Start Screen/Home screen, I got all I need.. Customized it, love it more than the rest hehe. Lumia 930

Honestly, there really isn't any. It looks like you can have any of these great Microsoft services on both Android and iOS, and with Android you can probably allow Cortana deeper integration. As an added bonus you'll *also* have HERE Maps and Mix Radio. So go pick the device of your choice among the new releases: iphone 6/6+, Galaxy S6/Edge, the LG G4, Xperia Z3.....or a handful of $60 Windows phones.

The whole windows 10 universal app platform, continuum, windows hello, windows 10 mobile with keyboard and mouse, a much more unified experience across pc, phone and xbox, Universal apps. Why are you judging windows phone 8.1?, judge windows 10 mobile, which Microsoft is putting its effort into and making a lot lot better than wp8.1 ever was.
I'm gonna reserve judgement until windows 10 mobile is released

I doubt many people will use Cortana as they already have google now and siri

Google now? ... Siri ? ... They both don't have good features like in Cortana.. May be Siri will survive.. RIP google now

You've obviosly never used Google Now.

Fuck iphone and Android. Cortana will be the icing on shit for them.

I'd say the same thing about Windows 10.

This is the very reason why Windows Phone will fail. No authenticity.

So, why my next phone should be windows phone?

Perfect Pair >>>> Great Match

nope... iphone & adroid have better quality of apps

If we were talking about WP8.1, I'd say EVERY reason the next phone should be Windows Phone. But with Windows 10, I am telling everyone to stick with what they have. I HATE everything about Windows 10.

Great news, get everybody to start using the w10 ecosystem, it won't be as good as wp10, I think it will start weening people off their other systems. Only time will tell. I wont go to Android or IOS even if they do this, no better cameras' and nothing is as fast as my 930. Just wait for my flagship device and go from there.

You're on drugs if you actually believe the W10 OR W10Mobile systems are worth a flip. They are HORRIBLE by any stretch of the imagination. Windows 8.1 and Windows Phone 8.1 are the last, best systems. I'm so sick of W10/W10Mobile at this point, I'm warning people against switching if they aren't already using Windows.

Well that is a shame, I can see the bigger picture, I have been using w10 and it is a major step up from w8.1 it I everything w7 was and 8.1 combined. On drugs? No just willing to give a new joint os a chance, I amongst others have been waiting for an os that unifies all platforms, if that is w10 then great! If you don't like the os then why not just buy an android pc? Oh because there isn't one! You could always buy an overpriced laptop. Or you could let other people make their judgement on their own. I for one am looking forward to it, I will make my judgement when the os I released. For now I will happily continue to use W10ip

No better cameras? The G4 has the best camera of any smartphone, and the iPhone 6/+ has a fantastic camera as well.

I beg to differ, the 1020 has the best camera by a mile. Worth the Lumia 930 the 4k recording is not available on the lg or the ip6, I do not doubt they are great phones but they lack the customization of the wp 4k with 8mp frames wings for me. Still a phone that is nearly 2 yrs old does out perform in many ways, but the 4g does take a better picture as it should. The ip6 doesn't come close to either. I love the slow mo on the iPhone though. Anything the 4g runs is down to a third party app which can use up precious memory, on an android phone that is bad. The algorithms used by the Lumia are better and faster in certain circumstances. Don't get me wrong, my point is superior build quality and a heavily feature set camera is why I bought the phone. I look forward to the new flagship if they ever come!!

With the Lumia 930 I meant, and 4k recording which is not in the others.

Cortana having a bigger user base will actually improve the service, specially in countries where it's still in alpha/beta or not available.

Perhaps the only non-hysterical smart guy in the room

Told you guys to get an iPhone. Apps are better and more Microsoft integration than Windows phone. I was called a troll the last time I spoke against windows phone ha, ha, ha, ha; who's laughing now? Why continue to support Windows phone OS when you get it better on other platforms? +1520

Cortana is just an app on other platforms. How is that better integrated? That sounds misinformed.

I was able to get access to ALL of my MS cloud data on my new iPhone. The first thing I thought was, what makes WP so exclusive from anything else? Nothing that made me want to stay that's for sure

So you were using Windows phone just for cloud data? Weird.

weird thing is that I NEVER said that used it for JUST cloud data.

The comment section is going to be fun today.

Excellent! Now the next thing for Microsoft is to implement the continuum feature into the Android and iOS Office suite! Who the fruck needs a Windows Phone? Not to mention Android and iOS will probably get the XB1 game streaming feature anyways. Sigh.

one less reason to use windows phone

What are doing Microsoft...
Now Android users have no reason to buy a Windows phone because it does not have unique apps other than app shortage... Although you create the apps for Android and iPhone which are simply better than of Windows... So how could you force developers to build apps for windows 10 if you are doing like that... If it fails,,, then bye bye from me!!!

EVERYWHERE!..... Except for countries that don't speak English, Spanish, German, Italian or Chinese...
Arseholes with iPhones will get Cortana before I will with my 1520. Thanks for nothing!

Even iOS users won't get Cortana if It's not available in those countries already .. Use your brain..

Fact is that iPhone & Android users will have it before I do.. Is that enough brain for you smartass??

Now continue with your isis war of bullshit and don't doubt my brain again...

Well.. I was about to say sorry for using the word brainless.. Since you think all the Muslims are ISIS agents.. It proves how Brainless you are..

Cortana doesn't even make it to big English-speaking countries. So a cut-down, feature-light, regionally restricted version on other platforms is going to be a real let down.

You must be from Israel for sure

I have no problem at all that Cortana goes to Android or IPhone but will Cortana become locally available in more languages and regions? Or will this move help to get this done?

I see microsoft and blackberry killing themselves. Why are they making their specialities cross-platform? Why? Blackberry reportedly is going to make the famous blackberry hub cross platform, and now Microsoft is also going to make Cortana cross platform.. And it is so obvious, that there wont remain special features in these two OS'es, and all we will have in the market will be ultra premium iPhones, and the vast range of adulterated android phones.. So sad..

Bye windowsphone, count me out, love u all guys :*

I hope the hell it works better on those platforms than ours.

Cortana is in the hemoglobin of windows phone......
As we compare to "lagdroid" and "idong", Cortana only exist as a talking reminder app....
Which also create a lust to own a Windows product.....
That's it ! (marketing strategy)

How can you be sure that she wont work as well as WP? The service will definitely improve with time and it shouldn't be much time till there is feature parity amongst all platforms.

But they have to do.....
Who's know, they can anytime add another handfull of unique features in their own windows products....

"lagdroid and iDong"... You don't sound like an immature fanboy at all.

Looking forward to Cortana on iOS and Android.

Cortana did not make Windows Phone market share increase in the US. It is not a selling point. Phones with Windows 10 will still have .exe compiled apps, continuum and many other awesome things heading towards a universally capable platform (no phones, tablets, PCs, just things with Windows in them). I like their direction and I do trust this is the best way to do it

I disagree. Cortana has been a pretty big marketing tool in a bunch of commercials I've seen. There's been tons of reviews on Siri vs Cortana and so on. While it's not the main feature, it's definitely been a selling point for MS over the last 6 months. But since that's pretty much gone now they'll have to find a way to shift focus in their marketing campaigns to something else.

I don't see it that way. I see this as the next step in their marketing. It's just an app. It likely won't have the finely woven integration into the OS that Windows Phone has. It allows users on other platforms to see what she can do and compare to that platform's voice assistant. If they like her enough, they may consider switching platforms to get the additional functionality that Windows Phone has. Microsoft also has other interests outside of just Windows Phone as well. They are trying to gain market share with Bing, and all those Cortana search queries will be using Bing.

Next Cortana and OneNote integration... That would be awesome

This is a mind-boggling move. Why do I need Windows Phone? Should I just buy iPhones for me and the wife and call it a day?

Are you going to spend one or two month salary to buy phones which will break in your pocket? Interesting strategy

Depends on your needs. So far, my 920 is still going strong, so I'm willing to wait and see if Microsoft finally releases a camera beast with a phone included once W10m gets here. If you need a topline phone now, then the iphone isn't a bad choice. And it does have some advantages over WP: it's popular so you get great apps that get updated, you have access to a variety of protective cases that aren't available for WPs, and you would already get the improved Office apps, which WP lacks. W10m could turn out to be a real game changer for the phone OS or it could flop just like WP7-8 did. Either way, I think it's clear Microsoft wants WP to be no different from IOS and Android (similar UI, same apps), so really it's going to be more about what hardware you like. For me, camera is king, so I'm hoping Microsoft continues the 1020 line.

Not sure why MSFT is doing this move but they have their reasons. As long as this "companion app" doesn't included feature like laughing apps and other OS integrations I don't think we should worry but be happy that OUR PA is going global. On the other hand MSFT might cut them self deep in the hand if this backfires and kills our beautiful platform.

So here drive and cortana on android... Looks lime I'm getting the galaxy note 5 in December when my contract runs out

hahaha yeah good look with touchwiz! so you are gonna still use Microsoft apps? and anyway Google likes your personal data, remember that.

Personal data collection is the same direction Microsoft is heading. Don't fool yourself, how else will they continue to pay the bills while giving away so much for free.

Wow. They actually did it. They just killed their own mobile OS.
I didn't think they'd throw in the towel quite so soon.

"Although the functionality will be very helpful, because it's "just an app" there will be certain things that Cortana does on Windows phones that won't work on Android devices or iPhones. Some features require access to the system that aren't currently possible with iOS or Android, so things like toggling settings or opening apps won't initially be available in the Cortana companions for those platforms. Similarly, the ability to invoke Cortana hands-free by saying "Hey Cortana" requires special integration with the device's microphone, so that feature will be limited to Windows Phones and PCs." From http://blogs.windows.com/bloggingwindows/2015/05/26/your-windows-10-pc-w...
Of course, ask the whiners with selective perception will gladly overlook this.

And you think Joe public is going to understand the difference?

It's not hard to understand, you just need to know it by seeing it in Windows 10 Mobile ads, for example.

"....so things like toggling settings...." are you serious? You think using Cortana to toggle settings is something that will convince users to switch to WP??

This things will come in time to the other platforms.

I don't get Cortana in my language or region but it will be available in other platforms'...i will stop using Nokia...microsoft..or Lumia brands...

I love how hard MS is working to bring all our exclusive apps to iPhone and Android over the last few years. And I love how hard Apple and Google are not trying to bring any exclusive apps to Windows Phone. By next year there should be no benefit to owning a Windows Phone over anything else.

Yeah cause u got wp for cortana? Give me a break. This is great news for msft

Most of us here did not get Windows Phone for Cortana, but I do know of several people that have liked Cortana enough and see it as useful enough that they would strongly consider switching to a Windows Phone, when previously a WP wouldn't even warrant a passing thought. It's not that Cortana is enough for people to switch on it alone, but it did up the credibility of WP in a lot of people's eyes when they see it in action.

What apple 'apps' did you want? They're a hardware company.

Seems like my comment was clearly misunderstood. I never said Cortana was the main reason or my reason to own a WP. In fact I've been on WP since it was Windows Mobile 5.0 on my HTC Apache long before Cortana existed so it was never my reason to be on this platform. My point is we don't see Google giving 2 sh*ts about WP users having a great YouTube experience. We didn't see Apple caring about porting over Siri when it was introduced. Yet MS very much cares that everyone else has a great Office, maps, Smart glass, Cortana experience and whatever they decide to port over. Just seems to me the more they share with competition the less reasons there are for people to consider WP.

Great news with Cortana. It can only get better in more hands.

sad, well is a companion app

It will be interesting to see if the other platforms get the Hey Cortana always listening feature as well...i think they will as theoretically, all that's needed for it to function is just the right SOC which is generally ubiquitous across the flagship spectrum on all platforms.

People moaning, here is a chill pill, take it, relax and think for a moment. This will only make cortana better. Alot of you moan that its not widely available and not in your region. Well, by doing this MS will be able to collect the data I needs to not only make Cortana available to more users but also improve things like maps, bing and other services that currently lack worldwide support. Come people we aren't losing anything but we will gain a more robust and intuitive voice assistant. Smart move MS.

Wrong. You're losing market share.

Show me the evidence. Unless google and apple suddenly have a change of heart I don't see either company allowing a deep enough integration into their respective os' for cortana to have the same experience as on WP. I stand by my statement, we only have gains to make from this move as the data MS collects can be used to make cortana a whole lot better on wp.

If like that,cortana will available on Android soon..i think I will switch to android,this is disaster for WP user!!

After watching the video I don't think this is a bad idea... I think its actually amazingly forward thinking of MS. I imagine MS will use these types of highly desirable services to cement their position as market leader in PC operating systems... By making the PC OS such a compelling experience that it remains the defacto standard OS they will ensure a future revenue stream without really jeopardizing anything of great value. Everyone is asking why you would buy a windows phone now but the answer to that question was never Cortana... Google and apple have their assistant solutions that are on par with Cortana so it was never a compelling feature as far as selling the platform... Deep integration across the entire ecosystem to the point where the consumer uses all of Microsoft services and is fully dependent on them IS compelling and the question a few years down the road becomes not "why would I choose windows phone" but rather "why WOULDN'T I choose windows phone?"

Microsoft is the new Google...
We can call Microsoft as Google 2.0. See they don't care for what all the competition is about. They just lost it in mobile world a long ago when Windows phone 7 was launched. By giving away services for free is the only thing that they can survive in today's modern mobile world.
And my next phone will be the last Windows phone I'll ever use if Windows 10 Mobile fails to deliver major apps and services.
Thanks.Peace.

Anyone who thinks Cortana will be as full featured on iOS and Android hasn't paid attention. Google and Apple will both cripple its integration just to show how superior Google Now and Siri are. MS will fight back by making whatever integration they can with other MS apps on that platform.

Maybe...but a lot of people feel left out...and at the moment..i see no more benefits of sticking with nokia Lumia brands...

Lumia brand is now tester brands

Only zeiss lens and pureview tech left to differentiate between them now. Nothing exclusive anymore... Here suite, office suite, xbox apps, OneNote, MSN and now cortana.

iOS and Android get a Cortana beta and Canada, the U.K. and India can't even get out of Alpha, WTF Marcus Ash?

The server backend is the same on all OS which is what counts regarding regional availability. Actually now, Microsoft will have more pressure to release Cortana worldwide than ever before so that's a good thing.

As much as I personally hate this, and as much as this will only hurt WP users and growth, I understand the business decision. It is a smart move, but God it sucks for WP fans.

Go for it, you're a software company.

Where is cortana for portuguese language? Been a loyal wp user and android and ios will get cortana first than me??????

The server backend is the same on all systems which is what counts regarding regional availability. Actually now, Microsoft will have more pressure to release Cortana worldwide than ever before so that's a good thing.

This was the last piece of information I needed before I left Windows Phone. :)

Me too. Android should arrive Monday :D

Sooooooooooon.....yep, heard that one before. Posted via the WPC App for Android!

Best fart apps, and now Cortana!!!

How about worldwide availability before giving it away to other platforms?

Can't tell if this is good or bad. Maybe a bit of both?

Good for MS,
Bad for their current users - and they've had enough of being shat on.

Why buy a WP when I can go pick up a iPhone get all the popular apps that are missing in the WP store, plus all the Microsoft services.Microsoft give me a good reason to shell out 600 bucks when a flagship WP10 device comes out?Just don't get it and never will.You don't see Google or Apple doing this.

Security, a smoother experience, better battery life, live tiles and live folders, the best keyboard on any platform, much better cameras on flagships, continuum in Windows 10, some third-party apps that are even better than their official iOS and Android counterparts (Rudy Hyun's apps, TubeCast, MyTube), Cortana has more functionality than the iOS and Android app will ever have, Xbox and office apps will be much better on Windows 10, not to mention it will also have an official file browser (something extremely limited in iOS and overwhelming in Android due to the insane amount of file manager apps there are)... Better consistency overall... Android and iOS apps can easily be ported to Windows 10 which significantly reduces time, effort and overall resources to developers...
Do you really need some more reasons?

Not talking about W10,don't use office apps,file manger or Xbox.IOS is just as smooth and secure as WP.So don't know where you're going with that one.And third party apps are a joke compared to the real deal.6tag and Tubecast are constantly being updated with work arounds.Have you ever used YouTube on a Google device or Instagram on IOS?The difference is night and day compared to the shitty third party offerings on WP.Rudy and other Devs have done a good job,but the experience is way better with official apps.

Your comment makes it evident that you've never used wonders like 6sec, TubeCast, and you clearly are not aware how easy it is to mess with an iPhone even without doing a jailbreak.
And windows 10 IS a relevant point.

Yes,I use 6tag,Tubecast.And for messing around as you say.That can be done with any platform.My comment was about WP,and my Windows tablet and PC are not going any were.Just my phone if I don't see some changes.I've even seen article's were they talk to devs and they still have no interest in 10 even if it's easy to make a universal app or port over from Android or IOS.

Yes !!!!good!!! The IOS AOS members doesn't need to buy a WP phone, LET THE WOS FOR WE "THE JACKASSES"

I can't even understand what you're trying to say ffs

I will switch to Cyanogen for Android then Cortana says "I'll be there for you =]"

Fuck off... What's the reason to have a Windows Phone? We are giving our apps to all operating systems and we don't get anything from them (YouTube, SnapChat..) i'm starting to hate satya nadella.

Easy. I moved from android. Used it a long time. Trust me. Its not all rosey over there. Endless memory clearing, cpu fixing and virus checking on android phones. Random restarts among other countless daily issues on every android phone I ever had. All os related. I'd never go back. As wp is faster, smoother and does not need looking after like baby daily. I had xbox smart glass on my galaxy s5. And it is terrible to use next to the one on my Lumia 930. It might be available, but the os grinds any app to a halt after you have had the phone for 3 months. Ms have posted the highest profit and income the company has ever had the last 2 years. So they clearly know what they are doing.

Cortana, created with love by Microsoft for IOS and AOS members. --'

Didn't get a full version of Cortana on my windows phone yet. They've already released it to other platforms. Not cool!

Noooooooooo... Why did they do these

This stinks. Make Cortana at least somewhat complete in more countries before going to new ventures. This is really sad and desperate.

Asked Cortana why she was going cross platform, she said "words fail me"

Embrace, extend, extinguish?

Ok , good now I don't have any reason to hold windows phone Fuck you Microsoft !

I don't know what's your plan Microsoft, but it's not pleasing WP fans.

When is cortana going to support more languages?

Yahoooooooooooooooo!!!!!!!

This is great. Nobody likes to pay for their poor choices, now the people who bought an iPhone or Android won't have to suffer as much until time to buy the next phone. Keep it up MS!

Well seeing that my Cortana app still says beta at the top, proves that WP owners are the true beta testers. And Microsoft agrees.

Yep,we do the testing give feed back and Android and IOS get the newest features.Isn't being a WP user just awesome?Shows that Microsoft has no loyalty to it's user base.It's all about the bottom dollar.

Be nice if you turned her on for Canada. We had an alpha in wp8.1... In 10 nothing..

I think the message here is get on another platform if you want Microsoft services.....

If there is over thing that is predictable in this world, it's the whining on this site. I'm a WP user, I love it and I feel this will benefit everyone in the middle and long term. And heck, even if it doesn't and Windows Phone dies, whatever, I'll call it a day, part with fond memories and move on, taking the Microsoft services with me. Cortana has never been a primary selling point of WP anyway, just look at its sale numbers in the US compared to some countries where Cortana is still on alpha at most.

Windows Phone is awesome, no single app is the thing that makes me love using it. Just looking forward to more Windows 10 Mobile news and builds now.

Am tired of the whole thing MS can do their worst

Just watched the video, looks really good. I was hoping the phone companion would let us read and reply to SMS/Text messages, make calls via our PC using the phone for the actual call, a bit like the iOS/OS X features.

Soon I'll download cyanogen for my nexus 6 and delete "ok google" and have it "hey Cortana" in the system.

Y'all act like Cortana is the only feature of Windows phone. Posted via the Windows Central App for Android

Is the only thing we have others don't

Universal app and game purchases across all Windows devices

Microsoft doesn't get it yet.Offering services that other companies don't have will bring in customer's.

If it brings Cortana to more languages faster, it's no problem for me. I won't suddenly go and use IOS or Android, I've chosen Windows Phone.

This is great news for iphone and android users who love what they've seen of Cortana! Now they can get Cortana without having to buy a Windows phone! That was the goal, right? To not increase sales?

Cortana was not to increase window phone market share, it was to keep people integrated in the MS world. What's the use of having a digital assistant on my laptop that I cannot use with my mobile assuming I have an android or Iphone? Certainly, the 90% windows market all don't use windows phone.

He already said this previously...?

Can someone please link me up to a place where I can swear & where it can be seen by the Top Management of Microsoft ?? Cause this is just too damn effing stupid & retarded. Cortana is still only in beta in like 3-4 countries & alpha in another 5 maybe. While the US one works fine, the rest are too shitty. Make it available in more region before jumping platforms damn it.

Yay! This means I might actually be able to switch back to Windows Mobile. :)

Bring cortana to brazilian WINDOWS PHONE users, Microsoft. Omfg

Thanks Microsoft for justifying my decision to buy a high end android phone....

When I read this article, the song "exodus" by Bob Marley stars playing in my head

I think its fine, Cortana may not be exclusive to Windows anymore but at least it will gain more users thus helping Cortana to evolve. On Windows, Cortana is still deeply integrated into system that some features might not even available to other platforms like passive-listening for "Hey Cortana". Another thing missing on other platforms is the 3rd-party integration of Cortana to apps, which is technically challenging to do on other platforms Microsoft doesn't own. So there are still some advantage for Windows users but not exclusive. Still one of the things Cortana needs most is more country availability with equal feature set to US. Maybe by this Cortana will accelerate to reach that goal and thus benefit Windows at the end.

What's the point of having a Windows phone now?

I bought a WP for Cortana

Should i move to iphone? :/

I'm not sure anyone can answer that for you? I moved to wp from being long term android user. And will stay wp for certain reasons. Nothing to do with apps or cortana. It is simply far faster and better to use.

Would you ever see Siri or Google Now coming to a Windows Phone anytime this century. No why would you because people know that that Cortana is Windows(Windows Ten) Siri Apple. Take the best of Windows and give it to the competition, crazy strategy Microsoft. First Here Maps, Cortana , what next. Hows this gonna want people to buy a Windows Phone. Get a grip

exactly! As i mentioned in other comments... first it was games like Halo SA, then HERE maps, then skydrive and ms office apps, now cortana. How important is the "integration" to most users when pretty much EVERYTHING that i had setup on my WP is now accessible in IOS, and from what i hear, Android as well.

Here maps is a Nokia product. At least get your facts straight.

U guys should take a deep breath and think above the line. What could be the benefit of this move?

I'm just a bit confused on how Microsoft will generate revenue. They have given away pretty much every advantage Windows Phone has over iOS and Android( Office, msn apps, OneDrive, OneNote, here maps, Mixradio and now Cortana all for free!)

It's mainly licensing manufacturers to run Windows on their new devices, and taking percentages of the profits accordingly because of that. Products like Lumia, Surface, Xbox, Bing's advertising and even to much lesser extent Skype generate them money as well through purchases/subscriptions. Plus MS hold patents for some technology that companies like Samsung use, and so it gets royalties. It's ironic how Microsoft earns a decent amount from rival competitors.

Forget music and photos.​ I'd like Windows 10 to directly sync my desktop Outlook contracts and calendar with my phone. Without trying to switch those over to the People and Calendar apps.

Calm down fans,​Cortana will be Trojan Horse to kill Siri and G'now.

It's funny but Cortana looks right at home on Android with the hamburger menu and the Playstation icons below. Sigh. At least cheesy circle profile pictures and badly designed universal apps will still be exclusive to Windows 10.

2 min of silence for those who were like wp have cortana :D Posted via the Windows Central App for Android

Smart decision. Windows 10 needs to be their bread and butter. People shouldn't be stuck with the same ecosystem for all devices, but rather services that connect multiple. They want to be a tech unifying company, rather than another fork in the road.

There is enough love in this world to share with everyone :-)

Oh I see what you did there... You meant"everywhere" in terms of devices NOT in terms of global reach! That'd just be crazy talk! :/

Well, while I found this approach of giving iOS and Android users some bits of what WP has to offer to tease them to switch Ok at first, I think WP is, even though with a low market share, established enough and now that apps will really be universal with windows 10 (closing the gap a little bit more), I think keeping the approach is a little bit silly, since there wont be much of a reason to have a windows phone over another os. I mean, the iOS has so many things that only people with an iPhone can get, and I think thats mainly the reason why people buy iphones...

Microsoft mobile, the Sega of the tech world. Lol!

So much for those iphone vs windows phone commercials, siri vs cortana

F*** you, Microsoft. I am starting to hate you.

You all have to remember this will be the cloud war, and services that tie at the back end of most of the app Google dominate as why developer kin on making android apps but not WP. MS use the same strategy Google did before like maps service, google doc and so forth. But i think MS do much better now.they can win over developer very soon. That why you see lately MS focus a lot on building all those backend services, now they start to implement and integrated into apps, which of lately you see a lot of cool apps come from MS.
Look out! It will not be long before MS will be able to totally made the like of Snapchat app or services is an afterthought.

It's too soon to render judgment on this whole "Microsoft giving its apps to everyone" thing, except to say the obvious, that it's very "high stakes poker." Sure it's possible that in the final analysis, it will do very little to increase or decrease market share or market reputation of either the well established Windows Desktop, or the struggling Windows Phone, so we certainty can't rule out the "whole lot of nothing" scenario. I do want to put it aside for the purposes of this comment, though. I do think it will most likely have a meaningful impact, one way or the other. It's just the "which way" I don't know yet. I think the idea at MS is to be like a crack dealer. Give em some MS goodness for free, get em hooked, then turn the screws, and show them that the MS experience on Google and Apple is bupkiss by comparison, and lure them over with the most pristine MS experience which they will eventually reserve for only their own Windows devices. It's a neat idea on paper. And it even has the potential to work! But what I'm afraid of being far more likely is that the "why buy the cow when you can have the milk for free" ethos will prevail, and rather than luring new Windows adopters, they will actually deincentivize the market to make the jump. If this scenario plays out, I can see it spelling doom for Windows Phone. The mighty Windows desktop juggernaut will probably be too big to completely topple, but I don't see all this helping it any under that scenario. I suppose what it WILL accomplish for MS one way or the other is diversify and enlarge the pool of superficial MS engagement. But at the expense of the deeply, passionately engaged? Doesn't seem like a good trade-off to me. But again, that's all just assuming the worst. MS is doing a lot of exciting things right now, and those boardroom guys know a whole lot more than any of us on this thread do...so let's see what happens. Hopefully it'll work...I just have a bad feeling about it... Posted via the Windows Phone Central App for Android

Cortana? Oh, you mean "Search"? Because THAT'S what it's called on Windows 10. #Fail

This is ridiculous. Normally I have no problem with Microsoft giving some things to other platforms, as a software company that's kinda expected, but this doesn't seem to make sense. Windows Phone is doing well, but it could do much better, and Microsoft have developed a major USP in the form of an intelligent digital assistant that rivals anything on any other platform. It's got the potential to be truly amazing in it's functionality. And so they give it away?! If Windows Phone was bigger, with more marketshare and apps, then it's understandable. Google Now did it. But WP isn't. It needs all the USP's it can get. It's got a fair few, but only a handful can really compete with Cortana. WP may currently have the edge on Cortana's features, but it's not substantial enough to sway casual users between platforms because of Cortana just based on this. If MS hadn't have done this yet? With Windows 10 on PC's, millions of new users get shown Cortana and use her. Great. They want to get that Cortana experience with them out-and-about, so they get directed to Windows 10 Mobile devices, where they can exclusively continue this. Brilliant for Windows 10 Mobile and Microsoft as a whole. Can't help but feel this is a missed opportunity right here. I'm not gonna overreact and claim I'll move away from Windows or anything, it doesn't actually affect me and my user experience, but it's still annoying nevertheless.

"This is ridiculous. Normally I have no problem with Microsoft giving some things to other platforms, as a software company that's kinda expected, but this doesn't seem to make sense" This has more to do wiht Windows 10 for PC than it does Windows 10 for Phones. The vast majority of Windows 10 PC users will also use an Android or iOS mobile phone. Developing a Cortana app for those platforms makes Cortana on a Windows 10 PC much more useful. Interactiosn with Cortana on their PC will sync to their phone, and vica versa.​

As an Asus Zenfone 2 (and former Lumia 920) user, I can't wait. Posted via the Windows Central App for Android

If Ballmer were dead he'd be rolling over in his grave about now.

It's necessary and Cortana is one of those feature I wouldn't mind sharing with other platforms: I can't wait to see their faces when they ask Cortana :what's the best phone Lol

Looks like Microsoft is now an open developer working for Android and apple

This doesn't make sense one bit

And we in Switzerland (the German part of) do not have Cortana, if localizing the phone correctly (which makes sense for many other things). But in germany., its available....we speak the same language. And now I'm reading that instead making it available in more countries, they make it first available for other platforms. Well, the allocation of resources seems now clear... I still have some hope, if this suggestion will eventually get some (many!!!) more votes: https://windowsphone.uservoice.com/forums/101801-feature-suggestions/suggestions/6316790-microsoft-s-own-apps-should-target-wp-first

Wah wah wah, countless google apps are in iPhone. Hell they were BUNDLED at the launch. Microsoft everywhere is the strategy. We cant as an ecosystem think that we can go at this without android users and apple users. Here we have the example where we want other companies to make everything cross platform and Microsoft to not? Wth is that logic? Having a personal assistant type app is not exclusive to windows phone. So stop with that. More data from more than just 3% of users will be better for the overall experience.

Cortina is OK as Voice interface software package but the Apple Iphones and the Android smart phones user's already have their "OWN" voice interface software. I do not know if Android or Apple Iphone users would want to use up a lot of valuable main strorage memory on their Smart phones or Tablets to get what they already have?. frankly I would not unless MS "Cortina" really has something My built on Voice interface software does not have !

These initiiatives are extensions of Windows 10 for PCs. Cortana will take pride of place on every Widows 10 desktop taskbar. Interactions with Cortana on a Windows 10 PC will sync to your handset, regardless of OS. If you are not planning to use a Windows 10 PC, then having Cortana on your Android or iOS handset is less interesting. Also Cortana should integrate with Microsoft apps on iOS and Android devices. It promises to be able to be used to voice dictate notes into OneNote, or Word etc, setup appointments and give you location aware reminders. Files created on your handset using voice dictation, say while driving etc will sync to any Windows 10 device you might have access to, including PCs

Storage is cheap. And Whoretana won't take up much room - she's all about the back-end.

Are xbox games (with achievements) available on ios and android? I know wordament was one of the first Microsoft giveaways, but did it allow users to get achievements? If so, that leaves no reason to choose a Windows Phone over the rivals

There was a game that just came out on iOS with Xbox Achievements.

I'm curious to see comparisons between Siri and Cortana on iPhone in voice recognition...:)

Yes! Thank you, Microsoft. I have zero reason to come back to Windows Phone now!

Will here's hoping it might get them to improve Cortana in Oz, where its a massive streaming pile of crap which hasn't been updated since its release.

I remember when this was rumored months ago. I always knew it was going to be a slimmed down version of the real thing. I'm surprised people thought Microsoft would be able to offer the full Cortana experience on other smartphones, especially since there was no way MS could integrate Cortana as deeply into the OS.

Now I seriously hate Microsoft doing it. Google and apple don't release their services for windows phone. But Microsoft releases their services for Android and iOS. Skype, outlook, translator, so much and now Cortana

Many many Android and iOS phone users will also use a Windows 10 PC. The Microsoft apps on their phones will sync with the corresponding app on their PC, including Cortana.

But i dont have Siri in my phone :-(

What the fuck Microsoft.. what are u doing to windows phone users. Iphone has Siri, can i have siri on my windows phone.. NO.. and google now... NO.. so ios and android is getting.. why. if i want cortana no need for a windows phone. lets go for an android or iphone. The logic would be Cortana is exclusive to windows phone. But i understand also that Microsoft want the success of Windows 10 and the apps to works well other all other paltforms, but why cortana. i was so proud to show to my friend, cortana, i was like '' you don't have her on your android phone'' and later on i see he can have it on his phone too. OH GOD WHY !!!!!!

"so ios and android is getting.. why" Because the vast majority of Windows 10 PC users will be using either an iOS or Android powered device. Cortana is front and center on Windows 10 desktop. Interactions with Cortana on a PC will sync to any major phone handset and vica versa.

"i was so proud to show to my friend, cortana" Seriously? Is your mobile phone that important of a thing to you?

MSFT cares more for Android rather than wp

With the royalties they collect from Google for each Android sold, very possibly yes.

I would love to see Xbox Video go cross-platform. The web app has broken on Mac browsers for a while now.

Here's Microsoft giving Apple and Android Cortana and we don't even get a blinking youtube app!!

Now a good reason to leave Windows phone

Y'all sure an overreacting whining bunch ... Its just an app for God's sake

Question is do you really need a windows phone now?

If you give them Cortana, lift Windows the stupid restrictions that plagued Windows Phone and then, let us do as we wish with our phones.

Yaaa. on my way to apple store

Take bucketloads of money.

ya I have the money which I saved for Lumia flagship.....

But it will be still the plastic phone..

Enjoy your non-integration of Microsoft services then!!!!

Wow, Microsoft is pimping out Cortana, I'll never be able to look at her the same way again..........

Noooooooooo!!!!!!! Posted via the Windows Central App for Android

Stupid company/CEO you will see how that 3% will go down, and I will be one of those buying an iphone.. I think they don't know. What they did..

Of all the cross platform services Microsoft is providing, this has got to be the most absurd. Really, what's the point of having Cortana on iOS/Android if Siri and Google Now are baked into the system, thus providing a much better integration than Cortana ever will? No to mention Cortana will probably be capped with less features and worse integration than on Windows.

"what's the point of having Cortana on iOS/Android if Siri and Google Now are baked into the system" The primary reason is becuase of Cortana's prominence on the Windows 10 PC desktop taskbar. The vast majority of Windows 10 PC users will be using either an Android or iOS phone. Interactions with Cortana on their PC will sync to their phones, and vica versa. If you are not planning to use a Windows 10 PC, then there is no compelling reason to install the Cortana app on an Android or iOS device​

Google have to learn so much from Microsoft

All I can say is that: 1. Cortana as an app on Android and iOS will have nowhere near the full blown integration that Cortana has on WP and will have on Windows 10 Mobile. No ability to control system functions, no quiet hours and no inner circle, looks like Cortana on iOS and Android will be limited to websearch and interests only then. 2. Looking at the companion app you can see all the other apps Android and iOS users will have to install, some of which still aren't ready, just to get an "almost the same but not quite" experience to WP users who just plug in their phone and are good to go.

I only use Cortana to ask questions and set reminders, and she'll be able to do that on iOS and Android just fine.

The point is that Cortana is capable of so much more on WP, I have no problem with it being on other platforms but WP will always have the best version with far more functions and that's what a lot of others commenting on here are failing to realise. I'll give Cortana a try on my aging Galaxy Nexus when it's finally available though but my Windows Phone will be my primary device.

It will be much like the ms band, which has more options than either android or ios on windows phone. Two of my friends have the ms bands and are considering getting rid of their crawling slow androids and getting Wp. They love I can send texts via cortana on the ms band.

If their Androids are crawling slow, then they bought cheap phones.

What I find hilarious as usual is that many people posting here already dislike WP or don't even use it. I see the same names over and over when MS makes something multiplatform. They ring the bell for everyone to jump on the hate train and move to a new phone. They also continue the narrative that WP is or was only good thanks to some apps or cloud services. Is Google Now or Siri the only reason those platforms are good? Doesn't iOS and Android offer a base experience that makes them appealing? I would say yes, and its the same for WP. Anyone that is only using WP thanks to exclusive apps but is not a fan of WP in general really should look at other platforms. Cortana will remain an integrated experience across all Windows devices, offering greater feature access vs other platforms. Android offers the closest parity, but even there MS can't exactly do everything they might want to do vs on their own platform. Windows 10 seeks to extend and evolve the windows experience across phones, tablets, etc. If your a fan of the experience, you will still be interested in new phones and the eco system. Existing iOS and Android users that are not 'committed' to the platform will be more willing to try Windows on mobile if more of the experiences they like are there. So if they use Office, Cortana, OneDrive, etc, then they don't have to be worried about Windows not having their apps. For those that are committed fans, well Cortana being exclusive or not made no difference.

I see the same posters every time MS goes multiplatform with any app or cloud service. Some WP users that don't even care for it beyond a handful of apps apparently and those that don't use it at all. Google Now and Siri don't make Android and iOS good, the core experience is good. Same for WP. If you do not like the core WP experience, then no app or service will change your mind, same for the other platforms. Windows 10 is extending and evolving the windows experience everywhere. That integrated experience is what will draw users going forward. If you don't like that experience, you won't be using Windows on your phone. For current iOS and Android users that are not 'committed' to the platform, it will be easier for them to try Windows out if the apps/services they enjoy are there (i.e. OneDrive, OneNote, Cortana, etc). You guys harp on the app gap, well if users are hooked on MS apps/services, that issues is smaller.

This is such bullshit. I guess we get nothing unique anymore.

This would only make sense if the API on the current Windows platforms are weak compared to iOS and Android. I mean why not release a beta universal app for the Windows platform with the same amount of functionally to iOS and Android counterparts? Even for Win10? It feels like MS is still playing catch up with APIs while other platforms have much more complete API libraries.

This was totally expected, really disappointing, but expected

I don't find it disappointing in the least. It will actually encourage the use of Cortana on Windows 10 PCs. People who use that operating system on their computer will get Cortana integrated into their taskbar. The vast majority of Windows 10 users will have either an Android or iOS mobile device. Interactions with Cortana on their PC will sync to Cortana on their phone, and vica versa, thereby encouraging them to use Cortana on their PC. This is a major advantage over Google Now and Siri

No more uses for the commercials anymore. Lol

The same worry occured when people found out that iOS apps and Android apps would be avaliable to windows phone users. You are worried about providing a value proposition to other OS ecosystems, and elminating the value offering of windows phone. By expanding cortana to other devices Microsoft is able to provide thoose individuals with an idea of what Cortana offers. It's in app form so it is no baked in at the OS level, so the ability to make using cortana is not as convienent. Additionally individuals who find themselves using Cortana, and micrsofts services are very likely to move to a windows phone since they do all there computing within microsoft services. The walled garden approach does not work. By allowing it's services to branch out and reach a larger audience, Microsoft is able to showcase there services and eventually start pulling people back into the ecosystem. Microsft is trying to be the computer company that is everywhere. While you can get all the same featuers on an iphone, the experience is better on a windows phone because microsft controls that experience and the walled garden approach does not let Microsft improve upon that experience. Tech companies are left with two options, let Microsoft take over you phone with their services, or look like you are living in the past by blocking services that your users want. Either Microsoft increases there services shares, or tech companies start pushing users into Windows Phones. Just my 2 cents.

Had a feeling she was a slapper..

I do hope the Whoretana nickname sticks.

How about BlackBerry? No love for it? :( Posted via the Windows Central App for BlackBerry

Android release in few days June Posted via the Windows Phone Central App for Android

Y para cuando en Latinoamérica???? Nadie dice nada!

You folks don't get it...its all about user data

This makes [my] switching a hell of a lot easier to live it. Phew.

My 1520 is coming up for replacement and its not a done deal that my next phone will be a windows mobile. After all, if competing platforms get the best Microsoft apps and WP lacks all the best apps from other platforms, why the hell should we stick with WP? Because we have live tiles? I think not. MS is doing everything in their power to reward their loyal users. NOT!!

o my goodness why just why i understand you want to share cortana's innovative capibilities but if we keep this up well will be more of a skin than os

Long as Cortana does not work better on other os I'm cool

You would have to be blind not to have seen this coming the second they said Cortana is coming to Windows 10.

Would love an explanation as to why Microsoft are going cross platform before they go into more countries first

Did any of you notice how fast OneDrive launched on the iPhone in the demo ? No splash screen no loading why are Windows apps lousy on windows phone but awesome on other platforms ?

well, make windows 10 as an app so we can download it on any device-anywher ;) microsoft is supporting android-iphone more than windows phone. microsoft published more apps on google play and iphone store. i hope we will see next version of windows on google play and app store :) . now nothing is new in windows phone (forget Mr.Rudy Huyn's apps). thank you microsoft for your kind support - WINDOWS USER

Now I feel like a beta tester for iOS and Android...

I wish Microsoft would put more efforts in getting Cortana to Beta stage in India/other alpha stage countries rather than having Cortana for iPhone/Android now.

Just read some news reports. Ios and android app version of cortana will NOT have all the same features as cortana natively in windows 10 and wp10. If you want the full personal assistant feature set, natively on windows 10 is the only place.

This is great news. Way to Go MSFT. Having an excellent service is the right move to have an enduring future.

Overall result will be a loss in wp market and a gain in Windows pc market.

And this is why I put my Lumia 1520.3 up for sale on Ebay. There is nothing left for me on the phone platform to keep me here. I can't wait for the W10 Microsoft launcher to show up on Android! I only use microsoft services.

WindowsCryCentral in all it's glory.

Might as well get an m9. Already have an m8 a long with my 930. All Microsoft apps work so much better on android and iOS. Outlook and Yammer being some of them Posted via the Windows Central App for Android

This is great MS is expanding, while Apple and Google are not.

Wow. It's almost as if he got Red Bull via I.V. before he did this video. It was one of the most frantic-looking things I've ever seen.

I think this is a BIG MISTAKE ...if the better and best of WINDOWS PHONE is made available for ANDROID and IOS,,,,why will anyone actually with an IPhone or Android phone will consider moving to WINDOWS PHONE...I am very dissapointed...

I swear, if you people don't believe in what MS is doing then leave the platform. I have a M8 (android) and Lumia 830, please SHOW me somewhere where the android apps are better than what's on my Lumia. I don't get the BS, and to me that's all it is. I went back to my M8 for today and couldn't take it anymore so my sim is back in the 830. Why? Because the experience is superior, the integration is unreal, and things just work. I have tried the 10 preview and I can't even imagine how awesome it's going to be. Even my family, all die-hard driod people are coming around and that's something to say. They have seen the commercials and are probably going to switch. Windows phones are that awesome. MS is doing this to show people that the grass really is greener on the other side. It's a very well thought out tactic.

WPs are awesome, but it's a ghost town. The Vanguard app is better than the WP app...wait there isn't a Vanguard app on WP. Well the Amazon MP3 ap...wait no Amazon app either. Okay Comixology works abo....dang! They took their WP app away 2 years ago. I've got nothing.
Windows Central Newsletter
Thank you for signing up to Windows Central. You will receive a verification email shortly.
There was a problem. Please refresh the page and try again.