Microsoft Launcher for Android 5.3 rolling out with Microsoft To-Do integration and more
More To-Do, more polish, and better weather make a great Launcher greater.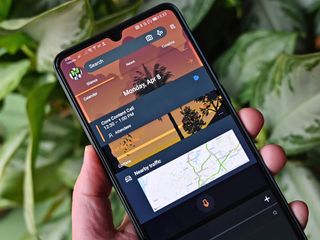 (Image credit: Windows Central)
Microsoft today is pushing out version 5.3 of its popular Launcher for Android. The latest version of Microsoft Launcher has been in open beta testing for a few weeks, but now it is ready for primetime with its official unveiling.
Version 5.3 brings lots of features including a new clock and weather widget that provides much more detail than before. Additional features include tasks card support for To-Do's My Day, which lets you have your daily goals right in the Glance area as a widget.
Time/Weather widget redesign- Now you can have multiple widgets in multiple sizes in multiple styles for multiple locations! Also check out the updated and more detailed L2 page with hourly and 10 day forecast.
UX refinements to the Home Screen, Dock and Search widget
Tasks card now supports "My Day" and "Flagged Emails" from Microsoft To Do
News tab now supports "Technology" as a news interest
Font type changed from Segoe UI to Roboto
Work profile customers can now get access to their work apps
Beta community link in Settings changed to lead to Microsoft Tech Community
Direct of Program Management Microsoft Mobile eXperiences, Vishnu Nath also remarked on Twitterthat users can look for "Flagged Mail support, tons of UX refinements & polish" in today's update.
If on Android there are few better ways to connect all your existing Microsoft services under one app. Launcher not only works great for a general app launcher, but it's tie in with Cortana, To-Do, Office, Timeline, Microsoft News, Bing Rewards, and Sticky Notes make it an excellent hub for all things Microsoft in your digital life.
See at Google Play (opens in new tab)
Daniel Rubino is the Executive Editor of Windows Central, head reviewer, podcast co-host, and analyst. He has been covering Microsoft here since 2007, back when this site was called WMExperts (and later Windows Phone Central). His interests include Windows, Microsoft Surface, laptops, next-gen computing, and arguing with people on the internet.
Smaller icons and Roboto font are kind of downgrades. UI doesn't look nice, especially with Roboto font which is kind horrible.
Cortana no longer works, no way to open it and use it as personal assistant, it crashes on startup.
Also, Cortana's widget was removed.
Anybody else with this issues? Thanks

Cortana on Microsoft Launcher never notified me for a reminder. So I installed the standalone Cortana which works right.

Yes I also installed the standalone now, but at least before it was possible to open Launcher's Cortana and tell her what to do. Now it just opens and closes/crashes immediately, and not working at all anymore.

Shouldn't they be using Product Sans anyways if they want to make it consistent with the rest of the OS? Google's been moving towards it aggressively including in the Q beta so it would seem apt for Microsoft to follow if consistency with the OS is the goal.

Have you set Cortana to be your default assistant? A bunch of Cortana functionality got walled behind that requirement.

Roboto? Sad face, I like Segoe much more. But I don't use this launcher, so moot point for me.

Roboto is Google's default font of choice and has been on Android since 2014 so not surprising here. But Segoe UI has been Microsoft's favourite font since Vista days (mid-2007)

Segoe has been around that long? I thought it was new for 8 or 10.

It was the default on Windows Phone 7, so it's been around at least since 2010. I didn't realize that it had been on Vista, though - I thought it was new with WP7.

It's been the default font on Windows since Windows Vista. It did, however, get a facelift in Windows 8 (some glyphs were reworked and light variants were added). Windows Phone 7 introduced "Segoe WP" which was a predecessor of the new Segoe UI. The Zune even had its own called Zegoe.

Zune HD was a fantastic device with a great UI. Kind of predecessor of WP 7.
Still have it and using almost daily to listen to music.

Weather on the launcher is finally useful. I like this change.

Looks like they got some ideas from old 6.5/7.0 Windows Mobile start screen options.

Hey Dan. A Idea. How about a tutorial on Launcher? I use it, and like it. But I have the feeling I'm not using all of its capabilities.

Second this. I'd enjoy a deeper dive into the features.

Personally, I wish ToDo would go away. I need to just uninstall it. I mean, I tell Cortana to remind me of something. She does. On my PCs, on my Harmon Kardon speaker, on my phone... but at least when I dismiss on one they all shut up. Fantastic. ToDo, on the other hand, has to be dismissed separately, and on both PCs and the phone. First off, if I tell Cortana to remind me something, THAT is where I want the reminder. Not in ToDo. Second, if you're going to ignore my wishes and sync it into ToDo, the least you could do is sync the dismissal to ToDo as well. How hard is that???

I've noticed that as well. I've avoided using the PC app for this exact reason.

Or at least allow a timed reminder option on the notification. Right now there are no snooze options on the notification.

Why can't Microsoft just create an Android phone.?

Why bother? Launcher and Microsoft's apps and services are accessible on all Android phones made by all manufacturers. What would Microsoft gain from throwing development resources at a phone?

Maybe not enough to justify it, but here's a few things they could do: Hey Cortana.
Full Skype integration with SMS/MMS/RCS so messages appear everywhere, fast, even if they include attachments.
Native OneDrive.
Windows Store with cross-purchasing for Apps that run on Windows.
Advanced Family Group functionality. I'm sure there's more.

Microsoft would have to invest millions into the full development of a phone from top to bottom with greater integration into Android and Windows 10. And not many would actually buy it.

1) You can get fairly close already
2) They can build this integration now if they really wanted to
3) I don't see a benefit gained here
4) The cross-section of the windows store and google play store is ridiculously small and I don't see this phone being a big enough seller that devs will start creating more windows apps, especially if they won't really see any extra income from it.
5) They can likely develop whatever functionality you want as an app, probably. I dunno. This is really vague. It's an enormous investment for *very* little payoff.

I dont know what Microsoft were trying to do with this update, but its really bad. Why does the dock take up a whole row on my homescreen when it used to only be a little pill shaped icon!?

What do you mean? They just gave it a background. You can turn it off.

There used to be an option to have it only show the pill button for the dock, instead of a whole row. They took that away, and ruined the look of a lot of peoples home screens.

I mean, there's the option to not have a dock. But I don't recall an option to have a hidden dock from an earlier version. I mean, I could have missed it I guess.

For example: Here is an article that's about a year old and it still only shows the ability to disable the dock entirely, not hide it. The instructions to hide the dock are still approximately the same. Article: https://www.guidingtech.com/top-microsoft-launcher-tips-tricks/

I have this installed but I never actually utilise it, I should probably just get rid of it.

Any way to get Cortana to read SMS over Bluetooth like on WP? I haven't been able to accomplish this.

Why is this not a thing on Android?

Because Android sucks in so many ways, that's why. Microsoft refuses to push to get the same kind of integration with Cortana that we have on Windows. Cortana is a HUGE reason why I'm staying with my Windows phones until they no longer work. Cortana is a critical asset for me.

Cortana is being killed off. Your should probably start looking for another assistant.

bleached Dude, that's gonna leave you with, like, no friends.

You're suggesting he already has friends? On, or off, line?

I think he is suggesting I use Cortana, which is even worse. I have never used it. Microsoft services just aren't very good and tend to be short lived.

Unfortunately, Google Assistant doesn't read SMS's over Bluetooth, it is the one feature I miss from my Lumia days.

Sure it does. You just have to ask. Android Auto will do it automatically and my old Moto would too. I found it annoying and shut it off.

Android does suck, but it's apps are great.

I second, third, & infinity this.

@petrozio, I use an app called ReadItToMe that's free and seems to work quite well. You can configure it to only read messages to you when certain Bluetooth devices are connected, and then only messages from selected apps.

As others mentioned, I prefer the Segoe font. I'm not really seeing anything I'd qualify as UX improvements. The Glance/New/Timeline page is still just as cluttered and messy as before. Also, as others mentioned, Cortana is broken in this build. Of course, it NEVER functioned as nicely as Cortana functions on Windows. I rely on Cortana being always-on in a hands-free mode, even while locked. Can't do that on Android.

Get Cortana to read sms over bluetooth

Yes, yes, yes, yes, and Yes... Oh, and one more thing. Yes.

I really miss that feature from WP. Not only could you receive and send texts over Bluetooth, it allowed you to answer calls hands free over Bluetooth. Sadly, I don't think it will happen. On another unrelated note, Android seems to have an issue with allowing sounds simultaneously over Bluetooth, even if the sound is playing through the phones speaker. For instance, on my old Lumia 950XL, I had to allow navigation to play from the phone speaker and not the car speaker. This kept my music from being paused everytime the navigation spoke. On Android, this doesn't seem possible... Very annoying.

Elect this man on this campaign promise! You will have my vote!

Looks like the update has disabled the Messaging Notification. It was working before I updated and after, now it's not working. Not the 1st time this has happened. Very annoying!!!

Man...that screenshot though! Beautiful!

Nice update. I've noticed a performance improvement (is that good or bad? I hope Launcher wasn't slowing down my phone all this time). Unfortunately To-Do integration is still crap, so I put the To-Do widget in my glance panel. Plus, the weather is still not nearly as useful as other weather apps, so I just use MSN Weather.

Launcher has come a long way since its departure from the Arrow brand. I still see a lot of room for improvement though. I eagerly await the next big update.

I have tried this launcher today, it is nice they need to add a little more customization and then all is great.

Notification count hasn't worked correctly for me for months now. That's the reason I stopped using it. That and the battery drain.

I miss my Windows phones. I use Launcher 10...

I like how the Wunderlist integration is complete screwed up now. Good work Microsoft

I used to swipe up on the home button to open the dock, but now that doesn't seem to be an option? Is that right?
Windows Central Newsletter
Get the best of Windows Central in in your inbox, every day!
Thank you for signing up to Windows Central. You will receive a verification email shortly.
There was a problem. Please refresh the page and try again.