Microsoft launches digital storefront on India's Snapdeal
Microsoft has launched its brand store on Indian e-commerce site Snapdeal, offering up a variety of hardware.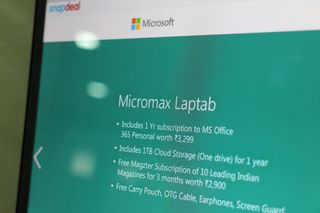 This isn't the first time Microsoft has launched a brand store on an e-commerce site. Earlier this year, the Redmond giant collaborated with Amazon in what at the time was called an exclusive digital brand store in the country. The deal led to a slew of offers on Lumia handsets, Xbox One consoles and games, so here's to hoping that the Snapdeal partnership will also bring about discounts on Windows hardware.
Currently, the storefront is offering recently announced Lumias, such as the Lumia 640 XL, along with Windows tablets, notebooks and software. Head to the link below to check out the Microsoft Store.
Microsoft Store on Snapdeal
"Now in India" That sounds something familiar LOL!

Yes! All Hollywood film release ads. 'Now in India'.

Some Hollywood movies launch in India before United States. ex: Avengers - Age of Ultron

and most before europe, but china always gets them first :(

where's that? is it in america? i remember my great great grandaddy telliing me about that ancient place but maybe he said inglewood. they sound similar. i can't be sure

Off topic: Cortana requires Kinect to work on Xbox

We do have an article where you can discuss just that.

thats value for kinect buyers :)

Amazon? Dont MS knew amazon is flop in India. I mean how can MS even imagine that amazon can stand out in front of local e-stores like Snapdeal and Flipkart.
Amazon? Hahahhaha, finally they have corrected the mistake going with Snapdeal.

Lol snapdeal is the worst if you compare it with other Indian eCommerce website in terms of customer satisfaction

What's wrong with Amazon? I think it is still the best e-commerce website in India.

IMO, its Flipkart, Amazon and then Snapdeal... Snapdeal is soo slow and sluggish... Their UI looks like android'ish... Completely messy and boring...

Flipkart > Amazon > Snapdeal
There, I totally agree with you. Based on my experience on all of them. Multiple times.

Just bcoz Amazon India do not has best website UI that's doesn't mean it sucks! I did couple of deals on Amazon its simple and easy.

Amazon is amazing and not a flop at all. Their products are trustworthy and this matters as flipkart in recent times hasn't validated third party seller items which are turning out to be duplicates in quite a few scenarios and overpriced in others.

Lol.. Where you get " Amazon is flop in India" ? Amazon is already no. 2 in India. And my experience with Amazon is awesome. Their deals are good compared with flipkart. Their customer care service is best of all. From my experience Amazon>Flipkart>paytm>snapdeal

Paytm sucks my friend order a pair of tshirt . In order status it says delivered but my friend didn't received it so he contacted customer care and they told " aap khud hei dekh Lon we can't do anything " still he didn't received the product or refund for it

When will Nokia stores in the Philippines be renamed Microsoft stores so that we can choose and buy tablets and Microsoft edition laptops aside from windows phones?

Flipkart should be the first preference in India.

When in Tanzania?? Lol.....

Amazon app is a clusterfuc , especially on android compared to flipkart.... I used to buy from Flipkart , but now I but from Amazon as they are the only ones who deliver here

The store doesn't sell surface though

Hmm. Doing everything except opening their own stores. Disappointing.

Good to see two Microsoft store options now with Snapdeal and Amazon, should partner with Fllipkart too in future.
Windows Central Newsletter
Thank you for signing up to Windows Central. You will receive a verification email shortly.
There was a problem. Please refresh the page and try again.