Microsoft launches entry-level Lumia 435 and Lumia 532 in Thailand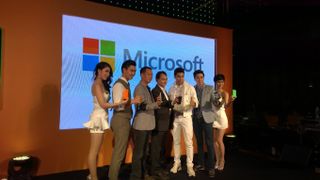 Thailand is the latest country to receive the entry-level Lumia 435 and Lumia 532, with both devices now available in the country. Microsoft has launched the dual-SIM versions of both handsets in the country, with the Lumia 435 priced at 2,990 Thai Baht ($92), and the Lumia 532 at 3,590 Thai Baht ($110).
Specs of the Lumia 435 include a 4-inch screen with a resolution of 800 x 480, 1.2 GHz dual-core Snapdragon 200 CPU, 1GB RAM, 8GB internal memory, microSD card slot, 2MP fixed focus camera at the back, 0.3MP shooter at the front and a 1,560 mAh battery.
The Lumia 532 comes with a quad-core Snapdragon 200 and a 5MP rear camera, with other specs similar to that of the Lumia 435.
Source: Microsoft Thailand (Lumia 532) (opens in new tab), Microsoft Thailand (Lumia 435) (opens in new tab)
Big thanks to Kittanan for the tip and the image!
Those women are attractive

Are you sure they are Girls? It's Thailand :)

We have 5nHalf men there :/

Exactly what I thought. :)

True... looks can be deceiving esp in Bangkok... LOL

My initial thought too, since the phone is worthless. Then something in me said: Just back away...

The men in white is hot :drools:
The one with the vest is cute and has a nice ass.

The girl to the left.. mm!!

It's Thailand - you sure it's a girl?

Yes, she is a girl. But I prefer the right one more than left one...

Miarkus; thats true, lots of katoys there. But she/he still got an ass!

Can I change some information, Lumia 435 price is 2,990 Baht.

Lumia 532 @lso launches in India at ₹6499.
But I think WC guys don't care anymore. News is old now.

6400? I hope it will be down to 6000 by 2 months

We do have a lot of users interested in that device in India. I'm getting to it now.

Good job. At least you did it.

This may sound like a dumb question, but why do people buy duel sim phones, I understand they can have two sim cards in, why would you need this? Also do lots of people look for this option in a phone, and do you need to select which sim is active or are they both active at the same time? Sorry about the off topic questions, just curious!!

There are many examples.
1.: You have an extra SIM for calling people abroad.
2.: You got a SIM Card that you get from your employer for work n stuff and one for private use. But you don't want to carry two phones.
3.: You got a SIM card that has a lot of data allowance but high costs when calling s.o. and another one with cheap calling but very little data allowance etc. :)

In indonesia, my number is so expensive. You need 10$ for 2gb data for a month, while other offer 9$ for 10gb. In developed country you can change like from verzion to at&t with same number, but you cant do that in indonesia. So, If i want have a cheaper data, i need to change my number also. But...., with cheaper data plan, i got low coverage signal. So the best way is to keep both number in a dual sim phone.

1. I don't study in the state my home is. So when I visit home I incur roaming charges if I use my sim. Therefore I've 2 SIM cards one for each state.
2. Not all places in India have the same signal coverage. Therefore both my SIM cards are from different telecom providers. This way no matter where I travel, I always have one SIM having optimum signal reception.
3. Data Plans and calling charges are different in both the SIM cards. Since data roaming doesn't incur any extra charges in India, I use the SIM from my home state when I'm in college for data usage as it offers better speed at much reasonable charges.
The benefits are many of you think about it. :)

The price is about right and really Thai's don't care about Windowsphone by the 520 is insanely popular here. With my L930 I stand out LOL

I haven't seen anyone using windows phone in Thailand. In fact I'm the only one using it when I stay there. They are all into iPhone and Samsung.

Yeah they are all abt that but they have the L520 as a spare! U ever wonder how they look at you when you brandish a Lumia?

I own a Lumia 930 as well, but I think Microsoft should defragment the Lumia brand.

U in Bangkok I'd presume. MSFT is popular here they just aren't making good use of the opportunity!
Almost every Thai has an HOTMAIL account, so why can't MSFT target those ppl.
Oh yeah they should it is becoming too fragmented almost no difference between some Lumia series

Does this phone preload with windows phone 8.1.1?

Absolutely. It's come with Denim and it can upgrade to Windows 10 (from Microsoft Devices Thailand's executive).

Those girls are almost naked!

Anybody want to join Microsoft Lumia WhatsApp group then message on this number on WhatsApp :+919611664880...fast 5 members remaining I first group(main group) and 60 remaining in 2nd group remember :+919611664880.

Who cares about another low cost Lumia in remote country?

Us if we want more people using Windows Phone

Some might buy these phones but sales of Nokia products here has tanked big time, Lack of a top end device has damaged Nokia -Microsoft. most have moved away from anything to do with windows phone. Android and Apple are the main players here now :( Last popular windows phone i seen in use a lot in Thailand was the 920 been a downhill slope ever since.

It seems like Lumia is getting more fragmented with a new model coming out in few weeks/months from Microsoft.

Fragmented are you crazy they all use the same OS. there just are a lot of low end Windows smart phones coming out these days. The microsoft 435 and 532 are well suited for countries where there are not a lot of people who can afford mid range and High end Windows smart phones Americans and Europeans and some Russhian and Chinese folk got the cash to buy high end stuff. Windows smart phones are made to suit many budgets. I think however Microsoft brand of Windows smart phones need 2 high smart phones that are equal to or are better than the Nokia lumia 1020 41 pixel camera Windows smart phone and the Nokia lumia 1520 phablet. for Microsoft to be a smart phone maker that has great tech smart phones to sell to those happy rich folks who can afford to 600-1000 USA dollars for a smart phone
Windows Central Newsletter
Thank you for signing up to Windows Central. You will receive a verification email shortly.
There was a problem. Please refresh the page and try again.