Microsoft launches its festive Xbox One Countdown sale with massive savings on games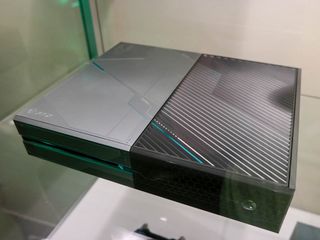 Microsoft has launched the Xbox One Countdown sale, which sees a wide collection of games for both Xbox 360 and Xbox One discounted over the festive period. The promotion will continue until January 7, covering not only games but movies, shows and even apps too. The initial week of deals will run until December 28, which will be joined by a Daily Deals feature until 2016 is warmly welcomed.
As we move into the new year, Microsoft will add even more offers from December 31 to January 7. What's more is should you be an Xbox Live Gold subscriber, you'll save a further 10% on top of announced savings. Check the lists below for store links and respective discounts for the initial batch of deals (until December 28 - savings with Gold / savings without Gold)
Xbox One
Xbox 360
And here are the Daily Deals for December 22:
Let us know what deals you'll be taking advantage of in the comments!
Source: Major Nelson
Windows Central Newsletter
Get the best of Windows Central in in your inbox, every day!
Rich Edmonds was formerly a Senior Editor of PC hardware at Windows Central, covering everything related to PC components and NAS. He's been involved in technology for more than a decade and knows a thing or two about the magic inside a PC chassis. You can follow him on Twitter at @RichEdmonds.
Aww. No Hydro Thunder :(.
On topic, that is the largest list of Xbox games I've ever seen! Also, there's a lot of good Xbox games on sale there.

Can someone answer this question for me.
If I buy the current beta version of ARK: surviver evolution on Xbox one for 35$, when the finished version comes out in June, will I need to buy it again or will I get a discount on it or will I get the finished version? Posted via Spaceship One

I bought elite dangerous while in preview and now the full game is out and I didn't have to pay anything more. Btw, that 1hr trial in ark is not enough time. Takes an hour just to learn the controls.

Thanks. I've played it before while it was in alpha on the PC so I had an idea on how to play with it. Getting it today. Posted via Spaceship One

All preview games bought during their preview period are unlocked when released as a final product. That's how it works in Steam and now Xbox. As for Ark, Akira is absolutely right. I'm not a fun but this is a too much promising survival open world game that the hour long trial doesn't do it justice. I barely managed to get the hang of the controls and how things initially work that I bought it right after the trial was over. Only downsides are that you have to be ok with investing "wasted time" in a rather unfinished game and not getting achievements while at it. But I'm ok with it I guess. I'll play rather rarely to make sure I'll enjoy it when in better shape.

Thanks. Posted via Spaceship One

If you own it now, you'll own it then. You will get updated to the finished version when it's released. If anyone wants to join me, I'm on server NA 82 south east area, Tactics tribe.

Can anyone find how much the fable games are? They all say 'bundle' but they don't say how much the bundle is and clicking on it doesn't show my what its bundled with

I checked earlier. It's 4.50$ for the fable two. Fable 3 wouldn't show for me. I own that one digitally already so.. Sorry. But you really shouldn't have trouble if I saw it. Just open the link straight from Nelson's list.

You need to go to Xbox.com to buy the 360 games for the One.

Anyone care to share their opinion on state of decay? Any good?

I like it. A semi realistic zombie game, where all the characters can die, and everything weapons and cars eventually fall apart. The story in the base game is so so. It has a quite serious tone too overall.

Worth a shout. Prepare to invest some serious time in it though (in a good way)

It's honestly a pretty great game. I bought it for the 360 a while back and really enjoyed it. I do feel that they are charging way too much for the X1 version. Though with the sale, I may consider picking it up again.

It's buggy, but very good none the less. One of the best zombie games ever made.

No offers yet on my ps4.I regret buying it

I will be picking up Ori and the Blind Forest and The Witcher 3. Can't beat 50% off.

"massive"? After price cut they are still more expensive than their physical versions...

Man, I had hope in this. They actually have SOME decent sales, but some are just stupid and disappointing. Rare Replay for $3 off, $5.10 off with Gold ($26.99/$24.89)? I got this for $19.99 digitally during Black Friday, and Microsoft had the disc version on-sale for $14.99 during BF at its retail/online store. Storm Island for $5 is nice, but Forza Horizon 2's base game isn't on-sale? Forza 6 is $57/$51? I bought it for $35 physically 6 weeks ago. There's stuff I'd buy, but the pricing is so inconsistent. They do have some sales that are really nice. Rise of the Tomb Raider at $45/$40 isn't bad. Ori at $12/$10 is solid as well. Dragon Ball Xenoverse at $24/$20 is tempting, but it'll go lower before long, and I have enough to do between Battlefront (which I haven't even opened yet), Fallout 4 (which I'm only about 3 hours into), and Halo 5 (which just got new content). I'm going to hope for a sale on EA Access.

I waited and sure enough Rise of the Tomb Raider is on sale. I bought last night

If I didn't have Zoo Tycoon already, I'd probably get the combo with Scream Ride. I guess I'll continue to wait for it to come to GWG.

Is Transformers Devastation worth it? I mean, I love G1 Transformers because which 80's kid doesn't? Witcher 3 was a no brainer for me.

Does anyone know if the back to the future game is all the episodes? It doesn't specifically say what episodes

TFU2(the demo I found was a waste of time as it pretty much was just as difficult as the near end of the 1st game was) isn't bad price though it would've been nice to see endor dlc go down to .75 or .50 for the sale as well. & the escapists for 360 is $13.39(supposed to be part of deals with gold)
Haven't had a chance to go thru the xb1 list yet on xb1 but sadly MS fudged the store. Fm5
Windows Central Newsletter
Thank you for signing up to Windows Central. You will receive a verification email shortly.
There was a problem. Please refresh the page and try again.