Microsoft launches its first global survey of Windows Insiders to help plan for 2016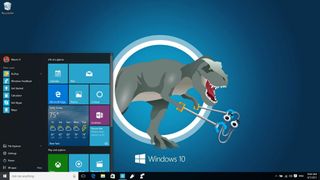 People who are enrolled in Microsoft's Windows Insider program are being asked to fill out an optional survey to send feedback to the Windows 10. The survey will help the development team learn what users want to see in future updates as it prepares for its 2016 plans.
In a message posted on the Insider Hub app, Microsoft's Gabriel Aul wrote:
The survey is designed so that it takes between 10 and 15 minutes to complete and is available in 20 languages. The deadline for completing the survey is December 22 and Windows Insider members who fill it out will also be entered into a contest to win a Surface Book notebook.
Together, we build the future.

Perhaps too together. Did you take the survey? There is an entire section of it devoted to creating a DISC profile on you. I would highly advise people to NOT fill out the survey. The purpose of those questions goes too far for something like this.

DISC profile? What is that?

It's an insanely flawed personality profile... It "assesses" then classifies you, along with a long list of assumptions about what you do and cannot do well, how you can be influenced and manipulated, etc etc. It's crazytown... And proven time and time again to be completely flawed... Something like 75% of people get a different classification every time they take it.

Is this the email sent from http://windowsinsiderprogram@e-mail.microsoft.com by surveygizmo.com?

Aaaand my PC is broken... And no hub on Mobile

same with me!
i'd love to get enrolled in an Insiders' contest to win a Surface Book, but there is no way.

I'd love if they used some of their profits to give a free top spec surface book to all of the first 10k insiders because I'm sure I was number 9999 to sign up!

Same here... hub not working on L920 or L930, and cannot seem to find it on SP3 or PC :(

You can do the survey online on mobile. Just follow the email.

I did the survey from my PC, Windows7 (at work).

Is this survey for every insider or just for select ones?

No insider hub on my phone. How to reinstall it?

No way as of now, it'll return in a future Insider build.

Check your mail. You can start the survey online

How do you fill it out I'm a member for insider programming but the laptop its installed on is broke can you not fill it in online ? Posted via the Windows Central App for Android

It's just a regular SurveyGizmo survey, you just need to give your email address at the end if you want to participate in the sweepstakes.

Yea, they want to hear from you. Unless you write about OneDrive. Then they just close the whole topic and tell people to shut up.

Wow !!! You mean the insider hub app located if I swipe right from my start screen ??? You know, the app that has no logo and when tapped on, just refreshes the same screen, you know....that app that doesn't open....oh yeh !!! That one.....the one where you can give your honest opinion...real honest opinion...yeh....???? ....mmm...NO....maybe only those who've never been critical get to open the insider hub app ????...#conspiracy.....

You can do the survey online

Have to do it on my laptop since insider hub is broken on mobile....

You must select "Very satisfied" for every answer or you'll not win.

And let the frequency of mobile insider builds remain just as crappy as they were before.

Im entered! perfect. I am crossing my fingers!

Did you feel strange answering the personality profile questions?

Also done via the link in the email to the WEB PAGE. No app required.

I really want to win,I can dream ha
Windows Central Newsletter
Thank you for signing up to Windows Central. You will receive a verification email shortly.
There was a problem. Please refresh the page and try again.