Microsoft launches November Bug Bash for Windows Insiders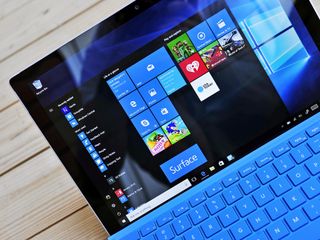 Microsoft has officially kicked off its November Bug Bash for Windows 10 Insiders running the latest build, 14959. Like previous Bug Bashes, this latest is meant to catch as many bugs as possible in the latest build by tasking Insiders with quests in the Feedback Hub.
Windows Insider chief Dona Sarkar announced the start of the Bug Bash on Twitter, also highlighting where Microsoft is focusing its attention for this particular round:
#WIndowsInsiders: we are kicking off our Nov bug bash today. Our team is heavily focusing on Creating: 3D, Windows Ink, Developers!#WIndowsInsiders: we are kicking off our Nov bug bash today. Our team is heavily focusing on Creating: 3D, Windows Ink, Developers!— Dona Sarkar (@donasarkar) November 7, 2016November 7, 2016
If you're a Windows Insider running Windows 10 build 14959, which just saw its release last week, you can take part in the Bug Bash by completing quests that appear in the Feedback Hub app. The Bug Bash itself will run through November 13, and should ultimately culminate in a ton of pesky bugs being fixed by Microsoft engineers once finished.
Are you planning to take part in the November Bug Bash? Let us know in the comments below!
Dan Thorp-Lancaster is the former Editor-in-Chief of Windows Central. He began working with Windows Central, Android Central, and iMore as a news writer in 2014 and is obsessed with tech of all sorts. You can follow Dan on Twitter @DthorpL and Instagram @heyitsdtl.
This is where she finds out who are real insiders and who are shiny thing magpies!

Nah, I was one of those 'real' insiders but stopped caring after a while because they never fix bugs I reported. It was like talking to a brick wall.

Yep I agree 100%. They need to sort out current reported issues, like battery drain in latest build.

Can't update still stack on 0%

Buld 14959 stuck on 0% why?

Funnily enough, it tis a bug. You have to monkey around with the phones date and enroll into the slow track, and so on. Look for a recent article, perhaps from last week - it explains your problems and how to solve it.

I heard you couldn't use this maps twice!

14926 still stuck at 0% ...

They (MS) only need to read above and already bashed a bug or two.

Omg people are idiots and can't read. if you are having a problem with something there is always a work around. if you come on here everyday 3 times a day and say.... It's stuck on 0% or whatever. You my friend are a retard. Just hard reset it or follow instructions. Rant done!

Shouldn't have to keep using a workaround. It's a report bug which still hasn't been sorted.

With a name like yours and a post like yours "You my friend are a retard".

some should not even be using a pc,
they ain't smart enough to turn them on.
then make believe they are an insider, NOT

There's always a solutions and I had the same thing was stuck at 0% for 3/4 days and nothing worked until I saw the workaround slow/fast ring and date/time etc. and it worked like a charm

Hey hello biggest problem stack on 0% plzz solve

None of the Quests on my 14959 build on my phone actually do anything. When tapping on the quest it just takes me back to the top of the quests page. Available quests: Edit Photos with new filter options Draw on your photos Edge - browsing the web Edge Start Page and New Tab Page Edge Browsing

Same here. There is plenty of feedback posted on this, so hopefully they're aware and will be fixed shortly...(?)

Definitely taking part. The fast ring feels much nicer than anniversary update. That means great progress and I want to see my os whoop Google and apples a.s.s, so Yes I'm definitely taking part.

Feels nicer in what way sorry?

I did the workaround many times, hard reset 2 times second time without backup, and nothing. I just haven't tried going back to 8.1 with the recovery tool. My calendar is messed up stuck on the 15 . I'm going to give it a rest at least for a week and then see what Ill do .yes I will post if I want if you don't like it then don't worry about it is not your fault.

Dis is all nonsense,why should u do a work around before u are able to do a common update

still stuck at build 14951. pc is showing up to date.

Still( We fixed an issue resulting in certain options for default calling app via Settings > System > Phone > Default apps from being unexpectedly missing) missing for lumia 535.
Also screen not wake up when press lock button.blank screen appear.fix it
Windows Central Newsletter
Thank you for signing up to Windows Central. You will receive a verification email shortly.
There was a problem. Please refresh the page and try again.