Microsoft 'Vault' subsidiary launched as Xbox Bethesda deal advances
Bethesda and crew moves one step closer to the Microsoft family.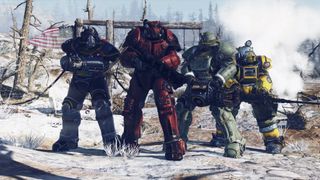 (Image credit: Bethesda Softworks LLC)
What you need to know
Microsoft has launched a new subsidiary dubbed Vault, intended to merge "with and into ZeniMax," according to new documents via the European Union.
It comes as the European Union is soon expected to grant its decision on whether to approve the deal by March 5.
Microsoft has launched a new subsidiary amid its ongoing acquisition of ZeniMax Media Inc., according to new documents from the European Union. With discussions on whether to approve the $7.5 billion deal remain underway, it appears Microsoft has established a new firm dubbed "Vault," expected to house ZeniMax Media and its various properties. The European Commission is set to grant its decision by March 5, 2021.
The "newly created Microsoft subsidiary ('Vault') will be merged with and into ZeniMax," according to the official documents posted to the European Union EUR-Lex website. While Microsoft would have "sole control" over the firm, the new "Vault" looks to aid its transition into Redmond. It remains unclear whether ZeniMax Media, the current holding company housing names like Bethesda Game Studios and Arkane Studios, will retain its existing branding if the deal closes.
The move indicates a new approach to past acquisitions, as its largest deal yet under its creative arm. With a new subsidiary expected to house its latest studios, it suggests that Bethesda-related properties will remain partially-distanced from its Xbox Game Studios family. Previous single-studio deals like Obsidian Entertainment, Ninja Theory, and Playground Games, now fall under this 15-strong banner.
Microsoft outlined plans to acquire ZeniMax Media back in September 2020, an industry-shaking deal bringing top franchises like The Elder Scrolls, Fallout, and DOOM under the Xbox-owner. While Bethesda is expected to operate somewhat independently with its established development and publishing teams, with plans to honor existing PlayStation exclusivity deals with titles like Deathloop and Ghostwire: Tokyo. Future Bethesda-published titles are also headed to Xbox Game Pass, Microsoft's Netflix-style subscription service for Xbox and PC games.
Matt Brown is Windows Central's Senior Editor, Xbox & PC, at Future. Following over seven years of professional consumer technology and gaming coverage, he's focused on the world of Microsoft's gaming efforts. You can follow him on Twitter @mattjbrown.
Best guess is the final identity will be BETHESDA STUDIOS (or something like it), "a wholly owned subsidiary of Microsoft". Not sure if it's the first such subsidiary for MS but it makes sense to keep the exclusive studios separate from the multiplat studios and the BETHESDA brand has value in its own right. It makes sense: from the beginning it's been said over and over that Zenimax would continue to operate as is, with the same staff doing the same work. It is a successful, profitable company and as long as it remains so, little will change. (Except that all games will go to the XBOX platforms no matter where else they go. It's more about ensuring XBOX doesn't get locked out than than about locking out anybody...unless they have to. :D ) MS has always supported alternate platforms when it made sense (strategy and $$$-wise) like Apple, Atari, Commodore, Unix/Xenix, Android, Nintendo so there's no kneejerking of exclusives to come. Nonetheless, there *will* be timed exclusives. But then, there always have been in the MS-Bethesda relationship. Figure an automatic 6 month window as a baseline. Details will vary from there. Where the deal makes most sense for Bethesda is making sure they aren't forced to release an unfinished game to meet quarterly revenues (Andromeda, Cyberpunk, dozens more) or having a good game released into the middle of a glut (Dishonored2) and that's where being part of MS comes in: they'll be effectively be a captive supplier with a guaranteed distributor and a guaranteed userbase (GAMEPASS) so they can release the game when its good and ready (within reason). If Starfield can't make it by Q421 but it can hit Q222, it'll shift. BioWare used to do that with Mass Effect. They didn't with Andromeda and we all saw how it turned out.
Big games are complicated and expensive and stuff happens. But when it's release date is the difference between people getting paid or laid off...
Being in the cozy circle of a company making $15B each quarter means extending a deadline is no disaster.

My money is ZeniMax Media being the name housing newly acquired studios that's primarily due to history between some people in both companies. Although Bethesda has name recognition; its a tarnished brand due to the issues with modders and the mangling of the fallout franchise. The Fallout games from Interplay and Obsidian were amazing. Especially, the latter thanks to modders. Fallout 4 and 76 from Bethesda?
Meh, in comparison - especially the former. It's still has annoying pathing issues, continiuity issues and so on. No amount of modding will fix.the broken core mechanics. Sure, the fallout games are known to be somewhat buggy but Fallout 3 took the biscuit (Bethesda's first game on the franchise). Although Fallout 3 remained true to its roots, the sheer amount of obvious bugs makes you ask who in the hell gave the OK for the release lol. You had to tweak the config file to prevent it running on multiple cores otherwise it would never run. Some NPCs would never arrive at specific points - one example - the Lincoln Memorial rendering a extremely long playthrough useless and broken. The only solution that worked for me was to trek the whole damn way with the slow moving NPCs. Just to name two notable ones on PC (Sure, some events can "fixed" using the console but still for the average gamer that's not ideal at all). The console ports were even worse. The downward spiral for the Fallout series began from there imo. Therefore I'd rather see Obsidian pick up the fallout franchise again.

Odds of the Fallout Franchise being handed over to Obsidian or inXile will depend on the schedule of the folks involved. Obsidian is doing Avowed and inXile is doing a 1st person rpg that may or not be a WASTELAND game. TBD. It may be FALLOUT 76 is all the FALLOUT we get for the next five years. We might even get the mythical HALO RPG before a new single player FALLOUT. Not holding my breath. Whatever old school folks may think of the Creation Engine-based games from Bethesda, if you look at the reports on the merger, you'll see that among the bulk of consumers, BETHESDA is universally known, while ZENIMAX usually goes "Who? Oh, right..."
And game release dates were set by top Zenimax execs, just as the premature release of CYBERPUNK was set by CDPR top execs. Those are the folks cashing out on the merger, not tbe studio managers or developers. Therein lies to possibility (probability?) of less buggy launches. Brand recognition is not a function of individual games but of total familiarity across the full product catalog. ELDER SCROLLS, DISHONORED, new DOOM, new WOLFENSTEIN, all carry BETHESDA branding. Millions of folks have bought games with that brand so it has familiarity.
ZENIMAX was/is a holding company, not the studios nor the publishing brand. Look at the physical game boxes: Game title, prominent; BETHESDA visible. Zenimax? Indicia text. The name recognition is in BETHESDA, not in ZENIMAX which is why most reports on the merger (such as the current article headline) refer to the company as BETHESDA. Microsoft doesn't always get branding right (ditching xCloud, really?) but this one is easy.

@fjtorres Fair points, totally forgot about Doom and Wolfenstein etc.... Don't have the time these days for games lol.

I think people are reading too much into this. Microsoft needed somewhere to put ZeniMax in the corporate structure and this is the cute name they chose. In the short term, they may indeed function independently. But over time, Microsoft will start removing the layers of duplicity so that ZeniMax becomes a division of Xbox and not a wholly-owned subsidiary. While Microsoft has no current desire to divest of Xbox, we cannot assume that will remain. This looks like a way to create a more complete Xbox in the event Microsoft wants or is ordered to divest.
Windows Central Newsletter
Thank you for signing up to Windows Central. You will receive a verification email shortly.
There was a problem. Please refresh the page and try again.