Microsoft licenses smartwatch technologies to Casio in patent deal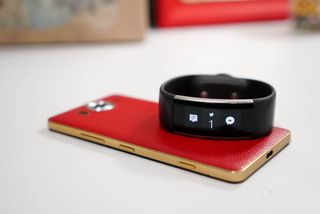 Microsoft has announced it has entered into a new patent licensing agreement with Casio. And while most patent licensing deals seem rather dull to onlookers, what makes this one interesting is that Microsoft will specifically be licensing smartwatch technologies to the Japanese watchmaker.
From Microsoft (opens in new tab):
While it's easy to run away with wild speculation on deals like this, the reality is that Casio is most likely taking advantage of Microsoft's many wearables patents to further differentiate its Android Wear lineup. While that might sting a little for anyone hoping for some sort of Microsoft Band-related news, patent licensing is a solid way for Microsoft to stay involved in wearables from a distance.
Dan Thorp-Lancaster is the Editor in Chief for Windows Central. He began working with Windows Central as a news writer in 2014 and is obsessed with tech of all sorts. You can follow Dan on Twitter @DthorpL and Instagram @heyitsdtl. Got a hot tip? Send it to daniel.thorp-lancaster@futurenet.com.
This has nothing to do with the Band 3 revision I spoke of last year.

Thanks for keeping the hope alive!

No, nothing. It has all to do with "smart watches" and Microsoft's commitment to mobile and wearables. They (Microsoft) have just realized they can't go it alone.

Other than their own mice & keyboards, they could have tried to buy IBM or instead of bailing out Apple, bought them out too. While being one of the most innovative with hardware, they've left hardware to their partners.

Do you mean something is still in the works? with release date this year?

And still no one has any reason to listen to a word you said..!! :(

Repeat after me: There is no Band 3. Not now, not ever.

Just as there is no surface phone....

We know that. It has another name.

They're making a new device, meanwhile they license technology for said device so they can have competition? Yeah, that makes sense...

This is what MS does all the time! I am not sure if you are being sarcastic, but this is MS's MO. The surface line is an example of this.

Tell us a bit more about it? Is it coming this year?

We know this. Where have you been?

Hi Mr Catfish! I remembered last time you mentioned that your company had received an order from MS for sensor technologies to be integrated into the next MS Band (or whatever it will be called!). You also mentioned, at the time, that your team was working on it and it would be in a different format/packaging, the "band 3" technologies being repackaged, and likely to be pushed back to mid-late 2017,etc.. Do you have any update you can share with us? My replacement Band 2 (my first one failed a month before my end of warranty and I managed to grab one while MS still had some in stock, lucky!) is still going strong so far, but hope for something else soon, and yes, I keep the hope alive. As for now, there is nothing as good as the MS band 2 on the market for me... (Garmin is tempting, though!). Thanks

He's called Mr Catfish, Catfish is a well known term for people who pretend to be something they are not!
I would love for MS to be bringing something else out but they have left it too long. My 4th split Band got sent back last week and the UK store no longer has any stock so I am getting a cheque in the post. I now need to buy something else as MS have nothing I can replace it with which means I will be moving to a new platform. Much as I don't want to as soon as I make that investment I would find it very hard to come back.

Mine started splitting this week. But I'm out of warranty. :(

MSFT actually swapped out my Band 2 for a Blaze ( which they sell in their stores ). Not nearly as good on notifications, but fine on fitness tracking, and readable. I finally picked up an Apple Watch ... much better on apps and notifications, not 100% on fitness tracking. Fitbit Charge 2 is great on fitness, not so good on notifications, and no apps. Band 2 was perfect ... till it got caught up by weak manufacturing quality.

Damn!! Lumia 950 in that case looks solid 👌🏾

Having had the same Mozo case as the one in the picture, I can tell you that it deteriorates very quickly ! Go for the wooden ones ! ;)

The cognac leather Mozo I've had since release is holding up great.

Agreed I have Lumia 950xl version and it just deteriorated around the corners very quickly.

Yep, I had the cognac leather one and it also deteriorates quickly (the silver on the plastic rim peeling off with some abuse), I then moved to the walnuts wood cover with the dark matte rim (colour of the plastic, not painted over) on my 950XL, pretty nice and classy, highly recommended.

I'm loving my wooden one after having a leather one. The stitching was fraying on my other one. It did get a hell of a lot of use though.

Re: kenzibit,
It's not a case. It's a replacement shell. It doesn't add any thickness like a case does.

Hey kenzibit from Reddit!

That's me brother...how's the going?

Maybe the Band App won't be dead after all... Not going to hold my breath though

Didn't they already discontinue any further development on it?

Still wearing my Microsoft Band 2. Really wish they would have stuck with it.

Yup, I even have it paired with my new iPhone. :-P

Me too. Got my Band 2 shortly after launch and it's still in good shape. Funny thing is, within the last month I've had two people out of the blue ask what it was and comment how they really like the looks of it. Kind of embarassing to talk about it and then tell them Microsoft stopped making them.

Welcome to the world of all things Microsoft

Yeah, like Xbox, Windows, Surface devices, dozens of software titles, etc., etc.

Hey now, to be fair, they have stuck with the Surface (minus RT, though WoA is the logical sucessor) so far, and with the Xbox (minus kinect.) For those two specific cases, Microsoft hasn't totally abandoned them ;-)

They don't deserve credit for that. It's a very successful product line. if they struggled out the gate, but stuck with it because they believed in a product/vision, then they deserve "credit for sticking with it"

Ha, yes, they do seem to follow the motto "when the going gets tough, we give up."

Welcome to the world of all things under Nutella.

Yep, same for me, I have been a delighted user of the band 1 and band 2 from day one... band 2 is much better than the one (less of a prototype and more of a finished product)... I hope my band 2 will last as long as possible, nothing currently on the market is as good as the band (except perhaps Garmin Fenix, but this is another price altogether!) Most of my colleagues are into sport and fitness... many started to ask about it when they heard about it for the first time thanks to the online press saying that MS was exiting the wearable market (where they in it?? really ?) and the band was discontinued... Many added that they would have gotten one if it was not discontinued!

I have had my Microsoft Band 2 for 1 year and 3 month even though the two sides have rip apart(cover them with black tape) still works and looks great.

Really? That is awesome. I got one in May 2016, and had it replaced 4 months later due to the band splitting. The replacement did the exact same thing in the same time period. It went back to the store for a refund :( I miss my Microsoft Band 2.

I've gone through 3, and the third had battery problems as well as eventually splitting like the first two. Just this week I reluctantly returned it to the Microsoft Store. Even though it was out of warranty, they gave me store credit for the full purchase price! (I just had to show the receipt that I had in my email.) At the end of the day, I got to use the Band 2 for a year and a half for free. Still, I miss it. I loved the clasp mechanism, and the ability to walk around in the dark, shooting light from my wrist. Oh, and everything else the Band 2 does. Here's hoping for a Band 3 with improved materials and battery life, even if they don't add any new features.

I will soon have my 5th Band 2...

I had 5, ran out of replacement stock, so they sent a cheque.

Waiting on my check after my 3rd band split.

Were you still under warranty? I was also on my 5th, but my last replacement was in October, so they said it was out of warranty in January so they couldn't do anything.

I'm still rocking the original Band! ;)

Same here. However, the band has been splitting all over the place so I wrapped it in electric tape on both sides lol. I'm trying to hold out until it fully breaks or if Microsoft comes out with that prototype Panos was wearing in that interview that he quickly tried to hide. While it is ugly from the 2 year beating I gave it, it's still better than the other devices available.

Me, too, with daily and nightly use, and only minor weakening of one strap. Thinking about using shrink tubing, but it's not ripping, yet, so I'll wait.

I've gone thru 2. 1 wouldn't charge but recognized it was plugged in. The other would randomly lose connection to the battery and it would be dead. Thinking of purchasing a Nintendo Switch with the store credit I received because BB couldn't get me a new one.

Better get that GATT support working on W10M that neither Fitbit nor Garmin can do, else this is just a story about Band technologies running on a Casio smartwatch connecting to a Galaxy S8...

GATT is already available for UWP apps, and Fitbit tested it with limited public. Or I'm missing something?

Available but check out the Fitbit forum talking about it. Still flaky even as of yesterday... https://community.fitbit.com/t5/Windows-10-App/Fitbit-for-Windows-Track-...

My partner has it on her 650 (latest insider build) and she receive the notification on her Alta quite regularly... it was a bit hit and miss at first, but the latest FItbit beta app made much more stable... so far so good... Fitbit is still not as good as the Band 2, for me... Garmin maybe, but not fitbit...

Fair point. Thanks for the link, looks like fix on the way from MS point, may be this will fix recent issues before CU global availability.

Did you read the entire article?

Oh U must be talking about the MSFT Galaxy S8 then.
HUH HUH HUH.
Still rocking my 3rd replacement Band 2, with both sides next to the screen ripping.

thats all it will be....nothing more!

Watch 'em use MS's patents to make an iOS and Android only watch.

ding ding ding we have a winner!

That's the thing. I hope they have some kind of agreement in place do that there's WM support, otherwise what's the point?

Microsoft can work on smartwatches from afar this way. Casio are probably paying Microsoft for this. Since Microsoft aren't making their own bands it seems and don't seem to care for Windows Mobile (sure we get security updates, but that's just a token gesture, where's the new features for mobile? Heck they aren't even making a beam app for mobile and they own beam), why would Windows mobile support matter to either company?

... Just like every across android oem

They already make an iOS and Android only watch. They will use the MS patents to improve what they currently have.

That's what the band was for, a test device showcasing their sensors. MS doesn't want to make wearables long term.

Do they want to make anything long term?

No, they leave them to the apathy of others

How can one company be so brilliant and so stupid at the same time? It'd be like Connor McDavid deciding his talents are better used by coaching rather than playing. Such a waste.

Why the band got discontinued is beyond me but I guess they had ample competition from other fitness trackers and despite the generally favorable reviews, decided that it wasn't appealing enough.
While I'm extremely sceptic regarding smartwatches in general (FWIW I only owned a pebble and ended up giving it away), I would prefer MS to branch out in that direction, but that would only make sense if they could either differentiate somehow on the software side, or make a solid hardware that leaves others in the dust. Because let's face it: it just won't work otherwise. Apple has their watch, Android users have a slew of watches to choose from, and if we don't grab the attention of those users, it's simply not commercially viable for MS to invest in a smartwatch for the WP fanbase alone.

The band got discontinued as they knew they were retrenching in the mobile space, they knew and know apps are going to take a big hit. However, they will be back with a Surface-branded device when the timing is right and giving a global company who are experts in low cost high tech watches is a great thing. I'd buy a Casio watch over an MS one any day, same way we all got the amazing Nokia Lumia's.

I miss my band 2. Still hoping for a 3

Moved on to Garmin... Now if they can just get GATT working all the time, one fast ring build had everything perfect.... Months ago.

The Band 2 probably would have caught on more if Microsoft fixed the split band issue that may have been scaring off potential customers...

Bizarre they couldn't get the breaking band issue fixed. Wasted more money just sending out 3rd, 4th, & 5th replacements to everybody.
Just another thing nuttela shut down because he didn't want to be bothered trying to make money on it.

Ya especially when amazon was saying no returns or refunds on the band 2. Really sad.
Ingot 3 replacements under warranty, the 3rd one is ripping on both sides of the screen.

I'm expecting a schmexy watch then

I loved the Band 2, but it clearly needed to be rethought as far as build quality/materials. Too many people's bands ripped on the side, after my second one, I gave deuces and got a Fitbit Surge. Now, I have the Garmin Forerunner 735xt #InLove Being a software company, I don't think they ever really want to do hardware. As history shows, they start things to get the ball rolling for everyone else to create the need/demand/competition and then they pull out. But... All of their technologies are used/licensed by everyone, including the "competition". So, at the end of the day "they win". Lol

That's their problem: they pull out...

They win financially, but the consumer loses when products we love are yanked.

Well my Band 2 broke around the 9 mo mark and got no joy from Microsoft....Gear 3 is working great on my S7......

Exact same scenario with me. Gear 2 though with S7.

I miss my band 2. No other smart watch interested me so I went back to a casio pathfinder. I'd buy the band 3 day one.

I still don't know if I should get another Band 2 since the one I have is getting really worn and many things aren't working, or if I should change to a Fitbit since they still support Windows Phone and have a Win 10 and Xbox App

If battery of b2 die there is no way to replace it

It will never happen with mobile first nadella

This is good, back in the day Casio were the technology pioneers, ahh the days of calculator watches :P - Casio IMO will do a great job and it wont be crazy expensive.

Yep, also miss my Casio scientific programmable calculator of 20 years ago! pioneering indeed... For the watch, I do like the band format (with the screen on the inside, it's super handy) and don't like the "Indiana Jones" type of watches Casio currently have...

I just bought a new OG Casio calculator watch. I remember my grandad wearing one back in the day and having so many feels for it. £20 on Amazon nowadays!

Damned nadella, my band2 battery dead and it's unrepleceable...
Nadella frauded ppl with bought band2 even removing the sdk from download
This man should be prosecuted by law and got into jail

I don't understand why anyone thinks this is good for Windows users? It doesn't hint at a new Windows smart watch or band. It's just Casio taking the best bits of the Microsoft Band to use in their AndroidWear watches. It's only good for Android users

Agree 100% especially under "mobile first and retrenching nadella"

Waiting for my Vector to arrive later today. My (last?) hope for a great Windows Smart weareable.... Maybe.

Supposed to be quarter 3.

That would be really nice!! Now just hoping that my Band 2 lasts that long..

So to avoid asking anything that would require confidential information, is your confidence in whatever it is coming out still as as strong now as it was last year? Do you believe that Q3 date is solid, or is slippage likely?

No, I do not have confidence. MS is something else. We got paid for our work, but we want to see it in the wild. MS does what they want with their property, we all know that.

That's too bad, but thanks for the honest take and for the work you did to create whatever it was that you can't talk about yet (or maybe ever?).

Not many peoples seem to believe you anymore (sadly)... What can we expect in Q3 (if this is a Microsoft one (Yes/No?), perhaps for an Octobre HW event)? I still hope, perhaps naively!

Thanks! I look forward to buying the product/Technology your team has contributed to and delivered to MS. Despite not being a Hardware vendor, I hope MS will push this product to the market soon (tm) enough, perhaps under the Surface brand, since this is now their only hardware related brand! Let's see what Q3 and RS3 release will bring us (I am still hoping!) Thanks again.

Quite happy with my Fitbit Charge. Just need it to survive till December... planning to upgrade to one of the nicer ones. Then again if Casio impresses at a good price, might give them a chance.

Thanks, i look forward to buying the result of your work!!! Hopefully they will push it to the market soon (tm), and please not another US only thing!

MS's solution to all things hardware-- outsource it! Lame

This is great news because Casio is top notch. I hope that means that there's a deal where they agree to bring Casio's fitness software to windows mobile.

On my 3rd Band 2 and so is the Mrs. After hers started to split in the usual places I used some black Tenacious tape -fabric repair tape, to wrap round it and it did the trick and didn't look too bad at all.
If (when) mine starts to split I know I can keep it going, providing I can avoid the other great killer- battery issues!

Would like to have this watch, I think it's very useful)
Windows Central Newsletter
Get the best of Windows Central in in your inbox, every day!
Thank you for signing up to Windows Central. You will receive a verification email shortly.
There was a problem. Please refresh the page and try again.