Microsoft lists the Lumia 950 and Lumia 950 XL on company store ahead of release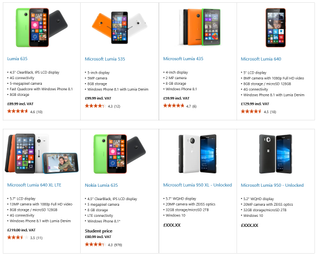 Microsoft has inadvertently confirmed both the Lumia 950 and Lumia 950 XL. The company mistakenly published listings for the two upcoming smartphones on its UK store. Pricing and such weren't confirmed, but at least we now know exactly what's planned with regards to branding.
The "2TB SD" spec you'll see just refers to the SDXC standard, before anyone gets too excited. There aren't any 2TB microSD cards out there and if there were, you'd probably have to mortgage your house to buy one. It does however mean you can put one of those Sandisk 200GB cards in just fine.
Unfortunately, the store links for said listings do not work but we do have a small insight into the specifications that will be sported by the unannounced Windows 10 Mobile handsets. We expect the Lumia 950 and Lumia 950 XL to be announced at Microsoft's upcoming event.
Source: Microsoft Store (UK) (opens in new tab); thanks, Longstone, for the tip!
Windows Central Newsletter
Get the best of Windows Central in in your inbox, every day!
Rich Edmonds was formerly a Senior Editor of PC hardware at Windows Central, covering everything related to PC components and NAS. He's been involved in technology for more than a decade and knows a thing or two about the magic inside a PC chassis. You can follow him on Twitter at @RichEdmonds.
The theoretical capacity of the sdxc standard. Folks get too hung up on the number. There are no 2TB microSD cards yet.

yup..it is future proof. was it samsung who has the 1TB?

They have a 1TB portable SSD.

There was a 500GB MicroSD shown on here some months ago.

i think you mean 200gb, right?

Lol there also was a swiss army knife with a 1tb flash drive

It was 1 tb sandisk and it is still a ways off market and will cost a lot.

But that does it means a 1TB SD (or even 512GB) Card would work? I mean, these are the phone specs not the SD Card specs. We know the SDXC Standard is 2GB, but my curiosity is, the 950 actually supports this kind of storage?

If it supports SDXC there's no reason it wouldn't. It's a standard.

Hey...don't bring logic into this...

So that's it then. They're the flagships. Hmmm.... Should definitely support 1tb.

It looks like they will support all existing microSD cards and future proofing up to 2TB for when that comes out. It's nice to see a company that enables you to add more storage even if that capacity isn't widely available at the device's launch.


It is simple. These new phones run Windows 10.

Exactly and Microsoft is not special with the potential capacity. Unless os limitations, abuse device that can use sdxc should be able to handle any size card you can find, up to 2TB.

Means it can support hard disk via otg???????

So it's finally Windows 10, not Windows 10 Mobile! hence it supports! lol! !

No. It means that they can support any microSD card that supports the SDXC standard. USB OTG drives are something else entirely. They may support that too, although I haven't heard that specifically, but it would be a different feature.

the design looks very cheap :-( not worth 700USD

Specs totally seem worth it!

there pretty much made of all the same stuff all the new non galaxy android 6 deives are made out of and hold all if not better hardware specs. just a different design on the outside.

That white Lumia 950XL is screaming sexy! I'm so in love, need to have it! As soon as its available in the Netherlands I'll be renewing my contract!!

I agree I think it looks extremely sexy in white. Love my Icon in white. The only other color I would choose for the 950XL is the blue that will sadly not be made available to consumers like us.

I've never liked the look of a white phone before, but the white XL does look pretty good. Hopefully it hold up in person. How the device feels in my pocket will determine for me if I go with the 950 or the XL. The 1520 wasn't comfortable for me to have in my pocket while driving or sitting.

I might get it in white and put a black back cover on it. That should look quite good.

All the front bits are black. You'd achieve nothing, may as well buy a black one.

I so hope these cost the same as the new nexus's or it will be hard to justify to the wife.

Don't tell her...tis all...say that is the price of a high end phone...see: apple

Why wouldn't microsoft sell it cheaper than a comparible Android/Apple smartphone? They need to sell as many as they can. We know Apple's BOM is around $250 for the iPhone 6s. Wouldnt Microsoft have a similar BOM? They dont sell the SP# and S3 cheap because they want OEMs to start selling Windows tablets. But since Microsoft has 95% plus of the Windows phone market with a global share of 3%, wouldnt they want to build share by sellling a good phone for less than the competition? So I am thinking $499 for the 950 and $549 for the 950XL.

Polycarbonate shells aren't for everyone. I'm looking more at the specs since I know I'm going to put on a thin, durable case from day 1. It probably keeps the cost down since metal would be a more expensive material. Hopefully they incorporate metal into a future device similar to what they did with the Lumia 930/Icon.

I have the Lumia Icon in black and I can tell you that the metal band is NOT a good thing. Metal is UNFORGIVING! It might look pretty, but once it's bent or scratched, it's forever. I have dropped my Icon serveral times, a couple without it being in the case and the only part of the phone that shows any damage is the metal rim. It has a few small scratches and a small dent. Othewise, the polycarbonate casing is like new. I'll be happy not to have the metal rim on the 950 /950XL. But as you say, to each his own.

Same with me, especially the top part of the metal band. I kinda wish it had curved glass like the Icon, but I'll take the 950 next...

Thankfully I've always had a case on my 930. However, I dropped my 920 several times, and the polycarbonate back definitely shows dents and scratches. My shell even cracked. I'd rather have a durable material like metal for the edges, but I'm still going to get one of these devices and use a minimalist case on day 1. Your Icon has curved glass? My 930 doesn't and it's the same phone.

Same here, minimalist is way better... It's slightly curved, very minimal, but just the glass not the screen.

Last time I had a removable back was with the Samsung focus. And with a glitch in the universe i was able to jump from the 900 to the 920 within 2 months. Because the 900 I got from Costco, the girl at the kiosk never marked us down as upgrading. I just happen to double check on walmart, Costco and ATT, and it showed that I was available for an upgrade. So went and got the 920, score!

Almost everyone I know puts their phone in some type of protective case. OtterBox or a simple silcone sleeve. I always take my new phone straight to a kiosk in the mall to have an screen protector installed. My 928 is close to 26 months old and still has the original screen protector and silcone sleeve. No scratches. Looks new if I take the sleeze off.

I always put a minimalist case on my phone like the feather cases Incipio makes. I've tried silicone based cases, but they make it harder to take the phone out of my pocket. That is great for preventing it from accidentally sliding out of my pocket though. I also found that a silicone case gets lose after a few months.

So XXX.XX means $700 usd? It actually looks good to me and it checks all of the features I want. This is the perfect phone for me.

That's just one spec. Before I get too fan boy excited, I'll need to see a full review by Dan of the actual phone including the camera.

Can't make up your own mind?

He would be making up his own mind, with an educated idea as to how the phone works.

For me the headline of the story is the fact that they're selling these phones "UNLOCKED". I am praying for LTE bands on all networks.

I've heard that 2TB is the technically limit of microSDXC. Some of companies like LG had already wrote 2TB microSD in thier phone's specification.

Oh no! How will I ever save up £XXX.XX in time?!

Be happy it's not £XXXX.XX

£XXX.XX as in £30.20? if my knowledge of roman numbers is correct

No it's either £111.11 or £222.22 or £333.33 or £444.44 or £555.55 or £666.66 or £777.77 or £888.88 or £999.99. Since only one placeholder 'X' is used.

Release date is not December 25th.

*beeping noises*
You can dance if you want to!

Quick! Someone give this person the internet!

I'll dance on 6th. Stay tuned.

You can leave your friends behind.

No it's either £111.11 or £222.22 or £333.33 or £444.44 or £555.55 or £666.66 or £777.77 or £888.88 or £999.99. Since only one placeholder 'X' is used.

X = 10 you know!

Someone doesn't understand Roman numerals, or jokes :P

I feel like saying the same to you! It's not like my comment was a serious one :P


Oh this comment thread. Man, I love you guys. :-)

don't worry that's just £30.20...

Lets see 1£=$1.52 so £XXX.XXX x 1.52 = $???.?? Please correct me if I'm wrong. Or did someone get the Calculator update I'm missed.

I only have £X.XX :(..I'l have to wait till i get XX.

Can't you pay £X.XX down, and £XX.XX a month? +taxes, access fee, Groove Music Pass, origination fee.....

I know, right? I am still $YY short of affording that.

Well then... Does that mean they'll be available on October 6th?

Let's hope so. Much better than saying here's an amazing phone, tempting people who then have forgotten about it in 1 or 2 months.

They need to show the phone and give an available date. Not a coming soon.....

Yes but I hope it's in November, otherwise I'm not sure how Windows 10 Mobile is going to perform on the phones.

Well if it performs on those phones as well as on my 920 than I might as well just not get any phone

Well, it's going to be much better than on the 920 but it may still not be good enough if it's released at the state it's right now. Hopefully the unreleased internal builds have fixed many of the issues of 10536 already, though.

Speaking of 10536. Any news on 105XX?

Maybe we'll know on 10615

Would be too optimitic I guess - WP10 is still very buggy - OS not complete. They've been months working on it...I guess when the OS is complete we can have a more clearer date

They have reported that the phones are rumored to launch with the previous build, before the new branch. Of course they will have spent a lot of time working out bugs to make it as smooth and stable as possible.

Hopefully they do at least one more Win10 update before these phones are released. It keeps getting better on my 920 with each update, but I wouldn't feel comfortable using it as a daily OS yet. Hopefully it's because the 920 is 3 years old, and the drivers aren't optimized for the new OS. Windows Central has said it runs pretty well on a 930 and resolves the overheating issue the device has.

I think MS is using the Chrome model here. Remember when Chrome launched what a POS it was? It basically only got one thing right, and that was it was the easiest browser out there to keep up to date -- indeed, you couldn't not keep it up to date. I think W10 is rolling out the same way. Even on the desktop, which is actually released, W10 is a horrible, unpolished, buggy mess that is a regression from previous OSes in many, many ways. But it updates regularly and (for most) automatically. It's already a little better than when it launched and, come "Threshold", will likely be pretty good. As long as threshold can come to phones pretty soon after they launch, and everyone gets it (regardless of what the carriers do or say), MS might be alright in the long term.

They could release them pretty soon, since there was a rumour that MS plans to release these devices with th1 / build 10240. Posted via the Windows Central App for Android

Seriously, if they release this proper the same week I'll go bonkers.

Same here. Not because I've been dying to replace my 2 year old 1520 but because it would signal a change for MS with the announcing/releasing devices.

Coming Soon.... you know.....whenever....maybe.....but might be delayed.....sort of!

Then as soon as we get it groove will begin its reset cycle where all the features are scrubbed again and the app barely works. Then as soon as groove is in decent shape they'll start a redesign of the entire OS.

Likewise, my 920 has been being for an upgrade, despite still running strongly. I just want a camera upgrade and more space.

That was more a Nokia issue which MS inherited than their issue though, but yeah be good to see if they've managed to improve route to market to announce and ship in the same week. edit: Thinking about it though, there's no way W10 is ready for launch next week.

I'm guessing October 26th...

... and Feb/Mar for ppl outside US :(

Releasing them on that date means they will have unfinished W10M. One tech site said they will release them with the November update.

The build will be build 10240 but it will be a more stable build as they have been fine tuning that build for launch. I read it somewhere in the forums. I don't quite remember which thread.

W10M isn't remotely close to being ready for widespread deployment. I'd rather them not rush it like they did Win 10 desktop.

Seems unlikely given how much work there still seems to be with W10M/core apps.. but who knows! :)

DONT RUSH IT I remember the first problems with the Lumia 930 - overheating, to hot to touch, screen flickering etc.

I guess they did not rush it, they took their time :D

I totally agree. My 930 still gets hot, and I've only had it for a few months. The screen flickering seems to have stopped though.

Did you switch off the two NFC settings under "Bluetooth"? All you lose is Tap to Pay and Tap to Share, two things you probably never use (and you can always flick them on temporarily when you really need them). Remember to keep switching them off with each reset/upgrade, as they tend to get set On by default.

Yes I always make sure I turn that off since I haven't used NFC in 3 years. It tends to happen when I'm using IE or playing any game regardless of the graphic quality. These are common issues according to forums. I believe WC said that their 930 running Win10 preview doesn't overheat anymore. Maybe there will be updated drivers.

Microsoft I need you to bring it to Canada and not ask for my leg as payment and you've gat at least one sale. Also why in the press shots isn't one phone flipping around like the others the 950 is the lame older brother of the family I see lol

Blame shipping partner/exchange rate there always the problem especially when retailers like them/tiger pass that cost down

Agreed 100%, Canada is very close to US (Where Microsoft is from) IMO Microsoft should also need to bring these phones to Mexico, either unlocked or on a data plan, but we don't want more excuses, iPhone 6S and Galaxy Note 5/S6 Edge+ are available in Mexico on all carriers. Is time to bring these phones to your close North America Neighbors (Canada and Mexico) first.

Yes! Though with the dollar price possibly being even higher by then, hopefully they won't cost a fortune :S

They can get them into Mexico through the tunnels.

A down vote??? Someone's a little too serious here lol

I voted you back up. That was funny.

You have two legs, surely you can spare one.

Yes, they need to bring it to Canada at same time as the US and they better have a 'Nexus' kinda price or else i am gonna cry... I wanted an unlocked 830 but it would have cost me a leg and an arm.

Probably get the 950 xl that silver ring on the 950 looks bit meh

Meh is the perfect description of my feelings of the Chrome Donut (tm) too.

I like it. I also like that the side button configuration hasn't been changed on the 950.

Would be nice if external lenses stick to the ring.

I think the silver ring is on the xl isn't it? I don't like it either. I want the smaller screen of the 950, but the whack button layout would drive me crazy. I don't understand why they mess with perfection. Sigh.

I see now... looks like the pictures are swapped in the listings. Xl is the bigger one with the ring, 950 is supposed to be the one with the horrible button layout.

You've got it backward. The XL is the one with the power button in between the volume buttons. The 950 is the one with the large metal ring around the camera.

I hate that silver ring, but I don't really care for the button configuration on the XL. But, I'll get used to the button, that silver ring...idk. I'm going to wait and see how the 810 performs in the XL before making a decision though.

It might so magnetic lens accessories would fit in. Just my guess!

I just want to know the purpose of the lens ring.

Official confirmation from Microsoft of the names and some of the specs, maybe?

I feel the same \o/ LOL! Considering what Google did with the Nexus devices (theoretical global support, even for Verizon) I can't imagine with the same chipset that Microsoft would limit their sales by going with just gsm based carriers. Fingers crossed.

Well wouldn't be stopping them from building except sprint/vzw related fallback would lay dormant

So testing (Looks proper on site or not) is going on before launch. :)

Nobody tests if it's looking properly or not in live websites, this is done in dev versions, atleast where I'm working at

I am not saying I am 100% correct. But this kind of things also happened with google and others as well. So i just thought of it.

Where most people work too lol. Probably an honest leak.

Lol cannon, you are right may be in the sense leak comes on very next day of nexus 5X/6P launch!

Exactly. "Oops, our phones leaked ;)"

;) I always think that most of the leaks always comes from internal source.

Leak, or someone accidently hit the "go live" button. That's happened where I work on multiple occasions in the past, though not for websites.

It could happen at my work... all of our website code is tied into online source control & 1-click build and deploy. Something like this time-sensitive content should be branched to avoid accidental deploys, otherwise everything pending gets pushed out together.

Where I work, we always have 3 instances of code for each customers software, inhouse test and live. In the past, like 20+ years ago, it was really easy to deliver a piece of code to fix an issue while the site was ready to go live, and accidently activate all the new code. I guess it used to happen all the time. I can totally see this being an accident, though one someone likely got yelled at for lol.

Well you have to water your plants with leaks ;)

Leopard print please. Wtf

Neon green and neon orange :D I thought the L930 looked awesome, just for those colours :p


mobile phones should be BLACK only maximum is white any other colors are just MEH... buy yourself a plastic mobile for kids from Toys "R" us :D

Black and white are incredibly boring. It you feel you must match everyone else, I guess those colors are for you. For me, they need to release the colors as swappable backs at least.

Black and white phones are extremely boring. Bring out the orange :)

I thought along similar lines until I picked up my bright yellow Lumia 1020. I have never been so quick to admit I was wrong. Phones are quite personal parts of our lives, it's nice to have a bit of vibrancy and uniqueness. And of course, they will still offer a black/white model for those who wish for a subtler look. It's all up to personal opinion.

I'm sure they will release more colors later just like they have in the past. The green 1520, gold/black and white/gold 930, the additional colors for the 920. It annoys me that the colors aren't available at launch or at least have "coming soon".

And the covers are detachable for battery replacement, which means a third-party market is likely to supply different covers.

Hopefully someone releases a cyan or green back. I'm not a fan of the red or yellow. I swapped the black shell on my 920 to cyan before I upgraded to a 930.

Inadvertently? Or Intentionally?? Leaks = Hype

I agree, that silver ring I just don't get. Its such an obvious thing and distracts from what is an ok looking phone.

Lol unless it means dslr external lens

Hopefully it does. Magnets can stick to coated ferrous metal, would look nicer if at least darkened.

If it was anything like the black camera surround with the 1020 it would look so much better.

That would be really cool.

They DO have some sort of thing going on with Canon... but what??

Black 950 looks much secksier than I thought, but colors are a must!

Haha, this guys are dung as f***. They can't do nothing properly. I start to underestimate MS. Is it just me, or this guys really have no clue of marketing. They are like kids playing with big tools. Even wp is a kids made os. Fast but not fast, comes now, but komes tomorrow. Come on MS, step up the freaqing game. My 1020 is tired...

It might be their misguided attempt at building hype. Not sure I like the look of them but will reserve judgement until I get my hands on one. I live in the UK and hope this gaff is an indication they'll be out soon. That would be awesome!!! Accessories too though, better have the dock in stock!

Yeah, i hope that they will do it to. Cause will be just dung to declare some new devices but not to already market them. This is what Nokia did, and was the worst thing that vould be done. Nobody wants to wait. As for the design. Well, i like the lumia design better. On this devices can be clearly seen there is less Nokia and more ms into the design. Still. For me, the lumia 800 design can't be beaten. They should have just step up the game with that desing. Is sad that this new phones are't expresive anymore. Are not saying: I am not with others, i am alone. I am something else, i am special:)

It's widely reported this us the last NOKIA designed phone

I don't mean to be rude, but why the negativity? A short time ago Windows Phones' very existence was in question, now we have two new de ices that are spec'd up, and people still aren't happy.

Well hey, at least they can spell & know a thing or two about grammar. Cripes that was like reading Caveman Lingo. Grog No Like! Mike'Ro'Soft Bad!!
Did you ever consider this stuff is all intentional to build hype?
No? Well there you go. But I know what you were saying about the L800. That was my first Windows Phone and it was a nice design. Tiny by today's standards but something that should have evolved.

English is my third language, smartpathe! How many languages do you speek? One? I would rather say, half of one! So, don't be disrespectful to me, you might get bi**h slapped In 4 languages kid! As for the leak, i am pretty sure they did not intend to create any hype;). They are just to "dung". There is no hype releasing an half an hour picture on their uk website of two devices that have already leaked with all the hardware mambo-jumbo. Hype is when they build some freaqing interest to the mass through advertisement. So, shut up, take a nap, tomorrow you have to go to school, kid;).

In those photos 950 back looks rounded and cheap as lower cost phones, if this is true, I'm really considering XL, although I don't want to have too big screen

my thoughts exactly. need to go for the bigger screen just coz that phone looks better. *sigh* .. 950 design is such a disappointment.

Are we looking at the same phones? Because they look to have the same chassis. The only difference I see , other than size, is the side buttons and camera ring.

Agree. They are both equally meh.

Love the Unlocked part though! I really hope MS will actually continue to sell unlocked phones. I don't know why it took them so long to do it for the 640 XL.

Don't worry, iTrolls will ignore that and keep spouting lies.

Interesting how the picture filenames refer to them as Cityman and Talkman instead of by their numbers.

Yes, yes it is. I wish they would stick with those names rather than the 950 and 950XL.

I wonder when will MS smarten up and release a Citywoman or Talkwoman phone. Giving sexist names to your devices is bound to create problems. Of course Talkwoman would be like saying the water is wet :)

The renders aren't as good how nokia used to make it. They should go in for a new design all together for the flagship or else keep 950s design as Lumia 930 and 950xls design as Lumia 1520.

True.....using Lumia 1520...

The 1520 is still the king of the hill. For me anyway.

Ya...in every way.....looks...design....toughness....camera...storage....etc...

Looks and design is subjective, toughness, you have no case since you haven't seen any real world tests on it, camera should actually be better, storage is irrelevenat since it's expandable on both to a point where the max is unavailable to anyone.

I still love Lumia 1520 in yellow color shinning and when in sunlight I see it it blows my mind. Its looks like manmade wonders of the world in smartphones.

But I say this phone is worst.....just because of integrated navigation bar.....

I never liked the idea, but since buying a 640 love the onscreen buttons.

Onscreen Navi bar...is not proper because touch capacity is getting down...and soft type Navi bar....looks the best....i mean the phone looks ugly when there is no buttons on that thick black panel

Can't unlock the phone for search by holding down the search button though, since it's on screen buttons :(

You kind of can though. I have done that by accident and I have a 640. What it just means is that if you hold it down and you don't need it, you have to unlock the phone to close Cortana/search.

My wife's HTC has the onscreen buttons and I can't stand it. Very poor design that results in a massive bottom bezzle that has no use. And honestly I think it makes the hardware seem cheap.

On the contrary. like Libra, I hated the idea until I got 640 and now I think they're soo much better

They are unlocked, great I may have to get it direct unless att had some bundle deal to consider.

Announce and then release. No more dicking around!!

Do I wait for these two phones to actually launch or should I just get a OnePlus 2 instead? The reason why I'm asking this is because I just received an invite to buy a OnePlus 2 (which is gonna expire in the next 48 hours). What do I do people? (Right now using a Lumia 925 and not happy at all with the performance of Windows 10 on it)

Then you've answered your own question. Get the one plus 2 and enjoy.

U should not leave the windows journey...

design: 930 > iPhone 5 > iPhone6 > ... > 950 > 950 xl > ... > any nexus ; )

Go for the one plus 2 if the 950 really blows your mind you could just sell the one plus 2 I'm sure there'll be somebody to buy it

Good point, there shoud be no problems selling a OnePlus 2.

Final Windows 10 Mobile? Cool, where can I get it?

OnePlus 2 = 3, Half Life 3 confirmed. Buy it, it looks like an awesome phone. Like others said, you should have no problem selling it.

Oh my god! You're not happy with performance of the test OS?!? Just buy your OnePlus.

I wouldn't say it's totally fair to judge an incomplete OS on a phone that was released 2.5 years ago. Get the OnePlus 2 if you really want to, but keep the 925 and see what the final OS build is like. If you've enjoyed WP 8.1, then I'd say stick around unless the OP2 has something that you need/want.

What does unlocked means.?

Ability to use any network.

It means that its not tied to a network/carrier. Not that it will work with ANY network.

True. It will work on any network provided the chipset supports the frequencies the network uses.

Meh 'design' confirmed :(

I know. Unfortunate. But the proof is in how these things are in the hand. Hopefully they'll be good. Though there is so much Stirling offerings in all the ecosystems that consumers are spoilt for choice. That is a good thing. I hope these measure up and are priced accordingly. They had better not be priced at the premium end - though I'm not expecting 13 million sales over a weekend anyway, high sale prices will not do the platform any favours.

I'm also hoping that feature-phone like assembly shows in price. Some leaks suggested 650€ for XL though.

Really? Haven't seen that sort of price estimate. That would be insane, especially given previous high price Lumia sales were rubbish. You can't ask for that sort of price given the state of the ecosystem. It needs to be established and flourishing before someone will commit that kind of cash. Hmmm. Hope that isn't the case as out will not be doing the devices any help.

Even if they start that high, the price will drop several hundred dollars/pounds within a few months. This has been pretty standard, in the US at least, for all flagship Windows Phones. Month of release they are $199 with two-year contract. Within a few months they are free with a two-year contract.

I say lets wait and see how it looks and feels in real life. But again i still like the 640 design so...

Not sure why but I seriously thought the 950 was supposed to be the one on the left, without that weird looking silver ring or whatever that is. I think I just died a little inside. Heh heh. Envious of everyone who's gonna be able to afford the 950 XL.

You really thought that they would change?

Unlocked and sold on the store! Someone realized they have a store!!! Blowing my mind Microsoft.

Still cant digest that silver ring on the 950...the XL looks good i hope the XL gets the dual sim...

The rumor is that one or possibly both will get a dual sim. If they do, hopefully it will be at launch and not a tweaked version sometime next year.

Aren't mos European phones sold unlocked? Only in North America we go for the credit card 2 year plan

Phones are unlocked in the UK from third party sellers, even major networks like Three UK now sell their phones unlocked for any sim. Posted via the Windows Central App for Android

Yeah, most of them are unlocked.

I asked someone from the MS store about this, and he said that the devices will be announced on October 6. We already knew it, but not its confirmed by a microsoft employee :D yey

It'd be interesting if this leak could mean a day and date release of those phones at the press conference. But man both of those continue to look exceeding mid-tier.

I hope they back it up with mid-tier pricing to get some of these out in peoples hands.

Well as long as they're priced as such it's all good. As in no more than £250. I have a feeling these are the mid tier and a proper flagship - maybe a "surface" - will come early next year, that the software will release still a work in progress, and a 10.1 sw update will herald a true flagship. Just a thought.

Lol, you're joking right?.... These ARE flagship specs, I dont know what people are expecting OMG. These specs are on par with all top end flagships out there and more, just because its made of plastic doesn't mean it should be "cheap".... As a matter of fact, I believe aluminum is cheaper than polycarbonate. Yes we'd like to be priced aggressively to get more customers but give me a break.... C'mon people, stop saying its mid range, its obviously NOT!

Wtf are you talking about? Explain why you think these are not flagship handsets? Have you even looked at the specs before coming out with your bullshit comment?

Microsoft is not in the position to have full priced flagships. The "Affordable Flagship" was a joke. They need to fight and win in the OnePlus 2 ~$300 price range before they can trade blows with Apple and Sammy.

But the hardware is not mid-tier. So I don't expect cheap pricing.

I am hoping Three UK have this one I will upgrade right away if available on that date. The last flagship they had was the 925and the 920 before that they didn't bother with the 830/930 1520 or 1020. The other networks did Posted via the Windows Central App for Android

I hope the October 6th release and October 10th launch date turn out to be true. How cool would that be.

Wait, what's October 10?!

October 10th was the speculated launch date from Evan Blass. "As with all rumors take this with a boatload of salt."lol But it would be nice to see Microsoft take an aggressive approach to making the devices available rather than the usual announcement and three to four week gap between actual launch. They are already behind the Note 5, Moto X, and iPhone 6S and 6S Plus in terms of availability. Posted via the Windows Central App for Android

October 10th? That's never been mentioned by WC as W10M's release date!

There was a fairly widespread rumour that October 10 (because the date is otherwise written as 10/10) would be the release date for W10M. No idea if that was reported by Windows Central, though.

That would be so cool and actually smart as well for them to do that on 10/10. There's really no need to keep people waiting after all this time. But this has not been confirmed nor reported by Windows Central. Posted via the Windows Central App for Android

Eh, idk...unless a LOT has changed in the internal W10M builds, I don't think the OS is ready for a wide release yet

I know but I'm hoping they come with some kind of future unreleased build that is much more stable the what we have now. Posted via the Windows Central App for Android

The important thing is that this confirms - even if there was really no doubt about it - that MS plans to sell it unlocked in their stores, and likely from day one. Good news, especially if/when they support all LTE bands.

640xl just 3.5 stars :-0 but y

I hope new button layout not to confused me

ohhh ish this metal ring is on 950? that thing is so disgusting, they should shoot the designer

Maybe for attaching camera lenses? Agreed, not pleasing to the eye.

Glad they will be using the now familiar Windwos 10 smokey window background image on the phone display marketing images. Also nice to see they are publicly calling it just 'Windows 10' on display prints and to the consumers in general. The Mobile, Pro, Home, Core and another distintions should only be for OEMs and manufacturers. For consumers and everybody else it's just Windows 10

What's in the box???? Is there any mention of a promotional bundle - Continuum, wireless Qi charger, old school printed user guide? I wish I noticed the part about it being on the UK site before I wasted time looking for it on the Americas site :)

Aw and I totally wanted to do that too.

I'm hoping for a dual sim version of both the 950 and the 950 XL, I can then finally ditch my work phone and just have the one handset.

My L920 still looks better than these two

That's true....btw i thought they'll be like the 830, but that's awfull

Argh, I was really hoping this would finally reveal pricing! Oh well, Tuesday isn't that far away, all will be revealed soon.

Man I'm excited!!! Windows 10 runs pretty good on my 1520. Using as a daily driver now.. On capable devices its pretty close. Pretty close. After using on a 635 and a 1520 the slow downs you guys are talking about are just memory management when there isn't enough memory! LOL. get capable devices.
I like the design of the 950 and the XL it seems like it's designed to disappear into the background. Considering it should be with a proper case and I don't intend on staring at the hardware for hours. I am praying for a completely unlocked version from Microsoft though in USA. Death to att nd there give us the exclusive or else strategy

runs bad on my 1020 and that has 2GB of memory/ram. havent hard reset but really dont think it will fix it!

Hard reset will fix most of the problems, it's worth the effort. Soo much better once it settles. I'm also running a 1020 which is getting pretty outdated now.

Love that their specs are pretty much identical. Will be going with the 950 most likely, 5.7 is a bit big. The silver camera ring doesn't really bother me.

Way better specification then 5x and 6p

I wouldn't say WAY better. But the Lumia's are better in several areas for sure, while comparable/not as good in others. Still, 950/950XL > 5x/6p

I think the only spec the Lumias lagged behind in was the front facing camera. Otherwise equal or surpass all other specs of the new Nexus phones. Not to mention the OS on the Lumia's is WAY better. Just have to see the pricing now.

At first I thought they're ugly but there's something in the XL that makes it look very good. The regular with the silver ring looks cheesy

This seems to be an intentional leak, Why is the price not mentioned?

There was a leak of the 640 for a while, and it didn't have a price for some of that time, so it's not too strange.

No signs of Surface Pro 3 Pen support for the Lumia 950XL yet? On the other side, I really love how Microsoft is using USB TypeC + Continuum dock, literally this phone has the performance of my 2010 Ultrabook with 3GB of RAM, and Snapdragon 808 which probably gets better graphics benchmarks than Intel CULV CPU's of 2010.

I hope they demo the $hit out of the potential uses of Continiuum...........that dock could make your phone a mini XBOX game console (mobile store games), it could do anything that any streaming stick could do, etc.......oh, it also has full Edge browser, mouse support, external HD support, and runs scaled version or MS office.......all this in addition to the kick a$$ specs that beat the Scroogle Nextus.

Agreed 100% those Google Nexus of 2015 are horrible compared to the Lumia 950XL.

If the silver ring can be thinner and less shiny 950 will be so awesome. What a pity.

It looks cheap but then .. Let see its features

And how i wished.. The actual design 0f 950xl to be exactly same as the renders by Windows Central Team /o\ !!!

This actually gives me hope that both phones are going to launch shortly after the event rather than late October/early November

3-5 weeks later IS shortly after.

What a nice price of XXX.XX Pounds.

That white 950XL looks sweet. I hope there is an option to change the back cover of the 950 to look like the XL.

The best thing about that slide is that both devices are unlocked. They should have done this years ago with all their flagship devices.
Have them available in all regions where there are Microsoft stores as well as online.

Hmm do i buy a Surface 3 and a 640 or just get a 950 or 950xl

I can't help but think these "accidental" leaks aren't really accidents. Seriously, who accidentally uploaded those pics the week before the press release?

Everyone. But they are not supposed to go live though.

Comparing just between these two, XL looks much more appealing than 950. 950 is simply horrible with that silver ring...

The 950 is fugly no offence. I was really having huge expectation for it. Another let down by Microsoft. It's just my opinion Posted via Windows Phone Central App

Am I the only one that noticed that the BOTH the 950 and 950Xl have a 20MP shooter?? The earlier leak showed the 950 with a smaller MP sensor

Think the 950 will be close to the 1020 for camera quality? My 1020's pictures don't look superior to the newer iPhones anymore, figure that's because there's more to the quality than just the MPs

I had the iphone 6plus and the 1020 and I can tell you the image quality on the 1020 is superior. It's not even close. The HDR ability on the iphone and video is so much better though. Testing a Samsung S6 Edge and LG G4 and using the devices in Pro Mode annahlites what I can do on iPhone. Looking forward to the 950/XL. Let's hope MS fix their jpeg issues with blue color balance and the crappy tone mapping in \HDR

MSFT should only list it when it's immediately available for sale...you sell more phones that way, rather than months of waiting and by then you've changed your mind or needed another phone more immediately...

Site post also confirms that the 950/XL won't be priced over £999.99...

I like the look of these new devices. They look pretty smart, in black, which is good for 'professionals', but colours for the minions would be great. The screens are showing win 10, although that is probably a rendering. Another noticeable item , the price on the 640xl is a bit rich. You can by them for £150 in somewhere like Argos. I think they should cease the 3g devices, or at least a rework of the radios for 4g. Anyways, onwards and upwards!

Been using a sandisk 128 card for a while in my 1520. Only complaint, is it seems to lag the folders that contain apps that are stored on the sdcard.

Lumia 1520,930,1020,730,830 were the best designs. But those renders look so ugly even Lumia 520 design looks better. I would go for Lumia 1520 green or yellow with win 10 mobile if those renders are true.

Microsoft should remake the Lumia 1520.....with latest features and not to decreases the phone size i.e. 6 inch

I liked the pillowed glass on my 928 better than the flatter glass on my Icon. It was just better in hand

Apologies for sounding like a tech noob, but what exactly is a WQHD display? Would it be of a noticeably better quality / standard / resolution than my lumia 1520? Is it on a par with the screen quality that Apple have on the iphone 6s? This isn't a troll....I honestly have no idea

WQHD = 2K = 2560x1440 iphone6s has a 1334x 750 resolution screen, which is WAY inferior to WQHD in term of resolution. We haven't seen the color and contrast, etc. so we can't decide which dcreen is better though.

I'm sorry, but whoever decided to put the larger camer ring on the 950 has no taste, poor design skills, and just doomed that particular phone to become a failure. I honestly can't believe the Satya Nadella that canceled the surface mini because i wasn't innovative enough would let the base 950 pass his inspection. I guess if it's cheap enough, some people will buy it, but I would opt for the 950XL as it looks much better.

Every time I see it, I think of Flip UltraHD:

They'll end up in a case anyway so who cares.

It's probably not going to be cheap, likey around $600, so yeah, the silver camera ring phone is going to belly flop. It looks like a feature phone from 2006.

Can't wait to get a 950XL!! :-)

When come windows 10 for mobiles in India

That white version of Lumia 950XL looks gorgeous!

So you can store a great amount of Office docs, media and such on your phone an work with Continuum-enabled apps ... The future is coming rather quickly!

I think Microsoft is getting Ready for a Big Come Back..
With these SUPER MODELS...

I hope that silver ring on the 950 is removable in some way.

Why isn't white 950 in that picture? This makes me think that this is a troll leak by MS. The real 950 may be totally different.

Maybe the design isn't si bad... My M8 for windows has rounded corners, and honestly I'm tired of an all aluminum phone. Though i do think these need an aluminum edge at least...

Just went to the Microsoft UK store , and there is no listing for these phone. This is not real.

It was pulled if you read above. Posted via the Windows Central App for Android

Just one thought.. What if 950 and 950 xl are not flagship. But actually they are the mid range.. And intel project for whom nothing is known is actually the flagship.. What if these phones are in range of nexus that is 400 usd and actual flagship is not this.. #justsaying

Doubt it. In the world of leaks there would have been something. Posted via the Windows Central App for Android

Except both these and the Nexus phones have flagship specs. What the heck are you talking about?

The nexus phones are priced right if these end up being iPhone 6s prices
thats going to be a big mistake.

The 128gb Nexus 6P is priced at $649. The ideal would be for Microsoft to price the Lumia 950 XL below that, otherwise, what's the point?

Wonder if they will finally sell them direct and unlocked at a reasonable price in the US too.

That's it I'm out. I won't be coming back until I'm certain MS can build comparable phones and OS to Samsung and Apple. I love W10 and Xbox but still feel like their phone ecosystem and hardware are miles behind.

And how i wished.. The actual design 0f 950xl to be exactly same as the renders by Windows Central Team /o\ !!!

They seriously need to change the naming scheme. Also, instead of the addition of XL, they should just add "Kids" to phones that have a tiny display. They also could've gone with a 6-inch display on the 950 XL but decided to waste 0.3 and go with a 5.7-inch display.

Actually that size and that resolution make for better scaling from 1080 then a full 6in would

Well was there anything to confirm at all

I'm really happy that the XL doesn't have the ugly ring in the back.. Woooo hoooo!! Posted via the Windows Central App for Android

The designs are bland, and that silver camera ring---blech, but at the end of the day, the new Lumias will be judged on the software they run and apps. So yeah, these need to be priced accordingly based on their market position and competitiveness. If the Luma 950/950 XL are priced like the new iPhones, Microsoft may as well scrap the release, because they'll barely move any units. Nobody is going to be paying $700, other than enthusiasts on this site, for a modern smartphone that can barely do any social networking, and *very* basic email and music player apps.

Yeah, someone finally told the real deal, quality apps, official apps, latest social and gaming apps are the things that sell a smartphone and OS needs to fully featured, smooth and easy to use. Hope universal quality apps come in windows 10 Mobile and the pricing would be supportive for Lumia flagships sale (Would be better around 500$ - 600 $) when fully unlocked and in retail with all costs added( inc. VAT and other taxes).

Sure, but all those universal apps aren't going to appear in a deluge in October and November. These things are going to be released this year with the available apps in the Windows store now. These devices will be a hard sell in carrier stores, unless they're priced VERY competitively; once consumers start playing with it and find a very basic music player, a years behind looking Facebook app, an official Instagram app that's labeled a Beta, and no Snapchat, no official YouTube and others, stores will get return units back, no matter how much people write in comments about great alternative third party apps. Joe and Jane Consumer won't care about anything other than the name brand official applications.

Totally agree with your views. Nobody can deny the fact that windows phone flagship smartphones due to the apps low quality condition and unavailability.

Y does lumia 640 nd XL have 1080p display? I thought it had 720p display...

Marketing move to counter new Nexus models?

I'll be getting the 950 XL in white. Looks good to me.

Initially it was said the 950XL will come with a stylus,is that still the case?

i am hoping the display are amoled

I hope the Microsoft Store US sells it unlocked like the iPhone/Moto X Pure/Nexus.

Going through all the comments, I could see I am the only one who noticed the OS. It is mentioned as Windows 10 and not Windows 10 mobile. Does that mean they have an Intel processor? Just imagine Intel CEO joining the Microsoft day and releasing new and improved Intel processor for phones? It will beat the crap out of all other phones.

why would they keep that god awful metal band around the camera on the 950? Definitely not even going to consider that phone now. XL it is.

Yeah, that's a mind boggling design decision. Microsoft basically knee capped this phone on release with that silver ring.

they are gone again from their store, think someone made a mistake by putting them online already

Not until they release more colors...

Both seem solid, looking forward to the surface phone q2 16 and nokias offerings q4 16. 950xl should be a nice 930 companion imo. Price may induce shock

This means ill be able to buy it unlocked, from the MS Store. AMAZING news, no more carrier bullcrap

That metal circle is ridiculously ugly.

Fake?
So... Microsoft probably has a CMS/webstore for publishing. Right?? The decide that it is suddenly ok to price products with strings instead of numbers? They use leaked pictures that differ from ALL the other phones.
The also leave out the element for posting feedback?
I would call this news fabricated....Sorry... Nice try.

The new nexus phones are priced the way I like it, so I might finally make the jump.

Happy to see official sd card slot is there and removable battery...soo wat ever color phone we buy later can switch to other colors...tats what I love on Nokia's. Now that iam planning to get 950 to replace my 2.5 yr old Lumia 1020 hope it has wireless charging inbuilt...not like 1020 to add extra cover

For awhile I thought it supports up to 2TB SD card... Got it wrong lol

2tb microsd woooooooooooooooow

This is it. 2 more phones (l730 and l830) and that is where ms should draw the line. 10 phones and no more...

I wonder if the weight of the L950 will be less then my current L930. Sure hope so.

EW! So the navigation buttons on screen?? WDF is the space for? Why do u have a space there if the navigation buttons are on screen. SUCKS...

They look great, design and spec-wise. I will definitely pick one up when they are cheaper in a few months or on ebay. Not saying they are not worth it but I don't buy any phone for $500+. Around $300 is my limit I'm willing to spend.

Yeah, this must have been just a regional mistake because I checked the U.S. site this morning and there was no trace of them. The next question I have is about them being "unlocked." I remember reading about universal LTE radios in another article bit nothing about CDMA for Sprint and Verizon.

Can't decide between phablet or non-phablet to replace my Lumia 930.

Who doesn't know what 2TB means is a noob on Windows Central, because Daniel Rubino talked about that when he was explaining the SDXC port while using the 128GB SD card on NOKIA Lumia 1520

Why are people talking about this? Did you not read the article first. "The "2TB SD" spec you'll see just refers to the SDXC standard, before anyone gets too excited. There aren't any 2TB microSD cards out there and if there were, you'd probably have to mortgage your house to buy one. It does however mean you can put one of those Sandisk 200GB cards in just fine.​"

$399 for the 950 and $499 for the 950XL. I'll buy the 950. But if prices are higher then that; sorry Microsoft I'll stick with my little 640. Does what I need it to do. 950 would just be for bragging rights.

If those are the prices I'd buy both.

It's safe to say windows will never see Snapchat.

Does that mean 950 will be only in black?

Nice sense of humour, Rich. I meant about the house mortgage thing.
Windows Central Newsletter
Thank you for signing up to Windows Central. You will receive a verification email shortly.
There was a problem. Please refresh the page and try again.