Microsoft Lumia 550 unboxing, comparison and first impressions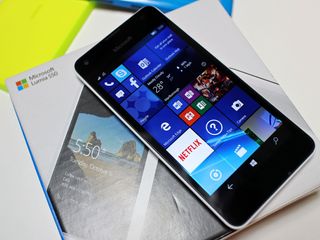 Over the last few weeks, we have seen the new Microsoft Lumia 550 begin to sell around the world. Unfortunately, in the U.S. there does not seem to be any carrier support for the release, so we had to buy ours from B&H for $150.
So, how does it stack up? We're wrapping up our full review for the Lumia 550 hopefully by week's end, but for now, you can watch our unboxing and hands-on video.
In the video, I'll also compare the Lumia 550 to the aging Lumia 635 (which is still being sold) and the newer Lumia 640.
The takeaway? The Lumia 550 brings a lot of nice features that were previously found in only higher-end phones to the budget arena. Between the HD display, decent rear camera, 2MP front-facing camera, and Glance screen, the Lumia 550 is a solid phone.
Some have been dismissive of the budget focused device, but there are some considerations to keep in mind. For one, the phone ships with build 10586.0, but it had an update for 10586.29 ready to install. That update along with the 34 or so app updates seemed to have improved the user experience. Throw on the even newer Insider build of 10586.36 and we are sure things will get even better.
Swipe to scroll horizontally
Category
Lumia 550
Lumia 635
Lumia 640
Operating System
Windows 10 Mobile
Windows Phone 8.1
Windows Phone 8.1
Display
4.7 inches
1280 x 720 resolution
4.5-inches
854 x 480 resolution
5.0-inches
1280 x 720 resolution
Glance
Yes
No
Yes
Rear Camera
5MP AF
f/2.4
LED flash
5MP AF
f/2.4
no flash
8MP AF
f/2.2
LED flash
Front Camera
2MP
f/2.8
None
0.9 MP
f/2.4
Processors
Qualcomm Snapdragon 210
Quad-core
1.1GHz
Qualcomm Snapdragon 400
Quad-core
1.2GHz
Qualcomm Snapdragon 400
Quad-core
1.2GHz
Storage and RAM
Internal storage: 8GB (expandable up to 200GB)
RAM: 1GB
Internal storage: 8GB (expandable up to 128GB)
RAM: 512mb or 1GB
Internal storage: 8GB (expandable up to 128GB)
RAM: 1GB
Sensors
Accelerometer
Proximity sensor
Ambient light sensor
Accelerometer
SensorCore
Ambient light sensor
Accelerometer
Proximity sensor
Magnetometer
SensorCore
Location
A-GLONASS
A-GPS
Cellular
BeiDou
Wi-Fi network positioning
A-GLONASS
A-GPS
Cellular
BeiDou
Wi-Fi network positioning
A-GLONASS
A-GPS
Cellular
BeiDou
Wi-Fi network positioning
Dimensions
9.9 x 67.8 x 136.1 mm
9.2 x 66.7 x 29.5 mm
8.8 x 72.2 x 141.3 mm
Weight
141.9 g
134 g
145 g
Battery
2100 mAh
1830 mAh
2500 mAh
For comparison, the Lumia 635 was sold off-contract on T-Mobile for $168 and that phone lacks a front-facing camera, proximity, and ambient light sensors, and had no Glance or rear flash, and a much lower resolution display (854 x 480 vs. 1280 x 720 in the Lumia 550).
For $150 a Lumia 550 owner is getting a lot more bang for their buck these days.
As to why Microsoft should even sell this phone? The answer is simple. If you are a Microsoft, you want to be able to stock store shelves with a low-cost Lumia phone with Windows 10 Mobile. The Lumia 640 and Lumia 635 still ship with Windows Phone 8.1 and many retailers are no longer selling those phones (which are getting long in the tooth). Sure, for the hip power user getting an 'old' Lumia 640 and installing an Insider preview may be an option, but for regular people just looking for something new, you need something new to sell them.
Also, going forward, Microsoft will continuously update this phone with Windows as a Service (WaaS) likely bypassing carriers with monthly OS updates. Unless you are an Insider the same cannot be said for the Lumia 640 or Lumia 635.
Is it a good value? You can get a discounted Lumia 640 with Windows Phone 8.1 for pretty cheap these days in the U.S. But out the gate, a new phone likely can't compete on price with a phone that has been on the market for nine months already.
Pricing
In the UK you can grab the Lumia 550 for £59.99 ($89 USD), in Ireland it's €99 ($108 USD), and in India for ₹9,199 ($138 USD). Clearly there is a large gap in pricing reflective of each market. Regardless, in using the Lumia 550 for the last day, I can't say it was a terrible experience.
Sound off in comments if you have a Lumia 550 or are considering one and let us know what you think. Stay tuned for our full review in the coming days.
More Info
Microsoft Lumia 550 – All our coverage
Daniel Rubino is the Editor-in-chief of Windows Central, head reviewer, podcast co-host, and analyst. He has been here covering Microsoft since 2007 when this site was called WMExperts (and later Windows Phone Central). His interests include Windows, Microsoft Surface, laptops, next-gen computing, and for some reason, watches. Before all this tech stuff, he worked on a Ph.D. in linguistics and ran the projectors at movie theaters, which has done absolutely nothing for his career.
Looks really good for $130 smartphone. But i prefer the 640.

It looks just like the $600 phones...

Except it's too large and think

Yeah, the flagships are nice, but I agree with you on the size.

Some mylar tape to the edges and metal ring around camera for magnetic add-on lenses - instant premium ;)

Thanks for the reminder. I've got some aluminium tape that's been sitting around for years. Looks like I'll finally have a use for it.

Wrap it in aluminum foil, and you can't tell the difference from an iPhone 6s.

Then they aren't good looking Posted via the Windows Central App for Android on my Frost Nexus 6P

Believe me, you are better of with the 640, in fact, you are two times better now!

truth to be told, i'm blown away by the rich capture in 550. I am really hoping MS would enable it for 730 via a firmware upate with windows 10

I bought one,wouldn't buy it again even for 50$. The camera of the 635 is MUCH better. Posted via the Windows Central App for Android

Looks like a really nice phone :) If I didn't already buy the Lumia 640, I might have considered this one.

640 seems better in many aspects. Upgrade to win 10 and you are good to go.

I've been on Windows 10 Mobile since I got the phone :) Can't go back to 8.1 after using all the new features in 10, lol. It runs great.

Lol will you ever do a review for the 950XL?

I just assumed that I had missed it. Got mine, generally love it, and the size is not excessive. Just wish the tempered glass would stay down in the corners. Although I have now got one that let's light into the proximity sensor, and has tapered edges. Phone is now more responsive. Mozo case, in tan, is coming tomorrow or Saturday, so I am pleased. Mobile Fun and Clove finally got more stock. Battery life is fine too. Can't wait to get my dock, and see the new Central app. Any chance of a beta? 550 is kinda nice too. And UK pricing is pretty good. Keep the updates coming Gabe!

Realistically it's going to be more or less the same as their in-depth 950 review. Larger screen and a little faster thanks to octocore but ultimately faces the same software dilemma..

I don't think the XL suffers from the heat issues that seem to be the pain point for 950 owners, but yeah, similar situation. Tis a nice phone, happy with it.

If it were to be an honest review, many people here at WC would freak out and pick up pitch-forks and torches to burn the reviewer alive. If you want biased and unrealistic reviews, well, head over to WMPoweruser. They're experts on coming up with excuses for Microsoft's shortcomings (with the odd exception here and there). ;)

Lol yes. Especially if it was the Michael Fisher review on Pocketnow :P. Everyone would've been complaining and crying. But since its WINDOWS Central it wouldn't be as hard hitting Posted via the Windows Central App for Android on my Frost Nexus 6P

lol are you sure? Daniel wasn't particularly "kind" with the 950. I'm not sure a review of the 950XL would be any kinder than the one of the 950...quite the contrary :P

That's probably because WC claims every phone coming out of Microsoft now is some old project of Nokia. These people are happy to blame the Nokia (still?) even though Microsoft could have made the changes and saved some of these phones.. Probably this is gonna continue till the so called surface phone launch.. Then WC will be the happiest site in the world.. Probably except Jason's articles, I find many of the articles biased and favoring Microsoft. But one thing I like windows central is that they don't publish too many rumours.. WC publish stuff only if they are pretty sure about it..

MM is just a skeleton nowadays. Most people were fired long ago and all decisions big and small and smaller are done in Redmond. No one to blame other than Nadella on new phones.

Jason not biased/favoring MS? He is in love with Nadella (aka "Mastermind") - so much so that his articles are, IMHO, unbearable to read.

Fisher had a horrible experience with the XL, specifically the software (Outlook not loading/sending emails, store downloads not happening at all, unable to record video). He gave a very honest review, which is always a good thing.

That's why i love Fisher Posted via the Windows Central App for Android on my Frost Nexus 6P

Does DJ ever make sense? I don't think so

Issues are issues. I'm ok with them being stated. I dislike it when reviewers note problems that affect only a select few phones. Eg, "we couldn't get our preinstalled expidia app to work". I want to hear about your take of the OS, not a problem with 1 device.

Jealous because some have it?

Actually, there are probably many more entries on WMPU (especially by that Allison guy) than WC that are critical of MS - which is not to say they are always on point or that WMPU would be somehow more professional otherwise. :P

Well give us your take on the 950XL, DJCBS! Since you know more than anyone else about the platform, company, and hardware, than anyone else, Sir... It surely won't come off, sounding virulently anti-MS, or anti-WP/W10M. Because you're just a guy that follows Windows Phones, like the rest of us. What other reason would one come to a site called WINDOWS CENTRAL, if one was violently opposed to, say, Microsoft/Windows. That would just be trolling, and that just ain't your reason, or style, now is it, Bruv?

2015 phone will be reviewed 2016. What's the hurry..

I agree. Are you waiting for the new firmware update, Daniel? To know if the update solves most of the phone's teething problems (including battery life)?

AFAIK the new firmware is not for 550, although presumably it will get a firmware update at some point (technically the phone is newer).

I'm guessing it was in reference to your lack of a 950XL review. It's absence tells us what you think. But sadly also speaks of the control MS has on this site. I used to use only WC but ind myself going other places more and more.

MS has no control over this site. What are u talking about? I have a 950xl and it's a worthy upgrade to my 930

The TWO BIGGEST hardware releases by MS in TWO YEARS - 950XL & Surface Book - both with some release glitches, neither reviewed by WC. Oh no. MS has no influence at. WAKE UP!!!

That isn't evidence. At all. You do have a brain right? Use it. ZOMG WAKE UP. moron

It's ok. You can still be Daniel's friend.

Pretty sure MS has absolutely no control over this site.

They did do a surface book review, if memory serves me correctly.

Wow another guy equating "billion-dollar corporation" with "omnipotence"

You do realize that there are many ways for a company to influence another company and it's employees??? They call them incentive trips, perk merchandize, etc. When at least one former editor from this site moved on to MS you simply have to recognize the potential. What other reason could there be??? I get that it is how the game is played. Just need to be aware of our sources and their possible motivations, that's all.

I still think 640 is the best budget phone for windows. Maybe even over all platforms?

Together with the Lumia 730/735.

I agree, the 640 is a monster device for the price. With good lighting the camera is really surprising to. I just wish our 950 ran as smooth on 10, but it's still waiting for .36

True. No doubt. Only downside of 640 is it feels cheap. I am using it with w10m. Not a single issue. I just miss amoled screen, I know some people prefer IPS display

The BLU Win HD LTE is nothing to sneeze at either.

It's good, but the camera of the 640 wins all around, especially in low light.

Is there gonna be any Windows 10 phone with capacitive buttons? Still prefer them more over on screen ones.

We just posted one today, the Alcatel OneTouch coming to Tmo (US).

Did 950/XL gets outlook latest update? though its for entire OS but i notice 950/XL users didnt get the latest update of Outlook apps like UNDO of deleted email.
*Frustrating*

Yes. Just double checked on my Lumia 950. And yes it has the Undo option so my Lumia 950 (on .29) has the latest Outlook app update.

My 950 got the Outlook update the same day it launched, so not sure what you are complaining about.

I did not get the Outlook update on my 640 too (India, Reliance/Vodafone)
Running .36

It is easier for me to swipe from the top to show more actions instead of using Expand/Collapse. :)

Sorry, I missed that article :) since notifications aren't working properly for me..

Me too....just replaced my damaged 930 with a......930. 20mp camera, 4 mics, wireless charging, 2.2GHz processor and hard keys, etc. On W10 and not looking for a replacement until I see the rumoured "surface phone" :)

Where is Lumia 950XL review Daniel? Posted via my Samsung Galaxy S3 Neo which isn't as much abandoned as any Windows Phone on the Windows Central App for Android

The best thing about Windows phone 8.1 was the fluidity and the absence of bugs. Now with Windows 10, it reminds me of Android...

Of Android 4.2 and earlier I'd guess....because I've never had "lags" on Android since I moved. 4.4, 5.1 and 6.0 all run way smother than WP8.1 (because of the "resuming" screens) or WP10 (any of the released builds, including the official commercial version)

You don't own a Samsung do you? My 635 performs better than the Note 4 I had. I would press the multitask button and it would take 5 to 10 seconds before it did anything. And once it came up most of the apps I clicked on would reload. It was not a good experience.

That's your fault for picking a Samsung. Powerful devices but Touchwiz bogs it down Posted via the Windows Central App for Android on my Frost Nexus 6P

No problems in my case on my Note 4 at this point. However it was a little bit slower on Android 5.0.1. Now on 5.1.1 it is just as great as on 4.4.4. Hope 6.0(.1) won't hurt it.

"You don't own a Samsung do you?" No. I'm not stupid :P As long as TouchWiz exists, no one should pick up a Samsung phone and specially judge Android by Samsung devices.

I guess I just disagree. I feel like I can judge Android based on Samsung and other manufactures.

That's as fair as judging Windows by a bloated filled laptop by some random brand.

Google Now Launcher. Why people complain about TW boggles my mind. Just saying. Posted via the Note 4/Nexus 7 (2013)/Lumia 1020/Lumia 2520

Yeah, it depends on the manufacturer. I have the same problem with the Samsung S4, Nexus 5, and now the Nexus 6p. But I don't have it with my HTC One. I also have a resuming issue on my 920, but it depends on the app...which I find weird.

If you attempted to fix the issues that make Touchwiz slow, you would never say the Lumia was better performing. Decrease the animation speed and turn off S-Voice. Boom! Note is as responsive as ever. Use Google Now Launcher and your golden, SPen functionality will still work. That Lumia can't compare to the Note 4. Posted via the Note 4/Nexus 7 (2013)/Lumia 1020/Lumia 2520

I was running Nova Launcher and had s voice turned off and had animation speed turned to .5x. Still had issues with it.

@DJCBS people are going by what they experienced back on android 2.1 from 6 years ago or what they read on the interwebs somewhere... They don't understand as of 4.1, 4.4, 5.1, 6.0, Android has gotten 100X better and runs smooth as anything out there. ignore the 550 and get the 640

Sure it does, as is apparent by the 3-4 android phones I fix each week for my friends. Why don't you just go to androidcentral and stop trolling windows articles?

Android no longer requires an app killer or anti-virus software now, I'm guessing....

Yes it does. You also should root it and change distro since stock sucks from all manufacturers... Then you might get a phone that works almost as good as Ios/W10m oob.

No it doesn't. So clueless Posted via the Windows Central App for Android on my Frost Nexus 6P

Yeah... still does. Talked my wife into getting the LG G4 instead of a Samsung (yay!), but still she needed anti-virus software and especially the app killer. Drains the battery like crazy without the app killer.

Antivirus is useless on Android, because each app uses its own sandbox, giving it certain functionality and for an antivirus to work like one on Windows, you would need to give the antivirus more access to the phone, opening up to vulnerabilities to malware infecting the device. You only really need it if you installing apps from another source other than the Google Play Store, so that way the antivirus can just scan those apps (that's really the only thing it can do on Android) and if its malware, it'll warn you. You also should probably be wary of downloading mms, they can be exploited and put malware on the Android device and transferred very easily to another Android device. This is one reason why I use a Windowsphone.

I never said antivirus on Android was smart lol Fwiw, I don't use Android. I only use Windows Phone/Mobile (for some reason I always choose the systems that are going down the drain - Blackberry, Garnet (Palm), WebOS (again Palm).... not a good track record). I was just mentioning that my wife still has to use these type of apps on her brand new Android, that are not necessary on Windows Mobile.

Hi there. Used an m9.still sucks.

Your taste in phones sucks. It's more your fault than anyone else...

I think the M9 looks very nice and it has excellent hardware (at time of release). I don't think you can really fault the phone internals when it's Android that makes the hardware suck (camera being the exception, not sure how HTC screwed that up).

Android does not compare to Windows 10. Especially Jellybean 4.3+ and Windows 8.1 isn't bugless. Posted via the Windows Central App for Android on my Frost Nexus 6P

Is that a Frombie piece their ??