Microsoft Lumia 950 XL first impressions and unboxing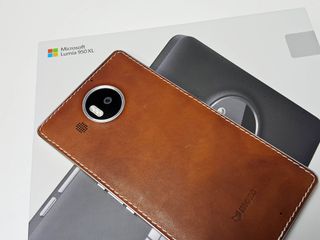 It has been a whirlwind day here at Windows Central HQ as our dual-SIM, and unlocked Lumia 950 XL arrived this afternoon. Also, we also had a few Mozo leather backplates arrive as well for the Lumia 950 and Lumia 950 XL.
First things first so here is our video unboxing and hands-on of the Lumia 950 XL. Following in a little bit will be our first look at those Mozo cases, which we have in white, black and brown variants.
Lumia 950 XL Specs
Swipe to scroll horizontally
| Category | Lumia 950 XL |
| --- | --- |
| Operating System | Windows 10 Mobile build 10586 |
| Display | 5.7 inches (1440x2560) OLED with ClearBlack |
| Processor | Qualcomm Snapdragon 810 at 2.0 GHz |
| Materials | Polycarbonate |
| Rear Camera | 20MP F/1.9, OIS |
| Rear Flash | Triple LED |
| Front Camera | 5MP |
| Connector | USB Type-C |
| RAM | 3GB |
| Notifications | Glance |
| Biometrics | Iris scanner |
| Internal Storage | 32GB (29GB available) |
| External Storage | micro SD |
| Battery | 3340mAh removable |
| Charging | Qi wireless, USB Type-C, Quick Charge |
| Dimensions | 8.1 x 151.9 x 78.4 mm |
| Weight | 5.82 ounces (165 grams) |
| Price | $649 |
Thoughts of the XL
We'll do a more thorough mini-review of the XL early next week after we had some time to use it. For now, I'll share with you some quick observations.
While the XL is big, it is still significantly smaller than the Lumia 1520
It is dual nano SIM
In terms of speed, for everyday apps and the OS I can't say it feels dramatically different, but there is a tiny bump (1.8 Ghz vs. 2.0 GHz and two extra cores for the XL); We have not yet tried Continuum, yet, but that is one area we expect to see a performance difference
However, there is a significant improvement when processing Rich Capture and Dynamic Flash images. Sometimes our XL would beat the Lumia 950 by an extra 5 seconds or more. This is only for processing as both phones can launch and shoot rapidly, which is what matters
Windows Hello is a smidge faster, but still as quirky
The Lumia 950 XL is by default three columns and is at 350% for the display; You can toggle to 4 columns without knocking down the text display size (see our how-to guide for more)
Like the Lumia 950 the 950 XL is still not as oleophobic as I'd prefer (so, smudges)
Like the Lumia 950 under heavy load the XL can get warm; However, it feels distributed and not concentrated like on a Lumia 920 or Lumia 1520. I cannot say it ever felt hot.
There were 39 app updates needed through the Store
Build 10586.0
Verizon SIM did not work at all for anything
AT&T LTE works just fine; There does not appear to be support for HD Voice or Wi-Fi calling
There is 29.1GB of available storage after app updates
The new button arrangement is odd, but not terrible and feels like something that you can adjust to in a few minutes of usage
Other than the above the Lumia 950 XL is what you would expect: a slightly larger Lumia 950. That includes all the same pros and cons from our in-depth review of the Lumia 950.
One question some users have is Can you turn off SIM 2 from showing in the status bar? As of now, we have not found a way, which is a bit of an eye-sore. Hopefully, Microsoft will add an ability to make the phone feel like a single SIM for those who have no intention of using the second slot.
Microsoft Lumia 950 XL forums at Windows Central
Want to talk more about the Lumia 950 XL? Jump into our forums where many people are sharing their experiences and findings. If you have a question, there is a good chance you can get it answered there.
Order page for the Lumia 950 XL from Microsoft (opens in new tab)
Did you get your Lumia 950 XL in today? Let us know in comments your experience so far!
More resources
News
Want all the latest news on these phones? Hit these topic pages for all that we got.
Microsoft Lumia 950 XL main page
Windows Central Newsletter
Get the best of Windows Central in in your inbox, every day!
Daniel Rubino is the Editor-in-chief of Windows Central, head reviewer, podcast co-host, and analyst. He has been covering Microsoft since 2007 when this site was called WMExperts (and later Windows Phone Central). His interests include Windows, laptops, next-gen computing, and for some reason, watches. Before all this tech stuff, he worked on a Ph.D. in linguistics, watched people sleep (for medical purposes!), and ran the projectors at movie theaters because it was fun.
Phone camera video samples pretty please :)

camera samples from the 950 and 950XL should be identical, as it's the same sensor

You never know how these things are gonna play out....

Yeah, but we know how "should" ends up applying to real life. I'm curious to see if the speed of the XL affects how the post-capture processing turns out.

Didn't think about the difference in processors.. Good point.

there is a significant improvement when processing Rich Capture and Dynamic Flash images. Sometimes our XL would beat the Lumia 950 by an extra 5 seconds or more. This is only for processing as both phones can launch and shoot rapidly, which is what matters Quality should not be affected, obviously.

I'm asking for video samples

Now, we'll see how the iPhone 3GS, I mean 950XL,, stacks up to the Lumia 1520, as far as screen real-estate.....
.......
Nope.. After watching the quick video it's obvious the screen on the 1520 is considerably larger, just like we thought... Nice device overall, although very bland;; it's not bad at all.... Still a non starter for most who were fans of the greatest WP device ever made... Sad, but we'll see (for the 59th time) what the future holds.. For those wanting a larger device, our only hope may lie with the "Surface" line of phones. Hopefully, MS has the balls to make a true Phone/Tablet/PC hybrid that can be used for some serious productivity right on the device... There's a few indicators that they might.

I'm with you Rodney. The only thing that would remotely want me to replace my 1520 and give up .3" of real estate for the XL is the higher res display and wireless charging. But, I will probably end up with an XL anyway when it's time for upgrade next March..

I'm with Rodney as well... He speaks the damn truth..

How can Rodney the marketer be with Rodney the marketer? I am confused.

but it already has wireless charging? im confusded.

Again with the Surface Phone bs? Keep dreaming.

I'd rather keep dreaming then settle for the 950/XL when my 1520 is working ok... Sounds logical to me... Besides, even if there isn't a Surface phone coming, there's most likely a Lumia 960/XL coming next year....
.... So, yes; we will keep dreaming, because a worthy high end device isn't yet reality.. SMDH

@rodneyej:
Oh Rodney, you docile fool.
Given Satya Nadella's current track record of fan service* I wouldn't expect anything remotely mentionable in 2016, if anything before he pulls the plug for Windows on phones in 2017.
I know there are rumours for a 2016 device. But given the three tier approach Microsoft has announced for Windows 10 Mobile devices there is a business oriented device missing.
So I don't see anything remotely noteworthy for hardcore enthusiasts happening in 2016.
*(Read: Satya Nadella's complete lack of interest in Windows phone fans. People have dubbed the Lumia 950 and XL as "fan service". Bit sorry they are wrong. Releasing the McLaren/Lumia 1030 prototype to market would have been fan service.)

I say you are wrong and hope we are both here in 12 months to see who will say "I told you so".

@nulusios:
I don't see anything noteworthy happening in 12 months. Make that 24, because by then, Nadella wil pull the plug from the phone division.

Here comes the great analyst :D At least, as fans we just hope our favorite brand has some success. We do not think we have the truth and future revealed like someone I know.

So a 6" screen is larger than a 5.7" screen!? I never would have thought. Anyway. Bland why? Because it is black or white? Mozo already makes replacement backs, while ebay is already flooded with any kind of cover you might want. I expect more companies will make replacement backs soon. Now, I realize it is always hard to have to give up the crown, but it happens all the time. Only reason people (or actually the rare WP fans) still talk about 1520, is because Microsoft/Nokia rarely updated flagships. Of course now many Android flagships are in a 6 month cycle (which is way too fast for me), but it would be nice somewhere in the middle. 950 XL definitely takes the crown as "greatest WP device ever made", because, well, it is. It beats 1520 in all hardware specs (except some that are "on paper" equal and the .3 screen difference, which is not a plus to everybody) AND they run the same software. This spells "hands down better" in my book. Then again looks are near the bottom of my list (I hate Note5 while I love Note 4 for example, because 4 has the features, while 5 has only the looks). After all Lumia's never won any beauty contest. They are function over looks (like BMW GS). My kind of thing (although I *do* come from Android and my last WP was 6.5 generation - WP7 sucked hard after all). Now Surface phone IF indeed is somehwere out there tested or whatever, is dependent on if 950 (XL) actually sells and at the very least returns the punny 1.7% of mobile market MSFT has, back to 3%+. Else even if it comes out, it won't be the best. You need to feed the company (or actually the specific department, because MSFT as a group is rather healthy). Since company pays for my 950 XL, I won't say no and I will sell it if Surface phone ever comes out and is what we expect (and I still want to stay in Win10 - hate IOS but I am keeping touch with Android with my Xperia Tablet Z4 LTE). Having watched the smartphone market for like 15 years (when my first smartphone was an iPAQ with GSM CF card that actually ate up my battery in 2 hours), I say this time MSFT is making the best effort in years. The Indian guy up there, really knows his stuf (or looks like that).

The Lumia 950XL is too little too late against iOS and Android. I hate Android love iOS, hated Windows Phone but if Windows 20 mobile can get the apps then I'd consider it as a second phonr to compliment my iPhone which would still remain my daily driver. Posted via the Windows Central App for Android

While I cannot argue with your preference (I like Android and hate IOS - love Win10 on desktop and find Win10 UI nice middleground between the dumb icons of IOS and super-loaded Android launchers), I cannot agree with "too little too late". Probably by "too late" you mean "in the game" in general. Yes and no. In the last 15-20-25 years, I've seen once "technology leaders" die and tiny startups grow huge. It happens all the time. Since MSFT is one of the few companies that can actually feed the department for... ever, by their other super-successful departments, it is never late. It can catch up in the next turn. Not saying they will. I am saying it is quite possible. (and is healthy for the market) "Too little" by no means. The specs (both hardware and OS specs) are up there with the top-end IOS and Android devices. Some people don't like glass back (always covered and never seen since you need to protect it) and I find the replacement back (AND sides) a much more functional solution that can also look nice if you need that.

Why don't you get Android and do us a favour..forget about windows phone.

Who? (and how is that a favour to you)

Thank you for giving us your great opinion. I can't understand why I do not feel the need of going to apple sites and say how I would never buy an apple product :D

And you are writing this from "Windows"Central app on "Android". LOL

I THINK YOU ARE FULL OF **** YOU F'ING TROLL YOU HATE ANDROID AND LOVE IOS BUT POST FROM AN ANDROID APP YOU ARE A LOSER!!! The Lumia 950XL is too little too late against iOS and Android. I hate Android love iOS, hated Windows Phone but if Windows 20 mobile can get the apps then I'd consider it as a second phonr to compliment my iPhone which would still remain my daily driver. Posted via the Windows Central App for Android

@nulusios:
A year is a pretty good update cycle for phones. But Microsoft hasn't released anything worthwhile in one and a half years.

I'm really interested in the speed of windows hello in the XL compared to 950. I'm thinking that's one other area the extra 2 cores will come in handy

IDroid users are like... ""LMFAO.. And, they are looking forward to comparing the speed of their facial recognition system with these new devices.. Lol""..
......
Anyways, yeah. That's kinda interesting. I wonder how different processors work with that.. Like what is the Hello system reliant on.. How would a higher end processor affect Hello, and does it?????

I believe cores are more for power efficiency..

Well, you may not notice much difference to really talk about. Having set up my sons 950, Windows Hello works quite fast.

You're saying iris scanning benefits more from 8 cores than 6 cores. Hmmm, okay.

Nobody is admitting to that.. We're actually saying we don't know... And, you don't either.

Well it depends on how the recognition software works. If it works with active use of multithreading, then it will benefit.

I got mine. Installing all the updates now, so I am leaving it alone for a few hours heh

What device did you have before it?

I'm interested in the speed of windows hello in 950 XL compared to 950. I think that's one area the extra 2 cores will come in handy

on my 950xl it takes split second to authenticate ... as fast as face recognition on my surface book.

I really think the brown leather in the pic looks terrible on the phone.

There's no accounting for taste... It looks great! :)

I would like the black or white leather. But the brown just doesn't look right to me. Unless you wear a ton of brown clothing and earth tones to complement the look.

I like the white one too. But as someone who wear a suit and tie for work, the brown one fits right in!

Where's? Seen it all now.

Me too! **Wear... :) Sometimes the nut gets loose behind the keyboard. :) Thanks!

My sister had a supervisor who thought "combined" was a present-tense verb. She would use the word "combineded" all the time.

Haha yeah brown isn't cool unless you want the Mr Bean look xD

Agreed. Not at all flagship or premium. Looks like an old dude's wallet.

Refined... One day you too might mature... There is a reason most say "youth is wasted on the young". old people know what's up... We think we do. Old people use to be young and hip too... Well some of them. Eventually they figured out who gives a flying fuzz.

I'd lay odds I'm older than you, sunshine. Doesn't mean I want half a leather sofa as my phone.

Yeah, but nobody is older than me ... just sayin'.

FYI, Microsoft chose to use the polycarbonate backing for a couple of reasons: 1) to keep cost down. In case you haven't noticed, this is a VERY high rated TOP END device. Premium material would have only increased the cost of the phone. 2) Microsoft knew that other companies (Mozo, etc.) were creating premium backs for this phone. So, MS decided that if you don't like the back that comes with the phone, it is SWAPABLE, so go buy a premium back as this will provide business to other companies helping keeping people employed. 3) Weight and strength. Polycarbonate is much lighter than metal, so this reduces the weight of the phone. Also, polycarbonate is much more flexable than metal, so it will resist breaking and denting during drops. Now, if you don't like the polycarbonate backing, there are a few companies creating additional backs for this phone, so you do have the option to change the back if you want. So complaining about the back of the phone at this point, is rather moot.

So, could I use my existing wireless charger (which I use for my 925) with these phones? I assume so. Also with a cover on?

You're right... It looks like Fred Merman's wallet...

You guys that hate the brown Mozo, a question for you please. Are you Americans? (as in "US citizens")

Any chance of a visual look at the size against several different phones, including non-windows? Thanks for the post, almost joined Twitter earlier just to ask if you'd do a quick look. Going for either a red or tan cover Mozo myself.

Check out phonearena.com Its great for what your are wanting to do.

True, but it would still be nice to see both phones compared (in a single photograph) side by side.

im actually amazed how small the XL is. Placing it up against my 1520 makes it look like a lumia 930.

I switched from a 920, and I was surprised at how small it is! I can used it one handed for typing without the special one-handed mode. Feels great. ;)

Got mime at our local MS store. If you go, make sire you show them the online store's education discount. They will match.

Hey Daniel, do you think AT&T will add support for HD calling and Wifi calling to the XL? I know the 950 has HD support but does it have WiFi calling??

I think it has to be an AT&T branded device, at least to use WiFI calling (at least that's my understanding).

AT&T only supports wifi calling for iOS9 iPhones right now; links (at the bottom and in the FAQ of the first link:) https://www.att.com/shop/wireless/features/wifi-calling.html http://www.engadget.com/2015/10/08/ATT-wifi-calling-us-launch/ And per their web site, it sounds like only their branded phones will support HD Voice, boooooooo.

That's a real bummer. I love my 1520 but the only thing I was better would have to be the call quality. I was really hoping for HD voice. Hopefully we still get WiFi calling
Update: According to the blog you have to have HD voice to get WiFi calling. That's dumb

Honestly, it's worth it. I went from a branded 920 to a unlocked 950XL, and I didn't miss any of AT&T's nonexistent perks.

The 920 didn't support either of those technologies. Per ATT's page, only their branded 950 and 640 XL support HD Voice.

HD voice sounds like marketing buzzwords gone bad.

very true jbowyer1, HD voice is supported on ATT 950. However they only turn on wifi calling for iOS devices which is silly because their competitors like Tmobile supports a whole range of phone with Wifi calling

Tmo has been doing wifi calling for a lot longer; ATT and VZW just started last month. ATT is only doing it on the iPhones right now while getting started, but I'm sure it'll spread to other phones soon.

thats really dumb, considering the average iphone users vocabulary is now gone from verbal to emoji. Like dominos pizza, ordering using emojis? REALLY. The iphone generation are really 1. immature, 2. brain dead.

Regarding the button placement on the side, a "plus side" just dawned on me: When you go to take a snapshot, trigger a soft-reset, or (for Insiders) trigger the Feedback app, this will make it much easier for one-handed use, as you wont have to use a weird position or two hands to hold the correct buttons. Your thumb could click the power + intended volume button without accidentally pressing the other button.

That's nice, if you do those things. I still think it'll be an awkward transition, but that's a good example.

Nah, I see myself accidentally taking screenshots or starting the feedback app with that configuration

In that case, you'd probably have to be intentionally trying to push two buttons. Or at least I would. I usually have trouble pushing two at once. lol. I think people will be more likely to accidentally hit the power button, instead of volume down.

It feels more natural that it looks. Your thumb usually rests on the power button, and it feels different than the power button.

This is an amazing point!!!!! I use screenshots a lot and this will be an amazing feature for me.

I'll get used to it but really missing the double tap to wake from glance :(

Can't wait to try out myself...

The back cover is really hard to remove and removing it can warp the cover. The material of the cover feels good but because it is plastic, you can press at it at the bottom and there is movement. I may have to get a mozo cover because of this.

The back cover is really hard to remove

No, it's not hard - once you get the bottom corner started, run your finger nail (or guitar pick, or some other soft, thin plastic implement) around the edge to separate the back cover from the body.

removing it can warp the cover

Only if you lift the cover up, bending the plastic - the cover should not need to be lifted far from the body in order to separate it (see above).

because it is plastic, you can press it at the bottom and there is movement.

My 950XL has ZERO flex in the back cover when it is attached. None. Nada. Zip! I don't know where this myth started (I've seen it claimed in several places, not just here), but its not true, at least for the XL.

Well if I press on the lower side where the notch is, it makes a sound. Right side has less movement and doesn't make a sound. So the plastic is bad. And using a tool means it's not easy.

Sorry to hear that - but I am not seeing what you describe on my 950. May be an issue with your phone's back - suggest taking it into the store for closer examination and/or replacement (as moc426 says he/she will too).

My 950xl is indeed loose on the bottom right as well, fair amount of play there. I'll probably head over to the MS store this weekend to see if they'll let me try on another back to see if it is the back or frame. Loving the phone tho, I missed my yellow 1520.3 dearly after it got a hot spot on the screen from the vibration motor. Hopefully they update w10 soon, there is quite a bit of choppiness and delays in the OS for me. If this is hard to remove (for the other user) then you are doing something very wrong. This is about the same difficulty in removing as the note 4 was (very easy).

I've ordered the black, white and brown backs - should arrive next week :)

The design differences are so subtle but the 950XL looks quite a bit more handsome and striking than it's little brother. Still not stunning by any means but really nice. It looks so thin & the screen to bezel ratio is pretty great. Beautiful screen too. Can't wait to get

I'm not a fan of round corners but the sharpness of the XL lines round the back is impressive. Just two weeks til mine arrives..

The missing SIM icon would drive me nearly insane. May buy the 950 on that reason alone!

I'd give it time, i'm sure they aren't that dumb to never make it so that it can be disabled. I could be wrong though....

Idk. The windows dual sim phones on 8.1 always show the empty sim. They've been "dumb" enough to have not made it disable thus far.

I'd expect it as well, but as someone who is past 3 years on his 920, "give it time" is a pretty hard thing to accept. It's not like you can buy the phone and take it back if the feature's never changed.

But it is dual SIM as well.

That's pretty neurotic. I'd be proud to see the icon, even the checked not-in-use one, as a reminder of my phone having that fairly rare and awesome feature.

Agreed. Its really not a big deal showing it.

Lol! Well Microsoft these days seems not good in terms of little details. I hope they will make the option to disable the unused SIM slot or simply automatically hide the icon when the SIM is not used since it doesn't make sense to always remind the users that the 2nd SIM slot is empty all the time. They should only show the empty SIM icon when there is no SIM present on all slots, remind the user the that phone doesn't have a SIM inserted.

Like which other device that does this?

Android dual SIM phones that I've owned also show the missing sim icon.

I REALLY hope they disable it, I'm sure they will.

Umm, is there a non-duel sim version in your country? There is in the US store (sorry in advance :])

Buy the single SIM model then. (or go get yourself checked if such things drive you insane) I have a couple of dual SIM models with one SIM and my brain has adapted to ignore this in maybe a single day.

I do not understand why it would drive someone insane. It would drive you insane when MS made the 2nd icon to disappear on the users selection and therefore the user would totally forget about it until he/she receives a bill for roaming on that 2nd SIM. So no, do not remove the icon unless it is not occupied by a 2nd SIM. Though you might forget that your phone has this awesome 2nd SIM which is great to use on holidays....

Dual sim interface (without the second sim) would drive me crazy as well (OCD), that is why I got the 950xl single sim (international version via Amazon) instead of the MS store dual sim model. Not sure why the single sim was not sold in the MS stores. The single sim version doesn't have any of the other problems the dual sim has (visual voice mail, lte, etc.).

Yes you can use it on Tmobile. I dont have it but LTE and all the rest should work fine

But VVM and WiFi calling might not.

VVM should work, as it works on my AT&T branded Lumia 920 on T-Mobile, without any issues. WiFi Calling & Texting most likely will not work, as these features (to my knowledge) only work on T-Mobile branded devices. Though I suppose it could be possible if Microsoft added native support into WM10.

Microsoft has added native WiFi calling, but the carrier still has to support it.

Ah, in that case, it probably wont work, as they probably reserve features like that for branded devices, as a "selling point".

And here I though that they added WiFi calling because of their crappy coverage.

No VVM or doubletap to wake on mine...950xl... One step forward, two steps back...

It was already covered that neither devices support double tap to wake, right now. I think Dan mentioned that it should be returning soon. Regarding VVM, Dan mentioned that some users of the 950 from AT&T were also having trouble with it not working. Seems to be a bug. Hopefully that will be fixed soon.

I thought it was confirmed that dual SIM phones do not support VVM. At least that has been the case for the 730 and 640 DS.

LTE and Mobile Hotspot work on T-Mobile. So far VVM and Wi-Fi calling don't.

Loving the phone so far but "hello" sucks pretty bad. Works great on the Surface Book though. Hopefully it gets better once it's out of beta.

Hello works great in my 950. Train it with glasses off if you wear them. Also make sure you do the extra recognize setting. If works even with my sunglasses on.

I don't wear glasses. The problem is that you have to have the device very close to your face, which looks very silly in public. And even when I do have it close to my face it only works 50% of the time. I'll train it a few times and see if it gets better. I really think MSFT should have waited to release it, instead of releasing it as a beta. I don't really have a problem with it but I can see non techy consumers getting frustrated with this.

It is really ridiculous to hold the device in front of your face. In desperation, Microsoft is just doing stupid things. I also do not like the phone's overall look which to me looks like some cheap Chinese stuff. And do I need to mention the experimental software? I do not know why people are buying it! Is it the design, software or just the love for the company?

I do agree that holding the phone so close to your face is a bad idea but other than that the phone is great! I was expecting windows 10 mobile to be very buggy but i'ts buttery smooth. As for the cheap look of it, I don't think i'ts that bad and i'm actually glad they gave us a choice to replace the back covers.

Don't buy it then. About your question, for myself at least. Not the love for the company. Yes all my desktops are Win (and most Win10), but my mobile devices are all Android. 950 XL is hands down the best "geek high-end" device for 2015 (as opposed to "best fashion high-end" device like iPhone 6S or Galaxy S6).

I've trained mine about 10 times now from above and below eye level, it can recognize me from a decent distance away now. I do look at the red LED when it turns on though.

Thanks for the tip. This seems to help quite a bit. I'm gonna keep training it at different eye levels and lightning to try to make it even better.

Exactly these dudes keep complaining. I can hold mine quite far away. At night in my room it works fin me as well. Train and train and you'll be amazed. I can close my eyes and open them back up and it knows... Works real good.

I've suggested this elsewhere, but I'll repeat it here. MS can "fix" this issue right away by allowing you to open the device immediately--subject to iris verification. In other words, have Hello run in the background. If verification isn't established in 1-2 seconds, the device should close up. Alternatively, the device should open, and Hello should be used only to access whichever apps the user selects (like texts, e-mail, etc.) In the meantime, the device would just run in "guest mode."

Mine works slightly less well than my SP4, but it's slightly slower than touch ID

My wife's 950 recognized me quickly the few times I tried it. She hasn't been as successful. Might it be the phones orientation to the face should be consistent with each read? I'll know more when I pickup the XL.

OK, I've got a 950 too, is it posible to train the iris scanner to recognize two faces? sounds like what u r doing

"better once out of beta" the tagline to all Windows Phone features.

It should not bloody well be in Beta at the date of release of the phone. We are paying for it! It should be Done. This kind of stuff pisses me off.

Is the 2nd SIM too supports LTE??

I believe both SIM's support LTE. I stuck in my sim in both slots and got LTE.

Just hope the dummy phones get into the stores in the UK. Want the xl, but the jump in size may be a leap too far.

I just got my 950 yesterday and I love it. Debating spoiling my wife and getting her the 950xl for Xmas.

So, you got the tiny 950 for yourself, and your wife is bold enough to handle the larger, yet still average size, 950XL???????
.......
I see who wears the pants in that family... ;-)

nothing wrong indeed. Women has purse to put bigger phone in, men can only put it in the pocket.

So, they're man size pockets... Aren't yours???? Mine are. Fits fine. Size 32/34 pants.. That's average.

Seriously agree with you rodneyej lol. I'm getting the manly xl and my wife got the 950. :) I'm more patient anyway.

Lol.. I was just joking with the guy. Different strokes for different folks..

So you thought of yourself first and now you are going to spoil your wife.....haha

In the store demos back in October there was a setting to change whether the phone was in dual or single SIM mode, maybe been removed for retail devices but it was present in those devices.

Was that the "Smart dual SIM" settings? (I don't have a SIM in mine yet to try it out.)

It only works if you have two SIMs installed.

Great video, Dan. I think I'm going to go for a 950 as I prefer the smaller size to the XL. Also, what were MS thinking changing the volume/power buttons layout on the 950 XL?! Such a peculiar change to make.

Debating whether or not I should return my 950 to ATT and pick up the XL instead? Came from a 1520 but the 950's size doesn't hurt it. Any feedback guys?

The 1520 seemed too big to me and difficult to use one handed. I later got a 640xl to tide me over and have to say I really liked the size. It is the same size, 5.7" as the 950xl. My wife got the 950 which is 5.2" and I just feel a little cramped on it. Since you came from the 1520, I bet you will feel the same way on both devices but less so on the 950xl so I would definitely do the xl.

920 to 950XL, the jump feels great!

This 1520 user is pleased with the switch. I can more comfortably reach the 'P' and backspace keys with the phone in my left hand. The one-handed mode and the square sides of the phone make this a much more enjoyable one hand experience

Although it looks great with leather cover, for the price, this needs a alluminum back cover, also a waterproof official case supported by Microsoft would certainly add interest in this device for taking photos and video underwater on your next holiday.

Thank you for that Verizon comment. Maybe now the speculation can finally die, like it should have by now.

Dammit, was going to get the black 950XL but after seeing it in white, I'm rethinking that decision now..... Dam you Dan.

Yea, I pre-ordered mine in black, too. But this does make me reconsider that decision. Might swap it for White (if possible) when I go to pick it up Friday.

The front is black on both white and black versions which is great decision from Microsoft IMO, I really don't like white on the front on smartphones, it just makes the bezel look bigger than it actually is.

Indeed! I'm glad Microsoft still use the same Nokia philisophy when designing the front of the phones, making the bezels black always. This gives illusion that the screen just blend in the bezels and thus looks sleeker and doesn't shout how thick the bezel is. Not to mention, it hides all the sensors and partially makes the front facing camera little less obvious too. I really hate the trend of having white bezels exposing all the sensor holes at the top.

So does 950 unlocked come in dual SIM from US MS Store?

The unlocked 950 from the US MS Store is only dual SIM.

Few devices come with them. IDK if any Lumias have, save for maybe a special bundle offer.

Older Lumias had one especially on X20 series. It would be still nice if the still offer one since their earbuds are actually quite decent quality, not crap. So at least it gives the user "free" decent earbuds and if the user already have better ones, then its still nice for backup.

Neither my 920 nor my sister's 822 came with earphones. My 920 came with a wireless charger. I THINK there was some free earphone offer from Nokia internationally after a bit, but not at launch.


My 1520 and 920 both came with incredibly shithouse earphones. Companies need to stop bothering with packing in earphones unless they start putting decent pairs in.

Where did you all get these things? My 920 didn't have any earphones in the box. I got a wireless charger, that was it.

I wouldn't want them. No matter what they were to include, my $300 Bose noise cancelling ones are going to be far better so that makes anything included useless. Just a thought that perhaps they figure people already have a pair they like by 2015.

Well not alot of users already got earphones, some are actually buying even crap ones. Lumia earbuds are quite decent but not best, not excellent by any means but still great for backup and for those who still doesn't have one or have crappier earbuds. I wouldn't mind having extra earbuds on the box despite I have way better ones, for other people having these kind of freebies is better for users. Not to mention on emerging markets, having preincluded decent earbuds is great for those markets rather than nothing at all, especially earbuds with mic and controls can be still "expensive" for those markets and resort to cheap crappy ones.

Very disappointed this won't work on Verizon, if Mirosoft and Verizon can't place nice together when my Lumia Icon finally dies I'll be reluctantly switching to android.

I'm disappointed as well, but if I don't see an improvement by my renew date in June instead of switching to Android or iOS I'll be switching to AT&T and keeping a Windows phone. I blame the rift on Verizon much more than I do on Microsoft.

The tech giant Microsoft can't get their devices everywhere??? That's odd.. There's gotta be more to the story..

It sucks AT&T didn't pick up both phones instead of the 950. Hopefully sooner or later, the 950 XL will be available for AT&T with a Next plan

It doesn't make any sense.... As unpopular as these phones are you would think att would pick the one that might at least stand out in a crowd... Yet, they choose the tiny iPhone 3GS size 940?? Why?

I had a iPhone 3g back in the day and it had a 3.5inch display... Comparing the Lumia 950 to a iPhone 3gs is an insult to the 950's beautiful display. The 950 is bigger than Samsung's first Galaxy Note which came in an 5inches... It's by no means a small phone. But I do prefer the 950xl over the 950, as I pre ordered the xl myself. But comparing it to the iPhone 3gs to the 950 does the 950 great injustice.

Can't for the life of me under stand why there is no oleophobic coating on the screen. I think that is absurd and another example of a lack of priority on these phones. As someone who had a previous 920 that I had to exchange because it came with no coating, they smudges and finger prints are awful without it. I guess most people use screen protectors so that could have been a reason not to include it. Anyone heard an explanation? On a side note, went to my local MS store. They had a black 950 on display but you could not hold it. They also had the XL in the back.

That is surprising. Curious how one of those eBay oleophobic coating kits would work on them; example: http://www.ebay.com/itm/Fusso-SmartPhone-Fingerprint-Oleophobic-Coating-Kit-3ml-w-cloth-Made-in-Japan-/161841618434?hash=item25ae831e02:g:N~QAAOSwcu5UM5Af

There IS an oleophobic coating on it, I can't speak for the 950 but the XL definitely has it. In front of me are 5 phones: Note 3, Note 4, L635, L925, and the L950XL, and the only one of these phones that doesnt have an oleophobic coating is the L635. I'm sure there are people with less oily hands than me so it's easier for them to compare the quality of the film, but I can smudge up all of these phones with ease but they all clean off super easy, with the exception of the 635. Dirt/oils CAKE on the screen when there's no coating. I can assure you that the 950XL has a coating on it.

I'm not a patient person...I would like a 950 XL, but I'd be waiting probably another 10 days AT THE BARE MINIMUM before I could get an XL. It might be as long as a month. That, and it would mean traveling 90 minutes or waiting on shipping (bleh). The more I see these things, the more the 920 in my possession needs to take a hike. I just can't decide if I REALLY want to shell out the $625 or so off-contract for the XL, or if I want to be on the more-expensive ($750-ish), but metered payment solution of the 950 on AT&T, which would also mean getting the device much sooner.

You'll be sorry you didn't wait for the Surface Phone...

3 years on my 920, I'm not doing another year or so to the next phone. In fact, if I were to take that mentality, I'd never get a phone. The next technology is ALWAYS a year away. I could wait into late-2016 for a Surface Phone that is Intel-based on a budget-class chip without x86 support, only to hear that 2017 will bring a mid-range chip and x86 support or a Zenphone-like epxerience. I'd rather just get the phone I want now and upgrade in a year, if I must.

best get the 950 from ATT on the next plan so we can all switch together to the Surface phone if it really does get released next Oct and if it's really good.

It's not like going with the XL would stop me from being able to upgrade next year, if I wanted.

I preordered the unlocked 950xl for shipment Dec. 11 for myself. This morning at 4am I ordered the unlocked 950 ship by Nov.25 for wife.. What the heck, my status shows backordered. I won't be doing any unboxing anytime soon. They took my money already, now have to wait on the 950. Crazy

Ya, I ordered the xl om Tuesday last week, the day after is showed up and still got Dec 11th. Then went on Friday to get the 950 at AT&T for my wife, which they had in stock. Kind of depressing as I'm the one that really cares, paid for both, yet I have to wait... Ack!

Been playing with mine all day. Pretty dang sweet so far. Initial impressions: Lightining fast - makes my 1520 feel slow Beautiful screen and camera Phone is suprisingly small and light given screen size. Phone does feel a bit "plasticky".

It doesn't seem like a significant difference between it and the 640xl. Still getting one but 640xl has same black cover, same os, still can use SD card. One diff is windows hello I suppose but if you remove the pin, does it matter? Opinions?

Yeah the 950xl has about 5-6x the screen resolution, 2x the processing power, and continuum support, 2 more gigabytes of RAM, a ton more storage built in, ....... I could keep going. 640xl is a great phone but it is no 950xl.

trust me on this, the resolution of those screens are awesome (950 & 950XL)

Aside from your views on the phones, do you think you'll review Windows 10 Mobile as a whole? Maybe after trying it on the low end on the 550?

I'd like to, for sure. Still have many laptops to go through including Surface Book :/

Double tap to wake is still absent on this model, right?

I want one sooo bad! :|.. Got save a couple more months

Start menu background is not changing. Anyone else having this problem?

On the outside looking in with Verizon...

Tomorrow. Hitting local MSFT store. New 950xl.

Daniel, Great summary of the useful info we needed to know... especially comparing against the 950. Looking forward to the more in depth reviews you will have after using it for a couple weeks... Question: you said ATT LTE worked well out of the box - is that because you used a sim card that came from a previous ATT LTE provisioned device? There is some talk in the forums about LTE not being enabled right off the bat....

"Question: you said ATT LTE worked well out of the box - is that because you used a sim card that came from a previous ATT LTE provisioned device?"

Yeah, I've been following that thread. Yes, to your question. That is an AT&T nano SIM that was used in my 1520, 830, etc. before going to other devices (Samsung, iPhone, 950, 950 XL). Still have issues with VVM, but LTE was simple as it just worked.

thanks for the info Daniel, much appreciated. I have the 950XL on the way, have ATT service, so this ia small concern for me,... if it works out i cant easily to do this, i have been toying with moving to TMO anyways, so that may be the way to go at that time... from what i can tell, it seems, if you put a sim into a phone that ATT supports and let it sit for a few minutes... then put it back, it appears thats all it takes... i'll give that a try... but TMO might be good to try as the 950XL has band 12 now also...and its being rolled out more and more now.

I have a cricket sim and it worked on LTE right off the bat. Tried both sim slots and they are both LTE capable.

Oh No...
There's No Ear Phone In The Box..

Ture.!!! where is the ear phones ??

I just wanted to be a fly on the wall, just for a few minutes Dan. The XL is my next phone. One other thing, I think its smart to preinstall some of the more popular apps on the phone. I used to say back during WP7 that it would be better to show popular apps on the screen rather than the default tiles. It would help break the ice to those yet initiated with Windows Phone. Anyway, thanks for the video.

Got my 950xl today. Working fine with t-mobile.

how is it perfomance ?? does it get heated ??? please try plying the asphalt game and let us know if it gets heated.!

Wanted one, but everything I read is so-so to lackluster reviews. Will just hold onto my 1520. Have a 1 year protection plane. The phone is showing phantom touches. Will turn it in and see if there is anymore 1520 to exchange to in their warranty warehouse.

Just upgraded from a 1520 that had the internal battery die and screwed me out of a phone. By comparison the 1520 was considerably bigger and heavier than this 950xl. Since getting burned on the battery in my 1520 I will never buy another phone with a sealed battery.

If it was the internal battery, wouldn't you have to unscrew stuff to replace that anyway?

Only 3gb of used memory space is impressive Posted via the Windows Central App for Android

I've been mesing around with my new 950XL and I noticed when taking photos, my camera app is upside down??? Is anyone else experiencing this?

Hey daniel, i was browsing wc-forums from last couple of hours & found this new issue, 950 &fm radio, can u try to uncover the mystery? Support is there, but why not official app installed or found in store?going to pick one of these.

Yeah, no idea. Will try to find out. It does work with third-party apps, but yeah, no official app.

Why can't I even order this phone right now?

Interesting how Microsoft is playing balls with Verizon. Even though Microsoft watchers like Brad Sams and MJF have reiterated that they would rather give up on phones than the carriers. And probably many more people might share the same sentiment. Although I still want Microsoft to emerge victorious on this battle meaning I'd love people to start moving away from Verizon and maybe start adopting AT&T which plays nice with Microsoft.

Headphones or ear phones are included in the box?

Some countries don't have while others will be. As India will be getting headphones in the box , u can check out official website specifications

Reluctantly removed my SIM from my immaculate 26 month old 1520. (Amazing phone on 10586) Stuck it in the new 950XL. Been putting it through the paces. Phone is just better at everything. Every single thing. Not WAY better,....just better. Can't deny it. And then you Continuum it to your 65" HD Big Screen and just drop your jaw. (Wireless) I just don't get the negatives about these new phones. They are stunning pieces of technology. The best phones ever to run Windows.

Reading this make me feel optimistic about replacing my 920, 830, Thanks

Completely agree with you on the bit that its an extremely nice phone. Feels so solid, great to hold, excellent display and performance. I also think it's a beautiful phone in black. My battery life as of this morning (after everything has settled down) is superb. It seems to idle very well. Windows Hello is better than I expected, just make sure to stare at the scanner or the Microsoft logo at the top when setting it up and when trying to unlock and it's practically instant. I was using my Wireless Display Adapter (the one you can pick up for $30 right now) to stream MyTube on my TV while browsing Readit, and the phone wasn't even getting warm. Continuum is something really cool, and even in its early form it's something I will happily find use for it day to day. I was a heavy Chromecast user so this fills a gap that was I was worried about. Everything is so smooth and crisp, even though I did a restore instead of starting fresh. My only hiccup so far has been that I can't log into Windows Central on the app!

Some stores had some available. I picked up the second to last today at a specialty kiosk. (granted, it was in Seattle.)

Could you guys run antutu on it and let us know how it fares up?

Daniel please review how device handles heat while device is using internet over 3G/4G LTE ,also test the device during video playback and while playing video games on it because these three conditions really show how the device handles heat...

Will our FLIR camera do ;) Planning on it.

Read the 950 review on the verge 0_0 holy carp those guys are horrible. Especially the guy in the comments who said he bent the charging port trying to get the back cover off.....when the notch he was supposed to use was right there. Frickin moron!!! P.S. Rodeyej is apples inside man, he is destroying Windows mobile from the inside ;-p Posted via.........deez nutz!!!!!!

Just wondering if anyone has had any luck connecting a Band 2 to the 950XL? I get stuck on the "Getting things ready...." screen.

surface phone or Lumia? well the way i see it, these are only names, so the notion that some people would want or encourage others to wait for a particular name (surface phone) sounds to me ridiculous.

I'll touch upon this maybe next week.

Can you update to newer insider build on these?

As Gabe aul said still 950 & 950 xl is not supported to get Preview Builds..
But for your information both phones are running with latest build 10586.11

The XL installed the insider app for me and I did sign up for the fast ring. Don't know it will actually do anything though.

Excellent unboxing video, touched on every question and curiosity I had. Thanks so much, Daniel :)

Cheers! I'm almost getting good at these by now :P

Does anyone elses 950 XL seem REALLY warm? I just got one today and it feels way warmer than any other phone I've ever had.

@rodneyej:
Oh Rodney, you docile fool.
Given Satya Nadella's current track record of fan service* I wouldn't expect anything remotely mentionable in 2016, if anything before he pulls the plug for Windows on phones in 2017.
I know there are rumours for a 2016 device. But given the three tier approach Microsoft has announced for Windows 10 Mobile devices there is a business oriented device missing.
So I don't see anything remotely noteworthy for hardcore enthusiasts happening in 2016.
*(Read: Satya Nadella's complete lack of interest in Windows phone fans. People have dubbed the Lumia 950 and XL as "fan service". But sorry, they are wrong. Releasing the McLaren/Lumia 1030 prototype to market would have been fan service.)

@rodneyej:
Oh Rodney, you docile fool.
Given Satya Nadella's current track record of fan service*, I wouldn't expect anything remotely mentionable in 2016; if anything at all, before he pulls the plug for Windows on phones in 2017.
I know there are rumours for a 2016 device. But given the three tier approach Microsoft has announced for Windows 10 Mobile devices, there is a business oriented device missing.
So I don't see anything remotely noteworthy for hardcore enthusiasts happening in 2016.
*(Read: Satya Nadella's complete lack of interest in Windows phone fans. People have dubbed the Lumia 950 and XL as "fan service". But sorry, they are wrong. Releasing the McLaren/Lumia 1030 prototype to market would have been fan service. But instead, he crushed it.)

Hi . how is the loud speaker on this xl device

It hurts my ears when the volume is maxed. It's very loud.

Lumia 950 XL dual sim...
* can you have two installed sim cards, and simultaneously use the micro SD card? (some people claim installing the second SD card causes the micro SD card to not work -- on the Lumia 950)
* if you have two installed sim cards, can you still use wi-fi on the phone? (I assume so...)
* if you have two installed sim cards, can you still connect to the internet with both of them simultaneously? (did you say that you have to choose which one to have a data plan? Or was that only at 4G speed?)
* is the workings of the dual sim Lumia 950 the same as that of the dual sim Lumia 950 xl?

Guys did you try Verison SIM in slot 1? Because most dual-SIM devices do not support all the protocols in SIM2. So CDMA MIGHT work in SIM1. Please try that. (not that I care, CDMA is null in Europe - as it should be everywhere, but that is another discussion).

This quick review made my mind. I'll buy the XL version. The "significantly smaller then the Lumia 1520" is one of the main reason. I don't want such big phone. The other is the gorilla glass 4.

I love 950 xl bcoz it has much better bezel. And with mozo brown leather it looks damn beautiful. Still I want Microsoft to make something like how Lumia 720,925 are.

I still think they look like mid, range to me. I still use my L925. But I traded my M8 for Windows for a S6edge +. Maybe some day Microsoft will win me back. Posted via the Windows Central App for Android

Why It doesn't have an earphones?

Yeah, I've not noticed it.
+1

You can link the phone and messaging tiles so it only shows one tile each.

OK, did not want to put my 1520 image on it and leave it clean, but I cant find the HERE Maps and Drive in the Store. Is there a way to get these?

Daniel, did you bought it in France? The text notice in the box was written in French..

Daniel, PLEASE tell me that WindowsCentral will stock and sell the Lumia 950XL Mozo covers!? I want that brown leather one SOOOO bad!!!

I got my 950xl yesterday. Only major issue is I cant get the plex app to install. Keeps giving me an error code 0x800700ec. Anyone else having this problem?

Great video, though seeing it sized up to the Lumia 1520 really makes me wish that they had just went with that size for the XL.

First of all I wanted to share that this is my first "serious" venture into WM as I have been a stout andoid user for many years and have had a number of samsung and other phones including the most recent iteration of the moto x pure. After being so fedup with the glass and steel design choices by the likes of samsung In desperation I switched to an IOS device to take on vacation with me as it was small and lightweight. (iPhone 6). Over the last few months I have grown to like IOS as it just works. although its integration with exchange has been flaky and have had to put up with the smaller screen than what I am used to on the likes of the Samsung Note line of phones. I have been waiting a long time to see a microsoft phone that has a decent camera and a possible contender for my coin and attention and have been chewing at the bitt to get my hands on a 950 / XL so ordered both and have them sat on my desk as I write this. I have used the 950XL solidly for a day and although I am going to give each model a week. I cant help keep looking at the 950 as the smaller handset feels better in the hand and pocket. but the 950XL is so light I forgot it was in my pocket when I went to our family thanksgiving dinner today. My first impressions of the phone is that it is solid enough and it gets warm when in use. That warmth comes not just through the back but is also felt on the screen. It a very good handwarmer if you venture out in the cold but i am concerned as to how that would pan out on a warm day. I hope to get a better impression of that warmth when i put it to task next week as I am a field engineer and will be using the GPS and satnav and be on confrence calls a lot.... watch this space. Within the first 8 hours the phone locked up / Crashed twice. it had finished its downloads and was sat on a stand displaying the time and calendar reminders for today. I onlly noticed because the time had not changed after half an hour. I have also noticed that after having to take the back off (properly using the tab) a couple of times that the back has started to make a creaking noise. a few hours after its last reboot. Although it was set to connect to my 5Ghz band wifi connection it decided to drop and not re aquire it even though I am in the same room as the router and had to re-log the phone into my 2.4Ghz band. earlier today I noticed that that too seems to be wailing and again in the same spot not 15 feet from the access point im suddenly showing 2 bars. Cortana voice recognition is apaulingly bad. after 20 minutes of training it it works around 50% of the time. Same goes for the facial recognition. although in beta it is not ready for deployment. you have to hold the phone far too close to your face and even then half the time it announces if cannot recognise you and demands a PIN entry. I am going to keep plodding on with this and ignoring the lack of apps. e.g. for me are not many, jawbone UP app and the lack of native app for my philips Hue bulbs are my biggest gripe. but for the time being I keep looking at my and telling myself that things will get better soon.

i need more information about the heating issue... because after purchacing,,, if it gets heat then it is a problem for me. please reply if some one have that issue with 950XL

Anyone know where the Windows 10 wallpapers are kept on the 950xl?

I want a 950XL so bad. While the 950/XL are certainly great phones, I'm holding out for something groundbreaking. Which, may be never. For now, I'll settle for a poor man's 950XL, the 640XL. :D

Hope you would have another hands-on video of Phablets Head to Head hands-on of Microsoft Lumia 950 XL vs Apple iPhone 6s Plus vs Samsung Galaxy Note 5. PLEASE!!!!!

I wanna know if there isn't a headset in the box, didn't see any in d unboxing video

I am a convert. I went from being turned off by the 950 to loving the 950 XL. I don't know how to describe it.

Hey I got just about 5 great cheques from this website in 5 month. this is not a scam. Check this one to change your life.http://www.paybuzz24.com
Windows Central Newsletter
Thank you for signing up to Windows Central. You will receive a verification email shortly.
There was a problem. Please refresh the page and try again.