Microsoft Lumia 950 XL first impressions and unboxing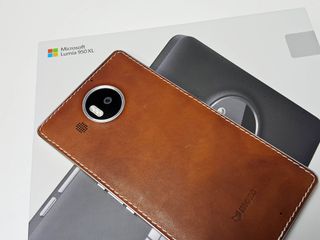 It has been a whirlwind day here at Windows Central HQ as our dual-SIM, and unlocked Lumia 950 XL arrived this afternoon. Also, we also had a few Mozo leather backplates arrive as well for the Lumia 950 and Lumia 950 XL.
First things first so here is our video unboxing and hands-on of the Lumia 950 XL. Following in a little bit will be our first look at those Mozo cases, which we have in white, black and brown variants.
Lumia 950 XL Specs
| Category | Lumia 950 XL |
| --- | --- |
| Operating System | Windows 10 Mobile build 10586 |
| Display | 5.7 inches (1440x2560) OLED with ClearBlack |
| Processor | Qualcomm Snapdragon 810 at 2.0 GHz |
| Materials | Polycarbonate |
| Rear Camera | 20MP F/1.9, OIS |
| Rear Flash | Triple LED |
| Front Camera | 5MP |
| Connector | USB Type-C |
| RAM | 3GB |
| Notifications | Glance |
| Biometrics | Iris scanner |
| Internal Storage | 32GB (29GB available) |
| External Storage | micro SD |
| Battery | 3340mAh removable |
| Charging | Qi wireless, USB Type-C, Quick Charge |
| Dimensions | 8.1 x 151.9 x 78.4 mm |
| Weight | 5.82 ounces (165 grams) |
| Price | $649 |
Thoughts of the XL
We'll do a more thorough mini-review of the XL early next week after we had some time to use it. For now, I'll share with you some quick observations.
While the XL is big, it is still significantly smaller than the Lumia 1520
It is dual nano SIM
In terms of speed, for everyday apps and the OS I can't say it feels dramatically different, but there is a tiny bump (1.8 Ghz vs. 2.0 GHz and two extra cores for the XL); We have not yet tried Continuum, yet, but that is one area we expect to see a performance difference
However, there is a significant improvement when processing Rich Capture and Dynamic Flash images. Sometimes our XL would beat the Lumia 950 by an extra 5 seconds or more. This is only for processing as both phones can launch and shoot rapidly, which is what matters
Windows Hello is a smidge faster, but still as quirky
The Lumia 950 XL is by default three columns and is at 350% for the display; You can toggle to 4 columns without knocking down the text display size (see our how-to guide for more)
Like the Lumia 950 the 950 XL is still not as oleophobic as I'd prefer (so, smudges)
Like the Lumia 950 under heavy load the XL can get warm; However, it feels distributed and not concentrated like on a Lumia 920 or Lumia 1520. I cannot say it ever felt hot.
There were 39 app updates needed through the Store
Build 10586.0
Verizon SIM did not work at all for anything
AT&T LTE works just fine; There does not appear to be support for HD Voice or Wi-Fi calling
There is 29.1GB of available storage after app updates
The new button arrangement is odd, but not terrible and feels like something that you can adjust to in a few minutes of usage
Other than the above the Lumia 950 XL is what you would expect: a slightly larger Lumia 950. That includes all the same pros and cons from our in-depth review of the Lumia 950.
One question some users have is Can you turn off SIM 2 from showing in the status bar? As of now, we have not found a way, which is a bit of an eye-sore. Hopefully, Microsoft will add an ability to make the phone feel like a single SIM for those who have no intention of using the second slot.
Microsoft Lumia 950 XL forums at Windows Central
Want to talk more about the Lumia 950 XL? Jump into our forums where many people are sharing their experiences and findings. If you have a question, there is a good chance you can get it answered there.
Order page for the Lumia 950 XL from Microsoft (opens in new tab)
Did you get your Lumia 950 XL in today? Let us know in comments your experience so far!
More resources
News
Want all the latest news on these phones? Hit these topic pages for all that we got.
Microsoft Lumia 950 XL main page
Daniel Rubino is the Executive Editor of Windows Central, head reviewer, podcast co-host, and analyst. He has been covering Microsoft here since 2007, back when this site was called WMExperts (and later Windows Phone Central). His interests include Windows, Microsoft Surface, laptops, next-gen computing, and arguing with people on the internet.
Phone camera video samples pretty please :)

camera samples from the 950 and 950XL should be identical, as it's the same sensor

You never know how these things are gonna play out....

Yeah, but we know how "should" ends up applying to real life. I'm curious to see if the speed of the XL affects how the post-capture processing turns out.

Didn't think about the difference in processors.. Good point.

there is a significant improvement when processing Rich Capture and Dynamic Flash images. Sometimes our XL would beat the Lumia 950 by an extra 5 seconds or more. This is only for processing as both phones can launch and shoot rapidly, which is what matters Quality should not be affected, obviously.

I'm asking for video samples

Now, we'll see how the iPhone 3GS, I mean 950XL,, stacks up to the Lumia 1520, as far as screen real-estate.....
.......
Nope.. After watching the quick video it's obvious the screen on the 1520 is considerably larger, just like we thought... Nice device overall, although very bland;; it's not bad at all.... Still a non starter for most who were fans of the greatest WP device ever made... Sad, but we'll see (for the 59th time) what the future holds.. For those wanting a larger device, our only hope may lie with the "Surface" line of phones. Hopefully, MS has the balls to make a true Phone/Tablet/PC hybrid that can be used for some serious productivity right on the device... There's a few indicators that they might.

I'm with you Rodney. The only thing that would remotely want me to replace my 1520 and give up .3" of real estate for the XL is the higher res display and wireless charging. But, I will probably end up with an XL anyway when it's time for upgrade next March..

I'm with Rodney as well... He speaks the damn truth..

How can Rodney the marketer be with Rodney the marketer? I am confused.

but it already has wireless charging? im confusded.

Again with the Surface Phone bs? Keep dreaming.

I'd rather keep dreaming then settle for the 950/XL when my 1520 is working ok... Sounds logical to me... Besides, even if there isn't a Surface phone coming, there's most likely a Lumia 960/XL coming next year....
.... So, yes; we will keep dreaming, because a worthy high end device isn't yet reality.. SMDH

@rodneyej:
Oh Rodney, you docile fool.
Given Satya Nadella's current track record of fan service* I wouldn't expect anything remotely mentionable in 2016, if anything before he pulls the plug for Windows on phones in 2017.
I know there are rumours for a 2016 device. But given the three tier approach Microsoft has announced for Windows 10 Mobile devices there is a business oriented device missing.
So I don't see anything remotely noteworthy for hardcore enthusiasts happening in 2016.
*(Read: Satya Nadella's complete lack of interest in Windows phone fans. People have dubbed the Lumia 950 and XL as "fan service". Bit sorry they are wrong. Releasing the McLaren/Lumia 1030 prototype to market would have been fan service.)

I say you are wrong and hope we are both here in 12 months to see who will say "I told you so".

@nulusios:
I don't see anything noteworthy happening in 12 months. Make that 24, because by then, Nadella wil pull the plug from the phone division.

Here comes the great analyst :D At least, as fans we just hope our favorite brand has some success. We do not think we have the truth and future revealed like someone I know.

So a 6" screen is larger than a 5.7" screen!? I never would have thought. Anyway. Bland why? Because it is black or white? Mozo already makes replacement backs, while ebay is already flooded with any kind of cover you might want. I expect more companies will make replacement backs soon. Now, I realize it is always hard to have to give up the crown, but it happens all the time. Only reason people (or actually the rare WP fans) still talk about 1520, is because Microsoft/Nokia rarely updated flagships. Of course now many Android flagships are in a 6 month cycle (which is way too fast for me), but it would be nice somewhere in the middle. 950 XL definitely takes the crown as "greatest WP device ever made", because, well, it is. It beats 1520 in all hardware specs (except some that are "on paper" equal and the .3 screen difference, which is not a plus to everybody) AND they run the same software. This spells "hands down better" in my book. Then again looks are near the bottom of my list (I hate Note5 while I love Note 4 for example, because 4 has the features, while 5 has only the looks). After all Lumia's never won any beauty contest. They are function over looks (like BMW GS). My kind of thing (although I *do* come from Android and my last WP was 6.5 generation - WP7 sucked hard after all). Now Surface phone IF indeed is somehwere out there tested or whatever, is dependent on if 950 (XL) actually sells and at the very least returns the punny 1.7% of mobile market MSFT has, back to 3%+. Else even if it comes out, it won't be the best. You need to feed the company (or actually the specific department, because MSFT as a group is rather healthy). Since company pays for my 950 XL, I won't say no and I will sell it if Surface phone ever comes out and is what we expect (and I still want to stay in Win10 - hate IOS but I am keeping touch with Android with my Xperia Tablet Z4 LTE). Having watched the smartphone market for like 15 years (when my first smartphone was an iPAQ with GSM CF card that actually ate up my battery in 2 hours), I say this time MSFT is making the best effort in years. The Indian guy up there, really knows his stuf (or looks like that).

The Lumia 950XL is too little too late against iOS and Android. I hate Android love iOS, hated Windows Phone but if Windows 20 mobile can get the apps then I'd consider it as a second phonr to compliment my iPhone which would still remain my daily driver. Posted via the Windows Central App for Android

While I cannot argue with your preference (I like Android and hate IOS - love Win10 on desktop and find Win10 UI nice middleground between the dumb icons of IOS and super-loaded Android launchers), I cannot agree with "too little too late". Probably by "too late" you mean "in the game" in general. Yes and no. In the last 15-20-25 years, I've seen once "technology leaders" die and tiny startups grow huge. It happens all the time. Since MSFT is one of the few companies that can actually feed the department for... ever, by their other super-successful departments, it is never late. It can catch up in the next turn. Not saying they will. I am saying it is quite possible. (and is healthy for the market) "Too little" by no means. The specs (both hardware and OS specs) are up there with the top-end IOS and Android devices. Some people don't like glass back (always covered and never seen since you need to protect it) and I find the replacement back (AND sides) a much more functional solution that can also look nice if you need that.

Why don't you get Android and do us a favour..forget about windows phone.

Who? (and how is that a favour to you)

Thank you for giving us your great opinion. I can't understand why I do not feel the need of going to apple sites and say how I would never buy an apple product :D

And you are writing this from "Windows"Central app on "Android". LOL

I THINK YOU ARE FULL OF **** YOU F'ING TROLL YOU HATE ANDROID AND LOVE IOS BUT POST FROM AN ANDROID APP YOU ARE A LOSER!!! The Lumia 950XL is too little too late against iOS and Android. I hate Android love iOS, hated Windows Phone but if Windows 20 mobile can get the apps then I'd consider it as a second phonr to compliment my iPhone which would still remain my daily driver. Posted via the Windows Central App for Android

@nulusios:
A year is a pretty good update cycle for phones. But Microsoft hasn't released anything worthwhile in one and a half years.

I'm really interested in the speed of windows hello in the XL compared to 950. I'm thinking that's one other area the extra 2 cores will come in handy

IDroid users are like... ""LMFAO.. And, they are looking forward to comparing the speed of their facial recognition system with these new devices.. Lol""..
......
Anyways, yeah. That's kinda interesting. I wonder how different processors work with that.. Like what is the Hello system reliant on.. How would a higher end processor affect Hello, and does it?????

I believe cores are more for power efficiency..

Well, you may not notice much difference to really talk about. Having set up my sons 950, Windows Hello works quite fast.

You're saying iris scanning benefits more from 8 cores than 6 cores. Hmmm, okay.

Nobody is admitting to that.. We're actually saying we don't know... And, you don't either.

Well it depends on how the recognition software works. If it works with active use of multithreading, then it will benefit.

I got mine. Installing all the updates now, so I am leaving it alone for a few hours heh

What device did you have before it?

I'm interested in the speed of windows hello in 950 XL compared to 950. I think that's one area the extra 2 cores will come in handy

on my 950xl it takes split second to authenticate ... as fast as face recognition on my surface book.

I really think the brown leather in the pic looks terrible on the phone.

There's no accounting for taste... It looks great! :)

I would like the black or white leather. But the brown just doesn't look right to me. Unless you wear a ton of brown clothing and earth tones to complement the look.

I like the white one too. But as someone who wear a suit and tie for work, the brown one fits right in!

Where's? Seen it all now.

Me too! **Wear... :) Sometimes the nut gets loose behind the keyboard. :) Thanks!

My sister had a supervisor who thought "combined" was a present-tense verb. She would use the word "combineded" all the time.

Haha yeah brown isn't cool unless you want the Mr Bean look xD

Agreed. Not at all flagship or premium. Looks like an old dude's wallet.

Refined... One day you too might mature... There is a reason most say "youth is wasted on the young". old people know what's up... We think we do. Old people use to be young and hip too... Well some of them. Eventually they figured out who gives a flying fuzz.

I'd lay odds I'm older than you, sunshine. Doesn't mean I want half a leather sofa as my phone.

Yeah, but nobody is older than me ... just sayin'.

FYI, Microsoft chose to use the polycarbonate backing for a couple of reasons: 1) to keep cost down. In case you haven't noticed, this is a VERY high rated TOP END device. Premium material would have only increased the cost of the phone. 2) Microsoft knew that other companies (Mozo, etc.) were creating premium backs for this phone. So, MS decided that if you don't like the back that comes with the phone, it is SWAPABLE, so go buy a premium back as this will provide business to other companies helping keeping people employed. 3) Weight and strength. Polycarbonate is much lighter than metal, so this reduces the weight of the phone. Also, polycarbonate is much more flexable than metal, so it will resist breaking and denting during drops. Now, if you don't like the polycarbonate backing, there are a few companies creating additional backs for this phone, so you do have the option to change the back if you want. So complaining about the back of the phone at this point, is rather moot.

So, could I use my existing wireless charger (which I use for my 925) with these phones? I assume so. Also with a cover on?

You're right... It looks like Fred Merman's wallet...

You guys that hate the brown Mozo, a question for you please. Are you Americans? (as in "US citizens")

Any chance of a visual look at the size against several different phones, including non-windows? Thanks for the post, almost joined Twitter earlier just to ask if you'd do a quick look. Going for either a red or tan cover Mozo myself.

Check out phonearena.com Its great for what your are wanting to do.

True, but it would still be nice to see both phones compared (in a single photograph) side by side.

im actually amazed how small the XL is. Placing it up against my 1520 makes it look like a lumia 930.

I switched from a 920, and I was surprised at how small it is! I can used it one handed for typing without the special one-handed mode. Feels great. ;)

Got mime at our local MS store. If you go, make sire you show them the online store's education discount. They will match.

Hey Daniel, do you think AT&T will add support for HD calling and Wifi calling to the XL? I know the 950 has HD support but does it have WiFi calling??

I think it has to be an AT&T branded device, at least to use WiFI calling (at least that's my understanding).

AT&T only supports wifi calling for iOS9 iPhones right now; links (at the bottom and in the FAQ of the first link:) https://www.att.com/shop/wireless/features/wifi-calling.html http://www.engadget.com/2015/10/08/ATT-wifi-calling-us-launch/ And per their web site, it sounds like only their branded phones will support HD Voice, boooooooo.

That's a real bummer. I love my 1520 but the only thing I was better would have to be the call quality. I was really hoping for HD voice. Hopefully we still get WiFi calling
Update: According to the blog you have to have HD voice to get WiFi calling. That's dumb

Honestly, it's worth it. I went from a branded 920 to a unlocked 950XL, and I didn't miss any of AT&T's nonexistent perks.

The 920 didn't support either of those technologies. Per ATT's page, only their branded 950 and 640 XL support HD Voice.

HD voice sounds like marketing buzzwords gone bad.

very true jbowyer1, HD voice is supported on ATT 950. However they only turn on wifi calling for iOS devices which is silly because their competitors like Tmobile supports a whole range of phone with Wifi calling

Tmo has been doing wifi calling for a lot longer; ATT and VZW just started last month. ATT is only doing it on the iPhones right now while getting started, but I'm sure it'll spread to other phones soon.

thats really dumb, considering the average iphone users vocabulary is now gone from verbal to emoji. Like dominos pizza, ordering using emojis? REALLY. The iphone generation are really 1. immature, 2. brain dead.

Regarding the button placement on the side, a "plus side" just dawned on me: When you go to take a snapshot, trigger a soft-reset, or (for Insiders) trigger the Feedback app, this will make it much easier for one-handed use, as you wont have to use a weird position or two hands to hold the correct buttons. Your thumb could click the power + intended volume button without accidentally pressing the other button.

That's nice, if you do those things. I still think it'll be an awkward transition, but that's a good example.

Nah, I see myself accidentally taking screenshots or starting the feedback app with that configuration

In that case, you'd probably have to be intentionally trying to push two buttons. Or at least I would. I usually have trouble pushing two at once. lol. I think people will be more likely to accidentally hit the power button, instead of volume down.

It feels more natural that it looks. Your thumb usually rests on the power button, and it feels different than the power button.

This is an amazing point!!!!! I use screenshots a lot and this will be an amazing feature for me.

I'll get used to it but really missing the double tap to wake from glance :(

Can't wait to try out myself...

The back cover is really hard to remove and removing it can warp the cover. The material of the cover feels good but because it is plastic, you can press at it at the bottom and there is movement. I may have to get a mozo cover because of this.

The back cover is really hard to remove

No, it's not hard - once you get the bottom corner started, run your finger nail (or guitar pick, or some other soft, thin plastic implement) around the edge to separate the back cover from the body.

removing it can warp the cover

Only if you lift the cover up, bending the plastic - the cover should not need to be lifted far from the body in order to separate it (see above).

because it is plastic, you can press it at the bottom and there is movement.

My 950XL has ZERO flex in the back cover when it is attached. None. Nada. Zip! I don't know where this myth started (I've seen it claimed in several places, not just here), but its not true, at least for the XL.

Well if I press on the lower side where the notch is, it makes a sound. Right side has less movement and doesn't make a sound. So the plastic is bad. And using a tool means it's not easy.

Sorry to hear that - but I am not seeing what you describe on my 950. May be an issue with your phone's back - suggest taking it into the store for closer examination and/or replacement (as moc426 says he/she will too).

My 950xl is indeed loose on the bottom right as well, fair amount of play there. I'll probably head over to the MS store this weekend to see if they'll let me try on another back to see if it is the back or frame. Loving the phone tho, I missed my yellow 1520.3 dearly after it got a hot spot on the screen from the vibration motor. Hopefully they update w10 soon, there is quite a bit of choppiness and delays in the OS for me. If this is hard to remove (for the other user) then you are doing something very wrong. This is about the same difficulty in removing as the note 4 was (very easy).

I've ordered the black, white and brown backs - should arrive next week :)

The design differences are so subtle but the 950XL looks quite a bit more handsome and striking than it's little brother. Still not stunning by any means but really nice. It looks so thin & the screen to bezel ratio is pretty great. Beautiful screen too. Can't wait to get

I'm not a fan of round corners but the sharpness of the XL lines round the back is impressive. Just two weeks til mine arrives..

The missing SIM icon would drive me nearly insane. May buy the 950 on that reason alone!

I'd give it time, i'm sure they aren't that dumb to never make it so that it can be disabled. I could be wrong though....

Idk. The windows dual sim phones on 8.1 always show the empty sim. They've been "dumb" enough to have not made it disable thus far.

I'd expect it as well, but as someone who is past 3 years on his 920, "give it time" is a pretty hard thing to accept. It's not like you can buy the phone and take it back if the feature's never changed.

But it is dual SIM as well.

That's pretty neurotic. I'd be proud to see the icon, even the checked not-in-use one, as a reminder of my phone having that fairly rare and awesome feature.

Agreed. Its really not a big deal showing it.

Lol! Well Microsoft these days seems not good in terms of little details. I hope they will make the option to disable the unused SIM slot or simply automatically hide the icon when the SIM is not used since it doesn't make sense to always remind the users that the 2nd SIM slot is empty all the time. They should only show the empty SIM icon when there is no SIM present on all slots, remind the user the that phone doesn't have a SIM inserted.

Like which other device that does this?

Android dual SIM phones that I've owned also show the missing sim icon.

I REALLY hope they disable it, I'm sure they will.

Umm, is there a non-duel sim version in your country? There is in the US store (sorry in advance :])

Buy the single SIM model then. (or go get yourself checked if such things drive you insane) I have a couple of dual SIM models with one SIM and my brain has adapted to ignore this in maybe a single day.

I do not understand why it would drive someone insane. It would drive you insane when MS made the 2nd icon to disappear on the users selection and therefore the user would totally forget about it until he/she receives a bill for roaming on that 2nd SIM. So no, do not remove the icon unless it is not occupied by a 2nd SIM. Though you might forget that your phone has this awesome 2nd SIM which is great to use on holidays....

Dual sim interface (without the second sim) would drive me crazy as well (OCD), that is why I got the 950xl single sim (international version via Amazon) instead of the MS store dual sim model. Not sure why the single sim was not sold in the MS stores. The single sim version doesn't have any of the other problems the dual sim has (visual voice mail, lte, etc.).

Yes you can use it on Tmobile. I dont have it but LTE and all the rest should work fine

But VVM and WiFi calling might not.

VVM should work, as it works on my AT&T branded Lumia 920 on T-Mobile, without any issues. WiFi Calling & Texting most likely will not work, as these features (to my knowledge) only work on T-Mobile branded devices. Though I suppose it could be possible if Microsoft added native support into WM10.

Microsoft has added native WiFi calling, but the carrier still has to support it.

Ah, in that case, it probably wont work, as they probably reserve features like that for branded devices, as a "selling point".

And here I though that they added WiFi calling because of their crappy coverage.

No VVM or doubletap to wake on mine...950xl... One step forward, two steps back...

It was already covered that neither devices support double tap to wake, right now. I think Dan mentioned that it should be returning soon. Regarding VVM, Dan mentioned that some users of the 950 from AT&T were also having trouble with it not working. Seems to be a bug. Hopefully that will be fixed soon.

I thought it was confirmed that dual SIM phones do not support VVM. At least that has been the case for the 730 and 640 DS.

LTE and Mobile Hotspot work on T-Mobile. So far VVM and Wi-Fi calling don't.

Loving the phone so far but "hello" sucks pretty bad. Works great on the Surface Book though. Hopefully it gets better once it's out of beta.

Hello works great in my 950. Train it with glasses off if you wear them. Also make sure you do the extra recognize setting. If works even with my sunglasses on.

I don't wear glasses. The problem is that you have to have the device very close to your face, which looks very silly in public. And even when I do have it close to my face it only works 50% of the time. I'll train it a few times and see if it gets better. I really think MSFT should have waited to release it, instead of releasing it as a beta. I don't really have a problem with it but I can see non techy consumers getting frustrated with this.

It is really ridiculous to hold the device in front of your face. In desperation, Microsoft is just doing stupid things. I also do not like the phone's overall look which to me looks like some cheap Chinese stuff. And do I need to mention the experimental software? I do not know why people are buying it! Is it the design, software or just the love for the company?

I do agree that holding the phone so close to your face is a bad idea but other than that the phone is great! I was expecting windows 10 mobile to be very buggy but i'ts buttery smooth. As for the cheap look of it, I don't think i'ts that bad and i'm actually glad they gave us a choice to replace the back covers.