Microsoft may launch version of Paint as a Windows 10 app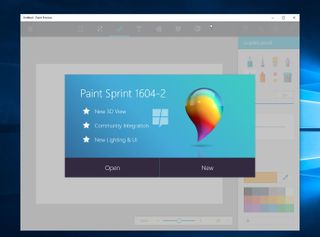 Microsoft is working on what appears to be a version of its classic Paint application for a Windows 10 app to be launched in the Windows Store.
The app itself was first spotted by WalkingCat via his Twitter account under the name "Newcastle" (opens in new tab) with no screenshots and a description of the Newcastle soccer team. MSPowerUser managed to download the app and confirmed it is indeed a version of Microsoft Paint.
The report says this Windows 10 app has the same basic photo and art editing features as the regular desktop app. It's not clear when Paint will be released in the Windows Store, but it's possible it will be included as part of Microsoft's big Windows 10 Anniversary Update that's due sometime later this summer.
Windows Central Newsletter
Get the best of Windows Central in in your inbox, every day!
Looks pretty! This app definitely deserved a fresh coat.

The first thing I noticed was the Agile method for development... interesting.....

Microsoft has been using an agile development process for some time now. They released an article about how they transitioned the entire company over the span of something like six months.

What's interesting about it? Pretty much everything Microsoft does these days in done in sprints, usually weekly ones. HoloLens galaxy explorer thing has been done in 6 sprints. Halo 5 had development series on Youtube across multiple sprints. Windows is even done in sprints. Everything is.

Yup, it's how they even do apps like Groove now

I love MS Paint. Use it everyday, no joke.

Actually, I use it everyday too. Screenshot master!!! :D

Since Windows 10, I've been using shortcut Win+PrtScr for screenshots. And editing with Photos app. Works great.

I use Lightshot for screenshots, it's very good

Its brilliant little tool and with the photos and arts options it'll get better ☺

For screenshots? How is it superior to using the Snipping Tool?

This is what I was thinking. Snipping tool king for me.

Snipping Tool is for taking screenshots and doing quick edits. Paint takes existing screenshots and gives you more creative power. Snipping Tool is arguably more practical but Paint is better for, you know, painting. Windows Central for Windows 10-Microsoft Lumia 640

Paste image, select, Ctrl+C, head to the app you want. Watch as the new version doesn't let you do that.

I use Paint and NotePad everyday

Same, but I don't think I could use this as a UWP since I usually rely on having multiple paint instances. If they have document tabbing support then could be OK but I would much prefer if it had some kind of multiple window support. Posted from my Lumia 950

UWP has support for multiple instances of the same app, IIRC. Pretty sure Calculator works like that.

I know it does but they would have to implement it, I hope they do but probably not seen as a must have feature for now anyway Posted from my Lumia 950

I just checked it, and yeah, it does work like that :D I opened 5 instances of the app now :D Posted with the Windows Central app for Windows 10 on HP 250 G1 notebook. It is a scary old monster, I think :D

Windows apps can have multiple instances open.

Me too I approve this message.

Why can't they forget about MS Paint and just use Fresh Paint instead? Posted via Universal Windows App on W10

Or better yet not bother to co.pete

Am I the only one that thinks the icons for the tools look fantastic? :D

I still love the classic MS Paint. UWAs are good but some apps are better as Win32 apps.

Again keep duplications of applications? no, they set fire to the old paint and leave only the new. We must be consistent with the interface and user experience.

MS Office has both store apps and Win32 apps. UWAs may have less features than Win32 apps. MS Paint is a feature-packed application supporting RGB color selection, save image in various formats, grid, rulers, and what not. Win32 apps can be updated to use Windows 10 design but completely discarding them is not a wise decision. Not all Win32 apps can be scrapped and rebuilt as UWAs as UWAs are light weight and are unpredictable. They might crash at any moment and you might lose all of your unsaved data. It has happened to me several times. Once I was typing an email in the Outlook mail app and it crashed. I had not even saved the mail as a draft. So, I generally avoid sending emails through store apps and use outlook.com instead.

Yes, Office's situation is another inconsistency, like most in Windows(10).
I understand, I hope that this application has the same options as the current and more.
I think that the UWP have to be the future, and if the x32 applications can not be rebuilt to UWP, create them again. What has to be the only goal?
Unify the interface and user experience, as it has raised microsoft, an ecosystem adapted to mosue/tactile, not more inconsistencies.

Imagine using this with Continuum on a phone some day. That'll be really cool. UWP all the way!

So pretty. Nice they are finally updating Paint, it's been the same for years. This and Paint.net are great for fast edits.

Exactly. It's more simple and faster to do simple edits like clipping and quick resizing, than opening a much more robust application, like Photoshop, just to do that.
To be honest, they're both pinned side by side to my taskbar :D Posted with the Windows Central app for Windows 10 on HP 250 G1 notebook. It is a scary old monster, I think :D

Those 3D features look really interesting...

I love MS Paint. It's a perfect scratch pad and screenshot handler. I use it quite often whenever I need to scribble something down that would take too long in Visio in order to demonstrate to a collegue. Countless quick tutorials I've held in this way. Its just a super handy tool. Funny, given that it's one of the easiest to create programs.

Yes! I've been wanting this ;D

If it comes as a real uwp that is not some day ;). I am hoping for exactly that :).

I love paint... MS better not mess this up.. I want it simple and not too much design...

Now the question is... are they going to be automatically installed in newer builds of Windows 10 just like the classic win32 apps have been since Windows began?

What about FreshPaint? Posted via the Windows Central App for Android

Different type of paint program.

wow....welcome to Future Microsoft Paint.
"Every artist's first Digital Blank Canvas"

It's like shifting to a new house. Microsoft is slowly shifting the desktop software and features to UWP. Take "right clicking" operation as an example that is slowly integrated into the UWP platform. It's not full featured yet but will definitely improve. If this happens, W10M will also become much more potent and powerful.

best Anniversary Gift Ever to Users.

I'm guessing having an OS with "Ink" built in and no app to take advantage of that would be bad...

Would be good to see it Integrated with ink and replace the win32 version

Tbh I like this Win32 to Windows Store thing. However with Centennial I definitely dislike the design inconsistencies. Really irritates me how some apps are like the Windows Store apps while the rest are classic Windows style like tbh it doesn't match for me. Posted via the Windows Central App for Android

Desperately need a mobile version - long overdue...

The intro paragraph doesn't read that well.

I gave them feedback for this now they need to make one for movie maker though because YouTuber in the coming could use it plus apple has iMovie and they keep it updated smh

I wish MS would make there own video editing program to compete with FCP on Apple. Paint is nice but bring something new to your table and ours.

Would be great if they had some sort of development for a Movie Maker-type program as well. So they could fill in where Windows XP and Windows 7 had done well and fulfilled lots of creative means.

What was fresh paint then? Urvansh Mehta

Now they'll rename fresh paint and confuse everybody Posted via the Windows Central App for Android

What about putting the Paint app on to an easel in HoloLens and paired it with freshpaint? Would like to see MS upgrade their game. I really want Adobe to feel threatened and work their ass off to realize their PR video on Adobe on Windows. Right now Adobe seems to focus more on iOS apps...
Windows Central Newsletter
Thank you for signing up to Windows Central. You will receive a verification email shortly.
There was a problem. Please refresh the page and try again.