Microsoft Mixed Reality to get support for SteamVR, Minecraft and Halo starting this holiday season
Today at IFA in Berlin, Germany Microsoft is announcing a new entry-level tier for mixed reality, as well as a blockbuster partnership with SteamVR. Additionally, Minecraft and soon Halo will be virtual too.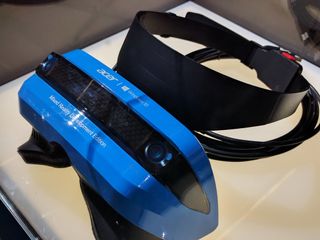 Microsoft's Mixed Reality initiative is in some ways an undefined area of computing that is slowly coming into focus. Microsoft today is making some big waves with the immersive Windows 10 experience coming this holiday season including revisions to hardware requirements and some huge partnerships that will drive the gaming aspect to potentially millions of new users.
It should not be shocking that Microsoft is leveraging 343 Studios – the group behind Halo – but it is now official (even if still early). Moreover, Steam VR will also be a part of Windows Mixed Reality and Minecraft as well.
Democratizing virtual reality – A tale of two PC tiers
Arguably one of the biggest barriers to authentic, immersive virtual and mixed reality experiences is the price. There is a reason why something akin to Samsung VR exists – it's cheap. Microsoft is taking a similar approach to its mixed reality attempts by offering two tiers for PC requirements:
Windows Mixed Reality PCs: will consist of desktops and laptops with integrated graphics. When plugged into these devices, our immersive headsets will run at 60 frames per second.
Windows Mixed Reality Ultra PCs: will consist of desktops and laptops with discrete graphics. When plugged into these devices, our immersive headsets will run at 90 frames per second.
Currently, Windows Mixed Reality exists with the requirement of a high-end dedicated graphics card, but that all changes later this year. Soon, standard Ultrabook and low-end PCs (starting at $499) will be able to partake in the experience as well with just standard Intel HD graphics.
No more will virtual and mixed reality experiences be relegated to only those who can afford top-tier gaming PCs. Likewise, there is no clumsy setup with just two plugs – HDMI and USB 3.0 – being required versus wall mounted sensors. Microsoft is pushing the idea that its mixed and virtual reality solution is completely portable running on most laptops without sophisticated gear.
Pricing of head-mounted displays (HMDs) from Dell, HP, Acer, and Lenovo for Windows Mixed Reality start at just $299 with packages including the two new hand motion controllers starting at $399.
Greg Sullivan, Director at Microsoft, explained that Microsoft is interested in doing to virtual reality what it did with the personal computer. By leveraging its manufacturing partners, making it global and affordable, anyone who has a basic PC can get in on the experience. Indeed, Microsoft may have issues with hardware distribution in many countries, but its partners like Dell or Acer do not.
Steam VR, Minecraft, and Halo coming to Windows 10 Mixed Reality
Perhaps the biggest news being revealed today is Microsoft's partnership with Steam VR. Although the partnership is still early on Windows users will soon be able to download and play the same virtual reality games from Steam that's playable on HTC Vive or Oculus Rift.
I already played a few such titles including:
Certainly, more games will be announced later this fall as well, but the "porting" to Windows Mixed Reality appears to require very little from developers.
Joe Ludwig of Valve remarked about the new partnership with Microsoft:
Moreover, I was treated to Minecraft VR, which as the name implies is a completely immersive way to play the favorite world-build game owned by Microsoft. Users can opt to play Minecraft on a giant virtual screen or take the plunge by going full engagement into a virtual reality Minecraft world.
Minecraft VR is playable even on an Ultrabook PC with a dual-core processor at 60 frames-per seconds making it accessible to all groups of users.
Finally, Microsoft is bringing Halo – in some form – to Windows Mixed Reality. Alex Kipman, Microsoft's chief evangelist for the Windows Mixed Reality platform, noted that it is "working with 343 Industries to bring future Halo experiences into mixed reality. We are not providing specifics right now, but it is going to be a lot of fun to work with them."
Windows Mixed Reality starts this holiday season
As the Windows 10 Fall Creators Update starts to roll out companies like Dell, HP, Lenovo, and Acer should begin selling its HMDs and motion controllers with availability in retail stores, online, and worldwide.
Today's announcements are just the "first wave" according to Microsoft. Customers should expect even more games and immersive experiences like the new Microsoft HoloTour app to be revealed leading up the holiday season and beyond.
You can read more about Microsoft's Mixed Reality announcements on the Windows Blog.
Windows Central Newsletter
Get the best of Windows Central in in your inbox, every day!
Daniel Rubino is the Editor-in-chief of Windows Central, head reviewer, podcast co-host, and analyst. He has been covering Microsoft since 2007 when this site was called WMExperts (and later Windows Phone Central). His interests include Windows, laptops, next-gen computing, and for some reason, watches. Before all this tech stuff, he worked on a Ph.D. in linguistics, watched people sleep (for medical purposes!), and ran the projectors at movie theaters because it was fun.
The steam thing is great. There needs to be more collaboration with companies.

It's also very surprising considering Steam's previous attitude to MS

Now MS & Steam need to allow MS account integration into Steam. This will allow for Xbox PlayAnywhere titles to also be avaialble to Steam users, as long as the MS accound is linked.

They are different store fronts. That would be a huge loss for valve and none to MS.

I wish I could get excited about this, but I can't. Too expensive, too ugly and bulky, not enough reasons to actually use it.

I understand that. This first wave is interesting but it hasn't really found its footing yet. I imagine in a year or two people will be much more comfortable with these concepts as it evolves and the technology advances, but right now Microsoft is just looking to build a foundation.

I agree, I'm waiting a bit longer before I get involved with AR/VR. I am excited for the direction though

Too expensive as opposed to what? These are the cheapest VR goggles out there. :\ I personally think Dell VR goggles are one of the most pleasing designs I've seen in a long time. As for bulky, all the articles I've read so far and the youtubers who were reviewing these devices (Acer and Lenovo especially) have stated that these goggles weigh way lower than other similar goggles available in the market currently.

I tried one of these and it's not big or bulky at all. The only limitation is the cable, hope the next generation is wireless. At the moment I think the biggest market for this thing is gaming. If the price goes down further (and I think it will very soon) this will be a good seller. The gaming experience with the headset is really on another level compared to playing on a screen. And in any case having many competitors on the market will push Oculus HTC etc to lower their prices and/or introduce next gen products. All good.

Nice to see they've teamed up and it''ll be nice to see hardware for lower-end devices. Dan, any word if Microsoft will be delivering a keynote at IFA or is this their only announcement?

Steam really pushes this over the top for me. I was considering buying the Vive, but I was also keeping an eye on LG's upcoming headset. My only concern is how immersive the built in motion trackers will versus HTC's wall mounted sensors.

The support from SteamVR is huge. It means Microsoft MR can generally replace Oculus and Vive for many current VR fans. I know it may need some game dev work, but from my personal experiences, even if the game is not listed with Oculus support on Steam, it still works with Oculus, so hopefully it will be the same case for Microsoft MR, that even without dev work, just with Steam update, most of VR games will be at least playable.

Making this accessible to the majority and not just the elite gamers all while making it affordable and gives them a pretty solid sales market. I've pretty much given up gaming on PC and do it primarily on Xbox now. I might play a casual game on my SP4, but that's about it. I'll be more interested when we hear more about the integration with Xbox One next year. I am glad they're also targeting the lower end of the spectrum as well though. There are a lot of VR games out there that seem to be more casual and don't appear to be graphically intensive, and there are a lot of casual game players who have lower end laptops and desktops that might be interested in this.

The important part in this is the partnership between Microsoft and Valve. SteamVR in Windows Mixed Reality can be the beginning for something big in PC. I want to See Valve embracing the UWP, rising its adoption, bringing benefits to Microsoft, the UWP itself (Microsoft will be forced to improve the platform) and Xbox LIVE in Windows10. In the other hand, the people that refuses use the Windows Store but trust in Steam, will get Xbox games and exclusives. Everybody will be happy with it.
Windows Central Newsletter
Thank you for signing up to Windows Central. You will receive a verification email shortly.
There was a problem. Please refresh the page and try again.