Microsoft's reasons for Windows 10's new browser rendering engine are revealed
By John Callaham last updated
Microsoft has offered some reasons why the Windows team decided to break from 20 years of Internet Explorer development and make an all new browser rendering engine, called Edge, for Windows 10. The engine will be used in the all new browser, code name "Project Spartan".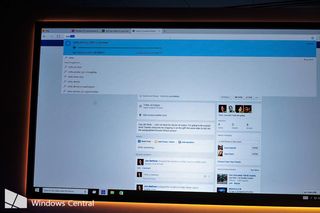 In both a blog post and a video, Microsoft said that while they have been improving the rendering engine in Internet Explorer for 20 years, it continued to received feedback about some websites that were broken while using IE. This forced the team to reevaluate their approach to web browser development. The blog stated:
Microsoft also decided not to use an open-source browser engine like WebKit and simply adapt it for Windows 10. The team had two reasons for that decison. It stated:
Microsoft says the new Edge engine offers a lot of advantages in web browser development along with better compatibility with older websites. It states:
The new rendering engine can be enabled with Internet Explorer 11 in the current 9926 preview build of Windows 10.
Source: Microsoft (opens in new tab)
It is. They basically said that there was nothing wrong with IE other than the fact they needed to keep their corporate customers happy and so IE got bogged down by code the average consumer will never need. So they basically took all of the corporate stuff off IE and released it as Spartan. So essentially, Spartan is "IE Home" while IE12 is "IE Pro." Also, by removing the IE tags, it forces websites to not give IE users the "crap version" of their sites. It forces websites to treat all visitors equally. And by not using Webkit, Microsoft doesn't do Google's dirty work for them.

Or, you could say the code is more spartan...

Dang it, you are awesomely mean.(If there is anything like that, I said the first). I like your summary

Regarding not using WebKit ...theyre also saying they don't want everyone to become dependent on one thing (like web kit) so they want to offer a different engine that can be unique to that.

That's not what they are saying. Spartan is not "IE Home" it is just a clean-up of the IE code that is not needed. Spartan will not support less than IE, but they are just making it render HTML more like other browsers. About IE12... do you have any sources saying that there will be an IE 12? I personally think they will put IE Development on hold...

Microsoft not supporting Webkit was one of the reasons Kik messenger was stop supported in Windows Phone. Hope this changes without Webkit

It was the right decision

Now let's see if they're smart enough to make Spartan the official name, as they did with Cortana. I'd also prefer the UI was more like IE 11 than Chrome. Tabs on top is a waste of valuable real estate. Needs to be adjacent to the URL bar.

Spartan and squad-whatever are absolutely terrible names

SquadWatch is a bad name, yes, but Spartan is the perfect name for a new browser, especially with the double entendre of being light-weight (i.e. spartan the adjective) coupled with Cortana integration (i.e. Halo' Spartan).

Couldn't disagree more. They need a friendly, approachable, neutral name. Spartan sounds like a 14 yr old boys choice.

And somehow Safari, Firefox, Chrome, or Internet Explorer sound any better? I think Spartan is a great name. What's your suggestion, since you're so opposed to Spartan?

I like Spartan. Enough of the safe names. IE Home Edition would be terrible.

So, Safari is a better name? How about Firefox? Spartan is definetly better than Internet Explorer 12. What exactly is your recommendation for a name?

Aren't we all still 14 yr old boys on the inside? Über nerds with pretty childish behaviour at times? It's the kids that will decide if this browser will be the new thing. It's the nerdy kids that will install this on their mother's PC instead of Chrome. But I agree.. Spartan sounds weird. I like a lot Cortana though.

Yeah Spartan is quite cool for a name. I already hear many people referencing the new MS browser as Spartan.

I agree, movies like 300 have absolutely made the phrase Spartan really annoying by now.

Uh, no. 300 was awesome and everyone who saw it and is also awesome think the name Spartan is awesome.

It was awesome, years ago. Then a bunch of neckbearded nerds laid claim to it in every way imagineable and now its coolness has run out by a large margin. Trust me I'm an authority on coolness according to my mother.

Those are not Spartans but Trojans, the Spartans Beards make The Gods bow down.

I'm persian and I beg to differ. It sucked big balls

Sounds like you're just letting your cultural biases influence your opinion of the film. I'm German but I still think that Raider of the Lost Ark is awesome. Furthermore, the narrative framing structure of 300 was that of a Spartan warrior giving a pre-battle pep talk to his fellow comrades before a battle, so of course everything he said would be embellished and biased. That said, I thought Xerxes was a badass.

That's an opinion and you do not speak for everyone. So there you go. Personally I like the name Spartan or ill rather be Athenian so ouch Posted via the Windows Central App for Android

Im thinking that choice came down to the new cortana integration. They want the address bar to be as wide as possible. something that cannot be done as appealing when you have Tabs right next to the address bar. I love the look of IE now, the best way to handle this is a simple option toggle just like they have now. Tabs on top or tabs next to address bar.

I still would vote for 'Edge' being the name. It's a much more mainstream name and it sounds good.

Edge reminds me of shaving cream.

It reminds me of my awesome life.

Edge reminds me of a wrestler. Anyone? :D

Edge reminds me, and everyone, of painfully slow and outdated mobile internet connection. Definitely not the connotations MS seeks.

Edge is an uninspired name and is used too widely - especially considering that Samsung is going to lay claim on it with their Galaxy Edge series - so just the fact that MS/Samsung would be sharing the same name within the same sector is reason alone to not go with Edge. You want something distinctive that belongs to your company and your company only, not one shared by another 10 company products.

Except for the fact that Chrome's profile was lower than IE11's because they used the handlebar's real estate instead of just making another row - which is smart and what Spartan is doing as well. This way you can actually read the address bar and still have a full row of 20+ tabs and still read each tab's title in the tab - which you can't do with IE11.

I don't understand. In IE 11 on my machine I have the URL bar and 20+ tabs open all the time. And it takes up less space than the same setup in Chrome.

This: http://screencast.com/t/ZsDoLOHQo ...is better than... This: http://screencast.com/t/cTLpc3k0ZI And Sparten will be even better than Chrome from what I have seen.

They're ALL horrible! We all have widescreen displays now, so why not use that totally wasted horizontal space for tabs down the left side (aka firefox's treestyle tab addon). Having ANY sort of tab row extending across the width of a widescreen is just stupid.

If only you weren't so terribly wrong.

I agree that the tabs should be on the same line as the addressbar is. It's useless to have a addressbar that's the whole width of a 1920p (or higher) screen. It would be great if we can choose that as a user. Same goes with the addressbar on Spartan for Windows 10 for phones. Give use the decision if we want it in the upper or lower part of the screen. Currently on Windows and Windows Phone I prefer Internet Explorer above alternatives mostly because the interface is efficient enough that I see more of the webpage that's possible without scrolling.

It's not useless if you're a developer or if you are a regular person talking to a support person and they ask you to take a screenshot if your address bar or worse, they take a screenshot on their own and you could solve their issue IF ONLY the address bar showed the entire URL so you could use the information in it to recreate their issue.

Honestly i never saw IE version 1.0 2.0 3.0 4.0 5.0.....!
Edit: http://itsfunny.org/wp-content/uploads/2012/12/Internet-explorer-respect...

The first one I remember being excited about was 5. Took me hours to download on a dial-up connection.

First version I remember was IE3.0 with Windows 95 I think.

IE 3 brought a very popular feature to IE that was previously only in the pay version of Netscape: support for frameset. It was so cool! Nav bars on the left, titles that always stayed put. Now we can do it all on one page and let our client-side JS MVVM clients do the same basic work that frameset did all those years ago.

Internet Explorer 1.0. Windows 95 Plus pack. Happy days.

They might be old, but at least they can write and spell in English.

How about when the dial-up protocol wasn't in the OS and you needed it on a CD. Or using the dial-up protocol to call your friends home PC so they could "hand-shake" for multiplayer DOOM. lol.

Who keep getting AOL free disk from Walmart. My first computer was a IBM from the early 90s that needed a bunch of floppy disks to do simple functions those were the days. Crazy thing I still have it and it still works.

I remember using the iMac in 1999, first computer I'd ever used without a floppy drive. That was such a progressive move at that time. lol

Or multi player Warcraft 2!

I didn't get a internet connection before Windows ME/2000 so starts where I started. Have no idea what version of IE that was though :)

IE was late to the game. I started using NCSA Mosaic - the first browser. I quickly moved on to Netscape when that came out later. I used that for years, and always carefully avoided IE.

I just want the pinned tab feature that Firefox and other browsers currently have

I already enabled this new rendering engine and see no difference.

Its more a future proofing thing. Making it easier for the development team to make changes. Currently IE has a lot of redundant code within it, which causes issues and makes it harder to alter and add to.

Agree with u. It probably is a good thing. Lol

That's kind of the point. Either way, the Edge engine in IE11 on Windows 10 is a very early version, they are probably going to push a version with a ton of new features and capabilities as soon as they include "Project Spartan" in Windows 10, until then, we'll probably have to do with a small subset of its features.

Right now, you only get the rendering engine. You won't see any differences, except better compatibility and better use of actual web standards on "some" web sites. When it releases with Windows 10, if you have stylus or touch screen, you'll get to draw on pages and save the with annotations and stuff, with a host of other new things. We'll have to wait and see.

I noticed a difference right away. Tumblr and some other sites load correctly now.

Great job to be seen.... Greetings from Portugal

Portugal is very pretty and the food there is delicious :)

I want something that syncs all my bookmarks in all my devices and my favs links

You mean like Internet Explorer 11?

IE11 already does this. Including passwords

It's true, this is already happening across Windows 8.1 & Windows Phone 8.1 devices

IE has been doing this for years. My Windows Phone, Surface Pro and PC are always in sync. Not only favorites, but they also sync passwords and data fields.

How safe are password? I always hit no when asked if I want to save my password because I'm worried about them getting stolen.

It's pretty safe. In order to hack it, they would have to hack your email. And if they do that, you can reset your passwords anyway. I've never had an issue.

"20 years of IE legacy" ? o.O o.o O.o

aka Mosaic when it was first released. It was the second browser I used after Cello. While there is no code left in IE that was in the original Mosaic browser, alot of IE is based on the old internet workhorse.

'aka Mosaic'. Oh dear lord, I didn't know that :O and what the hell is Cello?

http://en.m.wikipedia.org/wiki/Cello_(web_browser) Damn! back than I didn't even have a pc...

With ie11 on win10 and new render engine I cannot see videos, anyone with the same issue?

Nope. It works fine. Too fine inface. I really wish I could block the stupid video ads on this site.

Same here, IE on Win 10 with either old or new render engine - no embedded videos. All I see is white space.

Thats why they release only the render engine on IE and Spartan is not released :) they don't wana hurry and realease an new browser that dosen't work properly, not since the history of IE

I am excited to see how it will translate to mobile.

Agreed. IE11 on my WP 8.1 fails to display many features on many pages. I switch to UC Browser or Surfy for the same page and I can suddenly see so much more, like it's magic. I know this may or may not be MS's fault, but I definitely want the Web to "just work".

Very cool. It appears they are on the right direction for future greatness.

The Spartan/Edge rendering in Windows 10 for phones is excellent and the added website compatibility is appreciated. With the old IE 11 engine on WP, sites that had to have the CV (compatibility view) enabled would not load on Windows Phone because you cannot enable or disable CV on WP. In Windows 10 for phones, the sites just work since the new rendering engine isn't held back by the CV list. This is HUGE as the Citrix ctxapps website suddenly needed CV around Dec 2013 and it broke the usage of the site for WP and we have been without it for more than a year. Great news to us IT folks and we can soon go back to using the HSD and VDI without having to log into the Citrix Receiver app every time.

What a load of corporate/technical mumbo jumbo. If it doesn't render mobile web as good/fast as safari/chrome, it is useless. Let's hope it is not the case.

It does render it as good as both of those and is faster than safari. The proof is that when you switch the user agent string to a weebkit browser, everything suddenly works. It lazy developers who are not properly coding their website that is the problem.

What safari are you comparing it to. Mobile Safari is as fast as anything I've used and so is Safari on OS X. Safari on Windows hasn't been updated in forever and yea... it was dog slow. But at least with it you could interop better with the iPhone.

They could have realized it 5 years ago when more people stopped using IE... Ok they did it NOW and I wish them the best I really want to stop using chrome, give me reasons Microsoft.

1. Chrome is becoming a memory hog 2. Google knows too much about me already 3. I love to use the latest and greatest software, this is new, so I'm gonna give it a try Just to name a few :) I'm using Chrome too, don't get me wrong, but I'm not loyal to it.

Then try Opera or firefox already!

Opera is kinda dead, I find latest IE more stable than Opera.

firefox my main browser and i also prefer IE.

Opera is garbage. I tried using it again a few years ago and it would crash every week, losing all my tabs. It's worse than Safari, and even that is rubbish on PC

Exciting news. I'm a little skeptical about it after Zune -> XBM,
and WLM -> Skype, but I'm probably just bring pessimistic :-)

The only way to move forward and shed tons of bloat from legacy support and patching is to start fresh. A lean, mean, fighting machine what consumes less battery and out performs prior versions. Time to clean the garage.

There will still be a need for the legacy browser because thousands of companies still use web apps. My company just updated to IE10 last month. We still use dozens of legacy web applications. All other versions of browsers are not supported and thus uninstalled unless there is a business need exemption.

Are they going to fix the problem the graphics desingers have? If not there is still no point in using it. There is not a single type of transparent picture that works well in Internet Explorer. I can put up a gif or PNG on a website and it look amazing on Chrome or Opera but it will look like crap on internet explorer because internet explorer can't handle transparent pictures well.

As a veteran web developer I literally have no idea what you're talking about. I test my sites extensively in all browsers and images all look the same. IE is worse than the competition for other reasons, but not images. In fact, I just looked at one of my sites and some images look every so slightly 'jaggy' in chrome, but perfect in IE.

Well I don't k ow how you have gotten around that. Everyone else I know that manages websites have had the same issues.

Do you have some examples?

They don't want to use an open source engine, which is fine and dandy, but modern websites are built to be compatible with those engines. Hopefully, their new engine won't display broken web pages, or have compatibility issues.

Modern websites should be built to handle standards, not a particular browser

so it took only 20 yrs for microsoft to realize IE sux ?

There is still a ways to go given no matter what engine settings are used in build 9926 - Office 365 becomes near unusable - which isn't very corporate friendly at all.

Can't wait to start using Spartan! :-D

The browser in Windows 10 is ridiculously fast especially streaming videos on youtube. So much so I started to question my setup running windows 7 lol. Not to mention Windows 10 itself is much more resource efficient, I am able transfer files from usb to usb mind bogglingly quicker than on windows 7. For instance if took a few minutes to transfer 2 gigs of data from a usb 2.0 usb stick to my hdd and vice a versa. No more than 30 seconds on Windows 10 each way, how the hell!!!!!

Windows 8.1 is noticeably swifter than 7. Really, the Start Screen is a worthy compromise for enjoying the performance gains in Windows 8.1. Staying on 7 is a non-option unless you either don't care about performance or you have a beastly computer that can drive the differences down to negligible levels (with sheer processing power).

BUT....does it still have the BLURRY FONT problem thats been plaguing ie for at least 3 versions?!?!?!?

Nope, no such problem exists. The issue existed years ago, but was quickly patched.

i hope your being sarcastic because the issue is still present in IE 11

Can you show some examples? I've never seen such a thing... only seen some reports for IE8 & IE9 years ago

Sure, i have a Jpg made that compares both IE11 to FF 36. But you can do it just open facebook in I.E. and then open Facebook in FireFox or Chrome and compare. If you want to see the image private message me.

To be honest I don't like so much this "pragmatic approach", it encourages developers to use non-standard practices, or at least doesn't favor approaches to development more strict to the strandards. But I understand that Microsoft is a company that make money by selling software. Training, promotion of good practices and the catechization of the developers is not among its business

They should have done it years before Google got their fame on browser and search engine, right before people ditched the internet explorer over google chrome.

that was a Steve Ballmer era where Microsofts employees lost their head working with him.

Yay!!! I'm waiting for the final version!

Spartan has already been chosen as the commercial name. I think it's perfect.

Just make my mobile browsing experience in WP match or exceed my mobile browsing experience on iOS and Android, and I'll be elated! Posted via the Windows Central App for Android

I think the major problem here is devs tend to create sites for all browsers in mind except IE, so the poor IE dev team has to be in a constant pursuit, which is the opposite of what that chrome aberration does, they invent a crappy new script and everyone starts using it

Looking forward to Spartan. Would love to have Spartan on one Monitor and IE on the other. Would drop FF like a rock if this works out well. Just dont' get why IE in the tp of Win10 is so bad at rendering MS own sites like my Office 365/Sharepoint sites. I hope they fix this soon because it's really the only issues I have with Win10 at the moment.

But you have the experimental flag enabled?

I was really looking forward to all this. But after the last tech preview... Just had a lot of dislikes compared to the first Tech Preview of it. Probably not going to upgrade if it is the same as the last one I used. And with the new Cortana add on. I'd like to know what resource usage she would take and if there is data being beamed away that I wouldn't normally know about.

Well as Regina put it, IE isn't and was never going to happen after Gretchen tried to make fetch happen which never will happen. Hopefully Spartan happens but Sparta is largely gone, so will history repeat itself? Posted via the Windows Central App for Android

This is Ok... i'm sick of google and chrome
Windows Central Newsletter
Get the best of Windows Central in in your inbox, every day!
Thank you for signing up to Windows Central. You will receive a verification email shortly.
There was a problem. Please refresh the page and try again.