Microsoft now sells Samsung Galaxy S8 and S8+ online
Microsoft is now selling the Samsung Galaxy S8 and S8+ online.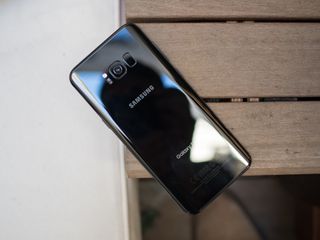 As first spotted by MSPU, Microsoft is now selling Samsung's Galaxy S8 and S8+ smartphones at its online store (opens in new tab)
Through its online shop, Microsoft is offering both versions of the Galaxy S8 either unlocked or in AT&T or Verizon variants. The standard array of colors is also available, including choices of black, silver, or orchid gray. As for pricing, you're looking at $724.99 for the unlocked S8 or $824.99 for the unlocked S8+. Carrier variants differ in price slightly. If you're looking for a discount, however, you might want to wait until November 23, when Microsoft will be offering $150 off (opens in new tab) the unlocked models for Black Friday.
That Microsoft sells the Samsung Galaxy S8 and S8+ isn't new, but the smartphones' arrival at Microsoft's online store is. Microsoft first began selling the Galaxy S8 earlier in 2017, but it kept sales restricted to its physical retail stores so store reps could "ensure a best-in-class customer experience." Though the phones sold were the same as Samsung's standard-issue Galaxy S8 handsets, Microsoft associates were available to help customers set up their devices, which also presumably entailed installing any Microsoft apps they might want to take advantage of.
As you might expect, Microsoft is taking the opportunity on its Store page to pitch its recently released Microsoft Launcher as a way to customize the experience and help the GS8 work in concert with your Microsoft account and Windows PC. It may not be Windows phone, but as we've seen with our own experiments, the GS8 with a complement of Microsoft apps can make for a pretty solid Microsoft phone.
See at Microsoft (opens in new tab)
Windows Central Newsletter
Get the best of Windows Central in in your inbox, every day!
Dan Thorp-Lancaster is the former Editor-in-Chief of Windows Central. He began working with Windows Central, Android Central, and iMore as a news writer in 2014 and is obsessed with tech of all sorts. You can follow Dan on Twitter @DthorpL and Instagram @heyitsdtl.
Can anyone tell me how integrated you can your MS apps on Android? Which MS apps can be set as defaults in Android? Can you use "Hey Cortana"?

Hey cortana only works when app is open unfortunately. Default Samsung calendar app doesn't recognize your shared MS calendars. When setting up MS accounts (email, calendar) install Outlook first and do it from that interface. Then click on settings inside it and sync contacts. I had to learn this by trial and error when I got mine.

You can set cortana to engage by long pressing the home key on Android.

I set Cortana to open for voice commands by long-pressing the home key on my Galaxy S8, when I switched from my Lumia 950 a couple weeks ago. It works pretty well; although, Cortana is a bit slower than I was used to on my Lumia. I *really* wish that "Hey Cortana" worked without a need to have the app open. Having an Invoke at home now has helped me miss "Hey Cortana" a bit less, but I really miss Cortana's functionality in the car over bluetooth; between Hey Cortana in the car and the much superior handling of SMS and phone in the car compared to the experience I've had with Android so far, I desperately hope that Microsoft will find a way to bring these functions to the Android Cortana app.

I also hope that Microsoft finally implements their patent from a few years back regarding only responding on the device you're most engaged on (i.e. sitting on the sofa, if I'm actively using my phone and I say Hey Cortana, then respond on my phone. If my phone is sitting down, then Xbox should respond. At my desk, if I'm using my laptop, then it should respond. Otherwise, my phone should be the one to respond. Until then, I've had to disable Hey Cortana voice engagement on my phone and laptop, since I rely on it a lot on my Xbox for turning it off and on, volume control, media control, changing TV channels, etc. All the others, I use the long press search button, etc. as appropriate. This is the main reason I did not buy an Invoke, even though I really wanted that over the Amazon Echo units I have dotted around the house (and those perfectly figure out which one should respond).

I think Google Home and Alexa do this already - Not suggesting you should use it, but others have definitely already implemented a feature of responding on a single device. Cortana has fell behind unfortunately, after being ahead for a while when first released. For me, the killer feature of Google Home is that it recognises the user by their voice and gives them relevant information - MS have the APIs in the cloud for this already, they just don't use it on the Invoke / Cortana. Wouldn't use it for sensitive things like a login, but for basic admin of your calendar etc. in your home it works great.

On Android you can get all of the Office apps, Cortana, the Microsoft Launcher, sunrise calendar, Outlook, Onedrive, and more. You even can get Windows Central along with Android Central, Imore, and Crackberry. I purchased the s8+ and I have the Microsoft launcher along with the other MS apps and it makes everything great. The stock apps are pretty good but not the best. If you root your phone you can uninstall the stock apps but this voids your warranty. You can set a lot of things to default. Each app you download can have its own set defaults similar to the management on the desktop version of Win10. So for whatever functions that Outlook supports, I can set it as default. So I'm pretty integrated but it will never be the same level as a Win10 device.

The biggest difference is the stuff you lose from Cortana - No "Hey Cortana" but more importantly any voice commands are much more basic. Cortana won't guide you through sending an SMS, let you add more to an SMS etc - Won't read back the SMS or Reminders to you, just launches the UI and puts in the text for you to confirm. It's a much worse experience - But things like Office and very much the same. Outlook is better in some ways, worse in others. The MS Launcher is quite good, but I would definitely give other launchers/stock a try - The OnePlus launcher for example has some great features you don't get with MS Launcher - Main one being MS Launcher can't pin app shortcuts to home, so with the Outlook app you can't pin a shortcut to the calendar directly to home (for those who want to do that)

Actually Hey Cortana IS in the Android version but it has to be switched on manually, just like on Windows.

You can use Hey Cortana on Android and you can set Microsoft apps as default on Android.

Will repeat what I said in Zac's article...Microsoft needs a company dedicated to customization jobs like Shelby did for the Ford Mustang. Take all these tasks to convert an/any Android phone into a "Microsoft" phone and charge a premium on top of it. I'm sure all it would take is some scripting and packaging but I just don't have the time to come up with it all. May be interested in angel investing if anyone wants to give it a go ;-)

And this explains why the S8 display phones at MS Store do not have MS apps loaded...! It is only if you buy one then the staff load the apps for you if you ask for them!

MS Stores near me (3) all had MS apps loaded on all 6 devices per store. They even had MS Launcher installed.

This shows inconsistency in store management across MS stores!

MS should work with Samsung to make a custom S8, with Android but with MS launcher and services preloaded on the ROM

Ohoh, we know what happens if MS endorses your product. You immediately loose your cool factor and that's the beginning of a long road downhill. Run while you can Samsung, RUN!!!

Microsoft is committing suicide

Hahaha the last attempts to try anything in mobile. Hear me, I predict that outside the office apps there is zero future for Microsoft apps on others platforms.

I agree 100%; their other software just has too much competition. Only Office is still the top dog for productivity and workplace integration.

I was hoping they would start offering the Galaxy Note 8 too. I personally like Microsoft's extended warranty policies over those of other retailers.

There was one on demo at flagship nyc ms store. I went last week.

Does the Pen of the Note 8 work with OneNote (at least)? Staying with my 950XL till . . .

square home 2 > MS Launcher

I can't believe no one has rooted the S8+ to run windows mobile 10.

And, lose apps?... Sounds a bit counterproductive... Even worse, you're surprised?...😂😂😂😂

Think I'm going with the V30 over the S8, and still holding out hope for a Black Friday deal lol

Launcher 10 is way nicer than Microsoft Launcher and any other one.

Agreed. I tried Square Home 2 first and it was pretty good. Then I installed Launcher 10 and paid to unlock the features and it has been great! I feel like my experience is probably 90% Windows Phone now. I do miss Cortana Bluetooth integration though.
Windows Central Newsletter
Thank you for signing up to Windows Central. You will receive a verification email shortly.
There was a problem. Please refresh the page and try again.