Microsoft offering buyback promotion for Lumia 540 for the festive season in India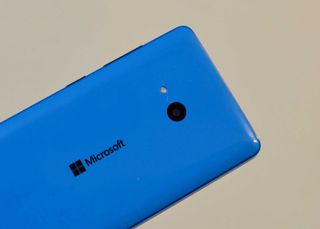 Microsoft India has followed up their recent buyback promotion with a new smart offer for the oncoming festive season. As part of the latest promotion, customers can exchange their old phone and buy a new Lumia 540 for ₹7,199 ($110) only, instead of the usual retail price of ₹10,199 ($160). The offer is of course valid for a limited period while stock lasts.
The Lumia 540 was an improvement over the Lumia 535 with a better display and an improved camera. The dual SIM Lumia 540 is upgradable to Windows 10 when it arrives, and packs in a quad-core 1.2 GHz processor with 1GB RAM and 8GB internal storage. There's a 8MP rear camera and a 5MP front-facing camera making it a pretty well-rounded budget phone.
Apart from the buyback offer, as part of the promotion, customers will also get discounts worth ₹3,000 on shopping via Jabong app. Also, you'll get a cashback of ₹3,600 in your Mobikwik wallet. The offer can be redeemed over a period of one year, ₹300 ($5) per month.
These two offers, along with the buyback price makes the Lumia 540 still a pretty good phone to buy if you're in the market for a budget phone that looks good and works well. Of course, once Windows 10 mobile arrives, the phone will receive a free update making it rather future-proof.
Windows Central Newsletter
Get the best of Windows Central in your inbox, every day!
Wish they did this for every phone. That would be awesome!

Wow.... now just give a final release date for windows 10 mobile

Stop this nonsense.. Let it come when it wants to come..

Nice offer but...give us a mid-ranger!!!

http://www.microsoft.com/en/mobile/phones/compare/?action=productcompare...

Does old phones include only Lumia or any other phone??

I doubt they'll reject your iPhone 6s. /s

yeah as long as it's not a Motorola Dynatac (phones dating before 2000)

540 is really bad with snap 200. 640 has been great so far. 2 of ky friend use it they are happy with their devices except snapchat.

Sd200 is not that bad.. Ive used it and its quite fast

One of the reasons that led to the demise of the Lumia line was the confusing random numbers, a trend which Microsoft continues to follow that will lead to the death of W10M itself.

730 is the best mid range phone ever

Lets not get carried away

Disagree.. 640xl is the best

640xl is gud but its way too big
Most people prefer 5 inch or lower display phones

I love the sleek fabula design of Lumia 730.. It's not a unibody phone but the back cover is designed to give you that illusion...

730 is a gorgeous sleek beauty

Lumia 540 original price in amazon- 7500. So don't exchange your phone. This is a waste offer.

How about a buy back for all of us with 1520 phantom touches that you never rectified?

This is good offer for those who want to exhange their old phone .... Dont buy mobile phone on online... They are rejected pieces.... Because they give 30-40% offer. Buy the same on showroom..

I've bought 3 different phones online none of them feel like rejected pieces. There are other ways of offering discounts.

What kind of offers dude ...?

950 & 950 XL ??????????????????????

Memories of Lumia 930 DIWALI are starting to come back..
Flagship delay
Abhishek please throw in some news on
950 & 950 xl availability in India

Wish they did this for 640XL when I bought a month ago. They said no offers. Meaaannnnnn MSFT

Mobikwik offer not working in my case.. After once it was successful..!

You have to follow this step. Add the amount to your account without code and then contact customer care for the cashback. If they deny at first, leave another message. I am getting cashback like that. There is a contact option in the app itself.

They knew the L535 has a touchscreen problem. Why didn't they make this offer for that as well?

They did run a buyback offer for L535 for ₹6999, including the ₹3600 cash back option from mobikwik at ₹300 per month for 12 months. That offer just expired and they started this offer.

I ask Why people will enroll in this scheme as Amazon is selling this phone at only ₹7200. Microsoft don't know how to deal with marketing.

Lol it has 6600 rs worth of cash back & discount
So net cost is only 599rs plus your old phone
And that's a pretty good offer

I also eligible for Extras Cashback etc.

Well not exactly ₹6600 as the ₹3000 Jabong shopping app discounts have some conditions that need to be fulfilled.

Festive season... oh my fking god! Because you are no longer allowed to say what it really is: its fking CHRISTMAS in December. And definitely not FEEEEESTIVE...! Those idiot P.C a.holes destroying the idea of religious events.


So, you know this is about India and their holidays are different from ours right?

You are coming across as an ignorant and bigoted fool here, Festive season here means Dussera in October and Diwali in November. Christmas will come later in December, so still some time to go for Christmas offers.

How about my 830 for a 950?

Windows 10 update is releasing in December

http://www.microsoft.com/en-in/mobile/campaign-offers/campaign-mobikwik-... Cashback from mobikwik upto 3600 includes/valid on 535 , 640 , 640XL , 730 and 430 all these phones also.

The Discount season is upon us in India during the time of Diwali, even though I feel something is amiss, earlier Nokia/Microsoft used to market their products like hell during this period( I got annoyed with Priyanka Chopra Who was(?still is) the brand ambassador of Lumia popping up with her ads relentlessly), surprisingly it's been a cool campaign I hardly see any Lumia ads, and the buyback offers have not been publicized like before.

MobiKwik gives offer for only 2 months not one year. MobiKwik and Microsoft cheating the customers with buy back offer.

I to avail this mobiquick offer.... I don't get it....