Microsoft offers more details on January's Surface Pro 3 firmware update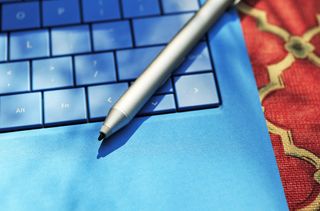 Microsoft released new firmware drivers for all three of its Surface Pro models earlier this week, including the Surface Pro 3, but now more details about that particular update has been revealed. The information comes from the company's Surface for IT Pro blog, which targets employees who use Surface tablets at work.
The change notes concentrate on what's been fixed and improved in the tablet's latest Intel HD Graphics Family drivers. Intel has released a newer set of those drivers but they have yet to be approved by Microsoft. There's also more info on the new Marvell Wireless Network Controller drivers for the tablet:
Intel(R) HD Graphics Family driver update (v10.18.14.4029)
Adds support for the Autodesk Mudbox 2015 paintbrush tool.
Ensures that unreadable text does not appear in the Microsoft Outlook calendar pane.
Improves performance of video display and zoom features in DirectX applications
Adds support for the fast cursor feature when using Miracast adapters, including the Microsoft Wireless Display Adapter.
Ensures there is no flickering/blank display on externally connected monitors, especially when connecting multiple monitors in a daisy-chain configuration
Improves compatibility with Samsung U28D590D and Dell 2713Hb monitors. Some customers reported they saw a change in screen resolution when the device is docked and connected to Dell monitor. This has been addressed in the update.
Adds additional support to enable better compatibility with Panasonic and Actiontec Miracast adapters
Ensures there is no unexpected battery drain while the Surface device is in Connected Standby mode.
Resolves KMODE_Exception_Not_Handled system crash when using Excel PowerMap
Resolves some instances of Stop 0x9F and Stop 0x133 system crashes.
Resolves system hang that could occur if f.lux was enabled by an application.
Resolves system crash that could occur when attaching to external monitors immediately after waking the device from sleep or removing it from the docking station.
Marvell Wireless Network Controller and Bluetooth driver update (v15.68.3073.151)
As part of ongoing improvements to Wi-Fi experience on Surface Pro 3 device, customers now have the ability to manually select a preference between 2.4 GHz and 5 GHz connections for their device. We will publish a separate blog to describe this functionality further so more customers can take advantage of this capability.
Modifies power management logic to allow the wireless adapter to function properly when the Hyper-V feature is enabled in Windows.
For European Union customers, there are specific requirements outlined in EN 300 328 v1.8.1. This update includes capabilities to stay current on these requirements, including an LE switch to better control energy detection and Bluetooth Power setting.
Resolves a low throughput scenario when using Cisco 3702 access points in 11ac mode.
Surface Home Button driver update (v2.0.1179.0)
Improves compatibility with Surface Hub application.
Surface Integration driver update (v2.0.1182.0)
Improves compatibility of Surface Pro 3 with Windows 10.
Microsoft Docking Station Audio Device driver update (v1.31.35.7)
Addresses scenario where no sound would play while the device was docked without an external speaker connected.
Source: Surface For IT Pros (opens in new tab); Via: Thurrott.com
Windows Central Newsletter
Get the best of Windows Central in in your inbox, every day!
Finally I got no problem with Wi-Fi anymore when waking up my Surface :)

The issues just seem to get further and further apart. :)

I can begin to tell you how happy I am that the WiFi issue has been resolved for me on the SP3. This has been a constant annoyance which also impacted productivity and often got took away from my focus.

has anyone noticed, that with new drivers there are huge black frames on miracast image? I've got SP2 and ptv3000 and on old drivers the image was using whole space and now there are frames that do not respect ptv settings (0-15). On different windows with intel widi I can set image framing using software. How can I do it on Surface?

No issues for my SP3. I'm using my ptv3000 with my SP3 right now. The ptv3000 is running firmware version 2.4.46 if that helps you at all. No scaling required on either device. The isn't a setting for screen size on the Surface end as far as I know. I don't use the scaling in the ptv3000 because mine splits out to more than one TV and they don't match each others native scaling size. Have you tried changing the scaling option on your TV? Mine is set to 16:9 on one TV and "unscaled" on the other. If I use other settings then I see black bars or cutoff edges.

on tv using new drivers I have to use "16:9 overscan" which basicaly means that tv is cutting this black frame for itself but for inputs where it is not needed, my tv is cutting some of the image so I always keep it turned off. I think new drivers changed the way Surface sends the image - it is setting the bigest frame possible and giving no option to change this. Intel WiDi drivers have option for image size so I presume this is a Miracast option. Tho I must admit that the connection stability is much improoved. Two step forward, one step back EVERY time :-/

try manually installing the Intel video control panel so you can control overscan http://lifeisabug.com/installing-latest-intel-hd-graphics-driver-microso...

tried this but no overscan options either :-/

Wow they really fixed some stuff herr

Bout damned time! I haven't been able to use my surface pro 3 pen as anything but a mouse for the past 6 months. Not to mention the Surface Hub App not even recognizing that I have a windows button. Everytime I opened the app, everything was disabled. REALLY happy they finally fixed this.

I'm using a DisplayPort hub and sometimes, but not always have to hit the rescan button when the surface wakes from sleep in order for the surface to recognize the external monitors through the dock. If I plug the cable directly into the surface it works 100% of the time.

I have two monitors daisy chained to the dock and screens lose Connections often. Not an issue when plugged directly into the SP3.

I wish Microsoft would release an update for the Surface Dock that causes flickering when connecting a mini DisplayPort to normal DisplayPort cable. Connecting it directly to the SP3 works flawlessly.

There's an item in the list that sounds just like this.

Microsoft is ignoring Lumia 620...

Sure, because a firmware update for one range of devices indicates that they're ignoring everything else they make. /s

I'm not even sure what they're supposed to be doing in terms of the 620.

Well, this update which was supposed to fix Miracast issues actually killed my ability to Miracast. SP3 no longer connects to my Belkin Miracast. Not cool.

Yep, same for me with the MS wireless adapter. Had to roll back before the update to get it working again. Can then manually update drivers individually, but still seems not so smooth as it was. http://answers.microsoft.com/thread/bae23279-5ec0-4936-a16c-9d9eba3c3e59

I don't even have the option to roll back. System Restore doesn't work, and in the driver dialogue for Intel HD, WiFi, etc., "Roll Back Driver" button is grayed out.

Noted. Clear things up for me. Thanks @Zapella Tiago & @sqlchicken

I hope I can finally connect to Wi-Fi without rebooting every time

Whoah - wifi is definitely fixed. WOW!

I had 8 Surface 3 Pro turned on at the same time, sounded like a server park with all that fan noise... Anything being done about that?

Surface Pro 4 will be fanless

Nice, fixed issue with my bluetooth mouse (sometimes it disconnected by itself and I had to restart surface to make connection again) Fixed minor wifi issues But battery report is still not fixed. I can't see info about mwh. There are not any values about mwh (hard reset didnt solve that.) I can see only %. :( (surface bought in US, but I live in EU)

​@davo_svk: I have the same issue since day1 with my Surface1 RT. Othe Surface1 owners insisted they can see the battey capacity. I have replaced it 3 months ago with the same model, and it has the same issue,so I no longer know what is the truth here. At least glad to see you have the same issue as me :D

Same here, i have a netgear ptv3000, and since the update, i cannot longer use it...

No issues here. I'm using my ptv3000 with my SP3 right now. The ptv3000 is running firmware version 2.4.46 if that helps you at all. No scaling required on either device.

I'm amazed how many firmware updates the SP3 has required. I have a Baytrail T100. My miracast has been flawless for months, as has my WiFi.
Hopefully the SP4 will have fewer issues as that is the one I intend on buying :)

So does anyone actually know what this means?: Surface Integration driver update (v2.0.1182.0) Improves compatibility of Surface Pro 3 with Windows 10. Are there any details about the way(s) in which is compatability has been improved?

Killed my ptv3000 connection as well. Starts to connect, resolution changes, then disconnects and changes back. Glad I just updated 6 of these at work because it was supposed to help Miracast...

Fix for the MS wireless display adapter (hopefully the same for other devices): install the updates, rollback the Intel HD driver and reinstall the newest driver (find it in "Surface Pro 3 January 2015 MSI.zip" at https://www.windowscentral.com/e?link=https2F%2Fclick.linksynergy.co... )

Trying this, but the download page isn't cooperating. I can see the list of download packages, I check the one I need, then I click "next". Then it takes me to a "Thank You For Downloading" page, with the message "if your download doesn't start in 30 seconds, click here". It doesn't start, so I click, then it takes me back to the same page where you can select download packages! So frustrating.

Glad they're not neglecting our Surface Pro 3s! :p

Anybody else still have WiFi issues with SP1?

I also use Netgear PTV3000 with my SP1 but cannot run Netflix. Is there a way to scale up to 1080i or is Netflix blocking Miracast???

Lol, driver has yet to be approved by Microsoft. This is the first time they've released an update for it.

aha, then it must have been the directx video update that fixed issues with websites not presenting webcontent on certain websites correctly on my surface pro 1, including images, section rendering and comment field instabilities on blogsites such as wmpoweruser.com, mywindows.com, pocketnow.com etc. I thought it would have been an internet explorer specific thing, but apparently that was not the case.

Never had wifi problems with my SP3 , have been very happy i dumped my macbook pro for the SP3

Surface pro lost WiFi due to this update. You would think they would check this out on ALL the surface products BEFORE they released it! What a botch!

Last night my wifi dissapeared from my Surface Pro. When I look at the Device Manager, the Marvell adapter is having issues. So I figure I'll sleep on it and figure it out today, but today THE KEYBOARD ISN'T WORKING. The track pad still works, but the keys are unresponsive. Seriously, is this a cruel joke?

Anyone daisy chainging two monitors via Displayport/Dock??
IT NO LONGER WORKS! What the heck. PLEASE FIX Microsft!
Windows Central Newsletter
Thank you for signing up to Windows Central. You will receive a verification email shortly.
There was a problem. Please refresh the page and try again.