Microsoft offers status update on new Outlook.com rollout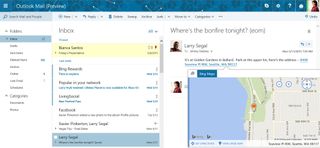 Microsoft has offered a status update on the rollout of the new Outlook.com. The update was announced over a year ago, and while the rollout of the new web portal began earlier this year, only a small group of people seem to have received the update. Speaking with ZDNet, Microsoft's Jon Orton explained how the company is conducting this rollout.
The updated Outlook.com experience is meant to bring the web app closer to the Outlook desktop app, adding new features like themes, automatically adding flight confirmations, and more. Microsoft has not announced when it expects the rollout of the new web app to be complete.
Windows Central Newsletter
Get the best of Windows Central in in your inbox, every day!
Can't wait for the new web experience.

Get it faster, I got it the day after I signed up here:
https://www.windowscentral.com/e?link=https2F%2Fclick.linksynergy.co... Sent from an alien space ship with a Lumia 950

And hopefully on par features on Mail app. Sent from Turing Machine

Don't know what they were thinking with the current layout.... having your message list and the reading view in that over under look is just terrible in my opinion. Can't wait for this

If you are talking about what I think you are talking about, you have the option of having your reading view off to the side.

I just found that. It's weird one of my accounts defaults the one way and the other is the other way. Oh well, new features are always good

The old view is a really old concept. All email clients from the early 2000s had that layout.

This makes me nervous. I like the UI of the current Outlook.com.

I agree, having tried the new outlook on my secondary email, I don't like it. I much prefer the old outlook, seems easier to use. The new outlook just seems a bit more convoluted. Posted via the Windows Central App for Android

The only thing I don't really like is window in window...

so I have come across two migration:
Hotmail -> Outlook,
Old outlook -> New outlook.
Feeling old.

Yeaaaah. I still remember the old msn mail look. :P

Me too. I like the old Hotmail background

I've had my Hotmail address from before MS even owned Hotmail...18 years now! Posted from Windows Central for Windows 10 on my Lumia 950xl

I remember using prodigy before email, then Juno and AOL

Outlook.com is sooooo slow on continuum.... Takes to much time to load

That is a generel Problem with outlook.com. Compared to other services it IS just very slow. Compare it with Gmail.com for example. I can click around there in no time and everything basically instantly opens up. But the O365 Web Experience is not that much better than outlook.com in this regards

Agreed... Gmail is instantaneous in continuum too. Microsoft should repair this.

Let's hope the new web experience is faster.

They can toy around all they want. I will continue to use the real Outlook. It will only change when I want it to.

That is how basic user adoption works, is it not?

Maybe I don't remember from any previous articles on this, but when is the rollout to eveyrone? This year?

Microsoft hasn't given a public schedule, as stated at the article's end.

This is the biggest problem with Microsoft IMO. They show us the future today and say we will have it someday. They make us want something they can't give us now. IDK about you guys but it makes MS seems slow for me. Yeah, if you have some knowledge on the matter you know it's hard to migrate from legacy systems, specially with that ammount of data, but for the regular users it just seems they're too lazy to make things faster.

Agree 100%. My BIGGEST issue is the tease and wait we have all come to know from MS. I believe this is one of the biggest reasons the masses have flocked to Apple. They are known for announcing, and having it available immediately. Not as much lately, but still way better than MS. Microsoft truly needs to TM "Coming Soon".

I hope the new Outlook.com won't ruin the experience like the mobile app one. The new mobile app one is too buggy and limited in basic features...

I prefer Outlook.com because it's less complex, takes no storage space to speak of, and I can access it with my phone (1520, W8.1) from anywhere. I'm happy they're upgrading it, though. It's slow on desktop and laptop, W10.

I have a hotmail id should I migrate to outlook, if yes then how and also is it necessary.

All you have to do is create a new alias in outlook.com. Make it an outlook.com address, then make it your primary address.

There is no need to do anything. Hotmail and Outlook addresses all run on the same infrastructure. Now, if you would rather have a new email address then that is something different.

Anyone else facing issues with the Store? (Windows 10)

Yeah. It's really weird seeing my personal account still on the older one, but my work account on the new schema when logged into both at the same time. The new look is really cool though, the themes are nice and the newer add-ins are a definitely welcome change.

i got it the day after I signed up here:
https://www.windowscentral.com/e?link=https2F%2Fclick.linksynergy.co... Sent from an alien space ship with a Lumia 950

Yeah, it's full now. So probably won't be able to get in that way.

I've had both accounts for a couple years now and never signed up for the beta testing on it, guess my work one is just lucky enough to get it without. :-)

Outlook desktop app is really not related to outlook.com. Its part of Office suite and email client. But with branding like that who would know..

I guess they must have been testing something on the back end as I was getting weird errors and would explain why OneDrive.com was constantly trying to refresh... and then stopped randomly. Wasn't able to upload or create any file or folder... lol

I had some weird constant refresh thing with OD, found it was a FF issue, switched to Chrome & other browsers & had no issue.

Can't wait to have my mailbox migrated.. My mother has it and I still don't..

Get it faster, I got it the day after I signed up here:
https://www.windowscentral.com/e?link=https2F%2Fclick.linksynergy.co... Sent from an alien space ship with a Lumia 950

Dude, the program is closed. Nobody cares that you got it the day after. Quit posting this link.

I don't know, but the way the redact a new message has changed.

Does this mean it will have the sync speed of Office365, too? My outlook.com emails get to my BlackBerry right away, but can take up to an hour for desktop Outlook to download them. My Office365 email is instant to any device.

Me too. Doesn't matter. Takes some time for some websites to rexognise tho...

So how can i try the new site? O.o

I have not been migrated... But I've seen it on others'... It is TOOOO damn slow!!...What the hell MS?? It's around 3-4x slower

All of my accounts but 1 have been "upgraded". The new UI feels VERY slow and clunky. Wish they had an option to leave it in "classic"-mode.

So, no status update at all then?

I am just sitting here, still waiting for that new look of Outlook! O_O

While my Hotmail.com account has been migrated, and for the most part, the UI is really nice, there are still some missing portions. For e.g. shared calendars is not yet supported in outlook.com. Apparently that feature is coming in August 2016.


Whenever I need my emails in a browser I still type Hotmail.com in my address bar... :) Posted from Windows Central for Windows 10

My outlook email finally got the update earlier this week

Im still waiting for it. Any date?

Outlook.com is so far behind. I should have to log out of my account to access a different one. On gmail or Google in general i can just click my user and swift c accounts. With Microsoft we have to logout, type in a different account information and log back in. Sucks for multiple people who use a same computer.
Windows Central Newsletter
Thank you for signing up to Windows Central. You will receive a verification email shortly.
There was a problem. Please refresh the page and try again.