Microsoft Office Online extension for Edge browser available for Windows 10 Insiders [Update: Maybe not]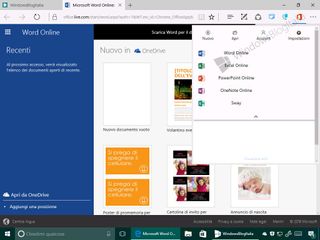 Update: It looks like the extension is not quite ready yet, but it will likely be made available to Insiders in the near future.
Microsoft has released its Office Online extension for its Edge web browser in Windows 10. The extension is available just for Insiders who have the latest preview build of the OS.
According to the (translated) info from WindowsBlogItalia, the Office Online extension for Edge includes these features:
Create a new document in Word Online, Excel Online, PowerPoint Online, OneNote Online, and Sway.
Open a document from OneDrive or PC / tablet without the Microsoft Office suite is installed.
Change the Microsoft Account with which you are logged.
Or not to send feedback to improve the product.
Again, this extension is just for Windows 10 users on the Insider program who have downloaded the recent preview build 14342.
Windows Central Newsletter
Get the best of Windows Central in in your inbox, every day!
hope they include basic world , excel without internet connection...

Microsoft edge is a browser and browser is meant for browsing the web and to browse the web you must have an internet access, so absolutely they won't make the office offline, cause by opening the browser it's means u have an internet access.

like I'm using edge as my PDF reader....without internet....dude!! opening browser isn't mean that any one have internet connection....

You're not using Foxit mobilepdf? Whoa, thought everyone was.

I wasn't. Thanks for the tip! Seems to be better than adobe. :)

now days PDFs it much of read only thing....so edge just work fine for me...

Yah but I like options like Night mode and different paging and text options.

ok...sounds cool....I'll try it...

They already do this - it is called Word, Excel, PowerPoint, etc. for the desktop. If you want offline, get the desktop version.

Yes get Office 365 subscription that has option to install the desktop versions Posted via Surface Pro 4 or Microsoft Halo Phone

people hate when money comes on way when you just want to do some basic things to work done.....just for day or two.....

Hi guys, could someone tell me how to simply reinstall edge? I had to change my password for MS account and it now crashes when I open edge :( with latest updates it is my daily use browser and now I had to use chrome again :(

The more extensions the better. Edge needs this to get more widely accepted

Office is available as an app from the Store, so I don't get why this is a thing?

To make using Online easier. Windows Central for Windows 10-Nokia Lumia 830

It's available... downloaded and installed in Edge.

so basically the extension is just a pane with a couple of links. I would rather like microsoft to make a decent read aloud extension for reading aloud webcontent in all languages. That would be a far more useful and valuable extension, then this half idea of making an office online extension. Users can easily make tile links and login to outlook online with the same result. This extension is more of the same.

I've just downloaded it and installed it from the store...it works, not sure what the "Not ready" is all about.

So pretty much just a link to them? Useless extenstion.

Won't work if you use a roaming profile since Edge is incompatible with a roaming profile environment, it seems. Love to be corrected, if I'm wrong.
Windows Central Newsletter
Thank you for signing up to Windows Central. You will receive a verification email shortly.
There was a problem. Please refresh the page and try again.