Microsoft to open first flagship store outside of North America in Sydney, Australia
Microsoft has announced today that it plans to open up a flagship store in Sydney, Australia — marking the company's first flagship store outside of North America.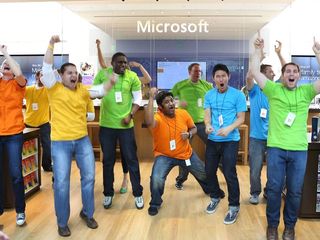 Microsoft says that the store, which will be located at Westfield Sydney on Pitt Street Mall, will feature a similar layout and provide the same services as its current crop of flagship stores. From Microsoft:
In addition, Microsoft says that it plans to contribute to the local community through hosting training workshops and community events, as well as donating volunteer hours and supporting STEM education in the area.
Though there's no word on when the store will open just yet, it will be the latest addition to Microsoft's expanding storefront operations which include over 110 flagship stores in North America, as well as 17 store-in-store locations in China.
Source: Microsoft (opens in new tab); Via: Twitter
Windows Central Newsletter
Get the best of Windows Central in in your inbox, every day!
Dan Thorp-Lancaster is the former Editor-in-Chief of Windows Central. He began working with Windows Central, Android Central, and iMore as a news writer in 2014 and is obsessed with tech of all sorts. You can follow Dan on Twitter @DthorpL and Instagram @heyitsdtl.
Let's hope India is not far behind.

I was looking for Sam Sabri in that picture... Lol

Has anyone found out what exactly does Sam do at Microsoft? I was hoping he would stress the urgency of Microsoft giving users what they want as well as getting a flagship Microsoft phone to is ASAP. With the news that Nokia may be getting back into the cellular space makes it that much more important. I think it's a prime time for a Microsoft branded surface phone. SP3 had introduced a standard of quality many Microsoft faithful's hadn't seen until now. Why not bring that same quality to your phones? Don't get me wrong, Lumia's (I have several) are okay, but surface is better. Apple, Samsung, Sony, and HTC, all have moved away from plastic to full aluminum or a combination of aluminum/glass high quality materials which people want. Sam has insight into the windows phone community that Joe B and Gabe Aul either ignore, are unaware of, or don't care about that could help Microsoft increase market share.

Sam works in the Expertzone team under Ben Rudolph. Microsoft is making you a flagship. I'd rather it right than soon.

LOL sam Sam Sabri : The salesman

Wen in UK more like! Australia? Ok.

Maybe another 100 years, given the time its taken them to get to opening a store in Australia!!!!

Well. Them I need to exercise a lot more!

Lucknow has an exclusive Microsoft store. Right now its just for phones. It has all the Lumia lineup, treasure tag, charging plates, coloud pop headphones etc. The executive had no idea about getting pc's or other products though.

Its the rebranded Nokia priority store, soon every other store is gonna follow the rebranding. (only phone related stuff available)

Nice nice. Expand beat Apple in number of stores. :D

I dont think thats possible, at least for this year. As there are 3 iStores in my area. We talking about South Africa now.

Yes they should open in South Africa and Zimbabwe. Zimbabwe did a survey and there are more Windows Phones being sold in the midrange than any other brand.

I can't understand sometimes how the people there in Microsoft are thinking: they should flood the world with stores. Look what Apple has done. Microsoft has tons of money and opens one and two stores just in the US, like they are the champions and they don't need them. It would be so good for Microsoft and its products to have many stores around the globe, i really don't understand why they act like this

I'm going day 1. Awesome news.

This is great!! wp down under ftw

I'll meet you guys there!

Yeah I'm in Melbourne but I'll fly to Sydney for the opening for sure.

Awesome. Now, Wen in India?

If they really want to penetrate open in Cuba.

Good. And it's kinda close to India, too.

Congrats to the folks in Australia! :D

Thanks, that's where I'll go get my stuff from without all those bloat ware.

If they open a store in Qld Australia then I may just be sending MSFT my resume :-)

You need a resume to work there?

Well.. My phone needs resume all the time to work .. bam

Of course you'd need a resume to work in retail... You need a resume of some kind to work almost anywhere. Well, at least as an adult and if the job isn't unskilled manual labour (fruit picking, warehouse dogsbody etc)

Yes, will go ave take a look.

Hmmm. That's in central CBD. Hope they open in North Sydney, Chatswood and Horrnsby as well.

North Sydney? Highly unlikely given its a ghost town on weekends lol. They don't open a lot of stores so don't expect another one in Sydney at all.

Nice work! Ok, when will the UK get one?

Well, you guys used to own Australia, right? It's kinda like two birds one stone

Of course. It's so conveniently located for us, too.

No, they never "owned" Australia, do some research, we aren't HK. We fall under their monarchy tho.

Why not the UK? Their products sell really well here and I want a chance to work in one of their stores lol

One in the Trafford Centre would be ace.

Except for, y'know, being in the Trafford Centre

Definitely London gets one first. Logical!

Logical, perhaps. But everything is better in the north. EVERYTHING.

I have to agree there Richard.

Sorry to disappoint but the largest EU5 market for Microsoft is France with England being a close second.

If you're looking at just England then you may be wrong. A store in England will ship anywhere in the UK so inclusive of Scotland, Wales and Northern Ireland.

Somewhere like Oxford Street or Westfields in London would do well.

Regents Street would also be good. I remember the Nokia flagship with fond memories. It was opposite where apple is now. When Apple opened that Nokia store was an empty shell. Time for some consumerist revenge lol. Seriously, London is the logical choice for the UK. It is unreal they haven't come here. But then many decisions, related to wp or whatever, don't make sense. I hope they can have something in the centre, even if it's a pop up experience - for the surface 3 or whatever.

100% agree - I cannot fathom how they can write off a billion dollars of stock and yet not have at least ONE store in all of the main markets, as a % UK is one of the top areas for WP. Ive been watching and fuming at the deals US people get (Instant swap of hardware, bing rewards etc) while we pay more for less. Very frustrating, customer experience and customer service as good as it is over the phone has to improve via real, face to face support. I look forward to the UK flagship, for sure I will be there on day one!

I know what you mean. I think we'll get a store in the next couple of years.

Why not Italy? I'm not Italian, but I think they deserve to be the first to have it in Europe :)

A flagship store with no flagship phone to sell? :facepalm: Still, the most interesting thing about having a store there is the time zone - they can match Apple on the glitzy launch dates if they choose to. Store will have barbies in, right?

Yeah tell me about it. They'll probably use cardboard cutouts as there " flagship" phones....
Silly

The low end phone Superstore!!

Looks like next Wednesday next week at 8:30 am the world will see the first high end device from MS...... Or not... But, maybe....
®®®®®®®®®®®
Well, we may actually get the DP for WP10.
http://www.buildwindows.com/

Completely forgot about that, thanks.

Microsoft has more than phones to sell. A lot more.

That's the problem right there... That's what MS thinks.... Hahahahahahhahah❗❗

Oh yes! - im all in with my company, love thier offerings and will only get better!

Omg get over the goddamn flagship phones you bloody child!

This coming from the guy with the 430 in his pocket....

Right, because it's all about WP and Microsoft have no other products to sell!!! :doublefacepalm:

Software and Surfaces aren't going to get people in the door to part with their cash. There's not much excitement or experience to be had in buying a retail copy of Office. Heck, even the packaging's dull as dishwater. I guess they'll have all sorts of cases, cables, laptops and consoles etc. But phones are personal. They're the device people carry everywhere, all the time. The experience of entering a console game store is very different from what MS could do with a decent store. They could go classy and engage with customers. But without any halo devices, it'll be another JB HiFi, and full of the same kind of customer.

I've got a 1020, love it. However the prices I pay per month, I'd sacrifice a flagship for a lower bill. Or just buy it flat out. No more 2 year contracts.

Great to see Microsoft Stores expanding out of North America, I hope they will also be epanding to Europe very soon!

"""MS to sell it's first flagship phone,,,, ever❗❗"""
.............
No joke...... It will literally be the first high end phone to ever hold the MS name...
..............
first flagship store in Australia, first flagship device ever.

Cool, let's hope the store in NYC opens soon

Wooo, ill be there, only 2 hours away from me

Awesome news, I've always wanted to check out a MS store, now I'll finally get the chance!

COME ON, MELBOURNE NEXT! woo! As an Aussie I'm totally jumping in the air like those awesome Microsoft employees in the pic.

Heck yeah, somewhere in the CBD or South Yarra would be cool.

Got all excited when I saw Flagship, alas...

Maybe next Wednesday we'll finally get to see something good.

Sweet news for us Aussies. Yeeehoooooo!!

Gotta lose the over enthusiastic crayons. They aren't that enthusiastic at Disney World.

Yes! So happy Microsoft Store is here coming to Sydney! Great location too at Westfield Pitt St Mall. Exciting times :)

Yeah it sure is a prominent position

Cool - right next to my office too!

This is great news!!!! I love or store in Edmonton Alberta Canada!!! I'm sure you will love yours too!!!

About time. Now they are giving us a store here in Australia how about a more functional Cortana on par with America. Let's not forget we want the Microsoft band too.

I imported mine from the states

Where is MS store in Miami?

Did the flagship NYC MS store open yet? Or are they waiting for Windows 10 and new flagship phones for the grand opening?

Totally calling dibs on going to the opening. HEY DAN...

You could send me instead. I'm willing to live on the street there for a few days. No need to pay for a hotel or food xD

Oh yeah, a WC meet up and maybe a live podcast recording onsite! I'd fly interstate for that and I'm sure MS would love the exposure! There has to be beer though, right...?

Great. Maybe in 15 years they will open one in Malmö.

That would be nice or Copenhagen. Probably more like 20 years though.

Wow this is HUGE go Microsoft!!! (Ps, when in India?)

Still waiting for the New York City flagship store to open.

Being a life long NY'er who has traveled the world a lot, Sydney has to be one of the best and nicest cities in the world. You Aussies are wonderful people!

And you are pretty amazing yourself - because you pay attention to detail like that :-)
I have to say, as it's relevant - when I travelled the world New York blew me away! I felt secure, people were friendly and I had bloody ball there (there in 2006). FunGuy13 you are welcome to come back DownUnder any time mate.

I've lived in both Sydney and Melbourne but NYC is my fave ;)

Woo!!! I hope they open one in Melbourne!

Italy now !!!! WP is at 15% here :D !!!!!!

Nehh..that would make sense

Great location to put a store in Sydney CBD. Apple and Samsung flagship stores are just a street away. But Pitt street mall is the main shopping hub, hopefully they're on the street level and not inside Westfield

I don't think there is much street level left, so unless something is closing down...

When in south bay California and when one spain

Well that is kinda significant.. interesting!
I might have to shoot over there from Adelaide and go to the opening. Interesting for Sydney AU to get the first flagship outside of North America - I would've bet money on the UK, the EU somewhere, or India before Sydney. Either way, it's cool!

There's strange things afoot at MS, that's for sure. Australia is usually way down their list (understandable given market size etc).
Will be interesting to see how they do.
However it goes, I'm a realist - I'll not hold my breath for a Perth store :-)

Not really. We get some things BEFORE north america. Its usually the case though that we have to wait years.

I can't recall any. Perhaps not stuff I look to buy. But to trot out a list off the top of my head: Azure, O365, Band, Bing rewards, Cortana, Zune, anything Xbox. I'm sure there's more. And you may well be right, but I can't remember MS launching anything in Oz first. What'll be interesting is how they handle the fabled "Australia Tax". They'll not want to antagonize existing supply channels too much (I guess) but if prices are still artificially high in a "branded" store (whatever the commercial entities behind the name) that could annoy people.

Considering Australians have always been one of the greatest uptakers of new technology per capita in the world, I am not really surprised... plus Sydney being the largest city in Australia (near MS HQ)... Does this mean they will stop passing their money thru Singapore to stop paying local taxes (besides GST) LOL From memory, Senator "How much of the 6 billion dollars in Australian based income went thru Singapore?", Miscrosoft, "All of it?" LOL

Its not MS HQ at all, just for Australia only way out at Macquarie Park, means nothing to the rest of the MS world, basically just their Australian offices.

Very exciting! Maybe I'll apply for a weekend job there...

Great news! We can only hope they will divide and conquer, Microsoft Stores on every street corner. (Not literally, of course, but you get the idea)

When will be on Santiago, chile would be good for get direct support from MSFT for phones, also if wants show up that windows Phone are premium devices should start to get the idea of apple ,get a store network which sells directly the phones, computers etc and accessories and have an worldwide warranty for Lumia in that way can MSFT get the attention that needs and reputation, in fact even the companies who have ignored us would say wait they are selling directly their phones so would take to windows Phone as an serious thing and not an attempt of MSFT for stay there in the smartphone market only

Yea that's real cool just put in my "Like" via Facebook post.

Why not in Melbourne!! -_-

Because Sydney is clearly better. Also nobody has heard of Melbourne outside of Australia

Sad that people still have this 1980's Melbourne/Sydney debate, I'm originally from Sydney and I think its been done to death and just makes anyone sound sad going to that path after all these years, grow up!

Sydney is way more techy and haute for a flagship retail store.

AUSTRALIA GOT SOMETHING FIRST!! THIS IS THE GREATEST DAY IN OUR NATION'S HISTORY!!

Great...will check out when its there :)

This "flagship store" is going to be way outshined by the amazing three-story Apple Store on George St. right down the street, just like the little Samsung store, though I can't really think of a better location for it there :/ The Apple Store there is just kinda unmatchable.

You know it doesn't have to look like an apple store.... Right? If they tried it would look sad, their stores don't try thank god.

I'm surprised they haven't opened one out of the U.S. already.

A flagship store without a flagship phone. Haha!

Not as funny as you seem to think it is.

They should of taken the store within a store approach to get ppl interest in their full blown stores and they would be able to get to their public quicker

Sorry, but when in in the Gold Coast area? One volunteer here.

This is great new I will be driving up for the grand opening for sure! Hopefully after Sydney they will open one in the Capital City of Australia

They're American dude, you might have to tell them where that is...

Yay nice, Melbourne next and hire me when you do... :D

Flagship store in Australia but our Cortana is still in alpha, what a joke!

What on Earth has that got to do with it?!?

Finally, Microsoft in Australia!
I will be the first to go to the new store. Can't wait!!!!

Is that a black guy in Australia? Lol

It's almost like you've never heard of Aborigines... there's a growing number of African-descendants too (Somalia, Ethiopia etc)

Umm yeah, half my friends are black and I live in Australia, native Australians are black, your point is? Damn you must be living under a rock.

Next up, Melbourne. Although I'm getting JB will still annihilate them for price.

It should come to Perth first! ;) At least you can drive to Sydney in a reasonable amount of time :P


I'd drive that! I've driven from Sydney to Brisbane before (about 10 hours)... and from Perth to Monkey Mia which is also about 10 hours. When I was younger my family used to drive from Perth to Sydney (and vice versa) in 2.5 to 3 days! According to Google Maps you can get from Melb to Syd in 8.5 hours :P

Should open one opposite every Apple store

Hope to see the new 1020 in there

When in Jakarta? Also if MS Store will be opened here, will it replace Nokia Care Center?

We have one in Finland... The old Nokia flagship store in Helsinki was transformed to Microsoft store after the sell on Nokia's phone business. Although I have to admit it is more of a Lumia store than Microsoft store at the moment.

I think the Netherlands is the last country on this planet where MS would build a brick and mortar store...

When in Nairobi Kenya? We are eagerly waiting

Something I hear a lot from non-techie friends is that it's great having an iPhone because if you have a problem you just pop into the Apple store and they sort it out for you. That's certainly an important consideration for my parents and their peers. I think it would help Microsoft sales if they had a chain of stores across the UK like Apple.

Europe wants some love too! Windows Phone has around 10% market share here, we deserve at least one flagship store per country.

Pick Japan. For ask the talk here, that worked be enough to help shake up the landscape a bit. For in the for showing off higher quality phones than most the local Android.

Agree Japan is a key market but perhaps this was more to do with the local MSFT country team putting a strong business case together, first.

Suddenly there are continents other than America !!!
Oh ! The world is a big place . :p

Fantastic news hopefully it'll be this year.

Hooray sick of going to a JB HiFi for my MS products

Microsoft : Convert Nokia Stores across the Philippines and make it Microsoft Stores. Come on!!!

There are still Nokia stores in the world?? Serious question.

Woohoo awesome :) hopefully Melbourne next!

That Indian-like guy sedm really happy :-D

Congratulaions to Sydney....Hope there is one in North of Iran Sari City!

India please. Atleast convert the nokia stores to Ms stores

Still hoping that Microsoft will change open up Microsoft Store in Indonesia...

Wonder would they ever open one in Northern Ireland, lol probably not, but if the do manager will do. I could sell the socks of lumia

YES!!!!! Now.. One for Melbourne MS ;)

Congrats, Oz! I've been to two MS Stores, in my hometown of San Diego as well as in Orlando, in fact I bought my Lumia 830 in Orlando. The customer service in both has been great. Also they're a little less, umm, smug than they are in the Apple Store. (In San Diego the Apple Store and the MS Store are about 50 yards from each other.)

Pls pls pls pls pls pls pls pls we need it in India pls India badly needs a store

http://m.smh.com.au/digital-life/digital-life-news/microsoft-sydney-stor... Opening store date in Australia. Would think new hardware would be available then.
Windows Central Newsletter
Thank you for signing up to Windows Central. You will receive a verification email shortly.
There was a problem. Please refresh the page and try again.