Microsoft is internally testing Outlook Groups app for Windows Phone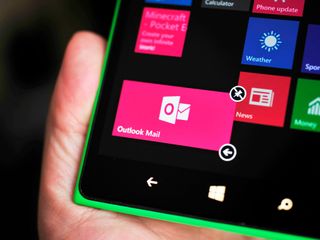 Looks like Microsoft has some big plans for Outlook on Windows Phone. A new UserVoice section has popped up called Outlook Groups for Windows Phone.
So far, the UserVoice is limited to just a few suggestions from people evidently testing the app and feature.
The proposals are as follows:
Ability to toggle groups between favorites
Group Creation from App
Let me change group photo from the app
Ability to view user profile
Member Management
Discover groups should all me to request to join private groups
The word 'groups' is not being used here in the more traditional sense of 'groups of contacts' for quick email lists. Instead, this sounds like a continuation of sorts of Rooms, which was discontinued in June. That feature lets users collaborate and share information, including calendars, photos, and more. Although the idea was good, it does seem it would be more appropriate for those in business or commercial purposes.
Update: Outlook Groups were announced in late 2014 (opens in new tab) and Microsoft describes them like this:
No other details about Outlook Groups for Windows Phone are known. However, with Windows 10 Mobile on the horizon, we imagine Microsoft has a lot planned for their 'one OS to rule them all'.
Update 2: Turns out, Satya Nadella talked about this app recently at the Salesforce conference. Watch the video demo above!
Source: UserVoice; Thanks, Matt N., and Darren for the tips!
Daniel Rubino is the Executive Editor of Windows Central, head reviewer, podcast co-host, and analyst. He has been covering Microsoft here since 2007, back when this site was called WMExperts (and later Windows Phone Central). His interests include Windows, Microsoft Surface, laptops, next-gen computing, and arguing with people on the internet.
I wish they bring back the people hub

A big disadvantage of the People Hub was that it could only get a limited number of persons to be part of a hub

Another feature/app rebranded. Yay.

If this is GroupMe, they do need to fold that into their existing property. Doesn't make sense to let it flounder on the sides.

GroupMe is pretty much an embarassment, especially on Windows Phone. Up until Microsoft sent out those threatening emails about the imminent closure of Rooms earlier this year (which still function perfectly for existing rooms, by the way, despite their assertations that some features like chat would stop working) and recommended GroupMe as a replacement, I was convinced that Microsoft had forgotten that they owned GroupMe. It is mind-boggling to me why they didn't take GroupMe and revamp it as a universal Windows app + cross-platform app (including Web) with all the features of Rooms: synced and shared group chat, Outlook calendar, OneNotes, OneDrive for photos and videos, etc. It could've been the best "group / messaging" app out there. Instead, their solution was to kill Rooms and then suggest people use the terribly bad GroupMe instead. It is perplexing.

Agreed. GroupMe are completely useless

Really? I kind of liked groupme. Sure, it didn't have all the features, but it had picture and messaging support.

My thoughts exactly, they need to put it into the Skype messaging app that would be perfect.

OT: Are you doing #AskDanWindows this week or has it turned into a monthly thing?

Ok #askDan when windows central will launch is universal app?

I wish to see "resigned windows central app" soon.. #universal

Daniel mentioned in another discussion the app developer left and they are currently getting a new person to work on updating the app.

Really? Does that mean Jay Benett left? :|

Are you sure? Because I just talked with Jay on reddit about a week ago, and he is currently working on the new beta.

Too bad I rather liked the chats jay and Daniel had plus jay did a great job on this app at the time.

Too bad Slack is already all over this. Given the ubiquity of Office, MS could pull this off if it's truly an extension to Outlook, but I have little faith in their ability to execute.

And too bad Slack left Windows Phone alone, a.k.a. discontinued it.

What do you mean "discontinued"? It's just chikne, and updating regularly, making great strides every week.

The Slack for Windows Phone Beta was released this summer and it's been getting updates since that time. Stop making up stories.

This seems like a better layouts than Slack. The files seen to have better organization than just being in the chat stream. I don't think Slack has quite cornered the market and there is definitely room for improvement. Posted from this here device.

Satya Nadella gave a demo of this app

Nice but I really need the Outlook alias support more than anything. Mail app for W10 right now is pretty much useless without it for me.

Just add a new account with that email alias, then. I did this workaround with my Win10 PC.

Really? I'll give it a try.

Hm, that doesn't work for me. Keep getting invalid address/password error during setup.

At this point, I'm starting to think they have changed their mind about the alias feature and actually do NOT want people to use it. In fact, I'm going to get rid of it myself. I will just open another MS account for each alias. Maybe that's a better solution because I think my alias addresses were attracting spam emails on my main MS account.

Open the Outlook webpage and make a rule that moves messages to your aliases to a specific folder in your inbox. Then, pin the folder in the Mail app. Tada!

No tada for me because it still doesn't let me choose alias address for outgoing emails.

Another major PITA thing they should fix: Show all accounts and unread Inbox msg counts without having to click on each account on the left pane.

I understood that Groups was taking the place of Yammer in Office 365 and has nothing to do with the old Rooms feature. If you haven't used Yammer, it is basically like Facebook for your company. You can post and share and like, create public and private groups, and it is all internal to your organization.

I have found the link of this app in the Store. https://www.windowscentral.com/e?link=https2F%2Fclick.linksynergy.co...

This is just a mobile interface for the Office 365 Groups that is currently available (Shared Inbox, OneNote, Calendar and Yammer). You can access it now via OWA with Office 365 or with Outlook 2016 preview. I am excited it will soon be available for mobile use.

More stupidity from Microsoft. Split yet MORE pieces up into MORE flipping separate APPS. I'm so sick of this! Groups in the People don't work worth a darn now, and they got rid of Rooms. If I saw Satya I'd punch him in the face.

Groups on Outlook are awesomes

All I want is merged inboxes. They better bring that back because it drives me crazy

Outlook groups looks like Fscebook Groups. But I like it way more. Posted via the Windows Central App for Android
Windows Central Newsletter
Get the best of Windows Central in in your inbox, every day!
Thank you for signing up to Windows Central. You will receive a verification email shortly.
There was a problem. Please refresh the page and try again.