Microsoft partners with Toyota to deploy Windows tablets at NASCAR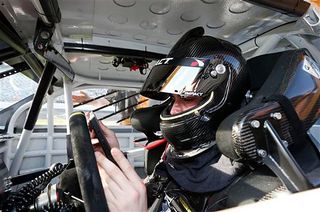 TRD (Toyota Racing Development) and Microsoft have teamed up to develop software that could provide the Toyota NASCAR teams a potential unfair advantage in races. The software (or app for those who enjoy using content from software stores) is called Trackside and will see tablet hardware deployed to crews, as well as in the cockpit.
So what does the Trackside app and a Microsoft Surface Pro enable the team to achieve? We're talking about capturing performance data in an efficient way, through the touch-based interface, which sports the ability to share the collected data with other hardware (in the hands of the crew) in real time.
As an example, this would allow mechanics to immediately work on fine-tuning the car for enhanced performance by analysing data accumulated and sent through the app.
The app will also provide data on competitor timing and score data, enabling the team to determine whether or not the right adjustments have been applied to the car and / or driver. It's fairly advanced stuff, almost turning real-life racing into the next installation of Forza for the Xbox. TRD's vice president of chassis operations had the following to comment on the development:
It's good to see Microsoft entering into partnerships for Windows 8, though we would like to see the company also carry out more developments like this with Windows Phone. Would this provide an unfair advantage to teams who would deploy such technology? Possibly, but that has yet to be seen and decided by the association. Then again, the technology could spread like wildfire and other race teams will jump on board.
Source: Racecar Engineering; thanks, Richard, for the heads up!
Windows Central Newsletter
Get the best of Windows Central in in your inbox, every day!
Rich Edmonds was formerly a Senior Editor of PC hardware at Windows Central, covering everything related to PC components and NAS. He's been involved in technology for more than a decade and knows a thing or two about the magic inside a PC chassis. You can follow him on Twitter at @RichEdmonds.
That's great!
I wish windows phone was involved more.

I wouldnt mind a surface pro integrated into the dash of my supra...then again i just want a surface pro.

That's like sexiness on top of sexiness...

One thing I cant understand is; why Toyota?
Microsoft corporation has a really strong partership with the Ford Motor Company.
Steve Ballmer's father was a high ranking executive at Ford. Bill Gates drove Fords.

+1 I hate seeing them rice burners in NASCAR. What's funny is the Camry is front wheel drive. Hahaha they don't even have a real rear wheel drive car. I really wish Microsoft would've hooked up with a fellow American company like Ford / Chevy

If you actually had a supra it would go good together.

search me on cardomain.. havent updated the page in over a year but the cars putting out 388hp 410tq 16psi of boost its a black 1990 supra turbo...

So - idea.
What if we could, say, dock the Surface RT/ Pro, or any other Win8 *or even WP8* device, and it controlls everything (i.e. radio - shows what is playing, your stations (6 on phones, 18 on tablets?), play/ pause, next track, previous track, or just loop a track (for those people that just have that one song stuck in their heads... seriously, why isn't this even an option?), then you have air controlls - Auto (later cars), Temp., Fan speed).

Have I missed anything?

But again... why not something like this? x.x Common, WP8 has the same dock in the same location on almost every phone. Why not?

Edit : Just thought of something - with all of that in mind, why not be able to plug in a phone/ tablet to start the car aswell? (Different kind of key)... Damn, this really could be huge if done right.

This is huge NASCAR is probably the biggest sport

Soccer is but NASCAR is pretty huge too

I think the 'hulk meant biggest sport in the US. And he'd be right. Not too many Americans (or Canadians for that matter) apart from 1st Gen give a rip about futból...

It's the largest spectator sport in America. Unfortunately its attendance has steadily declined since Toyota joined. Most hard core fans hate Toyotas in our sport.

For whatever reason it seems as if Microsoft isn't too focus on Windows Phone 8 to me. Crazy, but it seems that way.

This is just a news post showing a racing crew using a Tablet nothing more... Doesn't mean Microsoft gave anything up or changed focus...

Can't wait until the day they merge RT with WP on our phones. Given the potential of RT, combined with WP's social aspects, that'd kickass

For the pit crew this could be good, but I wouldn't want a driver taking thier eyes off the track to look at a tablet while hurdling down the track @ over 150 mph.

They already have alot of electronics on the dash.. But possibly a surface could put all those thing in a central location.. Less fiddling around with buttons if all the info u need is displayed clearly where u can see it

These are some really cool developments for Microsoft. I just may start watching NASCAR.

Its called football & is the biggest sport

You mean the sport grass fairies play

Nascar is great but i find lately its like reality tv.. Too much drama about drivers lives and less focus on actual racing...

how about they put gps in the car.....turn left... turn left.... turn left..... turn left ...in 3.4 miles turn left


Serious. Formula F1 open wheel or leMans then we'll talk.

This is how windows phone will succeed. Its office and SkyDrive integration will be very attractive for businesses. If they succeed in the business world, the employees will fall in love with the products and expand.

This is the reason we can't find surface pro's in the dang stores.

O yeah.. Damn haters.. Btw I got me the yellow 920 I fucking loved it.. Oops

I love seeing MS expanding into new areas. They need all the exposer they can get and doing it in an effective and positive way makes it all the better. I am sure they approached Ford first but they probably didn't want to spend time integrating/testing. Toyota was willing to take the time. If its truly effective, I don't see how it cant be, others will surly jump on.
Windows Central Newsletter
Thank you for signing up to Windows Central. You will receive a verification email shortly.
There was a problem. Please refresh the page and try again.