Microsoft plans to unveil new Xbox console 'next year' (Updated: Nope)
Microsoft's next Xbox console could be on track for a 2019 announcement.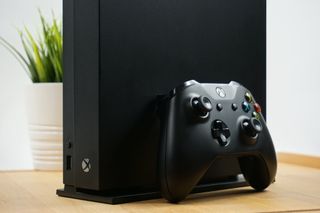 (Image credit: Matt Brown | Windows Central)
Update: Microsoft US has reached out to say: "This is a translation error. We have not announced any timeframe." It seems Jeremy Hinton's comments were misrepresented in the original piece by GameMeca when it was published, and they'll probably be updating their article soon too.
Original article:
Microsoft kicked off E3 2018 with a strong showcase, debuting various new titles while committing to future investments via five new development studios. Although new hardware was absent, its conference wrapped up with a brief tease of future Xbox devices in the works. Reiterating the company's commitment to industry-leading hardware, Xbox head, Phil Spencer announced its hardware team is "deep into architecting the next Xbox consoles."
Following the high note of Xbox One X, details on forthcoming hardware are currently limited. We already know Microsoft is developing a new Xbox product with a rumored "Scarlett" codename, though we're yet to find out more on the project itself.
While discussing the Xbox One's struggle to maintain traction in Korea, Xbox Business Lead for Asia, Jeremy Hinton, has reportedly expanded on Microsoft's next-generation console hardware. Speaking with major Korean gaming outlet, GameMeca, Hinton claims engineers are aiming to announce the console "next year." Below we have a translated excerpt from the article, provided to Windows Central by a professional translator.
It appears Microsoft is still deep in the console development process and is some way out from a formal announcement. It's possible the rumored Xbox Scarlett could debut at E3 2019 in some capacity. If true, it's unclear how large of a presence it would have – while "Project Scorpio" was announced at E3 2016, its full unveiling was held one year later. As for Korea, it appears that Hinton sees a new Xbox creating more challenges while attempting to gain a foothold in the region.
If Microsoft sticks to these outlined plans, this likely puts new Xbox console hardware on track for a 2019, or more likely 2020 release. After the release of Microsoft's 4K-driven Xbox One X, what comes next could be promising.
We've reached out to Microsoft for an official response to this report.
Windows Central Newsletter
Get the best of Windows Central in in your inbox, every day!
Matt Brown was formerly a Windows Central's Senior Editor, Xbox & PC, at Future. Following over seven years of professional consumer technology and gaming coverage, he's focused on the world of Microsoft's gaming efforts. You can follow him on Twitter @mattjbrown.
I'd only expect it in 2020.
That's also when Sony is aiming to release the PlayStation 5, even though they have already said that the PS4 has entered the last stage of its life-cycle. The Xbox One X isn't a year old yet, it'd be a bad move for Microsoft to release the replacement next year, specially considering the price of the One X and the lack of the price cut that was rumoured a few days ago.

I don't think it would be a bad move if it's a new form factor like the Switch. It seems they want to enable game streaming on "any device". A mobile Xbox would be the way to go. If that's what this device is then sooner is better than later.

Who cares about portable !!!

It makes a lot of money so any shareholder/gamer-on-the-go.

Only if it's Nintendo though, Microsoft shouldn't bother with a portable because it simply will not compete with the Switch/3DS. It is much smarter for them to focus on streaming to tablets people already have, get their resources and vision out that way.

We have portables they are called laptops and tablets. No need for a Switch clone. You all act like a Switch that runs in portable mode at 720p and at half the TFLOPS as the over five-year-old GPU tech in an Xbox One is a good thing. Most of the games that are really good on the current Xbox One/PS4 could never run on a Switch and those that do are compromised compared to the X1/PS4 versions. Developers would have to make to many design issues supporting a lower quality device when the next generation has moved. And we defintely don't need to splinter support the device would have to run the same games not different games like the PSVita did compare to Sony's PS3/PS4. The X is the minimum quality of gaming that any device Microsoft makes should be able to handle. If Microsoft can make a portable device with a touch-enabled 4K screen and with a battery life greater than 6 hours on real full-on gameplay and 5G LTE built-in that plugs into a home system without issues and all under $500 than OK. Not going to happen but, you can dream.

The new console wouldn't be a replacement. The OneX would likely become the new base model, retiring the older Xbox One S series and the newer one will be the new hotness. This create a drastic reduction in price of the current One X and more people will likely upgrade their older system for the One X. Those who are making the switch to Xbox, have the original Xbox One will likely want to upgrade to the One X or Xbox One "whatever". I held on to my 360 until they stopped making games for it. Lol

Although I'm always excited for new hardware I purchased the X on release day, wouldn't be wanting to upgrade again for a year or two earliest. Unless it's a huge step forward.of course!

I see Microsoft releasing a new Xbox every 3 to 4 years going forward as they have said from now on every Xbox game will be forwarded and backwoods comparable so I see the X replacing the s and the Y (guess name) replacing the X as the core console. For me I'm happy with that also no rush to upgrade to.

It's coming November 2020

2020 + Halo Infinite is obvious.

Makes sense even the xboxone x devs are struggling to optimize 4k. This was an awkward growth phase from xbox one to now with 4k already being out but consoles having to wait for video card technology to catch up and be affordable for sub $500 consoles. Should be easy to hit 4k 60fps but then a jump to 120fps would really make it stand out.

I think most people have been expecting a 2020 release.

I think its way to early to release a new console, but yes 2020 seems more plausible, Plus to compete with PS5, I don't know how they would improve by then unless 8K is a thing and maybe 120fps, who knows, then you wouldn't have to choose between a gaming PC & Xbox!!!! Also would make sense to release it when Halo Infinite comes out, get some traction with that game, not that it needs it!!!!

With the X having just come out I think it's still a ways out for the next one, but I'm sure they're always working on the next big thing.

Enough of game consoles...give us a 4k blue ray HDR player instead....

U are asking at the wrong place for that and in a digital world :D

You'll find that physical films still outsell digital ;)
Windows Central Newsletter
Thank you for signing up to Windows Central. You will receive a verification email shortly.
There was a problem. Please refresh the page and try again.