Microsoft previews new Windows Mixed Reality features with Insiders
New Windows Mixed Reality features are now available for Fast ring Insiders to check out in Windows 10 build 17115.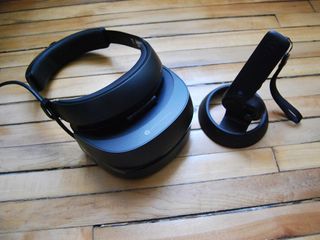 Microsoft today announced a range of new Windows Mixed Reality features coming to Windows 10 with its upcoming spring update. Available for Insiders to test now as part of Windows 10 Insider preview build 17115, the additional features include a new Skyloft environment to explore, improved performance and haptic feedback for SteamVR games, and more.
Here's a look at what's new:
A brand-new environment. In October we mentioned that the Cliff House was the first of many environments you'll be able to enjoy in Windows Mixed Reality, and now we're rolling out the Skyloft for you to customize and expand your MR experience. You can navigate there by selecting Places on the Mixed Reality Start menu.
As requested, we've added haptic feedback to the motion controllers for SteamVR games!
We've improved performance in SteamVR games with significantly lower video RAM usage. We've also improved the performance of live video preview in the Mixed Reality Portal on desktop.
You can now take mixed reality photos directly from your controller by holding the Windows button and then tapping the trigger. This works across environments and apps except for capturing content protected with DRM.
The automatic performance settings have been updated to provide an optimized experience, and we've added a new setting to override the default in Settings > Mixed Reality > Headset display.
Setup now provides more detailed information about common compatibility issues with USB3.0 controllers and graphics cards.
Many more improvements that the team has been hard at work on!
Windows 10's spring update, currently codenamed Redstone 4, doesn't yet have a release date, but Microsoft is starting to wind down development and shift its focus to the next big update, Redstone 5. However, if you're a Fast ring Insider with build 17115 installed, you can get an early preview of these new features on your Windows Mixed Reality headset now.
Dan Thorp-Lancaster is the former Editor-in-Chief of Windows Central. He began working with Windows Central, Android Central, and iMore as a news writer in 2014 and is obsessed with tech of all sorts. You can follow Dan on Twitter @DthorpL and Instagram @heyitsdtl.
Nice to see more environments coming.

Hi - I also had a mission control Place for the past couple of weeks.

That seems to have been replaced with the Skyloft

same shape as the Skyloft, but with red walls and a couple of additional models.

That was perhaps one of the worse descriptions I have heard. I will take to youtube to see what the experience is like.

excellent, I tried my best to make it as "worse" as possible 😊

It's about time for some news about WMR updates! I've been googling about it for months, and there is never any news. Really glad to hear that it's on their radar, and they're making improvements.

I've tried to post in the HoloLens forums(which is where people get sent if they ask about WMR in MS forums) and the Windows Mixed Reality FB page. It's been frustrating that they keep making changes/adding features and haven't let anyone know in the insider release notes. Skyloft was introduced as Mission Control back in January. As of today, Skip Ahead is using at least a build behind the fast ring for WMR. It still says Misson Control but they've made a lot of changes(a lot of the holograms that made Mission Control NASA like now say "Can't place" and they got rid of this cute little alcove and turned some walls into windows)

Try Reddit for WMR news. Search for Mixed Reality. The devs post there as well. Just Googling won't help much in my experience.

It would be nice in Skyloft if you can set the city to a chosen recognizable metropolis.

Anyone missing the ability to turn around non-physically in the Cliff House? Like in Google Earth - press and hold the trigger while dragging the controller - or something similar...

When you are holding down to teleport, you can turn. Just noticed it last week.

does anyone here find the cliffhouse or skyloft paradigms truely useful? or would a simpler interface be better for general use?

To be honest, I spend a lot more time in Steam's mountain retreat. Which incidentally keeps everything in one room - much better. Cliff House was a great idea in theory, but in practice it's just cumbersome...

makes sense. i've used it once and felt it was more a proof of concept rather than actually useful - much in the same way that microsoft bob intended to be... if mixed reality is to become mainstream we need quick gimmick-less ways to do things - like launch apps, navigate around etc.

It'd be easy for them to do too. Build a feature for pinning to the environment but default to actually launching what gets selected. "No, I don't want a 5th Halo head right here, I just want to play it without having to teleport around to figure out what room I left it in"

You should try it again. It works really well once you get used to it. The comparison to Bob was ridiculous.

Sure, it can benefit for improvements, but it's still the same concept as Steam's virtual environment. It's a buffer space between the real world and whatever you're launching next in VR. And it's shaped like a warm, safe space to make it easier to adapt to the MR interface.

Oh, good grief. A "warm, safe space"? Seriously? I want FUNCTION, not 'safe'. These houses, lofts, whatever, aren't functional. They are a hinderance to actually getting work done.

You've never even actually used mixed reality. That was probably the stupidest comment I have ever seen.

I think their VR desktop metaphor as a virtual house is brilliant and accurate. There's a lot of things to improve but I think it's better than what could be an empty holodeck with floating icons. Personally I feel comfortable having an intermediate, safe space that acts as a transition before launching into MR experiences.

I don't mind having an environment to pin things to as virtual screens. "Places" at least shows they are moving towards allowing fresh environments(so someone could have an empty holodeck if they want). What I really want is to be able to use the Start Menu to immediately launch things that are full screen rather than having to pin it to the virtual environment and hunt it down.

That's been my complaint about WMR from the beginning. I hate the concept of 'places'. That's a very inefficient way to work with windows. I like the round white room that SteamVR throws up before they paint their version of the stupid cliff house on it. A curved environment with no walls that you can throw any window you want up without trying to figure out how to navigate some wall.

Remember WMR's goal is a single paradigm for both VR and AR. When using HoloLens, the environment you're in is real, and they're trying to iterate the user interface to work great as a volumetric UI mixed with the real world.
I believe that is why their VR environments are based around virtual rooms, the goal being to experiments to find an interaction model that works identically well in the future, when all headsets will be see-through when using them for multitasking, and opaque only for immersive experiences.

The cliff house is great and will only get better when they add the social aspects to it. It is great if you need to get work done while in mixed reality. Anyone who says other wise probably hasn't ever really tried it.

The haptic feature has been active since the last release. Unfortunately, nobody seems to have an answer to how to turn that annoying thing OFF. At first I thought it was a SteamVR thing, but when I asked them about it they said it wasn't them, but something Microsoft 'turned on'. I need to be able to turn it off.

Really expect WMR to grow a lot over the next 2 years. If they can get cost down to $250 they will own the market in 2 years.

There are 2 things that I think would be great for this (the first being something I want, the second being based off ScubaDog's feedback):
1. Decouple Windows Mixed Reality Portal, Mixed Reality Viewer, etc, from Windows Update. Make them Microsoft Store updates please (that can be uninstalled too if someone doesn't want to engage with Mixed Reality. Then if someone plugs in a headset, install the app from the store automatically, like how the Dell Visor app was installed automatically when I plugged it in to my PC)
2. Add a third "Place" which is basically just a huge start menu which tapping on anything in the start menu just launches the app right off the bat. No fuss, no "homely feeling", etc. Just bish bash bosh get the job going immediately. Maybe call it the Launchpad or something? I don't know.

These changes are great. The work on Mixed Reality is top notch. I use my Samsung Odyssey more and more all the time.
Windows Central Newsletter
Thank you for signing up to Windows Central. You will receive a verification email shortly.
There was a problem. Please refresh the page and try again.