Microsoft pushes out surprise Surface Pro 3 firmware update for better business security [Update]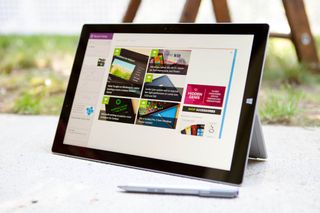 Microsoft has released a surprise second firmware update for the Surface Pro 3 this month. This software download is designed primarily for business and enterprise users to offer them better security for the 12-inch tablet.
Here's what's new in this firmware update, which should be rolling out to Surface Pro 3 owners in the next few days automatically via Windows Update:
Earlier this month, Microsoft released a Surface Pro 3 firmware update for the Surface Pen setting drivers to add "new functionality and features for the Surface app found in the Windows Store." Microsoft is currently selling most of its Surface Pro 3 models for between $100 to $150 off their normal price.
Update: A Microsoft blog (opens in new tab) has posted a more detailed change log of what's included n this firmware update:
Surface Pro UEFI update (v3.11.760.0) provides added flexibility to configure UEFI in Surface Pro 3 devices. As more of commercial customers are deploying Surface Pro 3 for their end users every day, they have asked for more flexibility to configure the UEFI in these devices. Here are some of the improvements that are now available -
I. Modifications to boot process: It is now possible to configure UEFI to allow the system to boot from alternate devices such as USB flash drives and PXE, without requiring Volume Down button to be pressed at boot time.
II. Advanced device security capabilities: Many customers have asked for advanced device security capabilities. For example, education customers want the camera turned off so students can focus on their learning experience in class. To support such unique scenarios, customers can now selectively disable following hardware ports on the device.
Side USB port, Docking ports, Front camera, Rear camera. On Board Audio. microSD card, Wi Fi, Bluetooth
Customers can also choose to disable Boot from Network (PXE) capability.
III. OS Configurable Settings: To help large enterprise customers support their provisioning scenarios, we have now added an interface to allow UEFI configuration settings to be managed remotely. In an upcoming update, we will be releasing a downloadable tool that commercial customers can use to configure UEFI settings on their devices.
IV. Surface Pro UEFI update (v3.11.760.0) improves customer experience while installing the firmware capsule updates. Improves performance of EFI applications such as 3rd party disk encryption software that load before Windows. Improves the reliability of the ESC key functions in pre-OS environments, such as Bitlocker Recovery screen.
Sometimes when the drivers would not load properly within Windows, the device would function well, but the driver would show a yellow mark in Device Manager. This would prevent the drivers from loading when trying to attach a cover or plug in a USB device. The update resolves this scenario.
Source: Microsoft (opens in new tab): Via: WinSuperSite
Windows Central Newsletter
Get the best of Windows Central in in your inbox, every day!
Wish I could buy the surface pro 3 in India It is so awesome

The Internet and UPS are amazing advancements. Posted via the Windows Central App for Android

His point is that we may never know who was behind the JFK Assassination.

That he can order over the internet. How is that difficult to understand? I imported. from ebay, a SP 3 from the U.s.

I assumed this was obvious, but apparently not. This is what I meant. And who was on the grassy knoll? We will never know.

All good and well, but when you live in a country where customs checks every package and makes you pay an additional 30% to 70% in taxes, the fun ends ...

claiming the warranty would be an issue?

And the SP2? Looks like Microsoft forgot about this device...

There was a firmware update a couple of months ago.

Don't worry. When the Surface Pro 4 comes out, they'll begin neglecting and ignoring the SP3 too.

It especially needs the last bit in the article update about the drivers

I'm waiting for surface pro 4

Surface 5 will be faster :D

But I am sure that Surface Pro 6 will be more faster

Maybe they fixed the nsa/cia hack to get bitlocker keys ;)

Did I see a new progress bar when the update was actually installing? I remember a percentage that would climb up to 100% at the bottom of the screen during previous hardware updates. This had a progress bar right underneath the Surface name in the middle of the screen.

Progress bar was added a firmware update or two ago.

Hmm... Dev Preview of Win10 isn't showing the firmware.

Mine is still trying to install January 27 firmware, even though two or three times it has been marked successful.
Windows Central Newsletter
Thank you for signing up to Windows Central. You will receive a verification email shortly.
There was a problem. Please refresh the page and try again.