Microsoft pushes Surface Pro 3 and original Surface RT firmware updates for March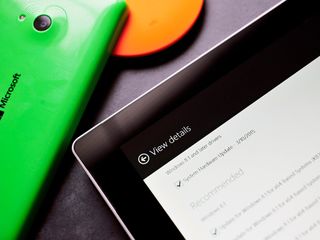 The Surface Pro 3 gets much love from Microsoft, as it should. The company is actively updating apps, firmware and adding features based on user feedback. With that, it is no surprise to find a new update for the firmware today o Patch Tuesday.
Additionally, the old-school Surface RT also has a small firmware update waiting for it as well. This leaves nothing new for the Surface Pro, Surface 2, or Surface Pro 2.
Listed as System Hardware Update – 3/10/2015, the new firmware brings some new functionality to the Pen.
Surface Pro 3 – March 2015 Update
Surface Pen Settings driver update (v3.0.64.0) enables new functionality and features for the Surface app found in the Windows Store.
Surface RT – March 2015 Update
Audio and Display driver set (v9.17.13.0907) improves audio and video experience and enhances system stability.
The Surface Pro 3 update refers to the corresponding Surface app on the Windows Store (that used to be named 'Surface Hub'). That app has not been updated since February, so it is not clear if new functionality is coming down the pike in a later upgrade.
The last firmware update for the Surface Pro 3 was in January.
We have just installed the new firmware to our in-house Surface Pro 3 and so far, have not found anything new. This update may be laying the groundwork for another Pen option in the near future.
Regarding the Surface RT, although those on the market that are probably still using this device is likely dwindling, it is nice to see the audio and display support is still there.
To check for these new firmware updates, along with all the other Security Bulletins, head into your Windows Settings, Change PC Settings, Update and Recover, Check Now.
Due to the rolling out nature of these firmware patches, you may not see an update just yet.
Source: Microsoft (opens in new tab)
Windows Central Newsletter
Get the best of Windows Central in in your inbox, every day!
Daniel Rubino is the Editor-in-chief of Windows Central, head reviewer, podcast co-host, and analyst. He has been covering Microsoft since 2007 when this site was called WMExperts (and later Windows Phone Central). His interests include Windows, laptops, next-gen computing, and for some reason, watches. Before all this tech stuff, he worked on a Ph.D. in linguistics, watched people sleep (for medical purposes!), and ran the projectors at movie theaters because it was fun.
I hope this fixes the annoying issue of the touchscreen going crazy with phantom touches on the Surface RT.

My God, at least I am not the only one! I love this device but it is almost unusable at this point and getting worse. Do you just hit power off\on to fix it? So sick of this problem but waiting for the Suface Pro 4. Was hoping I could keep this as a dedicated ktichen table Netflix\Plex machine but these phantom touches are killing that idea

I doubt a software update is going to fix it, I believe it's hardware issue. I had to have mine replaced on warranty because of the phantom touches, I couldn't get it to do anything. Something about the digitizer in the screen? I don't know, my memory is fuzzy. The replacement RT I received has never had a phantom touch issue.

It only started for me after the previous firmware update, I also found that disconnecting the keyboard and reconnecting it seemed to "fix" it.

That's a bummer. I've had my day one surface RT, and never have had an issue with it. My type cover....thats another story (my number 9 key is falling off). Time to get a touch cover.

I also think it's a hardware issue. I experience it occasionally on my RT but my Surface Pro does not have that issue. I just let it go, it's already way out of warranty, will be putting the RT to sleep soon anyways, probably replace it with a surface 2 when I get a deal on eBay or something...

I had this on my first original RT. It was a hardware issue - they replaced it and I have never had it again.

Only problem I can say I have had with my RT since launch (UK at any rate) is the unit failing to resume correctly and presenting a black screen. Only option is press and hold the off button. Fortunately never experienced any other issue worth a mention. Actually still enjoy it today and I guess its testament to the reason why tablet sales are falling general just no reason to upgrade or replace yet.

Me too. But I also have had some freezes about twice a month, I use it daily.

Becoming much smaller in size or number basically.

Market share may be dwindling but sales volume is growing at least!

It usually means getting smaller, disappearing or wearing away

Come on were is the Nokia RT tablet update?

It runs RT and has the same 44 updates today.

Update for RT? That's nice. I think I am going to turn on my Surface RT again after 3 months. BTW, I think it will "seems faster" after the update :P

And what a short life it was.

It wasn't that short, at least for a device. As a class, well, it got outclassed. Which is too bad, I liked a simple flash-capable browser device. Bring on the Surface Pro 4.

My Mom will be happy that her RT got updated! Although I doubt she'll notice the difference.

Does she make lots of money on the computer, click here to learn how...? Sorry, but I've seen a lot of those lately.

I still use my surface RT every day. It's perfect for Netflix and internet surfing, which is all I really do on a home computer anyway.

It is a great coffee shop tablet and couch wingman. I thought it would be slightly more functional when I purchased it initially, but I'm not unhappy with it.

Still a happy user. Use it mainly when I go on road trips and vacations.

My wife has mine. I finally picked up a Surface2 when they discounted them on ebay. Still very happy with Windows RT. Its a great PC companion. Its where I do the vast majority of my web surfing, music/video, personal email, games, etc. When I'm out and need to do something work related, I just remote into my work PC and I'm good to go.

Love RT. It was a big pokey first, but after a few updates they got it working pretty decent. RT definitely gets a bad wrap.

I would love an update to fix the on-screen keyboard from covering up what you are viewing on websites as well as it not showing up if you close it and then try to click in a new text box to type. Makes it pretty inconvenient.

I know its off topic...but you guys heard about the New 5.0 lolipop for lagdroid? After the restart many people who had 60% battery there was a message "low battery" and the phones never waked up

Loving all the updates from Microsoft. It feels like some one in the office is actually using there products.

I hate how MS pretends the Surface Pro 2 doesn't exist even though it has hardware almost entirely similar to the SP3. My 256GB SP2 has better internals than 3 of the 5 SP3 models.

If it ain't broke, don't fix it. SP1 and 2 have received their share of firmware updates, not really sure how SP3 and RT getting fixes at the moment means MS "doesn't care" about SP1 and SP2.

Nice, still looking out for the rt fans.

Still no fix for my surface 2, which has serious nvidia driver issues. The driver crashes regularly and the device crawls until restarted. Shame they cant even get their own os on their hardware to work reliably.

I have the same problem with my surface 2..

Every so often, mine will freeze up and the screen will have narrow vertical rectangles with flickering lines. Is that what you're getting, too?

I had the same issue, but it has not happend even once since last firmware/drivers update (october?). I am sorry to hear it is still happening to some people, as it was really frustrating. I hope MS never uses an Nvidia product again.

AMD is no better, instead of looking into their 15.x driver making APPLICATIONS fail, they're adding more cores to everything.

Never had the touch issue on my RT. Hoping it stays that way, I still use it daily.

Lumia 2520 updated as well

Does anyone have trouble streaming video on there RT every twit app I have tried and even in internet explorer it keeps freezing!

Seems faster. And yes, I know that's an overused reply on Windows Central posts but I'm not kidding: after the reboot, everything *Really* seems faster (not that it was slow before though). So the firmware upgrade also gave a boost to the Surface Pro 3, nice! :-)

Still using my Surface RT every day for work and play. As long as I keep enough empty space (save content on SD card) then it is speedy and a joy to use.

Strange. I went in. on my Surface2, to look for updates. It said that updates were installed at 3:25 am ET, today. I did a check for updates and it found 44!!

I use my Surface RT almost everyday. I recently picked up the HP Stream 7 and have been enjoying having a full Windows 8 on a tablet. But the battery life and screen on the Surface RT is hard to beat. Of course the price difference is incredible but they are a few years apart.
Surface RT 32Gb - $599 with Touch keyboard
HP Stream 7 32Gb - $79

I am glad that microsoft is still taking care of the Windows RT devices this is the kind of the thing that will make Microsoft a good firm to buy some hardware from. go Microsoft go!

Has everyone gotten the Surface 3 firmware? I havent gotten it..on windows 10...I dont think that matters? Is there a manual link to get it direct?.

I'm still waiting. Did anyone get the pen driver update?

HMM, Has anyone got this firmware that is running windows 10?
Windows Central Newsletter
Thank you for signing up to Windows Central. You will receive a verification email shortly.
There was a problem. Please refresh the page and try again.