Microsoft pushes Windows 10 Mobile Insider build 15051 to the Slow ring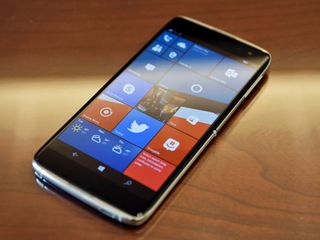 Windows Insiders on the Windows 10 Mobile Slow ring are in for a treat. Windows 10 Mobile build 15051, which only just rolled out to the Fast ring a day ago, is now available for Slow ring Insiders to pick up.
As with previous recent builds, this one doesn't contain any new features to speak of. It does, however, pack in plenty of fixes for nagging issues, as well as some known issues to be aware of. Here's a recap:
What's new for Mobile
We appreciate several of you sending us feedback on this and last week, we focused on fixing issues that resulted in frequent reboots for some Insiders on Build 15047. If you continue to experience unexpected reboots, be sure to send in feedback to us via Feedback Hub so the team can take a look!
We fixed an issue resulting in certain inbox apps, such as Calculator, Outlook Mail, Outlook Calendar, Groove Music, no longer being present on the system after a hard reset.
We fixed an issue resulting in Groove Music not resuming playback after ending a phone call if the app became suspended during the call.
We fixed an issue where periodically attaching larger photos to a message in Messaging wouldn't work.
We fixed an issue from recent flights where, in certain apps, if you had selected editable text and pressed Shift on the keyboard, the keyboard would crash.
We fixed an issue impacting certain UWP apps using pivots, such as the News app, where the pivot control could end up becoming offset after quickly swiping through the pivots.
We fixed an issue where asking Cortana to read a text message over Bluetooth with many back to back emoji would result in high pitched distorted noise.
We fixed an issue where after upgrading some Insiders were unexpectedly seeing the full QWERTY keyboard on the lock screen instead of the pin pad.
Known Issues for Mobile
We have discovered a bug that causes background tasks to not run in the background like they should such as OneDrive's camera roll sync feature. Please double check your photos have synced to OneDrive on the latest builds. We've got a fix for this issue coming in an upcoming build where background tasks will run again and your camera roll will sync to OneDrive as expected.
If your device experiences an unexpected reboot, in some cases you may lose your call, text, and email history may be lost. We're actively investigating this issue. If you believe you've hit this, please up-vote this feedback item In Feedback Hub.
Speech packs may be unable to download on this build.
Fast ring Insiders also got access to a new build, 15055, for both PC and Mobile today as well.
Windows Central Newsletter
Get the best of Windows Central in your inbox, every day!
Dan Thorp-Lancaster is the former Editor-in-Chief of Windows Central. He began working with Windows Central, Android Central, and iMore as a news writer in 2014 and is obsessed with tech of all sorts. You can follow Dan on Twitter @DthorpL and Instagram @heyitsdtl.
They seem to be stepping it up.

I have no idea why this is being pushed to Slow Ring with all the crap bugs it has.

Maybe because they need more feedback for these bugs than fast ring alone is providing? Slow ring is not a stable ring, it's still a beta test ring. If you want a bug free release, stay out of fast AND slow.

more feedback? MORE FEEDBACK?
How does Apple/Android test their builds? Only a small amount of people get the chance to download it and its ENOUGH for them!!!

Perhaps it escaped your notice, but Windows Phone has a slightly smaller market share than Apple/Android.

LOL!!!!! "Slightly." LOL!!!!

I was being sarcastic, lol. I'm well aware that WP has 99% less market share the the rest combined lol

All users are permanent beta testers, you just didn't know it.

right,> ALWAYS< being updated

You apparently forgot the disasters iOS8 and Android 5.0 were. It took quite a few updates before both of them were usable or stable enough.

What @Cryio said. It took a few months for those two OS's to stabilize.

a FEW MONTHS dude, not a FEW YEARS thats a big difference, dont you think? :))

They've only been testing the Creators Update for a FEW MONTHS 'dude' - but you probably already knew that....

how long are they testing W10M? Because it has BUGs like it was still in ALPHA "dude"

Take a chill pill "dude", we get it you don't like W10M, no-ones forcing you to use it. Go back to your precious Android.
Life is too short for posting SHOUTY messages that nobody cares about

And android does not update its entire hardware base with tested code. So they are a poor example of how it should be done.

updates for Android/iOS WORK because they FIX problems for WM fast/slow ring causes even more BUGS then without it :D

Do us all a favour. Go back to the anniversary update, unprescribe from insider and never prescribe again. You totally do not understand the concept of insider.

:D the problem is this - if I want to have a fully working phone then I need to be an INSIDER so guess what? Go educate yourself and stop attacking customers who are not happy with Microsoft

Andriod is a security nightmare:'-)

I wouldn't say that...
iOS screw ups too. And if you don't upgrade your hardware, you will be left behind pretty soon.
And I remember (was it Android 5.0 or 6.0) had a memory leak issues, took'em a while to fix. Alpha is called alpha and beta is called beta for a reason (not just OS but apps too).
Even Google lets Nexus user test out new ROMs. I'm a Nexus user who hates 3rd party api tweak that makes phone unstable.
iOS? won't be my pick. Time consuming, too many steps to get thing done (and ugly). * I'm a game programmer, a lazy one. I also hack application, websites, write automations to try to make my life easier.

With 0.0% market share, just how many people do you think are in the"fast ring"?

Up till now nougat update for android is still not useable, it is filled with bugs.

Even production updates have bugs.

Minor and rare compared to Windows.

I have it on my phone no problem with the store download app or app opening after

You betray your username.

Updates! Updates everywhere!

Fingers crossed the release preview is around the corner.

How the hell can they not be getting speech packs right by now!? A few years not enough time to work that one out!?

Do you think they have fixed anything since it was on Fast Ring?

It's the same build. Just released to slow ring in delay. As always.

MS: What about a fresh production build?

What about a fresh prince of bel-air? Oh wait..

Do you mean Redstone 1? If so, they will release one on the 14th, 14393.934

Why are you so optimistic?

May see 14393.953 on the 14

It is never a fresh build, it's always being updated........bug fixes and new elements.....

I am waiting for new Nokia with Android.

Just an android "me to" phone with a Nokia label slapped on it. Not really Nokia.

The new Nokia phones have distinct Nokia design language. I aint buying coz I have no patience for anything Android. Also, their models with Carl Zeiss optics, something which is a must for me, are way too overpriced !

Yeah, i think i jump on that to. Am tired of bugs, event though i hate android....

Apps that install only on phone memory fails to install. Have to manually change in settings before downloading.

Windows still needs to check out why frequent black screen appears.

Still get the full QWERTY keyboard on the lock screen... Pain in the backside when you are driving.

Shouldn't be using your phone whilst driving.

I had the same problem and had to change my password to a more difficult one once i upgraded to fast ring try that.. But don't phone and drive honestly

Installed well on my L650 with no issues, seems a bit smoother, test will be Cortana operation whilst driving.

15055 @vailbl for fast ring.

15055 @vailbl for fast ring.

15055 @vailbl for fast ring.

15055 @vailbl for fast ring.

Atleast someone from Assam's in.

I m not insider. When it is available to public.

We have to wait till May? Darn....

Anyone with a L640 want to share how this build is working [or not] for them?

What happened to release preview builds...we got nothing for a while

Release preview is closed now

Because release preview will not get any unstable builds.

Yep, only "real" production release.

Surface in Alien Covenant trailer ;-) https://youtu.be/B4Cmf4BuNgg?t=45 and later the only CPU that matters... AMD - watch out for logo...

When Lumia 1320 will get the update 😐?

Go on XDA. You'll find how to update to RS2 there

They should come up with a new name for "Insiders" for mobile platform testing. Since us "insiders" are the only ones still using W10M... I wonder for whom are we testing it for?

Re: jarmopit,
Funny but not entirely true. My wife and I have never been on the insider program. I wonder what the real numbers are? I think "assuming" there is no one, is a bad idea. Thank you for your help in improving the mobile OS. We are looking forward to the next production release build. April?

Since buying my 950XL I have been on the production build. So count me in as one of those W10m users you are testing the OS for. ;)

Be patient. It is much improving lately on my phones as well as on my computers.

Only difference is that PC are light years ahead of mobile in every way.

I've been an insider for years. I'm on the slow ring using 950XL running 15051, with no issues. OneDrive is working fine, speech working fine. I'm still trying all of my apps. So far, so good. I will update when I find an issue.

I just wish they fix the issue with my 650's wifi suddenly stopping working for no reason whatsoever, for like 4x a day. I need to restart my phone every bloody time!!!

Igh... 0x80070273 ERROR NOOOOO!!!!

Me too..... Lumia 1520. First time I've not been able to dwonload or install an insider update. Can't be bothered fighting with it so will just wait for the next release and hope that works. Luckily it's my backup/hobby phone so I can do a hard reset if necessary. Seriously, I am getting so disillusioned with W10 mboile though - I have been a hard core Windows Phone supporter since the day WP7 was released and have had 5 or 6 Windows Phones but I'm really sick of W10 never getting a proper release. Sick of maps being so terrible (wish I could use a *much* stronger word here!), sick of Bluetooth working in my car (VW Golf) one day and not the next (no issues with my GF's Android and my friend's iPhone - just embarrassing). Sick of the endless nags for feedback. Sick of not getting updates or bug fixes in the few major apps that are still being supported/developed. So yes, quite sick of the whole saga really. Having said all that I will stick with it as I hate Android with a passion and I refuse to be an iSheep. To me it's clear - they've abandoned W10M because the next release of "Windows Mobile" will clearly run full W10 desktop apps.... and as a dedicated Windows developer I say bring it on! I will stay loyal simply because I love developing my own apps (I don't even bother selling them) that do what I want them to do - and I willbe first in line for the next generation of Windows Phone - but surely it's obvious to everyone MS are probably never going to actually release W10M. They're just feeding us these (mostly useless and irrelevant) updates occasionally to placate us and keep us engaged.... we're here talking about so we must be, right? But they need to get this right SOON or I will be forced to also give up on a platofrm I actually really love for the most part.

These days, I cannot for the life of me figure out why anyone would voluntarily sign up for these fast ring, or even slow ring builds. It used to be that you got advanced new features before anyone else. Now it's like, we slightly adjusted the kerning on the font inside the settings menu for asparagus emojis. Also, your mail and phone apps have been deleted from your phone and 75 other bugs that will crash it. Seriously, I get that these are for testing things, but how do they manage to have so many critical errors without adding any useful features for like the last year?! And I could forgive all of that, if they would just listen to feedback, but they straight-up ignore things like the current version of Maps, which now barely works since the update back in like December 2016. And that is not on any preview ring! That is the regular app! I would seriously pay $20 for the ability to roll back to the previous version of Maps.

I'm up voting for the asparagus emoji. Ha!

They should just stop dropping mobile builds now, totally worthless.

I saw where you can re install this build to fix things how would you reinstall it?

Setting /apps/apps and & features reset

You can reset some non system apps that way, but I don't see where you can reinstall the whole build.

oh setting/system/about- rest your phone. will do a hard rest

Do they friggin even release for the preview ring anymore? Pathetic.

do you know what 'preview ring' means?

I would think the software would be iterated / evolved to the point of "preview" just prior to "production release".

"Release preview" means you get the final release version, maybe one build earlier if you're lucky. But yeah, you wont see anything until right before final.

What is the phone picture in the article?

I never noticed the curved glass edges on that one.

IT has curved 2.5D glass at the edges but it is not a curved displa like the S7 edge. Looks pretty cool though!

My Uncle Hayden got an awesome metallic Volvo S60 T6 R by working part-time online.
Open this ,,,,,,,,,,,,,,,,,,,,,,,,,,,,,,,,,,,,,,,,, http://www.moneytime10.com

Off topic ..did they fix the issue in camera app..?? The constant saving appearing on screen after taking 2-3 photos ,its annoying too much..

Microsoft is pretty much done for. They have no idea what they are doing. Just running around like a headless chicken. Google imposed their model with Android and unfortunately none can copy it. Apple has its style and crazy fan base and is still struggling to get more market share. Microsoft has none.

Nowadays, Microsoft is exactly the leader company of creativity with surface series and Windows 10 system. Both Apple and Google watching Microsofts steps carefully. That mean this company knows what to do. Unified one OS for all platforms.

Surface is awesome. W10m is trash. What, 3 years of insider testing and bugs bugs everywhere. Bluetooth on 950xl stutters when you open other apps. Screen display crashes if you click the power button too quickly. Always "resuming"... I hope they do not pollute the surface brand with a nasty surface phone that uses W10m. Although it doesn't matter since I'm finally jumping ship to one of the 8 phones later this year... The promise of W10m has never come true.

3 years, really? If you don't like bugs, leave Insider.

No problems for me.
Ignore the trolls. Use and support what you like, or be like the trolls and be part of the problem.

Does anybody know what wallpaper is that? Or at least something similar to it. The phone and the Start screen look beautiful.

http://imgur.com/a/DAyj3 ?

I've just dug out my 2 old windows phones, the 1520 and the 950xl to see if anything has changed, clearly not, everyone here really needs to sit and think about why they put themselves through this needless misery, and clearly what is written here on almost a daily basis is utter negativity. What on this earth could be fun in waiting and waiting and more waiting for something that isn't going to happen and That is windows 10 mobile, finished, complete, and polished.
It's time to move on, let the system fade away, It's not going to be anything else but broken, or at least unfit for daily use, apps are disappearing slowly but surely, and any self respecting coder would stay away and focus their energy on other platforms. For goodness sake, Microsoft themselves are channeling their energy towards android and apple with regular updates and new apps, where are they here?
Challenge yourselves with a sensible question and you should know what That question is!

Been using 950 on fast ring as daily driver pretty much since I bought it, and I have no idea what you're talking about. Actually, that's wrong, what I know is you have no idea what you're talking about.

I only want production quality rom on my phone even when its my hobby phone. Microsoft please adjust your attitude. Which person on this univeral does not want stablilty for their devices. I prefer that Microsoft stick with their proven approach which is to release new features on new Windows version. The existing windows version should remain stablility and security patches only. Can't stand the roller coaster ride.

@Joey Sfb, this is news about an Insider build -- you can opt in to the Insider program for early visibility of features to provide feedback to MS about what works for you and what doesn't, or you can choose to stay on the production builds. How does it harm you that MS offers the Insider program as an option for those users what want to participate? I don't understand complaining about the existence of the Insider program. It's a win for everyone (usres who want early access get it, users who don't benefit from the better and wider beta testing before final release), except possibly MS in the risk they take by disclosing upcoming features early.

http://www.windowsphonearea.com/microsofts-andromeda-os-evolution-window... This is a link to an article from Windowsphonearea. They have information from their sources that Microsoft has 4 stages to reach their goal. We are currently in stage 1 and will be heading into stage 2 in Redstone 3. This is a good article to read especially for people who think Microsoft is done and should stop their efforts.

Does this release have the "apps won't open" issue that's been on the previous 2 fast insider rings? I couldn't open most apps, they just froze on the spalsh screen. All apps affected didn't have a "repair" option. Had to go back to release preview so I could use my 950XL.

Yes most apps can't open on this building mostly WhatsApp and telegram

Yay, thank you MICROSUCK for deleting my text, phone, and contact history!!!!!! Also thank you for making maps a useless POS. My favorite feature is the repetitive and constant nagging that my email account settings are out of date for all 5 of my email accounts.
And to top it off one of those accounts just flat out wont work at all anymore. I also love how the battery drains and lightspeed, the keyboard works like crap, and notifications are random and sporadic. Thanks Microsoft you're the best!! MORONS!

I don't see it I'm on slow ring

Never mind. I got it already must of installed while I was sleeping.

Hi Whats App still crashes on win 10 latest update on lumia 540 phone Please look into this Thanks Gundurao

Since update 15055 my store and hub app updates won't install. They download but crash just before they get completely installed. I have tried installing them to both the phone itself and to my sd card with no luck. Any ideas?

Does this build seem reliable?