Microsoft close to releasing next Lumia 535 update to fix display issue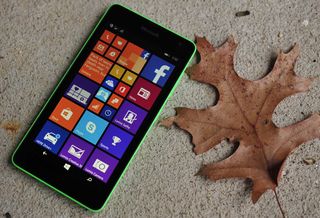 Windows Central has learned that Microsoft plans to release another over-the-air update for its Lumia 535 smartphone sometime in the next few days. The update has been designed to fix a persistent touchscreen sensitivity issue that some owners of the smartphone have encountered.
According to what a Microsoft rep told its Yammer Group for MVPs this week:
Reports of a new build of the Windows Phone 8.1.1 OS (version 14234), have been going to a select few devices including the Lumia 930, may be a part of this fix for the Lumia 535.
Microsoft previously released an OTA update for the Lumia 535 that was designed to fix these touchscreen bugs, but that patch didn't solve the problems for all owners of the smartphone. We will continue to monitor this particular bug in the Lumia 535 and provide updates when we learn about them.
Thanks again to Pete for the tip!
Is this phone available in the US yet❓

Have we written that it is? Nope.

Angry young man! Ha ha ha

Rodney is smart enough to know our site and being able to search, or click the Lumia 535 tags for full news ;) He's been around here a long time. You folks are bright, I believe in your ability to help yourselves instead of relying on me :P

Lol❗ ....Who said I was talking to you, Daniel.... Smart&$❓❓❓❓

Hey hey hey, be polite dude, especially when you're talking to Daniel. Otherwise you can get outta here.
Please delete this guy's rude comment, thanks.

Hey, hey, hey... Everyone's just playing around... Relax, dude..... To late,, you ruined it.

That's rodneyej, thank you very much:-):-):-):-)

Yet, if we play...we find ourselves banned...I'm tired of reincarnation. Yet Richard Devine can say Dick, Dick, Daniel can tell people to fuck you" for personal attacks, however when we defend ourselves we get some asshole with a gun as an avatar, obviously threating (my mom got murdered by an ex con with stolen gun, so I believe in responsible use of guns), telling us we are misbehaving..., I'll be back no matter how many times you ban me.

Hey, hey, hey.... Calm down before you're 86'ed...
Daniels just joking❓❓❓ Lol.

He's upset because there's no new high end devices, and he's getting tired of writing about 6,5, and 4xx devices.... Lol❗❗❗

See, where Daniel is wrong is he thinks I'm smart enough....

i have 8.10.14234.375 for my new Microsoft Lumia 535 already (with Lumia Software Recovery Tool). :) AND NOW works perfect.

>> 8.10.14234.375 Not work prefect goo. gl/iHYnPl

And it only took them 4 months

In fairness, bugs that only occur under undefined conditions can be difficult to sort out. I mean I get some of you think smartphone development is like making a quiche, but in actuality it can be slightly more difficult.

Agree. Make a comment here is easier. After all they are also human, aren't they.

Lol Hey yasin
Pfffft Who's making a phone here? Me, or Microsoft?
I have nothing to lose, MS already lost a bunch of customers here because of that. There are countless used 535 being put on sale that are barely a month old.

Man you are too soft on Microsoft

Hey Daniel, my question is straight one- will it fix the multitouch issues or not??

I'd rather 4 months and fix it rather than 1 and not

Look at all the complaints on the 1520...one year later...

Lol thought it would say next windows 10 for phone build

I read "Microsoft close to releasing next Lumia 535"
............
Already❓ Damn❗❗

Have you all tried to turn off screen magnifier? It's work on me, no more screen issue.

May be in future they fix the touch but they cant fix the cheap build quality of the phone!!!

The quality is amazing for its price.
Better than most android devices with the same money

Spot on. Better quality than what Samsung provides at this price range.

M just telling about the back cover... Rest all are super !!!

Yes, is a mostly well built phone. At least it doesn't bend :)

Lol. Dude MS needs to speed it up. This soon shit is dumb

Soon is better than the never we got for the 1520

The issue with the L1520 is a hardware issue and MS can't do anything about users treating their phones badly.

Lol.... Going by Microsoft's calender, "close" is only a year away.
I'm yet to receive the "resuming" bug fix that was announced 5-6 months back for my L1020

"I'm yet to receive the "resuming" bug fix that was announced 5-6 months back for my L1020"

I think you are imagining things or reading poorly sourced sites because I have never heard of this update. There is no such thing and certainly nothing was ever "announced".

Daniel, the point is not if its announced or not! Basically my 1020 says "resuming.." every day! And yes, I've reset my phone and its sad nothing helps.

U should look over your installed apps. My 925 was doing that. It was because of a poorly written app dragging the entire system down. I deleted that app and have had zero issues since.

Might help if you mentioned the app.
..
After getting denim in my 1520, no resuming.

I think this is what he's talking about http://www.windowscentral.com/struggling-lumia-925-lumia-1020-freezes-mi...

The problem is random with many apps. This is not about one specific time or anything. Anyway, I ll wait for 10 and hope that resolves some issues.

And there's no denim for the 630 yet, They Promised And Feb Ends Today...How Much Longer do we Indians need to wait ? :/

I ask you: what are expecting from this Denim update that is not in the Preview for Developers build? Be specific.

Again "wen in India?" LOL

Yes. It's just another "when in India" rant but with other words...

For 630 ?? the damn equalizer ! Its the only feature thats not there in the latest pfd ! Hell ! I was disappointed when I purchased my 630 went to audio settings and saw no EQ.(My first WP, moving from lagdroid) I even thought of exchanging it back for another lumia just to have the EQ. I waited, joined this forum for news, updates etc. Then I came to know of PFD, immediately enrolled and hoped that in future the EQ might be added. Rumours started flying around that EQ for lumia is unavailable due to hardware limitation.(I hoped for the best and waited know that it was BS, even basic java phones have EQ) Finally denim started rolling out and in the 630 forums users reported to have recieved the EQ. I am finally relieved and waiting my turn. Not complaining. I am sure same is the case with 535. It can be rectified So this is my answer for Daniel's question on "what are expecting from this Denim update that is not in the Preview for Developers build?"

So? Are you getting equalizer through Denim otherwise?

yes go through the 630 forums. EQ is confirmed with denim.

Cool! I didn't know that.

@therawkr92 Thanks for the info buddy, i didn't knew that too either. :O

Dang ! ... so you havn't explored your WP that much :P :P

It made my 1520 so smooth, no resuming. Forget about the camera or hey, its just so much smoother.
..
And for those who keep saying firmware and the OS are different, yes, and no. They are inextricably tied.

@DaneilRubino I always prefer the official firmware :) I had installed the windowsphone 10 technical preview but after reading the ' Microsoft India Denim Promise' post i rolled back immediately. It's Not About ' When In India?' It's About ' Why not Yet In India?'

Use preview. There is nothing new in denim for low range phone than denim. Firmware will remain same. Just OS version got changed. So you can use preview too. But I think it is just a few days of wait.

Lumia 630 gets an EQ with denim. So there might be minor/major improvements for all the low, mid and high end devices.

They are not releasing denim update (Lumia 625, India)

So what feature are you missing that this update is bringing? I'm genuinely asking, because I do not know but I am guessing you do.

Well, in all honesty, Denim (aka GDR1 with firmware) feels smoother than DP. This coming from a 820 owner.

I don't feel any changes as I used both :- 520 user.

You don't notice less resuming?

I'm seeing considerable changes in my l820 after Denim.. The display looks vibrant and the font size seems to be increased just a little bit... Not sure if it actually increased but it's different and I like it.... And as always itsss fasterrrr!!!! :-)

Man i request you to just ignore "wen in india people". I seriously don't get why people can't just keep quiet? This is not MSFT site. C'mon INDIANS.

Denim brings EQ to L630 !

Yes there is... There is something for every lumia. (may not be a visible feature though)

Less resuming screens as compared to Preview for Developers

The guy in the previous comment tells that 635 denim gets an EQ

Missing Cortana man. We will get Cortana in alpha version in denim update. Microsoft promised that all Lumia phone running on 8.0 and 8.1 will receive denim update by the end of last month. Today its already 1st march, where is denim????????

I hope this solves the problem. Lumia 535 is otherwise a wonderful device with a budget price tag.

Now if only the could fix the display issues with the icon

I have read a few isolated reports about this. I use the Icon every day now (Verizon account, Lumia 1520 is on my ATT one) I have no issues or complaints?

Purple and green hue issues? My 930 have those issues too. Denim made the purple issue weaker, but made the green one stronger. Hoping for a fix :')

is this build 8.10.14234.xxx? firmware version for 535: 02060.00000.15053.24003 ? if so, i already got it through LRST and i can confirm touch is MUCH better, even the auto brightness thingy is better. but it looks like the 535 still need some more new touches (no pun intended)

I'm pretty sure yes, that is the update on Nokia support servers, but we are not yet 100% certain. Obviously the chances are that it is and your experience seems to confirm that. Glad to hear.

I received from recovery also but the touch sentivity still unmatched with my old lumia 520 :( I hope MS will generate new update.

Yes, this is the same fix. For some reason its in the recovery tool before going OTA

Probably meant LSRT - Lumia Software Recovery Tool.

I have been trying the same through LRST (in India), unfortunately it is not showing, do I have to change the country or some tricks to get is? can you HELP???

Is the DP os more unstable than the LSRT one..if that's the case then i will hav to use LSRT..can someone tell me how to use LSRT.

Right after I sold my 535, trying to get a 730 now, but damn it is not available in my place......

Lumia 820 has the .234 build in Denim too.

How about fixing the 1520 touch problem plz.

That is most likely attributed to the size of the screen. Basically the screen flexing, no software update can prevent that.

Yeah, l1520 has the ghost tap issue since day one... No fix yet, but it is much better now. I believe it is software and not hardware since it happens more often in specific applications. Seems like it at least.

How about 1520, we need the patch too

535 is a very nice budget phone with good features, but with the touch screen issue as I try last time, no one will buy unless problem solved.

They are releasing updates for touch issues. So it feels like its kinda software issue. But i heard that the newer units of 535 are being sold at improved touch panels. That made me thought it was hardware issue. So whats exactly the thing? The touch is really horrible though. Can't even scroll smoothly. 8 mistaps out of 10. My 520 feels like heaven after using 535.

Does MS or Nokia doing the bad quality of touch screen?

It was one the first Microsoft branded devices so....

Good to see even the budget phones receiving support. Hopefully wp 10 will support the 920 in the next update. ~off topic~

Budgets are the main Lumia phones :P

Lumia 730 has 8.10.14167 version..what is new in 8.10.14219 and 8.10.14226??

they should. touch issue isn't quite an issue on my 535 though.
also, i'm having this "resuming" in my start screen lately. what does this mean? it lasts only for seconds but still find it quite annoying.

So how close is close for microsoft! May be a decade I guess...lol. No matter what microsoft does it is always slow.

My sisters Lumia 830 has some touch screen issues while zooming into pictures. Also, double tap to wake is very slow to respond. I hope that Microsoft addresses them too.

These low end phones had horrible display..

A bad display is expected, low resolution, poor color, poor viewable angle and etc. I feel it is actually having hardware problem and Microsoft is trying to fix that by software. I flashed mine with the latest firmware using LSRT but still it performs badly. See my Vine videos. https://vine.co/v/O2jZTHi7xzp https://vine.co/v/O2jW7EAHwwe https://vine.co/v/O2DLgT6zUDA https://vine.co/v/O2D3vWOn5Vx

Exactly not only 535, 530&435 too had a worst display...

Well compromises have to be made at that price point. Especially if they want to drive costs down.

In a few of your videos, all I see your fat thumb meat (near the bottom) touching the display. How is this performing badly? I just installed 14234 update and everything is working fine on mine, including double tap (which can be hit or miss on even high end phones).

The color and picture quality on these phones really sucks...

Bought a Lumia 535 here in Colombia yesterday and it really has display issues, hope its fixed soon

If what you're talking about is, OS: 8.10.14234.375
Firmware: 02060.00000.15053.24008 I loaded it to my 535 by using Lumia Software Recovery Tool. Touch screen works a little better but still badly. Especially not response to Double-tap to wake up most of the time.

You could fix this issue by slapping a screen guard on it. I did same to my mine and now its smooth as any other device.

I have put a glass protector on it already.

Wait, do you mean plastic or glass...I've got Nilkin glass?..
Aren't those nice... I finally cracked mine, got two more coming from Hong Kong as I write.