Microsoft releases OneNote Clipper for Chrome, Springpad migration tool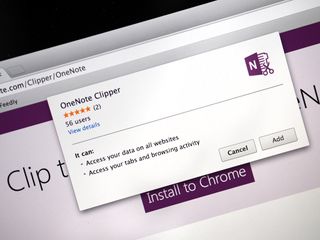 Microsoft has released a Chrome extension for their note-taking app OneNote called OneNote Clipper. You can install the extension either by going to the OneNote website, or the Chrome Web Store. From there, OneNote Clipper lets you save webpages and clips to OneNote to be viewed later.
But that's not all. Microsoft is also releasing a migration tool for Springpad users, letting them move their Springpad content over to OneNote. Springpad announced its shutdown last month, with service shutting down on June 25. Users can download their data in a ZIP file. To migrate their data to OneNote, users will will upload file to Microsofts migration tool, and Microsoft will notify you when the upload is complete. Springpad users will not need to sign up for OneNote to get their first notebook.
What do you think of OneNote Clipper for Chrome, and will any of you Springpad users be making the move to OneNote? Tell us below in the comments.
Source: OneNote, SpringPad to OneNote, via TheNextWeb
Bcoz there should be something good for the worst

Because its the most used browser, and the only one with decent extension support.

Firefox has infinitely better extension support.

+Infinte-number I really hate when people say Google Chrome has a good extension support. It is not good and it is not even decent. It's plainly bad, not awful, but bad. If anyone is really serious about extensions, they have to admit Firefox is infinitely the best browser out there. And no, it's not slow anymore. It is even faster than Chrome and IE. I've tested it on many computers and websites and on different connection speeds.

Because Microsoft isn't that petty. You don't want them to be like Google.

Is that why it's the most valuable company in the world and MS isn't?
There's no such thing as getting to the top without making sacrifices. Even losing friends along the way happens.
Posted via Windows Phone Central App

You guys talk as if Google is a person

It's basically for Chromium. You can use the extension in any Chromium based browsers. Such as Opera and Maxthon.

I think "will will upload file" sounds pretty enthusiastic.

I've heard of this Crime....i mean Chrome.

Hey Joseph, did they say anything about Firefox?

They should offer this add-on to Firefox also.

I think Google needs to get its act to gether and starts bringing out WP apps for it services!! ASAP!!! Posted via Windows Phone Central App

https://springpad.com/blog/tag/importer/ For import options. They went to Evernote first for seamless import.

Now we need OneNote for Kindle.

I want a Evernote to OneNote migration tool. Simply amazing MS doesn't have one.

+1 to this. The Evernote WP app and metro app are woeful. A seamless way to migrate my old Evernote notes to OneNote would be fantastic!
Windows Central Newsletter
Get the best of Windows Central in in your inbox, every day!
Thank you for signing up to Windows Central. You will receive a verification email shortly.
There was a problem. Please refresh the page and try again.