Microsoft to finally remove custom domain management on Outlook.com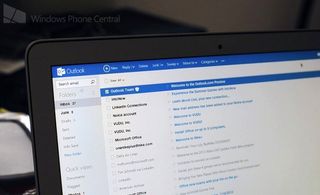 Outlook.com is Microsoft's free emai service available for eveyrone to use. The service enables you to create a free email alias for use around the web and beyond, but it was also possible to add your own domain (example being forename@surname.com). This option was removed and Microsoft has recently sent out an email to remind consumers that if they already have a custom domain configured, they'll no longer be able to manage that domain and its accounts.
The only possible solution is to upgrade to the Office 365 business subscriptions. Luckily, they're giving away a free 90-day trial of the Office suite, but there is a way to remain on Outlook.com with your unique email domain if you don't need to add and/or remove new accounts. Head past the break for more details.
Microsoft recently made it so new domains could no longer be added to Outlook.com accounts back in April, but in July it will no longer be possible to add or remove accounts on the domain. It's essentially stuck with what's presently configured on or before the date of July 31. If you're administrating multiple email accounts on a single domain, it's strongly recommended you upgrade to a business plan for continued support.
Should you desperately desire to keep this feature in place and be able to add and/or remove aliases on the domain in future, it's worth checking out the Office 365 Small Business plan, which includes this functionality and isn't such a steep price increase from the personal plans – in fact, if it's just for a single person, it's a more affordable option than the Home plan. If you're never going to configure the domain, you're free to continue using it as is without an issue on Outlook.com.
Just to clarify on what's happening here:
Need to add email accounts to your custom domain on Outlook.com (or set up a domain altogether)? You'll need to upgrade to and use Office 365.
Already have a custom domain with Outlook.com and don't need to change anything? You can ignore this article and continue using the service post-July.
As noted above, the company is handing out a 90-day subscription to Office 365 Business Premium for 5 users if signed up before July 15. Head through this link (opens in new tab) to take advantage of this offer and find out how to migrate your domain from Outlook.com to Office 365.
Windows Central Newsletter
Get the best of Windows Central in your inbox, every day!
Rich Edmonds was formerly a Senior Editor of PC hardware at Windows Central, covering everything related to PC components and NAS. He's been involved in technology for more than a decade and knows a thing or two about the magic inside a PC chassis. You can follow him on Twitter at @RichEdmonds.
From Microsoft's POV, I get it. But it bites to have to shell out more nickles and dimes when the day comes that I have to change something with the Outlook accounts I've been using for my custom domains.

So it sounds to me like the only thing that will disappear is the ability to add me accounts and to make any cages to your domain settings? I could live with that, as long as my domain provider doesn't go belly up. I sure wish they offered a $50 a year plan out even $100) to stay on this system unchanged.

I wouldn't mind getting rid of my free google apps account which uses my own domain name in favor of O365. Problem is only the business plans allow the use of a domain name and they cost significantly more. Secondly on the the consumer plans include Skype minutes. I don't need Lync which comes with the business plans. Also the sharepoint onedrive is useless becuase WP8 can't auto upload photos to it. Basically, I would pay for the consumer plan if I could use my domain name. Oh, in addition the business plans have much better email threading similar to Outlook on the desktop.

that feature was crappy anyway and even signing up was problematic.
i did manage to sign up after so much trouble and it was not worth it. It's good they take it down. it was giving them grief and a bad name.

I know, like it was a bad thing.

In my case, I use Office 365 Small Business Premium which gives me full versions of Office and Exchange hosting for my custom domain. Someone not requiring Office could also use Exchange Online for $4/month, right? http://office.microsoft.com/en-us/exchange/microsoft-exchange-online-compare-exchange-online-plans-try-or-buy-FX103764022.aspx What if someone already has an Office 365 Home Premium or Personal subscription and wants to use a custom domain name for e-mail? Would there be any issues mixing either an Office 365 Small Business or Exchange Online plan on the same Microsoft account that has the home Office subscription?

I think this will just drive more people to Gmail... Maybe MSFT doesn't want these types of customers, but expecting that many will upgrade to paid accounts is wishful thinking!

Custom domains with Gmail are no longer free. In order to manage a domain with Gmail, you need to subscribe for $50/user/year.

I think this will just drive more people to Outlook.com... Maybe Google doesn't want these types of customers... hey, wait a minute...

$50 a year is much better than the $120/year that MS wants for my two-user domain.

$120/year is for an Office 365 subscription which includes the whole office suite. If you only need the email part you can get Exchange Online for $4/month ($48/year). So MS is actually slightly cheaper than the gmail solution. http://office.microsoft.com/en-us/exchange/microsoft-exchange-online-compare-exchange-online-plans-try-or-buy-FX103764022.aspx

My primary outlook.com mail has stopped working on my phone. It still works fine online but I can't send our receive from my phone. It appears to be syncing all the time. My Gmail still works and that is another alias, my original hotmail account. Any one else having these problems?

If you're using Windows Phone, try disabling text messaging backup. I had the same problem a while back. It just tries to sync but never says "Email is up to date." Some weird glitch. Funny thing though, even though text message backup is disabled, it still backs them up so they return whenever I had to reset my phone or upgrade to WP8.1. Hope this helps!

same story with me. when they released their diagnostics app i reproduced that and sent it in. so hopefully it will get fixed.

Yup, this happened to me too

I'm a user using that service bureau for my personal usage. This is very sad

Come on folks, a custom domain for free. Really?
My only beef is the Office 365 web portal is so much like Outlook. I prefer the outlook.com interface.

The domain isn't free. Those of that use, pay a registrar. The free part was the managing. Adding/removing, password resets, etc. I am disappointed by this. Knew it was coming, but extremely disappointed.

So even if I pony up the money, I will get the old OWA interface?

Really? Two mistakes in the first phrase? Outlook.com is Microsoft's free emai service available for eveyrone to use. Come on, Rich :D

That's typo you're talking about. Funny, i thought you'd say outlook.com ain't free and its US only! ;)

Though I don't really add a lot of additional email addresses on my domain, I switched to this from google (which is easier to set up via my host) because it was the free alternative to google. I don't need a second/third/umpteenth copy of office, I don't need premium support, I just want email @my domain with a decent web interface...

I'm very disappointed. I switched my personal domain from Google Apps only last year because I really like the Outlook.com interface. I don't like the O365 Outlook Web App interface. I also assume with Office 365, I'd need to add a duplicate account to my phone and I'm not sure how it works with contacts, calendar, and OneDrive. Presumably the O365 contacts and calendar are separate from the MS account contacts and calendar. I'd gladly pay to keep using and managing through the outlook.com interface.

Presumably without the capital letters. If you're going to correct someone, might as well go all the way, right?

Well, I have custom domain in outlook.com, it's our surename which domain I have had for 14 years. All our computers and phones are windows 8 or 8.1 and working seamlessly with outlook.com. We have bought cheap extra space for files and photos in OneDrive. I do not understand why we should move to business plan just for custom domain! I have also Office 365 Home Premium that I can share with my family. The increase of the payment will be too much. Guess I have to stay in outlook.com with no option to change anything... Disappointed...

Can somebody explain this to me in simple terms because I feel that the message has not reached home , my Microsoft ID is ovi.com and it has so much paid stuff am I needed to do something??

Your Microsoft ID and account are fine. If you had your own domain name (for example kitavi-ken.com) and wanted to use that for e-mail hosting on Outlook.com, the option is no longer available to do so for free although you could still use it as Microsoft ID and have your e-mail hosted on a pay service such as Office 365.

Personal domains will still work for email and login. (at least that is the way the email to me explained). It is just those of us that use Domains.Live.Com will not be able to manage our domains anymore. Everything work as is today, just will not be able to manage accounts from that url. - If that makes sense.....

I'm pretty bummed by this. I was using Google Apps to get simple email with my domain with proper antispam and easy management. Then i had to move to Windows Live Domains to use Outlook for my mail. Now i'm forced to pay for this service. Which i get but still is going to pricy as i have multiple domains i use personally (i'm not making any profit whatsoever). Otherwise i'm going to have to move this to my server, taking up precious space and getting spammed so the serverload is higher.

Two typos in the first sentence??

The article states "in fact, if it's just for a single person, [Office 365 Small Business] a more affordable option than the Home plan." However, comparing Office 365 Home to the base version of Office 365 Small Business is comparing apples to oranges. The base version of O365 Small Business does NOT include any licenses for the desktop Office software, it only includes Exchange, SharePoint, and Lynne licensing. You would need to step up to O365 Small Business Premium to get desktop software licensing, which would cost $150 per year versus Office 365 Home at $99 per year.

Off-topic, but the link you gave - http://windows.microsoft.com/en-xm/outlook/migrate-custom-domain - what language code is "en-xm"? I've never seen that before. I've seen en-us, en-gb, es-pr etc...

I love this service and recommended it to many clients over the years so this is a huge shame. I was hopeful it would get an outlook.com make-over but with Office 365 it does make sense for them to attempt to make some money from it, it was probably never advertised due to it just being a money pit. I'm sure I'll migrate at some point in the future but right now I'll just make a few new accounts on there that I might need, just to be safe. ;)

At this point, that's all you can do.

Is this only for office 365 users or for everyone?

Google Apps made the same move a couple years ago. If you already used the service, you were grandfathered in, but if you want to use it now, there's a fee. It makes sense that Microsoft would do the same. I host a domain at both Google & Microsoft, and in both cases, I thought, "Wow, I can't believe this is free." Their bean-counters must've had the same thought :|

"...it's worth checking out the Office 365 Small Business plan, which includes this functionality and isn't such a steep price increase from the personal plans – in fact, if it's just for a single person, it's a more affordable option than the Home plan."

Rich, this isn't quite correct.

Office 365 Small Business

does

not

include access to the Office desktop apps. It's just Office Online plus the business benefits of hosted Exchange, Sharepoint, custom domains, web site, etc. If you want full use of the offline apps on a PC, you'll need

Office 365 Small Business Premium

, which is $150 per year,

per user

. As far as I know, Microsoft does not offer tiered price breaks for multiple users, or anything like the 5-PC install rights available to

Office 365 Home Premium

subscribers, which remains by far the best deal of all the plans (for non-student users).

-1020
Boo! This is one of the things that drove me to switch. I was about to do the final cut-over from Google, but not now. They should have done what Google did: Discontinue the free service but honor accounts already established.

They are honoring accounts already established. They are not allowing new accounts to be created.

So, if you want to use the new Outlook.com UI with your own custom domain, there's no way to do that anymore? Not only do you have to pay, but you're stuck with the old-style Exchange web interface? Forget that. Glad I never bothered to move mail service for my own domain to Outlook.com. I figured they'd screw this up eventually but this is sooner than I expected.

I really wonder how much money it costs to host a domain. Whatever it is, it has to be less than hosting the mail itself.

Have your domain email forward to your outlook.com email. Then, set up in outlook.com a send only alias for your domain name and use that as your default send address in outlook.com It may, however, show up with "sent on behalf of" in the header, if you expand the header. You can even have outlook recognize which email domain it is receiving mail from and it will put it in a special folder, or you can have it just go to your inbox with all your other mail.

So, this is presumably /actually/ about the 'Windows Live Custom Domains' service being moved to a locked-down state. This completely stinks. You might wonder why this is a big deal, but in all seriousness, as someone using this as an individual, and very definately NOT as a small business user, the concept that what I should be doing is moving over to Office 365 is stupid! I don't want or need Exchange and Outlook Web Access. I'm happy with what I've got. So much so that I'd happily pay Microsoft to continue using what I already have. Sadly, that isn't an option. This stinks!

To quote the article: "Already have a custom domain with Outlook.com and don't need to change anything? You can ignore this article and continue using the service post-July." Seems like you need to read the article before commenting.

Wrong: If we need to edit the account settings at all, for any reason, we won't be able to. Being locked after July 31st will actually become a problem for many people. They are hobbling the system for grandfathered users, not just letting us continue to use it as-is. It's a dick move. Very disappointed. The alternative Office 365 business option isn't the same and doesn't offer what we want. Another (typical) screw-our-power-users move by Microsoft.

Privacy is a top priority. I am completely in favor of pay for use services that have no rights to use my personal data. I hope the general public stops demanding everything be free, because I don't want Microsoft to be forced deeper into that business model. I've read that Facebook, as an example, makes an average of ~$7 per user per year in advertising revenue. Seriously? I would happily pay $7 per year for a Facebook that does not serve me ads and has no rights to my personal information. Heck, I'd pay $30 in advance for a 5 year subscription. Microsoft, please continue with your pay per use model. However, please offer a discounted 'all in' package where I can get all of your services for a more reasonable price. I.e. Skype, Office, Xbox, music, at 50% of individual prices. Microsoft, I host a number of domains that are not businesses. I really wish I could run these custom domains through my Office 365 Home plan.

I understand the changes but I would really like that Microsoft included custom domain on the Office Home Premium plan or even charge just for this functionality alone for us using it as personal accounts. Another option would be to include the custom domain offering to the ads-free plan available for Outlook.com users. We can keep using it as it is but I fear the day that, for any reason, we need to make a change and won't be able to do it and loose email access.

So what happens when one of my kids forgets the password they have setup on their email account and I need to reset it?

Those grammar errors on the first line...
email* everyone*

Ok, I'm confused, so I have 2 questions:
I have an actual Gmail account that I receive and send messages from my outlook account.
1) will I still be able to do that after the cutoff date?
2) also, if I wanted to remove that connection in the future, will I be able to? (It sounds like I won't be by what I'm reading) Thanks

This is a total bummer. Outlook has exactly the feature set I need. I'd just like to use a custom domain. I'm really ticked about it because I tried to switch over from Google about a year ago and something went wrong with the email validation. After a ton of really horrible customer service, I was told that there was no option except to wait for the lock to expire (365 days). I never felt like I talked to someone with any real competence, but what do I expect for free? So, I waited and tried to revalidate my account every month or so. Just checked, again. No dice. Grumble grumble. I'm not really looking for a free Exchange server. Like I said, the Outlook features are exactly what I want for my family -- we've tested them. I just refuse to change the email address that I've used for years -- there's a reason I bought my own domain. Heck, the big push to even move from Google to Outlook was so that everyone could use their MS account to log onto the computer and sync email, SkyDrive, etc., which I've been told O365 ids can't be used for. The other reason I don't want to move to O365 is that it seems you can't view/modify shared calendars from mobile devices. The official line is that it's an ActiveSync shortcoming, but that's an MS technology, too, so I'm less than sympathetic. Also, Outlook.com works just fine, in this regard. I'd gladly pay a hosting fee (say, $100-150 a year) for my domain name to custom brand Outlook. That makes some sense, as I'm sure there is some overhead. What doesn't make sense is trying to force me to a product that, in very meaningful ways to my use case, is inferior to what they're currently offering.

What is the link to get the free 90-day offer? The link supplied in this article only mentions an email that contains the offer, but I can't find the email. What email address is the offer emailed from and what is the title? I can't find it anywhere. I have a custom domain and am ready to sign up to Office 365 Small Business Premium, but I'm stuck trying to figure out how to take advantage of this supposed offer.

I have been using this service for years and wish MS would roll it up to the Home Premium package tier instead of eliminating the functionality. That way it would be behind a pay wall. That being said, I haven't touched the interface in over two years. Once I set it up, the only time I needed to touch it was to add a user. It's a family surname, so that won't be changing anytime soon. I can live with this for now.

To the Microsoft guys reading these forums... If we are using custom domains AND Windows Phone, we can NOT switch from Custom Domains to Office 365 Business for the following reasons: 1. Windows Phone 8 setup requires a "Microsoft Account". An Office365 account is NOT a Microsoft Account. To change would require setting up a new Microsoft Account and move all of our content from OneDrive/Outlook to the new Microsoft Account. As near as I can tell, additional storage and app purchases would be lost. 2. Windows Phone 8 can ONLY auto save phots, sync settings and backup to OneDrive and NOT OneDrive Pro. 3. With Custom Domains, I can simulate a shared mailbox for free so my wife and I can share contacts and calendars. Office365 supports shared mailboxes, but you CAN'T access Office365/Exchange shared mailboxes from Windows Phone. Yes, we can create an additional account in Office365, but do you expect us to happily pay so we can continue to share things on our phone? 4. Bonus for Windows 8/Surface users...you can NOT log in to a Windows 8 machine using an Office365 account. You either need to use a local account or a Microsoft Account. Which means Windows 8 is ALSO not set up to sync settings without using just an Office365 account. And the apps we bought as probably (?) linked to the Custom Domain Microsoft account?

After Zoho, Banckle.Email is also offering 5 free custom domain mailboxes which they have announced recently. Office365 is not free thats why outlook users are looking for free alternative to outlook so these 2 options are looking better right now.