New standard Xbox One controller may make an appearance at E3 2016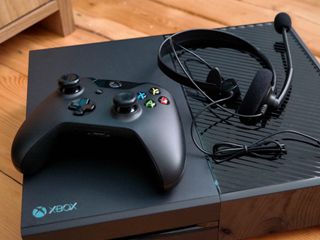 As we get closer to E3 2016 in mid-June, even more rumors about what Microsoft might reveal at the gaming trade show are popping up. The latest such report claims the company will show off a new standard controller for the Xbox One console.
According to Thurrott.com
In 2015, Microsoft released the Xbox Elite Wireless Controller, which cost $150 and offered many more high-end features and customization than the standard controller.
Thurrott.com also claims that Microsoft will reveal upcoming "new interactions between the PC and the Xbox One" at E3 2016 but did not go into details. Microsoft has already announced that it will update the Xbox One with the Windows 10 Anniversary Update later this summer. Of course, previous rumors claim that Microsoft could reveal a new "slim" version of the Xbox One at E3 2016 as well,
Windows Central Newsletter
Get the best of Windows Central in your inbox, every day!
First, repair the smart glass app Please. Cant turn on the xbox most of the time

use xbox app, i think smart glass app is end of line

The Xbox App isn't available on Windows 8.1, Windows RT, Windows Phone 8.1, etc. It's only on Windows 10. Most Windows phone users are not on Windows 10 Mobile.

Lol. Cant natively change to CH. on remote viewing anymore & xbox isn't any better

Doubt it. At least 90% of Xbox users are using Android or iPhone, where SmartGlass is the only option.

One thing I hate about these controllers is the d-pad. The 360's was perfect to me and I know alot will disagree Posted from my 1520 running Windows 10

If you modded the 360 d-pad, it was actually pretty decent. Most people aren't too keen on taking apart their controller though.

Interesting. It seems that most people find the Xbox One D-Pad to be the best D-Pad on the market. And the Xbox 360's D-Pad was criticized by many for being the only flaw of that controller. The Xbox One Elite Controller lets you experiment with different D-Pads, though.

I disagree. I love the Xbox One's d-pad, and always hated how it was on the 360.

Eww no, the 360's D-pad was atrocious. For its time the 360 was the best controller ever, but the D-pad was still awful. They fixed it immensely with the Xbone and now the Xbone controller is the best design out there.

I happen to disagree. LOL

Haha did you ever actually use the dpad on 360? I should say try to use, beause it was impossible to use. Mushy piece of junk that missed presses or got the wrong direction, it might as well have not been there. The XB1 dpad is great, at least when the controller is new. I have one controller whose dpad seems to not register a click as soon as you feel it, but have to press a little bit harder. So that's disappointing.

I think both need improvement. But I'm a Nintendo kid. That NES had a great d-pad.

Nintendo also held a patent on that design until 2005 which is why most non-Nintendo consoles have had ****** D-pads.

I wasn't a fan of either, though the transforming pad on later 360 controllers was pretty nice. That niceness had nothing to do with the transformation, really, but it was a decent pad anyway. I'm also partial to the dish pad on the new Elite controller for Xbox One. I guess it always takes Microsoft two tries for a decent D-pad. Come to think of it, the S-controller had a vastly improved d-pad on the original Xbox as well.

Hmm not out of the realm of possibility, and not a bad idea. Maybe a different connection type. Wouldn't mind seeing BT for pairing with Phones and PC instead of having to buy an adapter for the PC\tablet

BT would be particularly nice with the upcoming support for the controller on Continuum capable win 10 mobile devices

Hopefully it just a black 360 controller. They took a step backwards with the one controller imo.

I thought the same thing at first, big time, then I went back and played some games on the 360. Took me a while to get used to the controller again, and I won't go back.

I'm going to have to check that out now that i have a Xbox one. I felt like the one's controller was more cheaply made than the 360's. Weirdly, the PS4's controller is the fist PS controller I've found comfortable.

The Xbox One controller is actually more sturdily built. 360 controllers had a design flaw in which the bumpers could easily break, and the transforming D-Pad controller's actual D-pad was quite fragile as well.

So they are really gonna introduuce new Xbox hardware...really? after just 3 years?

Can't tell if you are serious or not... 3 years is a long time with modern electronics. Luckily everything is going to be backwards compatable so if you don't want it then don't buy it. Everything will stll work just fine. Not sure why everyone is so bent out of shape over this.

It's gonna confuse the market. Secondly Xbox one is just gathering fan base momentum, imagine what happens when they bring out a new or upgraded console. Picking a new and wild marketing strategy is good but most importantly you need to think about your costumers/patronizers....you are nothing without them. BioResearch & Games.

Who said it would be upgraded? The previous 2-3 console generations have always brought out a slim edition after a few years, this is absolutely nothing new.

They have to or they'll be even further behind Sony Posted via the Windows Central App for Android

Which is why they have to match up something similar or better. If Xbox will just sit there, Sony would dominate the market. Sent from Turing Machine

Eh, most consoles lived for 5 years, It may not even be a fully revamped Xbox too. You won't know till they tell us till e3

Obvious is obvious, leave it to thurrott to be obvious.

They should make the standard control like the Lunar White. Not the colours but the nice diamond textured grip on the back of the controller, it's really nice and afaict it's only the Lumar White that has this, not all of the limited editions.

The Forza 6 edition controller has that also =)

I hope they fix the disconnects and controller reboots. Had the same problem across all 4 I've owned.

hope they fix the stiff shoulder buttons

For the love that is Microsoft!! Please let them finally announce a wireless chat headset. I'm so sick of being tethered to the controller for chat and I hate using the kinect mic for anything other than voice controlling the box. How can they have overlooked this for so long? I just want to have a nice, single ear chat headset with no wires. I have to imagine that there is a limitation with the protocols they used for the controllers to be able to do this since the 360 obviously had them and over on the Sony side of things they use bluetooth. I just want to know how, after two years, we're still stuck with a silly wire going to the controller. Sometimes being a big MS fan can be frustrating. (*cough* Groove Music *cough*)

No, not white. It's TERRIBLE.

They need to make the controller sturdier. I had 4 xbox 360 controllers although battered they all still work.
I've had to replace my Xbox one controller 3 times, twice because a bumper button stopped responding and another because the analogue stick wouldn't auto centre.

I don't use dpad for standard movement controls, they have gone downhill since the MegaDrive 6 button.
I find Modern d pads are only good for inventory and camera controls. Every Xbox controller has got better since they replaced the original Xbox beast controller with the S controller.

After using an Elite controller there's no looking back.

Maybe a blue controller? Posted via the Windows Central App for Android