Microsoft retail stores now carrying demo units of the Lumia 950, 950 XL, Surface Pro 4 and Surface Book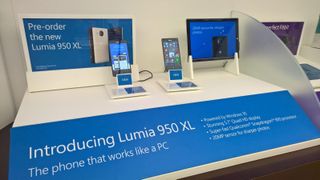 Microsoft has started promoting its latest offerings, with retail stores across the US and Canada now stocking demo units of the Lumia 950, Lumia 950 XL, Surface Pro 4, Surface Book and the Microsoft Band 2.
If you're interested in the recently unveiled products, you can swing by the retail store closest to your location and take a look at what's on offer. Be sure to also check out our extensive coverage of all the latest from Microsoft.
What product(s) are you guys most interested in picking up?
Lumia 950
Surface Pro 4
Surface Book
Microsoft Band 2
Thanks Christopher for the images, and thaman04!
Windows Central Newsletter
Get the best of Windows Central in your inbox, every day!
Harish Jonnalagadda is a Senior Editor overseeing Asia for Android Central, Windows Central's sister site. When not reviewing phones, he's testing PC hardware, including video cards, motherboards, gaming accessories, and keyboards.
That is my question also
LoL
I'm really waiting that phone, I want to hold it in my hands, compare it by my 1520, then decide buy or not
If I'm gonna buy, will go for the DS version for sure

Same question here, brother!!

Have patience. They're coming.

Thanks sir, waiting while sitting on fire

I heard MS is targeting Diwali for new Lumias... And recently SP3 launched as well

Since they're all available on Amazon, technically, u can buy & ship to any country amazon ships to

Last I checked cellphones are on amazons export restrictions so have to use a freight forwarder eg. Myus.com(one of the better ones)

I wonder what OS are those Lumia 950 running. The buggy preview W10? Or wp8.1?

But what version of w10 mobile? the new not avaible version or the lattest buggy one? and does somebody knows when new build is going to be released?

build 10240. 10240 is RTM on both phones and PC. These phones will be getting the TH2 update almost immediately after they ship.

That is pure speculation and hasn't been confirmed. If it were true they would have been running that build at the announcement event but they were just running a slightly later build then is publicly available.

No in the hands-on review of l950 here u can find the not yet released w10 mobile build no. Posted via the Windows Central App for Android

Our when in India article would be coming. We should patience. :p

Really want Surface Pro 4 this time in India

Likewise. I'm glad I held out and din't get a Surface Pro 3 over the summer. Still torn between the Pro 4 and the Surface Book.

It's really funny to see the marketing strategy of MS for the Lumias... They have only listed OS,Display,Processor,and Camera as the best features.. But people are more inclined towards fancy things like Iris Scanner, Liquid Cooling, Continuum,Changeable back covers, 5th Generation OIS , etc ... But I don't see any list showing off these features of the device ... MS is a failure in Marketing..

Liquid cooling is no good if it hasn't solved the problem of overheating.
Daniel indicated that the 950XL still had some heat issues as the 930 did.

No he said it got a little warm. Not exactly the same as you are inferring imo. Posted via the Windows Central App for Android

After a minute of use.
Barely out of the event venue.
What's going to happen in daily use.

I am the first to say msft marketing is the worst. But in this case i dont agree. People read specs and then compare to Samsung .so they want useless big CPU or ram or screen they don't look at iris scanner o liquid cooling...it is easier for to say there is more ram than say "it has continuum"

More like the complete opposite. The camera, display, and capacity are what most consumers want to know.

When in India, or............? When you get on the internet and place your order through various sites, like Amazon, http://microsoftstore.com, Ebay................and 1000000s more sites, and have them ship it to your front door. That's when:-D

In Poland we need to wait until mid of November for Lumias. I've heard rumors it will be quite widely available in retail.

That sounds good - wen in London!
.
Hope it's a similar situation here.

Its already listed on MS site for UK... Probably launching late Nov...

I heard rumors about launch event selling date in Thailand, too. My sources tell me that these Lumias will be announced next Wednesday. And both of them will be sold in December. I'm excited about this!

spent 10 minutes with the 950XL and was sold. Was nervous about the size, but man its perfect. and even fits in my jean pockets well... and i don't wear loose fitting jeans with big pockets. very dissapointed that my local MS store did not have the surface book. i cant afford it and have no need for it, but man do i want to play with it and see that beautiful machine in person. but the SP4 made up for it... gorgeous device and that trackpad really is improved tons. Hmmm.... might have to save up some paychecks and not move quite yet... :)

Same here. Spent sometime with the device...
I was concerned it would feel and be as big as the 1520, but this is slightly smaller and has a good handle. I am totally convinced with the 950XL!

The 950 xl fits the pocket which ppl could have problems with the Lumia 1520. So I think there Microsoft has done a good job there but still I think they should reconsider their designs for the next Lumia flagship. I'm not saying this ain't beautiful but it can be more.

Sorry dear I am nit agree with ur point, I have been using Lumia 1520 and I am fully satisfied and my phone is fit for my pocket, this mobile is great in many way.

Lumia 1520 is literally best phone I ever had. Now glass is broken and I don't know. Change the display or buy the new 950xl? Hard choice

Unless you send your phone into Nokia/Microsoft, just get a new phone. I'm a klutz, so I've had my screen swapped out 3 times. You can do it yourself for under $100US, but the screens are all Gen 1 refurbs. They are completely worthless.

Sure, my 1520 fits in my pocket as well, but its huge. You get used to it, but one-handed use is still a challenge, you have to really stretch your fingers. With the 950XL, its much more comfortable with one-hand use.

Nice. I have a lumia 1520 and while I love the beig screen, it's phantom touch issues are quite annoying. Scrolls registered as clicks. I find myself constantly hitting the back button because of the known touch issues. I hope the l950xl does not have such issues.

Had the same problem in May June, sent it back 3 times for them to finally change the screen. Also having a problem with GPS now and have written a complaint letter in regards to this. I'm going to ask them for some sort of good will gesture as i'm planning to purchase a sp4, 950xl and band 2 but if i don't get an adequate response, i'm gonna have to look elsewhere for a phone as the service from Microsoft Mobile is abysmal. Surface service on the other hand is top notch.

windows 10 mobile fix that

Finally flexed mine a bit too much a couple weeks ago in a tight leg pocket. Now I have the flickering screen issue on occasion. :( Also since updating to Denim I've lost use of the compass. (Mine is a 1520.3) In other words, I'm ready for something new and a bit smaller like the 950XL.

Yeah 1520 was just too much of a beast especially with those sharp corners. Hoping the 950xl isn't too big. But will probably go regular 950.

What did you think of the funky button experiment? Was is awkward? That is the only think holding me back from the XL. I can't get to the store until this weekend and by then is will be packed with people as was last time.

Wen in India? especially the Surface devices..

wen you guys get on internet and place an order through various sites like Ebay, Amazon, http://microsoftstore.com,.....................................and have them ship it to your front door, that's wen:-D LOL

You realize a ton of other people asked this before you, right?

I thought it was "wen in India"

I would like to see if HTC is going to make any WM10 hardware , will buy a handset a few months down the line when the price drops a few hundred dollars and all the reviews are in.

Or LG, or Samsung, or Asus...

That ship sailed, I think if they were it would have been announced by now.
Asus is more likely though.

Asus has already announced their new Windows 10 phone.

That was Acer, ASUS has no plans for Windows phones right now, they like a lot their Android phones with the Microsoft suit of apps like Office, Outlook and all the other goodies.

Oh. My bad. Those names are so similar.

I'm woukd like LG phones... I love Nokia hardware, but choices for upgrading 735 in near future are absent. LG spirit I had recently would have been great phone if it had Windows OS.

I would love a LG G4 for W10mobile!

I wanted the same too! But then I saw the third party vendors' back cover accessory replacements and they have leather! That was one thing I really liked about LG G4's!

Cool. Can't wait to go by my local MS store and see the 950 XL. MS should run a trade in promotion like some of the carriers are currently doing. I'd love to trade my AT&T/MS neglected 830 for the 950 XL. But depends on the deal. Probably just wait until it's under $450 sometime early next year. When W10 Mobile is hopefully finally finished! :(

Glad they have to think about promoting in stores. I went to local department store at the weekend. They had an impressive display of Apple gear, beautifully presented. The Windows PCs were totally neglected. Just slabs of cheap looking junk relegated to the back. Then I found the Surface. It had a cracked screen, no keyboard, and wouldn't power up. There wasn't much of a queue.
People still go to stores to window shop, even if they buy online. This is another thing for Microsoft to fix.

Sadly it is the same where I live. Windows PCs are considered mere utensils, while Apple is something that deserves central position in the store. Why? Because Apple, of course.

No. Because apple pays for department surface area. That how is working. Samsung too.

Ugh, no. It's not some conspiracy. Apple pays for their own reps to come to stores that sell their stuff to make their displays look like that. Ever wonder why the Best Buy Apple displays look way better than the rest? That's why. Blame MS and other cheapo PC manufacturers who leave it to some snot nosed store employees making minimum wage to treat their stuff like garbage.

Interesting as in the Best Buy near me the PC section is much bigger and the Surface section is set up nicely as is the Apple one. They also have MS employees there too. Portland, Oregon. Posted via the Windows Central App for Android

Yup same thing here in Miami. That's the result of a Best Buy and MS deal they completed last year and finally this year plenty of Best Buy stores are done setting up their Microsoft Stores inside. Everyone wins because in the past Best Buy had that space allocated for PC's anyway and hello what does every PC run? WINDOWS lol it was an obvious move and I'm glad they adjudted that space to look WAY more modern and it gives a nice modern feel to the PC and blends in perfect with the Surface kiosk and the new high end 2in1 and slim ultrabooks.

I would love if they did a trade in program. I have an old blu win jr, and a blu win HD LTE that barely functions. I would love to trade those in and get a few bucks off. Otherwise they are just going to gather dust in my basement.

I went to the Microsoft Store to ask, and they said they do have a trade-in program for any working and undamaged devices. You should contact and ask whether your devices could be traded in, but actually most devices would work.

Wondering how much difference there is in the latest W10M preview version and what's on the 950s.

The Lumias at the Windows10devices event were using w10m build 10546...

Band 2, in Australia, please MS, bless us with your delights this time around!

I want a 950XL on T mobile. My fiancée wants it on Verizon and my brother wants it on AT&T. See what happens. One bad ass phone.

You and your brother are in luck as at least you can buy it unlocked and it'll work. Your fiancée though, get them into T-Mobile with you, because Verizon is tricky.

I'm thinking Lumia 950XL and one of SP4 or SB...just confused!!

Does that mean those phones run the final w10m???

Not Final but very polished version.. They might get OS update once released..

They are going to be using a highly polished version of build 10240. Soon after the release of these phones, TH2 is coming out. Its very likely that TH2 will be a day 1 update.

Should I upgrade from 920 to 950xl?

Of course. It's a no brainer.

Its only a question of money ;P

This. If you can afford it: There's almost no reason not to. Treat yo'self.

lmao treat yo'celf !!! parks and rec <$

Can someone. ANYONE. Please offer some Photo Samples taken with the new 950s. NOBODY not Windows Central or even Microsoft have bothered to show photo samples taken with these devices. Its days since Microsoft's press conference and still no samples on their website! The camera is one THE most important aspects of a flagship yet all the reviewers/tech sites have missed this...?

Windows Central, and many other sites, are probably waiting for demo units to arrive before they can really play with the devices.

How about giving them a chance? It's been 36 hours. They won't have review units yet and photos taken at the event would all be indoors. Patience young one. But here's a quick idea and a look at living images.
http://www.youtube.com/watch?v=nfm-qFk4HHQ&ebc=ANyPxKqZhMrZcT7m5126EqeL-...

I agree maybe with Windows Central not having a chance, but why not Microsoft? They skimmed over the camera in the New York simply calling it the "best camera they've ever made" which is a bold claim considering the 1020 and yet there are no sample photos on Microsoft's 950 page. Now they are setting up store demo models and pre orders. Thanks for the alternative youtube link though, I had been searching YouTube and Twitter to no success but that video at least does show a bit more of the mystical camera.

Take a chill pill bruh. The phones were announced like 2 days ago and are expected to come out on November. Although they have demo units out in their store it doesn't mean they should be handing out review units to reviewers this early. Why? Well the OS is pretty much unfinished as of now (the Technical Preview ones are still buggy and not as smooth as WP8.1) and what does handing out an unfinished OS to reviewers give you?
A bad review, which will affect the hype for the phone, and ultimately the marketability of the phone. Imo, demo units are out to show off how good the phone is on "pen and paper" while holding back it's real-world performance tests so that people would wonder how good are those phones really, so this could maintain people's interest to it. It's a basic marketing strategy, really.

wplee - At the event, they took the perfect amount of time to reveal anything related to the phone HARDWARE (it was a HARDWARE event after all... hence why they showed the 4k video recording and continuum capabilities). But they had a lot more devices to unveil that are being released this month before the Lumias are being released (i.e. the Surface Book, SP4, Band 2, etc.). The phone relies a lot on the OS and since the phones they were showing had the Insider Build on them, it would have ruined that epic event if any bugs were shown on stage. They probably might have a separate Windows event to unveil TH2 and W10M RTM, and even if not, when it hits that time, that's when they can show the phones in their full glory. As Gabe said, there's still a lot of work to be done before they can RTM it.

I wouldn't expect that to happen until the OS is more refined, especially the default camera app.

San Jose store didn't have the Book. I did try the other products thought, love them all!

Say more about the phones. How do they feel, look, perform? Posted via the Windows Central App for Android

The 950 XL they had on display felt really good and looked very sexy. Way better than I expected. The phone felt very premium, it was very fast and the screen on it was absolutely gorgeous. The OS is still very buggy though (it's the Insider build still)... so they are probably waiting to RTM the OS before announcing an official date for the phones. I can't wait to buy one now, it makes my 920 feel so old lol :D

The Westfield store had the Book.

Band 2 is a huge improvement, much more confortable and good looking.

Oh man. Band 2 is probably the most comfortable watch like device I've ever tried on! The display is soo much better than the band 1.

Will come sometimes in December...

I wonder the same but the page does exist : http://www.microsoft.com/en/mobile/phone/lumia550/

Only thing that worried me is the sw running on the lumias. I tried taking photos and the app was not smooth, and tried opening photos app and it just hung there. This build is not ready for phone prime time yet.

Thankfully, we have until December.

This build? You're talking about the preview build that is still in testing? Of course it's not ready for prime time yet. Don't judge it until its finished.

I tried the XL at our local specialty store and the camera worked just fine. So did looking through the pics see took and comparing them to my icon. The color was better on the XL and the pics were less noisy when zoomed in. I could also zoom in farther in the xl

Ditto on the 950XL I tried. it was fast, faster than my 1520. Has anyone actually seen a 950? The store I was at didn't have one and I got the impression from the sales dude there they haven't been sent to stores yet.

Excellent move! Hope they get them in UK stores.

We'll probably get them here nearer to the end of October.

Shame..... I need to feel them in my hand. Been comparing dimensions on GSMarena, and I am hoping it is not a leap to far. The iphone 6 plus is longer. The XL is a touch shorter than the Note 4, and I have held that.

o2 has a preview page on their page selling the black 950 but no confirmation about the XL yet. MobileFun has both listed

EE has nothing yet. Not even in the "coming soon" section. Having said that, I will likely purchase through Carphone Warehouse. I suspect they will offer some bundles. Sincerely hope they start to get some dummy units soon!

MS should really push their product lines to more countries. If the MS band was available there, I would buy it in a heartbeat. And also I want to trade in my pro 3 for the 4. It's a shame that many people here including me had to get the surface through unofficial stores, which means more expensive prices and less warranty and technical support.

Maybe. The Microsoft band 1 isn't sold in Germany but I was able to get online tech support to email me a UPS shipping label (free of charge) to RMA it to some Microsoft repairs place in Germany and have a refurb unit sent back to me.

Could somebody who's going to try the 950(XL) give some information or maybe make a video on how good and fast the iris scanner works? Unfortunately I can't "swing by the retail store closest to your location" because that would still result in an intercontinental flight :-\

It's still in beta so not as quick as it will be. And yeah, with you on the flight thing..

Probably difficult and possibly not even allowed to set it up in the store. But perhaps some sales rep has done it and can demo. Posted via the Windows Central App for Android

Taking a video inside a retail store is tricky; most places don't allow it, and if they see it, it's within their rights to kick you out. I've seen it happen in a Bloomingdale's and in an Apple store.

Let me check how far away my nearest store is... Oh yeah, 3,400 miles. That's some swing by.

Are they in the pop up stores, whatever they call the ones that don't actually have a retail space?

Currently on a DS 640, really want to upgrade to a DS 950, but the rumours say this won't be released outside India (I'm in th UK)

Wow, that was quick! Tysons Corner, here I co.e (come on MS, open a location in DC or Bethesda!) Posted via the Windows Central App for Android

They have a MS store at Pentagon City mall right across from DC.

Gosh darn it, forgot about that. Is it full scale store, haven't been to that one? Posted via the Windows Central App for Android

I'm going to Pentagon City Mall today during lunch.

It is past lunch so I have to ask... did they have everything on display? I am looking for SB, Band 2 and 950/950xl.

I went there today and it had everything, but the Surfacebook - it should be there in a few days. They had the 950XL on display, but the 950 wasn't (I didn't ask about it). The Band 2 is very nice. The SP4 is lighter than the SP3. The magnet on the pen is super strong and attaches to both sides instead of one like on the SP3. The 950XL is sweet. Looks good, doesn't feel cheap, zero lag, and no resuming screen when opening apps. They didn't have the continuum dock, though. I spent about 30 minutes talking to Carlo, he's a very good rep and will email me when the SB comes in. Side Note: The 950XL on display had "dual sim" capability!

Chris is by far the best rep there. Not even close. I'll swing by there this weekend. I hope the 950 is on display!

Yes, it is. A full-scale store with plenty of helpful sales people. Quite nice.

I feel like the Tysons store is bigger though, or at least feels like it is deeper/longer. The Pentagon City store is definitely shallower and wider...if that makes any sense. I'm partial to Tysons because it's closer to me and there's a Tesla store right next door :)

There is one at Montgomery Mall as well.

Whoops didn't mean to repeat your comment. I wish there was more than one in this state!

There's one in Montgomery Mall, the only one in Maryland actually :( A bit too far for me to just go and try it out. DC would be great though, or even Annapolis. I wish there was one in Annapolis.

Will Check it out Friday at the Westfield century city.

I went to the Indy store. I am saving up 950xl already. It felt like quality and firm in the hand. Not flimsy and cheap. The Band 2 felt very expensive and high quality. I do like where the charging connector is unlike my current Band. And pre ordered a gift for my SP3: The black keyboard with the fingerprint sensor in it. I texted my Wife pics of the products and she texted back to stop drooling.

And do they have a 950 XL Dual Sim to show off? Cant find any information on that phone or pricing

The one I saw at our local site was dual SIM. I didn't ask if the price was any different and I don't know if they all come that way

Why the heck are they calling it surface book.. Awful name..

They have to keep the word surface in it as it's part of their premium lineup, so with that in mind, what name do you suggest?

Because it's better than the MicBook...

It's a great name and it totally makes sense. It's a foldable Surface, like a book.

its shaped like a book too.

They have the Band also. Looks great! I have mine on order. Can't wait till the 30th.

Well I hope the mall with the huge Microsoft kiosk has all this. I'll be going this weekend!

Yep checked everything out at the store in Danbury yesterday. 950 felt great if not a little boring and plain. The band is horrid in it's bulkiness and god awful clasp. The surface laptop is amazing

Is this the store near me, or do all Microsoft stores look the same?

The Microsoft store does not have the 950 on display. That is the 950xl. I asked them and they said all stores only have the 950xl on display now but should get 950 soon. By the way I agree it looks big but feels small...i will be getting it

Why oh why can't MS build a store near me. I'm between two very popular cities and they don't have one yet.

Anyone been to the Scottsdale or Chandler location? Do they have the 950?

Oh boy. This was interesting news! I'm going to represent Canada on this one and attempt to hobble into the Eaton Centre flagship store (Toronto, ON) today. I'm on crutches and haven't left my house in weeks but this is an exception and I need to see if they really do have a demo unit and if you can actually pre-order it. Also curious the price in CAN. Up until I was clueless on Canada's stance on carrying these phones. We get no love for Windows Phones here except for the odd budget models. No 1520, no 930.. The 1020 came to us about 6 months after the US once the hype died and no one cared anymore.. Everything here is iPhone this and Galaxy S that. Hell, people are even still buying Blackberry here! I'm lucky if I see one person a month using a Windows Phone. Hoping the marketing strategy is much improved this time around.

The prices are on Microsoftstore.ca. The XL is $849 CAD.

Can you let me know if they have the demo unit there? I can't decide between the 950 and the XL. Would love to see them in person to decide.

The Mississauga location had the 950XL... stunning device! Really fast, really beautiful screen, perfect weight, great size, looked and felt really premium. The OS is still a Insider Build though, so still kinda buggy but WAY better than on my old Lumia 920 obviously. They are probably waiting to RTM the OS before putting an official release date for the phones.

I wonder if the Yorkdale location has them...

Thanks! Do you work for MSFT?

Lundon - they do have the demo unit of the 950 XL and you can pre-order all of the new devices they announced. :) Also - we're very fortunate to have the Microsoft Stores now because now we'll get every new device going forward. We don't have to depend on the stupid carriers anymore.

Is there a minimum downpayment to preorder?

Anyone been to Park Meadows Mall in Lone Tree yet? I wanna see the 950XL and the Surface Book.

so i have a couple questions for those people who are going to MS stores to ask .... Will MS offer the dual sim versions as standard? or will they ask for a slight premium in price ( i have seen mention of a slight premium but dont know if they will be actually offered in the US) Also, is there any chance a bundle will be offered to those who pre-order or order later?

I'm going to guess the dual-sim variants are not for the North American markets. But who knows!

I'd go if I lived in the US. And touch it. Touch all of them. And stare at them.

My store only had the 950XL demo units unfortunately. But they did say you could order the 950

Which store is that? I'm heading to west Edmonton mall this weekend and really want to see both models to help me decide.

Just launch a payment plan and a bundle MS. Seriously, that's THE best shot at reaching the people who didn't know these phones were coming out.

One of the Microsoft stores(I'm fortunate enough to have 3 in the area) near my home had demo units of all the newly announced devices. I was able to get some hands on time with all of them and I must say I'm impressed, especially with the 950xl. I was underwhelmed with the reveal of the phone but after some time with it I must say it's a worthy successor to the 1520. The Band 2 felt great on the wrist due to the bands being so flexible. A little play goes a long way. Asthetics of the surface pro 4 were no different from the 3, at least none that i could see. The magnet pen aytachmeny was a welcomed trick. The Surface Book was simply the most amazing device I've seen on a long time. Everything about it screamed "I am the future." The disconnect method, holding the button until the screen says it's ready for detachment, kinda blew my mind. The hinge is so quite as it unfolds to open the screen. The screen itself is just absurd. Pixel sense as a buzz word is kinda silly but the screen really is beautiful. Posted via the Windows Central App for Android

PixelSense is not a buzzword, it's their touch screen technology that they use in their touch tables. Totally agree with you, the Surface Book when I saw it in person definitely screams "I'm from the future."... absolutely beautiful device. And the 950 XL looks and feels AMAZING. Better than I expected actually. I really can't wait to buy one.

I should go over to the local Microsoft store and play around with the new lumias. Added bonus- there's a really cute gal working there. :)

I need this 950XL...I hope I can go through ATT Next...don't feel like buying outright right now.

Nice. Maybe you'll come home with more than just a new phone.

So... it says pre-order. Is that in store only? And anybody have word on if it will be bundled with continuim like it was rumored to?

if i had it like that, all of them, plus accessories, continuum dock, cases, back covers etc, everything.

Awesome. I can go down and pickup the phones do make a final decision about whether the XL is just too big to handle. I'm already leaning towards the XL but this just gives me am excuse to go to the MS store

Anybody been to the Toronto, Canada stores?

I've been to the Mississauga one... they have all the new devices there. REALLY love the new Lumia 950 XL... looks so much sexier in person and feels amazing. The OS unfortunatley is the Insider Build, but it will probably be RTM build once it hits stores. The new Band 2 is SLICK as well.

Awesome. I'll be in town next week to check them out.

Just came back from the Eaton Centre Microsoft store, they had them up for display :)

Knowing my luck Lumia 950 XL won't come to Irish carriers. We'll be left with the black 950 on sale for a month

WHEN CAN WE PRE-ORDER?! I think it's really unfair other new items can be pre-ordered but not the new phones!

I preorderd the phone at the store yesterday.

There is no store near me, how can others pre-order?

They are probably waiting until the OS is more finalized before they announce the phone date. They won't be stupid to release the phone with beta software.

I presumed it would ship with 8.1 update 2. Even MS said this phone will be available Nov but that W10 won't be final until Dec.

I like what I have been hearing thus far from folks who have been fortunate enough to actually hold these phones, they are impressed. Nothing beats touching it, holding it, sniffing it, staring at it.... y'all get the gist.

just got back from the store at lunch wow surface book is very very nice for sure when detaching the screen it is so light but huge. I almost wish they also offered a typecover keyboard option for it as well for when you do not need the extra GPU......

Good to know! I'll have to head up and play around with the 950 and 950 XL sometime soon.

already ordered Surface Book, but BB didn't have the dock online so I'll probably order that from MS or Amazon. Still waiting to hear more about the bridges and the apps that is bringing to WP before committing. The demo was awesome but I want to know I'm not going to miss out on features other (Apple/Android) platforms have and be told "...But you can use orur website"...

It would be awhile before you get the same app coverage of those other phones.

i want them ALL :-), and the upcoming """ELEPHONE""" Dual Boot Win10/Android phn for only $300, which has pretty awesome specs and fingerprint sensor on its back. The best part of these prods are, they keep pooping all over the World's most overrated, garbage CrApple over and over again. i LOVE IT.

They only had the 950xl at the site I visited, not the 950. Coming from a 1020 the 950xl is a very big phone. I would like to try out a 950. I did get to try continuum, but not thru the hub. The store had this (http://www.amazon.com/Microsoft-CG4-00001-Wireless-Display-Adapter/dp/B0...) attached to a display. As such I was totally wireless controlling continuum. It was obvious the win10 build had some bugs, but Ms will get there. I did notice a couple of things in continuum. 1, no real surprise, but it looked like it only had store apps on it. I don't think it'll run desktop apps. 2, and related to 1, no task manager, my computer, etc that you are used to on a PC.

Sounds like it's time to go to the Stanford Shopping Center. Very anxious to check out phones.

I can confirm that in Canada, at the Eatons Centre in Toronto, they have them up for display!

I want smaller ones :( I got my iPhone 6s today and it's too big, I cannot use it in one hand and it's smaller than these.

OK for you Bay Area California locals out there. I called Microsoft. They confirmed that the MS Store at Stanford Mall has the SP4 and 950XL only. No Surface Book and no 950. The fancy shmancy Valley Fair mall has EVERYTHING. The 950, 950XL, Surface Pro 4 AAAAAAAAND the New Serface Book. But I'm too impatient and Valley Fair is a little far. Stanford is close to my work though so Imma go check it out in an hour or two. On the one hand I really should compare it to the 950 but I'm probably going to order the XL anyway. Wheeeee

Thanks, kitelessd! It's great to know that the Valley Fair mall has everything. It's my closest MS store and it's about an hour away without traffic. May just have to make the trek out there to check out all the new toys. Dying to see the 950XL, the Surface Book, and the Surface Pro 4!

My store has the Band 2 but no Surface Book. What store are you guys talking about?

My order of interest: 1) 950XL - I have a 920 and need a new phone, badly 2) Surface Book - finally, gaming oin a laptop, can get rid of my desktop 3) Band - getting fat and need something to get me self-motivated - maybe this is it 4) Pro 4 - just cause I love the Surface form factor and portability

For anyone in or near Long Island NY, the Roosevelt Field Mall Microsoft store has demo's of all the devices except the 950 Posted via the Windows Central App for Android

There is one 19 miles from the house....one of these days gotta go make a trip to that mall in Woodland Hills...

I'm excited to drive to Raleigh and check out the devices! Sight unseen I'm upgrading from Microsoft Band to Band 2. I will most likely upgrade from Surface Pro 3 to Surface Pro 4. The device I am most interested in experiencing in person is the Lumia 950 XL. I went from the 1520, which I loved, to Samsung Galaxy Note Edge soley because of the apps. Apparently the app situation has not improved so if I succumb to the charms of the 950 XL it will probably be as a second phone, not a replacement. The Surface Book sounds great but I would rather have a Surface Pro 4.

Anybody been to the West Edmonton Mall store? Do they have the 950xl there?

Yes they have them. I was there this morning and they did not have them when I first arrived, but before I left the store they came in. I was there when the staff opened the first boxes and I got to hold both of them. I reserved a 950XL for myself. They also had the Band 2 (which I also ordered) and the Surface Pro 4, but no Surface Book yet.

You mean you reserved a 950 xl for when it comes out? Did they have any idea when it was going to be released?

Yes I reserved it. They could only tell me "sometime in November". They had an exact date for the Band 2 (November 20th) but nothing so precise for the phone. I will get an email when it's in.

Went to try it today. I loved it. I reserved myself a white XL.

I hope it is in my MS store!

Went to the local MS Store and checked out the 950XL. Photos just don't do it justice. Feels wonderful to hold, and it SMOKING FAST! Cmera, e-mail web browsing, maps with full 3D buildings. Blazing. I preordered one. I would count the days if I knew how long I had to wait besides... November. They also had the new SP4. It's thinner than the original Surface RT. Amazing. New keyboard is very VERY nice. I'm not in the market for a tablet right now, still loving my little 8" Lenovo Yoga Tablet 2 that is now running Windows 10. Interesting point of note was chatting with a friend of mine in France. They have a store page updated there, touting dual sim and also November availability! http://www.microsoftstore.com/store/msfr/fr_FR/pdp/Microsoft-Lumia-950-X... MS blasted through their 2 hour presentation and didn't really talk about availability in other countries.

That's all cool and all but for people outside the range of the MS stores could WindowsCentral do some hands on with the SP4? There were hands ons with everything else yet no SP4... Did the staff get so awed by the Surface Book they forgot to visit the SP4? Any news when review units go out to tech sites?

When in the forgotten land Norway? Microsoft has changed, but on one thing it is the same bad old. They think the world is USA :-( Why can't they just offer same products around the world. Not just hardware, but Bing. It's sooooo crap in norway, but in USA it's very good.

This info is not accurate...went to the Microsoft store this morning....According to them Microsoft hadn't shipped them the surface books yet, they had no demo on display. They had the phones and the surface 4 but no books...thanks for wasting my time with the wrong info posted!

man, i really wish the canadian dollar was stronger now. the canadian price is really not appealing enough to me.

Will bring Vinny along and a wad of crisp $100 bills. Plan on walking out with a bribed purchase. Stay tuned!

My boyfriend has been looking for a new laptop, so we went to Pentagon City Mall in Arlington, VA (instead of Tyson's Corner which is Hell on Earth) for the sole purpose of checking out the MacBooks at the Apple Store and the SurfaceBook at the Microsoft Store. The rep at the Microsoft Store said they never got their SurfaceBook demo unit and probably won't for a while. She suggested we go to Tyson's instead. So, disappointed, we went to the Apple Store which was just a horrendous experience period. We seriously couldn't tell what was a demo unit and what was someone's personal computer they brought in to get fixed. It was ridiculous. I hate the Apple Store. The point of this story is that Microsoft needs to get their shit together. If they had a SurfaceBook in the store to try out like they're supposed to, they would've had a preorder today-- especially given the awful experience we had at the Apple Store. I've been trying and trying to convince the bf to not get a MacBook (he currently has a Lenovo Yoga, first gen, that seemingly cannot handle Windows 10), but Microsoft not being on the ball is making convincing him to go the SurfaceBook more difficult than it should be. I can't help but wonder how many other sales they miss just through stupid things like not having one demo unit of a new product for people to try out in their store-- a product that they've said is now in stores to demo. Why is this so difficult?