Microsoft to return to CES 2014 - claims they never left the show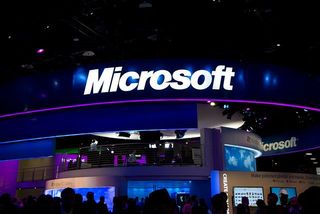 Microsoft was absent at last year's Consumer Electronics Show in Las Vegas, citing that the company's announcements did not align with the January held event. A recent statement by the president of the Consumer Electronics Association, Gary Shapiro, revealed that Microsoft would in fact be returning to the International technology show for 2014.
The multinational technology company is not planning to hold their keynote speech at the event, but it has been revealed that they have booked meeting rooms. Shapiro has stated that the conference meeting room space Microsoft has booked is "actually a larger presence than I believe they have ever had".
When Microsoft pulled out of last year's event, analysts were concerned for the future of the Consumer Electronics Show. Microsoft was one of the largest players at the event, and their back out might have signaled a slow demise for the show as a major event.
With Microsoft returning to CES, Shapiro has emphasized how close the company has worked with the Consumer Electronics Association:
Microsoft released a brief statement claiming that they had never actually left the CES event and had a bit of presence at the previous 2013 holding. Even if Microsoft maintained a low presence this year, it still represented a major down shift from holding an annual company keynote address.
The Consumer Electronic Show is held in Las Vegas and still represents one of the largest technology shows in the world; last year, over 152,000 people attended the almost two million square foot venue. We would like to remind our readers that we will be present at CES 2014 in January and will be bringing you the latest news from Microsoft and its partners.
We are certainly happy to have Microsoft back at CES – are you?
Source: BBC UK; Thanks, StevePT, for the tip
Maybe win phn 8.1 at ces??

Yay! I wonder if there are any plans on talking some Nokia stuff there.

They finaly going to take time and talk about Windows Phone. They wont be able to tell us about windows 8.2 or 9.
So i guess it's more about windows phone 8.1 on this CES

I really hope it is about windows phone 8.1, and that it is a massive update.

It will be interesting to see how they go about releasing it. Hopefully when it's ready, they'll actually make sure it's pushed out in a reasonable amount of time.

I need week view and a proper month view and rotation lock and "make available offline" for Skydrive and multitask app closing! And make that fucking Bing image update properly, I want the Bing image of the day and not the Bing image of yesterday!

I don't have that problem with Bing, are you sure its not a network /regional issue? =[

1) separate volume control. This is the most important thing, it will benefit us with a proper sound notification which is currently suck where you cannot listen to a music if u want to avoid sound notification from an app (eg. whatsapp) 2) can select all mail at once and delete them (currently need to click 1 by 1 to delete-pathetic), 3) can create playlist of a music easily with less than 3 steps and systematically like iOS (currenly you will need to go through several long steps to create a playlist of a music. Perhaps more than 8 steps if I count it correctly and you cannot edit the playlist. You need to follow the 8 steps again to create new playlist because you want to add new music on it?- pathetic). 4) Copy and paste on the call dialer (currently if you have a phone number copied in clipboard, you cannot paste it on the call dialer. 5) Provide an option to toggle show the battery percentage, network status, or location (currenly you need to swipe from the top to see your network strength, battery percentage etc.) 6) Can create album on Windows Phone and when taking a photo, and can automatically move the photo to a different album (currenly everything is in the 'camera roll' album and you need to move it using a computer? - pathetic. 7) improve the voice recognition like Siri for iOS example "say the current time", "set alarm" etc. 8) Close the apps by using the 'task switcher' instead of clicking back multiple times (back back back back back back back back and close - pathetic) 9) Built in sound Recorder app. The only 'smartphone' that doesn't have builtin sound recorder - pathetic is it? 10) Notification center history. hugely important 11) the list goes on..... - wp user more than 2 years (lumia 710 + lumia 920)

I hope for some goodies to be announced then for windows phone.

I hope they'll show Windows Phone 8.1 inside a new Nokia/Microsoft flagship !

I laughed out loud at this title. It is true that they had a very small presence last year, but the year before that, they made it suuuch a big deal that it was their final keynote year. It just all seems so dramatic.

Lol .. Yeah. All those emotional speeches and stuff

"WE BEEN HERE, WHERE YALL AT" -Microsoft

Apple are stuck-up snobs. Mac is for snobs... That is the name of my WeeFee. :)

They are gonna show... Win Phone 9!!!* *Not compatible with your current phones... :-0

another day, the same dumb trolls

I wonder what makes everybody so sure that current phones like the 920 will receive WP9....

AT&T will be a partner at the event and talk about their upcoming Lumia 920 GDR2 rollout.

LOL, this is sad and FUNNY at the same time....especially for us AT&T 920 users...

I am such a customer... :( Hate AT&T for their slow-ass pass rate of approving new updates. Lazy people need to get a move on!

I just think it's funny...lol #nosympathy =P

It feels like CES 2013 was just yesterday

I know right I was thinking that same thing and how fast CES 2014 is coming up O_O

Very smart and accurate post. Kudos.

Windows Phone 8.1 due to Feb 2014 at this moment, sorry!
(surprise if it's ready in Jan, but they might announce the features anyway)
(it could even be delayed 'til Mar 2014)
(I really don't know the current exact situation)
Windows Central Newsletter
Thank you for signing up to Windows Central. You will receive a verification email shortly.
There was a problem. Please refresh the page and try again.