Microsoft is rolling out a new look for Skype on Outlook.com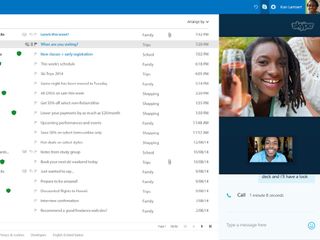 A couple of weeks ago, Microsoft announced plans to add many new features to its free Outlook.com email service. While those new additions are still only available for a handful of Outlook.com users, today the company has started a roll out for a new design for the service's built-in Skype feature.
Officially, the new design is available as a beta. Here's what Outlook.com users can expect when they use the Skype chat feature:
Microsoft says the new Skype design will be available for all Outlook.com users over the coming months.
Source: Skype (opens in new tab)
Windows Central Newsletter
Get the best of Windows Central in your inbox, every day!
Same. I use Skype in outlook / OneDrive often since im always on the site when im on the desktop.

No more messaging hub ? ):

Wow. Skype is still pointless to me. Lol. Oh well.

Great !! Was watching for some UI refreshment !!

Skype is probably to blame for the nasty round contact pictures in W10. :(

Now, THAT wouldn't surprise me a bit.

I bet you like the suppository shaped new toggles too? :D

Reminds me of the Vita, worst interface ever. Don't like the circles.

I still don't get this, but it looks nice. usually I go to Outlook.com instead of opening skype. so it looks better than what we users already have on outlook.com. Skype is the future for Microsoft messaging ecosystem so it's and interesting change.

"Now" is an unknown word by Microsoft

Now, I just need for more people to start actually using Skype again. Almost everyone I knew that used to use it don't any more. MS could have dominated messaging when they first took over Skype. They just sat on it too long.

I'm excited to see the attention to Outlook.com and its messenger. I know there's loads more in store, too. Can't wait to try this, when I get it. EDIT: Sorry, Pallentx. This wasn't supposed to be a reply to you.

It started dieing a lot earlier when it didn't work on phone's at all, MS tried to fix that, they were just too slow but the damage was already done.

Any news on what Skype will be called after the EU said the name was to close to Sky TV (or what ever that company is called)?

Well its a trademark issue and not a global issue. Skype is much bigger than Sky in terms of brand recognition, as Sky is just confined to the UK. I imagine they will fight it, they have after all just recently rebranded Lync as Skype for Business.

I read that MS will pay them to continue using the Skype name. Posted via the Windows Central App for Android

Nothing, they just can't trademark the Skype name, they can still continue using the name though. (or at least that's how I understood it).

They are implementing features from the previous"lync", as they called it rich IM or rich calling. So the person who get's called could see the subject of the message.

Too bad no one uses Skype anymore. It's pretty much useless to me as a messaging platform. As for video, it offers nothing beyond what others provide. MS and the Skype team simply blew it - too slow and the world moved on.

MS and the (fill in the blank) team simply blew it - too slow and the world moved on.

now if only people used Skype.
As it stands now, Skype is more of a hassle to use than anything. Just try using imessage or facetime. Both are fully integrated, imessage works automatically and is automatically tied to your apple account. Same with facetime. Skype is a separate program that has to be downloaded and opened to use. Skype needs to be built into windows, and it needs to have SMS and video calling integration on android. That's the only way it's going to succeed. Also it needs to work better with more than one device at a time. Half the time I'll be on Skype on my computer and get a Skype call on my phone only.

In other words, this is really a non-story for most of us.

So, I've got Skype on everything, and I've got Whatsapp, FB Messenger, Viber, Voxer....and 95% of all my communication with anyone is text messaging. 4.9% communicate via FB. Everything else fits in that remaining .1%.

I'm still waiting for them to integrate Skype with phone/texting.

I have the feeling that they are doing only universal 10 stuff for skype. And for 8.1 only maintenance... as they did with 7.5.

oh well, chat function (skype, gmail, facebook) just simply not working for me on outlook.com. Not sure what goes on.

Skype is now demanding a caller to have a credit while whatsapp is offering that feature for free!