Microsoft rolls out first update for the Display Dock for Continuum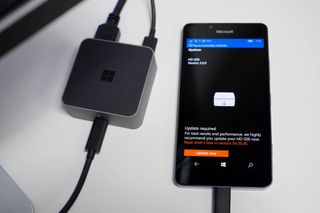 Tonight in Redmond Microsoft is pushing out the very first update to the Display Dock used for Continuum on phones. The update takes the firmware of the Display Dock from version 3.0 to version 4.0, and there is no changelog posted yet (but there is a link to a 'What's new' that is not yet refreshed).
Updating the Display Dock is relatively easy and only takes a few minutes.
How to update the Display Dock
1. Get Connected
Users should be connected to the Display Dock through the USB Type-C connector. On the phone, navigate to the Gadgets app and choose the HD-500 listed on the menu.
2. Open HD-500
Once the app is open choose the ellipsis ('…') at the bottom of the display and pick Check for updates
The phone will then take over and download the new firmware and install it to the HD-500 Display Dock. Users are instructed to unplug then the power cord to the Display Dock to refresh the software.
Nothing stuck out as immediately new regarding features although performance seemed slightly better. The update is likely tied to today's Gadget app update and build 10586.29 of Windows 10 that went out earlier this week. We also wouldn't be shocked to hear about some improvements with Miracast support, which like Bluetooth, can be very finicky.
We'll update this article if we learn more. Sounds off in comments if you notice anything new!
Thanks, Show, for the tip!
Daniel Rubino is the Editor-in-chief of Windows Central, head reviewer, podcast co-host, and analyst. He has been here covering Microsoft since 2007 when this site was called WMExperts (and later Windows Phone Central). His interests include Windows, Microsoft Surface, laptops, next-gen computing, and for some reason, watches. Before all this tech stuff, he worked on a Ph.D. in linguistics and ran the projectors at movie theaters, which has done absolutely nothing for his career.
Seems like a good article but was is a continuum display dock I wonder.

This update was pushed out early this morning. http://forums.windowscentral.com/continuum/400483-firmware-update-displa...

It's for using Continuum on 950/XL

I'm beginning to like this display dock more than the 950 itself....... Wonder what version 2.0 will bring.

I love continuum, a lot more than I thought I would. I picked up a small keyboard/trackpad and it has been a great experience on my living room tv. Though, the apps that are there are for the most part really good, there aren't many of them. Edge could use a little performance boost, but everything else seems to run great. Excited to see what apps come. *cough* Netflix *cough*

I'm **** sure it'll continue to get better... This is just the first phase... There's more to come..
.....
I'd like to see other OEM'S join in... Remember Nokia, and the effort they put fourth?... We need another "Nokia". I wish that would be Sony.

I think you might get your wish from a pc vendor next year

Netflix in Edge works great via continuum on my HDTV. The app is neat, but not essential.

Oh I know, I was stoked when I realized it worked in the browser, but an app would still be nice. But, many other apps would be nice too...

Im using Continuum a lot. Shame there is so few apps and games. I hope for more from everyone.

They'll come... Just think, if the Universal app model actually works...

Updated, try it out Monday in work ☺

Sweet! Guess I'll be doing some updating when I get my lumia offers display dock next week.

Update the gadgets app first, then you will be able to update the dock when connected.

Of course, so much for automatic updates...grrrr...

Still not 100% you get one of them when you buy from Carphone Warehouse. I hope so.

I paid full price for my dock (I got the 950 phone), and it was worth the price. If you get one free, huge bonus. Buy one anyway, and then best case you will have one at home and one at work.

Good to hear, but this close to Christmas I have to watch where I throw my cash.

I got a code for a free dock when I purchased via Carphonewarehouse. The Lumia Offers app on the phone triggered an email from Microsoft containing the code to redeem at their store website.

I got my 950 XL from Carphonewarehouse and in the Lumia offers app it did say I was eligible to claim a free dock but currently it won't let me go through with the order apparently Microsoft are having some problems. My partner got the 950 but she was not eligible to claim a dock it's XL only.

Did you try to update the Lumia offers app?

They said out of stock when I tried for the XL. Did you preorder? Ready to jump on board, but they say no stock until 22nd.

My 950XL from CPW was delivered on Wednesday. Lumia offers app did have the display dock on offer. Ordered and now awaiting delivery, which will hopefully be sooner than the indicated 6-8 weeks.

Thought they had put the date back. When did you order?

Hi I ordered my xl from carephone warehouse and was able to order the display dock fine via the Lumia offers app :)

The lumia offers app is present on carphone warehouse 950xl. I'm awaiting it in the post Posted via the Windows Central App for Android

I'd hate to say it, but I feel like my continuum experience is worse now...but not sure if it's due to updating to W10M 10586.29, or updating the dock, or both. My mouse pointer was very sluggish, Edge was incredibly lagging, and it even "broke" my action center. I had to do a soft reset to my 950 XL to correct the issue. Hopefully it doesn't remain this way...because I really enjoy utilizing continuum, and can't wait for more apps to get on board.

Oh, does anyone else notice the inconsistent page formats on Edge in continuum? Sometimes they scale properly, sometimes they don't...and sometimes they do both (weird).

Keep in mind this only effects the hardware not any features of continuum itself

The gadget app on my 950 doesn't really do anything. Nothing shows up, or is ever displayed as connnected or configured. can't seem to uninstall it either.

Getting the same thing on my 950XL. I think after the update, none of my accessories are showing up.

Did you power-cycle your phone?

of course. I've tried just about everything. I think the install went sideways, now i'm stuck untll perhaps an update is released. That should trigger a repair install of the app.

Can anyone confirm if the continuum dock works if you plug a surface pro into it?...... Wanting to get this, but don't want to have multiple docks....... The ideal situation would be a surface pro with USB-C....... Guess I'll have to wait for SP5.

Probably not. The usb port on the surface pro is not designed for display port out.

I think the Surface Dock should have had a USB-C port for Continuum. (One dock to rule them all.)

Gadgets app is not detecting the continuum dock or any of my accessories.

I had the old app pinned to my start, then it updated this morning. Did you happen to have the same?

Until the latest update my 950xl wouldn't connect to my Samsung 2015 version tv via wireless and was flaky to my 2014 65" Samsung. After patching and using the "Try to fix my wireless connections" every thing seems to just work. So much better experience now via wireless.

Need to have dock to use Continuum takes away the real use of continuum. It should be just plug & play.

I imagine it is if you use usb to hdmi.

Here in India, Amazon has screwed up big time, I did not get display dock free even while pre ordering product. I had called up Amazon guys and they said they have recieved a lot of complaints from other users too. Been wondering how can they allow a seller to be part of it. In fact even Microsoft should ytake a note and pull up the Amazon. As a vendor partner they should have accountability. If they will not give me a free dock as promised, I will return the product and not buy 950XL at all. I have to wait till tuesday for their inputs.

Hinging an entire purchase on limited supply item...?

The display dock is mini work of art it feels and works like a boss...

WHEN will the Display Dock ordered on Sat after release of the 950 SL be sent out? Many folks say that they have received their item. Where is mine??? I really doubt that I am alone.

Well it would be fantastic if I could get my CML directly from the Microsoft store online , I'm looking to get the XL version

I did the update and the firmware update fixed the resolution on my monitors. Both my HP and Acer 21.5" 1080p native monitors were only displaying at 720p through Continuum on firmware 3.0. With 4.0, they are now correctly displaying at 1080p. (This wasn't an issue on my 48" 1080p TV prior, only my monitors).

Any one know how to get sound from tv instead of phone

07JAN16 my dock is waiting for me at home. i got my 950Xl on the 15th of December and used the Offers app that night to order mine. First order of business is to update it and then I can't wait to bring it to work to show my 3 coworkers how it all works.
Windows Central Newsletter
Thank you for signing up to Windows Central. You will receive a verification email shortly.
There was a problem. Please refresh the page and try again.