Microsoft rolls out fresh batch of fixes for Fall Creators Update PCs
By Dan Thorp-Lancaster last updated
PCs still on the Fall Creators Update are in for a new batch of fixes.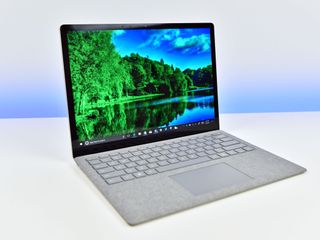 Microsoft is rolling out another cumulative update for PCs still on the Fall Creators Update. This comes just under two weeks since May's Patch Tuesday release, and it follows similar updates released for Creators and Anniversary Update PCs last week.
Today's update is labeled as KB4103714 (build 16299.461) and it packs a long list of fixes. Here's what's included (via Neowin):
Addresses additional issues with updated time zone information.
Addresses an issue that causes Internet Explorer dialogs on a second monitor to also appear on the primary monitor when using extended display.
Addresses an issue with Microsoft Edge browser windows in remote sessions.
Addresses a reliability issue in .NET applications when using a Japanese IME in a textbox.
Addresses a reliability issue that may cause Microsoft Edge or other applications to stop responding when you create a new audio endpoint while audio or video playback is starting.
Addresses an issue with Bluetooth devices failing to receive data after a restart.
Addresses an issue that can prevent the touch keyboard from showing up reliably in some instances.
Addresses an issue where UWP apps that store local crash dumps in their local app data folders can't be cleared using Disk Cleanup or StorageSense. In these cases, LocalDumps isn't enabled.
Addresses an issue that prevents adding performance counters to the Performance Monitor on systems with many processors.
Addresses an issue that causes BitLocker to go into recovery mode when updates are applied.
Addresses an issue where expired VPN certificates aren't deleted, slowing application performance.
Addresses an issue that causes sporadic authentication issues when using Windows Authentication Manager.
Addresses an issue that causes client applications that use Windows Authentication Manager to stop working when making a request to the server.
Addresses an issue with the invalidation of the Windows Authentication Manager token cache.
Addresses an issue that cause a timeout error when a VPN tries to disconnect from a device that is in the Connected Standby state.
Provides an explicit error when plugins fail to connect to prevent timeouts.
Addresses an issue where running the DiskShadow utility after adding a persistent memory controller causes RetrieveAllVirtualMachinesComponentsMetadata() to stop responding.
Addresses an issue that causes a VM to throw an error after creating the VM with static memory. This occurs when you enable HYPER-V and disable NUMA in the BIOS on a physical machine that has more than 64 logical processors. The error is "The data is invalid. (0x8007000D)", and the VM fails to start.
Addresses an issue that occurs when multiple processes are limited by rate, using job objects. This can cause various symptoms including, but not limited to, system-process CPU spikes, interrupt-time CPU spikes, high privileged time on some CPUs, and increased system or processor queue lengths.
Addresses an issue that causes docker builds to fail with the error message "hcsshim::ImportLayer failed in Win32: The system cannot find the path specified."
Addresses an issue in which Windows 10 clients that authenticate to 802.1x WLAN access points fail to apply Group Policy permissions, run scripts, or retrieve roaming profiles at user logon. This occurs because Kerberos authentication fails for \domain\sysvol, \domain\netlogon, and other DFS paths.
Addresses an issue in a RemoteApp session that causes clicking in the foreground window to become unresponsive when using grouped windows.
Addresses an issue in a RemoteApp session that may result in a black screen when maximizing an application on a secondary monitor.
Addresses an issue with application association in the DISM tool.
Adds support to Microsoft Edge and Internet Explorer 11 for the SameSite cookie web standard. For more details about SameSite cookies, see our recently published blog post.
There aren't any known issues with this release, so that's good news. If you're still running a PC on the Fall Creators Update, this release should be available via Windows Update now. Alternatively, you can pick up the fixes above by manually downloading the patch from the Microsoft Update Catalog.
Dan Thorp-Lancaster is the Editor in Chief for Windows Central. He began working with Windows Central as a news writer in 2014 and is obsessed with tech of all sorts. You can follow Dan on Twitter @DthorpL and Instagram @heyitsdtl. Got a hot tip? Send it to daniel.thorp-lancaster@futurenet.com.
Also with a fresh batch of broken computers.

Which update is the one that's getting a lot people angry because they end up having to install Windows 10 from scratch? I want to avoid it

there are some people have problem with 1803/17134.
Not sure anyone having to reinstall it from scratch Maybe rollback but not from scratch. this is for 1709/16299 FCU

"Some people"? Go to /r/Windows10 and see the mess. But it's fine as long as we're getting new fonts in regedit and /u/jenmsft has also shown us some cool clipboard tricks. Who wants QA anyway.

Just don't use Avast until they can fix whatever they broke on the computers that are affected. We've updated hundreds of computers (with inhouse AV-solutions) and none have had any problems.

I had to reinstall from scratch due to the language pack bug, but only 1803 no rolling back to 1709 and thankfully I haven't had any major issues since.

If you are getting 2018-04 Cumulative Update for Windows 10 Version 1709 for x64-based Systems (KB4093112) - Error 0x80070002. You will get wrecked when updating to the April Update..... It also ruins any chance of restoring your PC from any of the options available. A fresh install is the only way out...

A lot of these problems also exist in 1803. Good to see Microsoft is not fixing ****.

We want april 2018 update fixes, not the fall creators update fixes!

yeah they are not fixing 1803 issue my pc brightness stucks on max not only me many users are facing this but Microsoft is not responding

fix display driver issue in 1803 update brightness stucks on max fix 1803 not 1709

Try 'calibrate display' via search on taskbar.

I believe that's only for colour calibration and not brightness.

I believe MS still hasn't figured out what caused some of the 1803 issues. It should be top priority, even if its pushing out smaller patches Imo.

How about Microsoft start fixing ALL the issues they caused with 1803 instead of fixing non issues in 1709!!!!!!

Considering the number of issues W10 had at release that are still hanging about today, I think we'll have a few years to wait before the latest batch reach the top of the list.

I still can't install 1803 on my Alienware 13R3. But the failed initial attempt to update broke my IR camera. I guess nothing done about that yet.
Windows Central Newsletter
Get the best of Windows Central in in your inbox, every day!
Thank you for signing up to Windows Central. You will receive a verification email shortly.
There was a problem. Please refresh the page and try again.