Microsoft rolls out Windows 10 Cumulative Update 14393.953 to production for PC and Mobile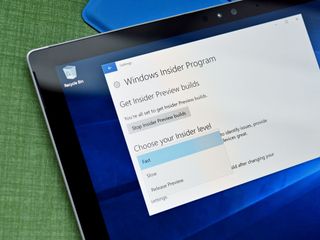 (Image credit: Windows Central)
After skipping Patch Tuesday last month, Microsoft is today rolling out a huge new Cumulative Update for Windows 10 that includes both patches that were originally scheduled for February and new ones for March. The update in question brings the Anniversary Update build number to 14393.953 on both PC and Mobile.
This update is not rolling out for Insiders running Redstone 2. The update in question is called KB4013429. Here's the changelog:
Addressed known issue called out in KB3213986. Users may experience delays while running 3D rendering apps with multiple monitors.
Addressed issue in KB3213986 where the Cluster Service may not start automatically on the first reboot after applying the update.
Addressed issue where the Active Directory Administrative Center (ADAC) crashes when attempting to modify any attribute of any user account in Active Directory.
Addressed issue where the Japanese Input Method Editor is leaking graphics device interface resources, which causes windows to disappear or only partially render after typing approximately 100 sentences.
Addressed an issue which improves the reliability of Enable-ClusterS2D PowerShell cmdlet.
Addressed an issue where the Virtual Machine Management Service (Vmms.exe) may crash during a live migration of virtual machines.
Improved the bandwidth of SSD/NVMe drives available to application workloads during S2D rebuild operations.
Addressed issue where Work Folders clients get duplicate files (sync conflict files) when Work Folders is configured using Group Policy.
Addressed an issue where Remote Desktop Servers crash with a Stop 0x27 in RxSelectAndSwitchPagingFileObject when RDP clients connect and utilize redirected drives, printers, or removable USB drives
Addressed issue where adjusting the Windows Server Update Services settings using the Group Policy feature causes downloads to fail.
Addressed issue to hard code Microsoft's first-party provider registry key values.
Addressed issue that causes the System Preparation (Sysprep) tool to fail.
Addressed issue that causes Office 2016 profile corruption when used with User Experience Virtualization (UE-V) roaming.
Addressed issue that causes the Local Security Authority Subsystem Service to become unresponsive after upgrading the OS.
Addressed issue that causes the Local Security Authority Subsystem Service to fail when a SAP® application uses Transport Layer Security authentication.
Addressed issue where sequencing large registries using the Application Virtualization 5.1 Sequencer results in missing registry keys in the final package.
Addressed issue that fails to retain the sort order of names in a contact list after a device restarts when using the Japanese language.
Addressed issue that causes transactions to fail because of a memory shortage.
Addressed issue that allows files that are forbidden by the security zone setting to be opened in Internet Explorer.
Addressed issue that causes Internet Explorer 11 to fail after installing KB3175443.
Addressed issue that causes applications that use the VBScript engine to fail after applying KB3185319.
Addressed issue that occurs in Internet Explorer when the CSS float style is set to "center" in a webpage.
Addressed issue that occurs whenever the multipath IO attempts to log I/O statistics with no paths present.
Addressed issue that causes a 32-bit static route added by a VPN solution to fail, which prevents users from establishing a connection through the VPN.
Addressed issue that may decrease performance by up to 50% when Ethernet adapters that support receive side scaling (RSS) fail to re-enable RSS after a fault or system upgrade.
Addressed issue to allow wildcards in the Allowed list field for the Point and Print Restrictions Group Policy.
Addressed issue with multipath I/O failure that can lead to data corruption or application failures.
Addressed issue that can lead to system failure when removing a multipath IO ID_ENTRY.
Addressed issue that occurs when a Network Driver Interface Specification function NdisMFreeSharedMemory() is not called at the correct Interrupt Request Level.
Addressed issue to utilize the proper service vault for Azure Backup integration.
Addressed issue where SQL server takes 30 minutes to shut down on machines with a lot of RAM (>2TB).
Addressed additional issues with updated time zone information, Internet Explorer, file server and clustering, wireless networking, Map apps, mobile upgrades for IoT, display rendering, USB 2.0 safe removal, multimedia, Direct3D, Microsoft Edge, enterprise security, Windows Server Update Services, storage networking, Remote Desktop, clustering, Windows Hyper-V, and Credential Guard.
Security updates to Microsoft Edge, Internet Explorer, Microsoft Graphics Component, Internet Information Services, Windows SMB Server, Microsoft Windows PDF Library, Windows kernel-mode drivers, Microsoft Uniscribe, the Windows kernel, DirectShow, the Windows OS, and Windows Hyper-V.
After skipping a month of updates due to some issues, Microsoft is back in full force providing new security patches to Windows 10 with this March 2017 Patch Tuesday release. Stay tuned to Windows Central for more.
Windows Central Newsletter
Get the best of Windows Central in your inbox, every day!
Zac Bowden is a Senior Editor at Windows Central. Bringing you exclusive coverage into the world of Windows on PCs, tablets, phones, and more. Also an avid collector of rare Microsoft prototype devices! Keep in touch on Twitter: @zacbowden.
Woohoo! Monthy patches!!!

I just need a Live tile fix, hope it's included. Its annoying that they aren't updating. Especially Groove music and Calendar apps.

I am suffering the Groove one on mobile, we shall see if this fixes it. Not on desktop though, as I don't use the app because they don't seem to care for us who store all our music library in a NAS...

It is nice to know that I am not the only one in this situation. I've tried so many fixes. Fortunately, my music library is only about 10-15 GB and what I finally did was sync it to my OneDrive. The added bonus is that I can sign into Groove at work using my personal Microsoft Account and listen to it there. But still... NAS support would be nice.

can't you just map the NAS to Windows and add it to Groove that way? what's actually the issue stopping you from using NAS with Groove?

Exactly, that's the way to add your files to Groove. Map the network path.

People like to complain and blame MS for all their tech ills......a simple BING search would have given them all they need to know.

Not seeing that issue on either pro, home or mobile skews of W10 so the OS itself can update tiles fine. Makes me think there's a back end issue somewhere causing issue for people, possibly location (server) based? Possibly just some accounts? If that's the case, the solution will not likely be linked to a client OS update.

Well tiles are updating fine also on my desktop PC, but not on my Lumia 930. I did a hard reset after updating to Windows 10 mobile but it didn't fix tiles for mentioned apps. Tiles update themselves only when I resize them.

I had this issue before with Outlook Calendar and Mail tiles . Only a WDRT fixes this issue.Hard reset is of no help.

I have this issue on Lumia 650 and I won't do a hard reset just because Microsoft still didn't fix it.

Delete your back up and star fresh.

Sure worth trying that if nothing else seems to be working, but from how most users make it sound it's not even worth enabling backups because you can never use them lol. I have had good experience w/ backups in the past personally - I agree to try it where a specific issue has been mentioned in a builds release notes, or as a last resort if issues are there that shouldn't be

I have both a 950XL and a 930 on W10 without this issue in the UK, which is why I was thinking not an OS bug. Sounds from previous poster as if your phone may have got itself very confused. Looks like you'll need to take steps beyond waiting for an update though. Annoying as heck.

It works on 950 XL. I make a reset by USB cable and Windows recovery program.
I make such reset after some updates, works better.

I've had the same problem since the beginning of the Fall on my 735. I've done a hard reset and cleared my account info a bunch of times. Nothing fixes it. This issue was reported by the hundreds on the Feedback Hub was the top item for months. Looks like they've cleared them out though, probably because this build is supposed to fix it.

I'm not seeing that. But I am having issues of Groove never playing the first song I select but it will play it when I go back to it on a second attempt.

Exact same issue. Won't play first song and will.move on to the second song. A manually swipe back and a few seconds later the first song will play. This is one of the bugs I complained about on another article that the OS and its major components just dont get fixed. I hate Apple, but this would be fixed in a week on Apple. Here with this new OS crap on Microsoft, and this an issue almost a year later. Do they really think this is acceptable???

its possible its not a common issue. i use groove all the time and have never seen that issue. just because it happens to you doesn't mean it happens to everyone. if it was only happening to a small portion of people and you were using an apple product, it'd probably take just as long to fix. at least microsoft even gives you a venue to report bugs like this that has some transparency. better than what i've heard where apple will remove entire pages of people complaining about bugs on forums.

Microsoft doesnt remove the pages...they just Mark the issue as "solved".

i don't know what you're talking about now. i can't tell if you're trying to say they just mark it as solved when its not? otherwise, i don't see what the complaint is. its quite possible they did solve the issue for most people and don't realize its still an issue. so you leave feedback again. still better than pretending bugs don't exist at all, because we can't tarnish apple's reputation.

Go look. There are thousands of issues the mark as "solved" after giving some generic "fresh install" solution, followed by pages after pages of people yelling that did nothing and the issue is still there.

Yea, you have to admit it is a very common feature. Anyone who's used the Answers forums knows this. Sometimes they do try and are helpful. I'd like to say you have a 50/50 chance, but it may be more 70/30.

Me 2 having issue of mail app not syncing and live tile not updating

Before this last fast ring build, that hard resetting fixes the issue as was stated in that build article. I was having problems with it taking forever to load and never loading at all. So looked for different players. It's an option or look for a different player. I use perfect music and music hd to download my music to my phone as well as the app.

A recent Insiders build addressed live tile problems for Calendar (and perhaps others), so it's possible you'll have to wait for the Creators Update.

You'll be happy to know it's completely fixed on Fast Ring so once the creators update is released to the public it's fixed. Not long now

I'll believe it when I see it 😄 thanks..

I hear about this issue a lot here. Feel quite lucky that I've not had the problem on my phone, only the WC live tile (based on the apps I actually use daily) seems to have an outdated tile, but AFAIK that is a bug in the app according to what I've read here.

Never had issues with the Groove and Calendar tiles, but News and Sports are frequently outdated on desktop as well as mobile.

Installing while i am in the shower

Zac's advice: "always prepare a hot tub to relax your body while you install windows updates"

especially when you try to open this link https://onedrive.live.com/win8personalsettingsprivacy/

I know right! The apps are launching really quickly now.

This update adds a little teaser for the Creators Update in the Windows Update settings.

There is a mention that the Creators Update is coming soon, also a link to this page: https://go.microsoft.com/fwlink/?linkid=841849

what's the size of the update?

For me, it was around 50 MB.

Good good! I came back to say that my estimate was for Mobile. :)

lol I completely forgot that the update is available for pc

How do you see the size of the update?

You have to check for updates from a cellular connection. Then it will tell you the size of the update with a download button

I updated to RS2 Fast. I couldn't stand the glitchfest that was Production .693

Downloading to Lumia 650.

Only 56 mb?? Means no much changes?

56 mb is a lot of code changes man!

L950XL Finland.. Odd, this really seems faster .. Snappier. Happy..

Haven't updated yet, but in thecurrent build I'm getting a warning about slow battery charge and suggesting me to use an original charger. I *am* using the original charger. This didn't happen before.

This seldom happens to me too when I connect my Lumia 640XL to the PC. It tells me that the charge is slow and the PC can't recognize the phone. A reboot of the phone solves the issue

I get the same and don't understand why. It doesn't happen everytime. And even when I do connect a low amperage charger I don't always get it.

finally, I was so much sick of the complain of not change very second, on my phone, it was really annoying.

Cool, downloading it now! Totally forgot that it is Patch Tuesday.

KB Link: https://support.microsoft.com/en-us/help/4013429/windows-10-update-kb4013429

Your link to the change log isn't working for me. FWI...

Wonder what dirty sh*t they'll be hiding in this big cumulative update...think I'll wait for the changelog before installing it, just in case.

you realize if they were going to do something "dirty" that they don't necessarily have to include it in the changelog. plus you'll have to take the update at some point in the future no matter what. also, what "dirty" things have they done in the past to give you this reaction to begin with?

Ah yes, good idea. Wait until they post the changelog that states, "this is a bad update." Because that will avoid any problems.

Can anyone tell me if this fixes for mobile the thing where you need to unlock the phone for Cortana to play music?

Is that a fix that's supposed to come? That could just be related to not allowing an app to run while the phone is locked which is a security feature. I feel like that's not necessarily a bug.

Well, it should come sooner than later. First, playing music is no security breach at all. And second, it's really no use if you are driving your car and can't ask Cortana to play music because you need to manually unlock it (not recommended at all while driving), or have your phone in your pocket while listening through headphones and ask it to play a certain song, what's Cortana good for if you need to take your phone out of the pocket and touch the screen? It worked perfectly until a couple of production updates. Then this insane feature appeared. If it's not a bug, they're insane and taking a lot of functionality that's reasonably expected from Cortana. Ie, if you can't use Cortana while driving, it's a failure.

Playing music isn't a security breach, but Cortana has no way of knowing which apps are safe to open or not. I highly doubt third-party developers would be glad to hear about Microsoft giving special treatment to Groove. Then people will be asking for it for Pandora, etc etc. It shouldn't be done piecemeal like that. They need to either build a permission set where the app asks for permission to be allowed to open behind the lock screen OR they need to build a feature for the user to determine which apps are allowed. But I am extremely against the concept of solely giving it to one app.

It already was working like that before! Again, if you can't play music without touching your phone, Cortana is a joke. Period.

It may have been closed due to security concerns of certain apps being able to be opened, like maybe through the share functionality. At the very least, it would allow anyone to see your contact list, at the very worst, maybe it would allow certain apps to be fully opened. Again, this isn't due to a function of Cortana. It's that its generally a security feature to not allow anyone who gets your phone access to it's data if its locked. You can play music with Cortana without touching your phone, just not when its locked. You're asking them to break the whole concept of "locking." You realize that, right? Even Google didn't allow it by default and you have to turn on a bunch of settings to even allow it to respond to your voice while locked and it has a bunch of warnings about security.
Edit: Autocorrect

On the one hand they're promoting Cortana as a voice activated assistant. On the other hand they offer advanced biometric security systems in phones like my 950 XL. What they're doing is make these two things clash with each other. I want to keep my phone safe, but I want to use Cortana in my car without having to manually unlock it. Cortana has let you ask her to play music since the days of 8.1, and that's the way I've been using it until this changed. You mention safety and "the concept of locking". In that light, tell me how it makes sense that it lets you send messages, call your contacts, have complete access your calendar appointments!, ask her your name, and probably many other Cortana features which could be considered as true security breaches...but you can't play your MUSIC. Microsoft must have a way to differentiate between apps that play music from other apps, I assume they do because of their behaviour. So I don't think it's an excuse. As I said, this either makes locking your phone useless or Cortana not being really useful.

You're wrong on almost all accounts. You're right that you can send a text message from behind the lock screen (though, to be fair, you can stop Cortana from responding behind the lock screen if you really wanted). Cortana *still* lets you ask her to play music. The only thing that's changed is the security. Cortana cannot manipulate any apps in the background while locked. You're wrong that there's full access to contacts. The moment you try to browse contacts through cortana while the phone is locked, it asks you to unlock the device. Same for access to calendar appointments. Plus you can turn that off independent of turning off Cortana as well. You can ask for your name, I'll give you that. Considering putting ID info on the lock screen is considered a security feature, I don't see this as being terrible, plus you can always have her not refer to you by name. But in any case, Cortana doesn't open *any* apps behind the lock screen. So your whole last paragraph is wrong. Name one app that opens from behind the lock screen and I'll probably still be able to tell you why you're wrong. Turboronin has the right idea. The feature he requested would work. I never got it working right in Android, but it's an interesting idea. It would solve the headphones issue if you're using bluetooth headphones at least. Every other phone acts this way unless they added a feature that I've already described. Trusted devices or a new permission set. None of them were able to just magically notice music apps and let them work without requiring permission from the user.

Dunno, guys, I have no idea how to solve this. I just haven't been listening to music in my car for some months due to this. I find it very inconvenient, it's a step backwards for me to have to choose music and press play on my phone before I start driving, like I used to do with my Nokia 5800, unable to change tracks or ask for a song spontaneously and without stopping the car. I'd like to think that with today's technology and engineering we're beyond these useability issues.

I completely agree with you, and this new "feature" is irritating. I added a feedback entry suggesting to have the phone automatically unlock and stay unlocked when paired with known Bluetooth devices; it does not solve your walking with headphones scenario, but in any case here it is: https://aka.ms/Swkjlw

This is actually a good idea, much better than fdruid's. I can't get it working in Android (could just be Asus though that's messing with it as its not stock Android), but its an actual implementation that solves the problem in an intelligent way.

I was thinking that today. My car bluetooth is a safe device, it requires authorization, it's not like I'm connecting to random devices (though I still don't see what the security breach is to play Groove Music). This should whitelist it at least. But as you say, you still can't use it with headphones. Thanks for reading and for adding feedback.

Sadly I can't see your feedback entry because of my system's language. There's another silly Windows quirk... *sigh*

Can anyone tell me if it fixes where Cortana only uses 2/3 of our Windows Phone screens or is this only for iOS and Android?

Wait, seriously? Someone doesn't understand you so you do nothing to clarify at all? Damn. Brilliant. You must be the master of communications wherever you work. I'm sure everyone loves having discussions with you.

Yes, yes I am. Thank you.

gotcha. you weren't actually looking for an answer to your original question. you just wanted to cry. understood.

No crying. Just listening to you preach, Father.

I wish they will fix the apps comapatibility,ex,apps that we used to download and run on win8.1m are missing in the win10m store

i can see a bunch of wp8.1 apps in the store.

Well, it's so "huge" that it took 60 MB on mobile and 268 MB on PC :-D

60 MB is pretty big for patch update.

Actually all previous monthly updates for mobile had hundreds of MBs.

Theres nothing coming up on mobile 📱, is it for those who are not insiders ?? :)) im fast ring. :)

its for those on production ring or not insiders at all.

Downloaded and installed, but stuck on the Blue Window after the restart on 735. Been sitting that way for over 10 minutes. Did the same thing last update. I held power button until it rebooted and then all was fine. I think I'll give this a little longer then probably do it again.

Also available for HoloLens

Installed! Hey am I the only one that feels like a kid in a candy store when Windows puts out new updates?

Especially after the drought on updates for the last month? I was giddy when I saw Windows Update downloading today!

Why does it now say "some settings are managed by my organization"? This isn't a corporate phone, never was set up as one, and isnt logged into one.

Any idea what the hell this is about? Just a other of the thousands of glitches?

I do not like how it sounds. What device you have?

950XL. I'm use to this. Get an update, fix one glitch and recieve ten more.

I have the same, is after one restart or force shutdown back in place? If not, pull the battery out and see if anything is ok. I do not want to updatr if this is a real issue.

So no one knows what part of my phone settings has been changed and/or taken over and by whom after this update? Windows 10 Mobile should be crisp, snappy, ans near flawless after this much time. Instead it is two steps forward three steps back everything I turn around.

the problem was plaguing the insider rings for awhile, but they fixed it in one of the last couple updates. they did say that not to worry about it and that it wasn't actually locking anything down. can't say for certain whether this is the same scenario or not.
Edit: So, it appeared on my phone and after I restarted once it went away. So, dunno what that's about. Don't know if that's such a huge bug as it appeared mostly aesthetic. Can't see why you'd think that would outweigh every single fix that was in the build. Odd priorities maybe?

That means nothing, just ignore it. They fixed it on insider builds few weeks ago I think.

I thought the idea of insiders was to iron this stuff out so we dont have to deal with it on production?

no. insiders is for the next update. they're working on a different build entirely. its possible for a bug to pop up. this one goes away after a restart. maybe they figured it's best to push it out now since its aesthetic and not hold everyone up for another month?

Same here and the stupid status bar won't go away either at the top of my phone

This Patch would be the last for RS1 non-insiders ☺

Actually, there will be plenty more. Although CU will most likely be released on 11 April, that's still Patch Tuesday and most people won't be upgrading on that day. I had a few systems that took months beyond the AU release before they finally got it. And then, Microsoft will still be updating AU well beyond next month.

You are correct at some point. But i was talking about those users who will update the CU instead of Tuesday patch ..

Yeah. I do hope that CU is available on next Patch Tuesday, although I suspect most "zero day updaters" will have to download the CU ISO and manually install it. I know that's what I will be doing!

I did the same(manually downloaded from nov '1511 ISO) from day 1 of my w10 laptop.

I read somewhere that Creator's update won't be released to mobile and PC on the same day. The mobile version will be released at least 2 weeks later.

It's MS.
Maybe they will postpone the public release for a month(s) just like they did during RS1 public release.

So, I updated to 953 earlier today, and I noticed that after rebooting and logging in, all of my applications were back up and running where I left them. I don't recall a reboot doing this before, so is this new with the update?

This is the first time it isn't even possible to update my Lumia 640. Thanks to the 60 MB update requiring 1.16 GB free space on the system disk and the system plus not uninstallable apps (!) take all but 1.1 GB the update cannot be installed. And this for a phone that's officially supported as a W10M...

So is there a way of getting around this? (I mean, except for downvoting my first comment.)

I can't help you, but I can say that I've had no issues keeping up to date on the Insiders fast ring on my L640, and I would think that would be more of an issue than regular updates.

Whenever I've faced this space thing, I go into Settings > Storage and see if there's anything that can be cleaned, purged, or moved to SD. Temp files, apps (even stock/system ones), maps data, etc. Reboot the phone and see if some space gets cleared, too. If it comes down to it, you might need to factory reset the phone and try again. That's one of the things that frustrates me with minimum system requirements. Yes, it could work on 8GB of storage for mobile (32GB for desktop), but there's really no guarantee that you'll have a full experience, including updates. It's painful.

Right, but I kind of hesitate to go through the whole factory reset thing less than a month before the Creators Update (which will likely require another factory reset). Guess I better buy another phone.

I wonder what's taking up the space. I noticed that the system usage seemed to grow with every update I got, and I wondered if there was anything I could do to purge it. After multiple reboots and cleaning up everything I could, it got manageable. Anyway, good luck. Buying another phone sounds like a good plan to increase those Windows device numbers!


How come you just have 1.1GB of free space?? What is taking so much space?
I use a lumia 635, without whatsapp and messenger I have about 1.8GB of space. And even 1.1GB should be more than enough for this update. For me the update used about 550MB of space.

Well, system is 3.58 GB and "Apps & games" is 2.73 GB of which I can free some MBs but most of the apps are non-uninstallable, such as Edge (526 MB), Mail and Calendar (422 MB), Photos (141 MB), OneDrive (134 MB) and so on. The 1.1 GB free space on my 8 GB system disk is what I have after I delete everything that I can delete...

For me edge takes 97MB, mail and calendar 172MB, photos 52MB.
I would recommend clearing edge history and also deleting temperory files.
Also try limiting mails from "last month" rather than "all time"

Yes, of course. But strangely, Edge is still 477 MB after deleting all cache, history, temp files, etc. Mail and Calendar accounts are set to download messages for only 3 days (to save disk space), and remains at over 420 MB. No wonder you have more free space if my apps are 4-5x in size... :-)

Were you able to find a solution to get the size of Edge down? It would be great if other people confirmed size of microsoft Egde in their devices. I use a Lumia 635 (512MB) version with Page file mod and that reduces size of the internal memory by 768MB. Which gives me 1.8GB of space otherwise it would have been 2.6GB.

No, Edge seems to fluctuate between 477 MB and 490 MB on my Lumia 640. It's 296 MB on my wife's Alcatel IDOL 4S. Seems very strange to me.

Wow! This update install failed. Why? And what i am doing now. How to do this.

restart the computer and try again. that's been my solution for any machine that doesn't take an update the first time, regardless of OS.
Edit: *first attempt at a solution. obviously it doesn't always fix everything.

There were some problems installing updates. What's wrong with my phone?

Im seeing most people complaining about tile issues. Lumia 640 release build and she's working well "finger dyno" feels it's quicker...

I am having problem with my groove and people live tile ... Hoping this update will fix the bug

Long ago I had some tile issues did a full restore to 8.1 and deleted all my back up then a hard rest and then joined the insider ring and updated to public release level and haven't had a single issue since.

I know, your steps here are standard troubleshooting for Insiders builds. Windows phones: "Connect to Windows Device Recovery Tool. Download 1.5GB factory default image. Install and wipe phone. Install Insiders Build. Install updates." iPhone: "connect to iTunes. Download 1.5GB update. Install and wipe phone." Android: "buy a new phone with the OS version you want."

Gonna say chances are the issues gonna be operator error... Starting fresh 90% solves all issues. Just gotta make sure to delete your back up

Everyone say something like "seem faster" with each new update but it doesn't... So actually this one really seem faster, the apps open and respond better and the store take less time to load !!

Installed and not noticed any changes. I hope it makes the OS more stable, as my phone was crashing once a day for no apparent reason.

Updated 3 pcs 2 laptops and 2 phones. Busy busy busy

Why I am getting this message on my phone "some settings are managed by your organization" and how to fix it without doing a hard reset? #help

Why I am getting this message on my phone "some settings are managed by your organization" and how to fix it without doing a hard reset? #help

Hi leosky24,
Restart your device then message will hide automatically.

I did that but I think will do a hard reset

The problem I had with the last update (.726 build) still exists. The system file 'CompPkgSup.dll' is updated and this causes problems with media playback, dllhost crashes and Media player crashes. Had to yet again use the version of the file from an earlier update

Installed it while I shoveled out from the blizzard. Now to see how it is.

Weird 🙃... "Some settings are managed by your organization" WTF is that? I am the only organization! Favorites in the Photo's app Live Tile STILL missing... I've sent feedback for that too many times but they did nothing :(

I saw the "Some settings are managed by your organization" while my apps were reinstalling. After that was complete it was gone.

It was gone but remains blank space there...above Update status. https://plus.google.com/110266563258028032281/posts/Ci4w6HkaFPn

Yes sir, the blank space remains :/

Rain build fast ring 15058 pc

My new 2017 Dell XPS 15 keeps getting BSD about the power state. It would freeze and then crash a few minutes later. This update didn't fix it yet. Hopefully the next one would.

Lol come to Android like I did....Who am I kidding I miss my windows Lumia 950XL wish there was more apps. I check back every now and then. I miss my live tiles, my camera etc.

Well, we lost the copy/paste function with this update.... Actually, it was lost with the last and yet, to be updated with this or possibly the next...

I have not done this update, but I did not lose copy/paste in any update.

I switched to iPhone. The app catalog is good, though I was surprised to learn that there are a LOT of abandonware apps that crash or slow down your iPhone. Many haven't been updated in years. I HATE the iPhone UI, though. It's farking AWFUL.

Same. I was given one for work and i put my sim back in my 950 within a day. I was happy to use a couple of apps, but the reality is I only need one app, the rest I can use the browser or deal with it. I rarely touch my iPhone.

A lot of ie11 updates which is nice. They didn't forget their baby at least not on windows 10.

There were some problems installing updates. What's wrong with my phone? Plz fix this problem.

My cameras stopped working after the update! Annoying as ****! Why Windows computers can't be reliable? I am so pissed now!

I still have that extra -and useless- Microsoft-account in Calendar on my PC.

What's a Cumulative Update

increased in quantity, or force by successive additions

I got this build installed on my Lumia 640DS XL LTE and installation went very smooth. With couple of hours usage, I find this build quite fast and smooth.

Anyone got like this after update? "Some settings are managed by your organisation" what it mean? and after it became blank space above Update status. https://plus.google.com/110266563258028032281/posts/Ci4w6HkaFPn

I have the same problem, but I think I know what was the issue, after updated my phone and get that message, I went to settings the Accounts then open sync your settings and found out it needs password code verifying.. I guess next Update I will put it off...

I have the same problem, but I think I know what was the issue, after updated my phone and get that message, I went to settings the Accounts then open sync your settings and found out it needs password code verifying.. I guess next Update I will put it off...

Oh maybe..I also try that for next update! Thanks for reply :)

The update is working fine on both my L730 and L650.

I'm getting a 0x8018830f on Mobile, L950. Tried disabling encryption and deleting maps, but to no avail. Anyone have any suggestions? 😕

Worst update ever. Never had any problems before but my 950 told me that some settings are managed by my organisation yet my phone is personal. My Surface Pro 4 took over an hour to update so I thought I'd reboot again and then it became stuck on configuring updates for over an hour yet it had already done the updates! Also after updating all of my devices there was no notification in the action centre stating that updates had been installed!

Lumia 950. Having updated, browsing the Photos app is now intermittently causing my phone to crash and reboot. Hopefully this will be remedied in the next update. No other problems.

Every Mobile OS update breaks any app that uses SD as mass storage.

Yes that could be it. I keep all apps on my phone memory and music, photos and videos on the SD card. I did have a problem on my L730 when I bought a fake SD card but now it's gone. I bought my wife a L650 and put a 64GB UHS Class 3 SD card and it's running at 29 Mb/s, the phone memory is running at 30 Mb/s. I put a 128 GB UHS Class 1 card in my L650 and it's running at 13 Mb/s but I haven't had to put any apps on it. Both phones work fine.

Its not the card. Whatever the update does messes up the SD card indexing and the apps can no longer see the folders they created for their own use. FRUSTRATING. You sync 60GB of music, podcasts, tv shows, and movies through Plex and Groover and they are all unaccssable after the next OS update.

Update completely broken on Surface Pro 3!
Downloading issues and installation kept failing, Windows rolled it back automatically.
Attempted 3 times, in the end I re-installed Windows as it was stuck on the configuring updates screen for over 2 hours!!!
Not impressed!

Just completed 2 laptops and my 930 😃 all good ! Store speeded up and the 930 is slick,good update.

App opening/switching and overall navigation feels fast !
Keyboard still hangs a lot :(
And long press on back button got slow for my Lumia950...

For some reason Cortana crashes when I search or on a voice command...strange..

Multiple issues in this environment. BSOD'd i7 PC's with MEMORY_MANAGEMENT errors. i5 PC's slowed the boot times way down. Thanks for forced updates, MS!

I want my cellphone be the best on the ******* world

Nice update, except for my HP X3 - now my camera is really flakey with it sometimes refusing to open with an error message/number.

Haven't used all functions on my L950 yet, but the phone feels snappier, web browser especially.

My 950 will no longer connect to my car with audio, only voice. So I can no longer play music... Way to break half the use of my phone. I really hope they don't break the camera next. I guess it really is time to jump ship

Guys why I think that my Lumia 535 feels faster? Had they fixed something in the performance?

Can someone explain to me why the issue of the "some settings are managed by your organisation" is not taken seriously? I have posted this on the MS site, sent it through feedback hub, etc... but no solution and barely any reactions. Since the cumulative update, I am unable to use Whatsapp, Netflix, Metrotube, some Belgian banking apps and my Internet provider's apps. Probably more apps are not working but I haven't tested them all. The apps just don't launch. I have tried everything except a hard reset because I don't want to lose any data... Does somebody have an answer or solution? Am I the only one experiencing these issues? This issue is extremely frustrating and I have the impression MS just doesn't care. Whatsapp was my main communication app and I need some of my banking apps too... I'm a 950XL user by the way Thanks https://answers.microsoft.com/en-us/mobiledevices/forum/mdlumia-mdupdate...

I also have that issue on my 730 after installation, my sim one gone invalid I restated phone but after that the apps I use heavily Opera Mini, WhatsApp & most important my Asphalt 8 didn't opening I tried hard reset number of times but still same issue, I am decided to roll back 8.1 until next update because I can't live without my Asphalt 8 also I lost my 50+ bookmarks in opera mini.......hey dude if you found solution before next update please post in reply to me, if I found solution I will reply you too....

I went through my list of apps not launching and working anymore since this update and decided to stop at a certain point because the list was getting too long...
Here an overview: Whatsapp
Telegram Messenger
Netflix
World Clock
Sunset Calculator
Camscanner
Checkers 2
Chess4All
Metrotube
Proximus TV
MyProximus
Bancontact
KBC Mobile
TileArt
4411
ASUS webstorage And MS, they just don't give a f... I have been a very loyal MS user, used WP, Windows Mobile, W10M.
Been a proud owner of sole of the best Lumia Phones (800, 900, 920, 925, 930, 950XL...) and persuaded several members of the family to switch to MS, but this closes the door for me... My next phone will definitely be an Android! If this is the way MS treats its loyal customers, than f... them alltogether!

Is new mobile production build .1066 fixed issue of WhatsApp, Opera Mini, Asphalt 8 & some other apps games not opening ? Due to that I had to downgrade my phone, is that issue fixed all apps & games are now opening ?

With the production updates to my pc I have lost wifi and later usb connection details. I contacted Microsoft support, they wanted to change me a fee to find a solution. There are several complaints on both on line from users but no attempt from MS to fix.

This update has radically reduced my device. I was a very happy ATT Lumia 950 owner since Jan. of 2016 w/ 0 issues. Since the update to 14393.953 my device has lost many apps. Sticky Notes, Tube Pro, Weather Bug, stop watch etc..... Some existing apps will reinstall post update, but others as mentioned above will not. Also, any new apps I try to download from the store will not install. After which, the store says I own the app and there is only an option to press "Install", but the apps will not install. Tried a hard reset this morning and it fixes nothing. I'm very upset as I use my device constantly and now I have to be a human from 1998 again. What's going on here?

When one calls MS to describe the issue with the update, they are told there will be a charge to correct the problem. I hung up in disgust. How is it that an update forced to my device is the cause of the problem, MS sits on the solution, and I am charged for it? Is MS now Negan or something? That's ransomware wrapped up as an update.

I went through my list of apps not launching and working anymore since this update and decided to stop at a certain point because the list was getting too long...
Here an overview: Whatsapp
Telegram Messenger
Netflix
World Clock
Sunset Calculator
Camscanner
Checkers 2
Chess4All
Metrotube
Proximus TV
MyProximus
Bancontact
KBC Mobile
TileArt
4411
ASUS webstorage And MS, they just don't give a f... I have been a very loyal MS user, used WP, Windows Mobile, W10M.
Been a proud owner of sole of the best Lumia Phones (800, 900, 920, 925, 930, 950XL...) and persuaded several members of the family to switch to MS, but this closes the door for me... My next phone will definitely be an Android! If this is the way MS treats its loyal customers, than f... them alltogether!

My bluetooth is dodgy after the update, doesnt connect automatically with my fitness tracker lik eit used to, need to unpair then repair the 2 it then syncs but only once....