About 100 of Microsoft's Bing employees will now work for Uber under new deal [Update]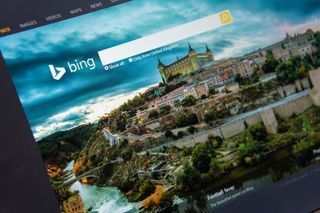 Microsoft is selling off some of its assets from its Bing division to the car-sharing service Uber. Specifically, Uber is acquiring 100 of Microsoft's employees that were involved in image and data collection from Bing, along with certain assets.
Neither company has issued statements to the press but TechCrunch reports that the deal is moving forward:
Specific financial terms of the deal were not disclosed. This news comes in the wake of last week's email that was sent by Microsoft CEO Satya Nadella to all of his company's workers, where he stated in part that Microsoft will "make some tough choices in areas where things are not working" in the near future.
Update: A Microsoft spokesperson has now sent over this official statement to Windows Central:
Update 2: An Uber spokesperson has also sent over a statement:
Source: TechCrunch
Windows Central Newsletter
Get the best of Windows Central in in your inbox, every day!
Probably both. Uber got a team that's been working on mapping for years and Microsoft presumably gets the mapping data from Uber. This is just my speculation, but I think Microsoft might want to ramp up street view, and Uber would be a great way to do it.

Yeah this seems like a really smart idea. Uber users collect tons of data as it is all over the world.

I still don't know what this means... Anyone care to help?

I think Microsoft is downsizing the maps division a notch. Not sure why. Maybe to focus on just licensing data like they do with HERE?

You are wrong, they just updated their own maps with turn by voice navigation that's actually better than HERE...if I have to guess I will say storing images of the drivers and their cars along with customers faces. Try out the maps on Windows 10 mobile cause it's pretty good.

The map app and the map data are two separate things. Of course they're writing their own map app, and I agree it's great in Windows 10. The map data though they are no longer going to be involved in at all, they'll just license that (which means that he is correct, they are downsizing the mapping division).

For all this Microsoft and uber working together the uber app still has server not found error for me.

Modern day "Slave trade" by Microsoft? I didn't understand how Microsoft is "selling" their employees. As if they can't leave Microsoft for uber at their own will.

Slave trade XD does that there was a slave trade between Nokia and Microsoft??

I guess uber is not acquiring Bing so, there's a difference between acquiring a whole company and acquiring employees.

The comparison is obvious hyperbole. These are highly paid professionals that are free to leave for other options.

Do you not understand that companies can sell off divisions? Motorola sold divisions to Nokia and Google, which Google sold to Lenovo. They're not doing a different job, their division got sold off to another company, it happens all the time.

Uber is aquiring a segment of the Here Maps group (technology, employees, and potentially patents). Similar to when Microsoft aquired the Hardware division of Nokia, except on a much smaller, more specific scale and level. THe employyes could still opt to leave, just as Nokia's employees could have. However, if they want to continue working on that paricular technology, they will have to do so at Uber.

Here Maps is not owned by Microsoft, so that part is incorrect.

Ha! Thanks for catching that, typo on my part.Meant Bing Maps.lol


Stop talking fuckery, you obviously need to read more...cause you have no clue what happens when a company gets sold!

time to call khaleesi? :D

A couple of Dragons should sort this out!

I think its for the first tym that I read Microsoft is selling its assets... Its always the other way round

Expedia (spin off), Atlas (ads platform) to Facebook, Mediaroom to Ericsson, Softimage to Avid, patents that they purchased from AOL to Facebook, Apple stock that Microsoft bought, and more. It is not common, but it happens from time to time. If you have something that you have no plans on continuing and a company makes an offer, why not sell it and make a few bucks from it?

Yes, and most recently MixRadio sale to Line which they got from Nokia deal.

Uber is a POS company. I wouldn't trust it to carry my poo. MS employees must be pissed.

nop microsoft sells and buys assets all the time that's the way they have always worked that kind of deals are normal for companies as big as msoft but i never thought Uber grew so much for the short time its on the market

Hasn't it been around since 2008.

Love uber! Still waiting on that Lyft app though...

Its not selling employees. Its just a change of employer. They can keep their jib and their salary without disruption. Only their badge will change.

Best deal is to get laid off in an acquisition. Companies like these give sweet severance packages and you get plenty of time to job hunt. Following that promotions are another good possibility.

Uber integration in Bing maps or something would be a nice addition.

Don't forget Uber integration in Cortana to book a ride.

They have allready announced integration with Outlook, so Cortana can't be far off.

Uber drivers adding real time traffic (like Waze), would be awesome.

Why not just offer Uber their "service" and have MS employees work on whatever Uber project services they've been contracted out to do?

Because Microsoft feels they don't need that division, and Uber wants it.

Phase one of tough decisions...

Uber sucks msft did a bad deal. Why sell off your assets to a company that has horrible customer service and doesn't respond to a potential driver's questions on why he isn't able to start driving due to a background check that hasn't finished yet and has taken almost two months to be completed? Posted via the Windows Central App for Android

Why would someone be able to drive before the required background check has been completed? Some crazy logic there.....

Hey Uber I just graduated with a Bsc(hons) degree in computer systems engineering, wanna employ me too? :)

Do you have a car and willing to work for free? :)

Very good. Italy just banned uber from streets. Idiots

In the UK when using private hire I always tip well.. Is a tough job they have for little reward. Uber won't get my patronage. Why should they get a cut of a hard working man's already meagre wage? Posted via the Windows Central App for Android

Well said. I feel the same way. Why should a company that doesn't have to be bound by the same laws as existing private hire companies be able to just swan into a country and take money from those companies? Private hire vehicles and drivers have to be registered with the local council, they have to pay a licence fee, the vehicles have to be MOTed at council approved test centres, twice a year for vehicles over 5 years old and the drivers pay to rent the radios and other equipment from the firm they drive for out of any money they make baring in mind that the rates they can charge are set by the local authority as well.
If Uber played by those rules I'd have more respect for them until then they're just stealing a living from hard working people.

I wouldn't be surprised urber doesn't pay enough to insure their drivers either

Uber may have (also) just bought a minority share of Nokia HERE.. Otherwise makes no sense.

Microsoft has been collecting map data for years and still hasn't come close to reproducing Google's street view. At least Bing is competent enough for web searches.

Venue maps is one thing they've been great at doing

That data comes from HERE. http://360.here.com/2015/02/18/get-inside-venue-maps-now-android/

I think MS just never committed to it in a big way. This seems like a gap you could close just by throwing money at it. Add more cars, more drivers and get more coverage.

Everyone seems to forget the stuff Microsoft has done and when... Microsoft was doing mapping technology when Google was still a research project. Go look up Microsoft Streets, Atlas, MapPoint, etc. Then look up 'Microsoft Research Maps" and TerraServer, which was the FIRST satellite mapping and imaging technology, built to demonstrate the power of MSSQL. Next look up Live Search Maps, which was in beta for a while and launched around 2005. (About the same time Google was buying their mapping technology. They bought a chunk of mapping companies in 2004/2005 if I remember right.) 2005 was also when Virtual Earth 3D was unveiled, a new 3D variation of TerraServer with new mapping data integrated from Live Search Maps.This was also when Microsoft demonstrated their 360 degree street side images, that had been in R&D and collecting data since the late 90s, even before Google's CityBlock and long before it Street View was released.
Now, there is a reason all this seems so 'Microsoft, really?', to a lot of people. When Bing was created, it rolled all the Live mapping technologies over to Bing Maps which continued to build on the technology. However, when Microsoft started to make acquisitions and mergers, like Nokia who they were going to share and merge mapping data with, they ripped out a majority of the features from Bing, without having the replacements ready. So around 2010-2011, Bing Maps was essentially gutted back down to a variation of what was Live Search Maps from 2005, with some features slowly added back in over the past 4 years. (This was a major mistake that Ballmer allowed to happen, and it also highlighted the internal problems Nokia employees had with Microsoft as they would not use the existing frameworks Bing Maps used, and took time to build their own programming interfaces to the data that didn't work with Bing and even used competing technologies.) So Microsoft was once brilliant and did great things, then Ballmer happened.. :)

Ballmer happened means disaster occurred

Well, MS seems to have a history of ripping out features from many products (google does this too). I get kind of nervous when I take a liking to a specific feature. Though in Microsoft's case they tend to do this to dumb things down and avoid confusion from casual users.

I have my own car to go anywhere in the city but if needed I prefer ola cab over uber.

All those poor Microsoft employees being forced to drive people around.

Perhaps we'll see Uber providing traffic data to Microsoft.

In my country uber is banned so i can't see any benefit from this deal

BNN.ca is reporting that Uber plans to sell traffic data to citities, and MS reason was to focus on its cloud computing. Posted via the Windows Central App for Android on my BlackBerry Passport

The Uber app doesn't even work on my phone (Lumia Icon). It gives me "there was a server error handling your request" when I try to log in.
Windows Central Newsletter
Thank you for signing up to Windows Central. You will receive a verification email shortly.
There was a problem. Please refresh the page and try again.