Microsoft sends out 150,000 HP Windows 8.1 devices to Baltimore county schools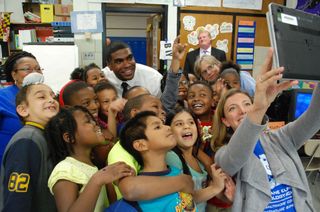 Microsoft recently announced new low-cost hardware for schools across the US, aiming to address the technological issues in the education system. Hardware is just the first step in the process after the announcement. It takes learning methods, rollout planning and initialized transformation to really make an impact to better student learning at school. Today, Microsoft has announced the start of the distribution of some devices to some of the district schools.
Superintendent Dr. Dallas Dance moves through numerous classrooms to kick off the distribution and reach a 1:1 scenario. Microsoft is working with Dr. Dance and a team of educators to execute on the Students & Teachers Accessing Tomorrow) initiative. HP and Daly Computers are partnering up with Redmond to help rollout 150,000 Elitebook 810 Revolve Windows 8.1 devices to students and teachers over the next four years. Redmond is offering Office to district students at no extra cost.
As well as other plans Microsoft has put into motion, the rollout of hardware to the district of Baltimore and provision of training will surely help bring students into 2014.
Source: TechNet (opens in new tab), via: WinBeta
Rich Edmonds is Senior Editor of PC hardware at Windows Central, covering everything related to PC components and NAS. He's been involved in technology for more than a decade and knows a thing or two about the magic inside a PC chassis. You can follow him over on Twitter at @RichEdmonds.
I am I called him Steve not iStiff

You can't spell, so you suck. You also didn't provide your area of residence, which implies you're embarrassed where you reside in addition to sucking. How long have you been sucking? Did you briefly stop sucking to post your comment, then resumed sucking?

Exactly! He's a walking dead, so be fucking careful.

The "walking dead" in man's TV and movie media, is an oxymoron: Have you seen or heard of reports of the walking dead: A rhetorical question, as we both know the answer. Since I'm a living breathing man, your comment is misguided, fantastical, and moot.

Well, how can that be if I'm commenting, again, to you and I'm making breakfast?

Tell people they suck for having bad spelling, then proceed to butcher your own post lol

He sucks for saying * Baltimore * "sux". I used his misspelled word - purposely done of course as I myself have used "Thx" in substitution to "Thanks" - as an attack vector. That should provide some clarity and context to my reply to tkdmacgeek.

Baltimore the greatest city in America ;)

Proposition Joe disagrees.

Id love to know where you are from that is so awesome! Baltimore is incredible!

Sorry, but those 810 revolves ate ugly cheap looking and a throw back to the past. Windows 8 deserves better hardware than that!

Most schools that receive donated or deeply discounted IT products usually get functional, not even mid-grade hardware. But, if it meets requirements, good for the schools & the kids.

Microsoft do something like this in India too.

I think looking at the popularity for Ms products in India... Microsoft should leave US behind and focus on India... And see the love will always increase....

Nah, India already screwed them out of one factory.

Dr Dallas Dance? Christonabike...

I know right. He's only one accident away from becoming a comic book villain.

Ive grown up and attended Baltimore County public schools my whole life. And while he just took control 2 years ago, I've met him multiple times and they guy is one of the nicest men I've ever met! Really takes a lot of pride in the county and does everything he can to better it every day!

¬_¬ and city schools are ignored once again...

Cities are in counties silly.

Baltimore City is NOT part of Baltimore county, and is much more homogeneously economically depressed.

If they wanted pawn shops to have them they would have given them to those schools.

And you'd know all about pawn shops because of all the stuff you stole to make ends meet when you couldn't make money for sucking like the other guy I rebuked.

Need to get a program like that in Ca. There's a push to a lot of cheap iPad type apps here in the schools. My wife, a teacher who today went to a technology conference for schools came back saying she may have to buy an iPad just for some of these programs as they seem to push a lot of apps on iPads. She wasn't too happy. She rocks a Surface and loves it. Plus what an additional expense.

Tell her to buy a hammer to destroy the shit bought buy those students.

In India they are providing with hp onmi tablets with discounts to engineering and management students. Can anyone tell me about this? Because every even i wanna get one. But im still completing my graduation. Can I take the advantage of the offer? Please revert

It is a US company to be fair, only reasonable to start in your own country.

So apparently you are ignoring all the comments about them doing this in India too?

HP does it again 4 years later, nek minute, reports of HP laptop exploding. I'm never paying for a HP product ever even if they were kind to give me a free laptop in the past.

I don't really know how HP is still alive. Nobody seems to care about their products anymore. I remember the days when almost everyone had HP laptops. Now I rarely see it. Not that Macs are any better.

Really? Interesting, I love my hp laptop and recommend them to about anybody. And the college I go to, I still see a lot of hp computers. I guess it just depends where you are at!

WPCentral, wake up! It's Monday guys....... Some real news please! Just kiddin lol ;) It's still Sunday in the US, isn't it?

Yep, and morning in most of it.

Love to see something like this in Philly.

And this is why Windows is by far a greater company than apple, they give back!

Probably because they want the youth of today to feel at home on Windows, in the hopes that one day, when they're older, they'll re-purchase Windows products

This is the point. Get them used to win8.1 and don't lose more and more market share

Apple cant challenge Microsoft reason is windows azure

Microsoft Azure... they renamed it...

Totally and completely agree! $150 billion in cash for a company is excessive; use it for something!

Apple has been doing this for years. Every school I went to when I was a kid was loaded with those 90s iMacs.

Those schools had to pay for them, overpay in many cases.

Microsoft really should be using surface for this but I suppose then the complete cost is on their shoulders rather than sharing it with HP.

What's good about corporate social responsibility (CSR) is that not only does it give great things, it's good PR for the companies involved. :) Microsoft and HP could use some of that, given how their brands have been viewed by some in the past (think HP scandal, Microsoft antitrust, etc.). Good that both sides were able to come together on this one :)

Great moves so that people will love Microsoft products and services,,, until the next of their generation .

Baltimore County is very well of. It's the Baltimore City that needs it most. How America continues these irrational decisions is mind boggling. Every opportunity goes to the subs - WiFi, Cable, etc. The cities are always ignored.

I'm happy to be in such a diverse city. There's a lot of potential in Baltimore.

And not one was sent to me...

I like how his Name is doctor dance and moves through different classrooms lol

I like the new aggressive but humble MS.

Alright, so a fence in Baltimore has 150,000 WP devices to move, great.

I live in Baltimore so im wondering why they only sent them to county and not the city too I'm going to guess and say the schools they gave them to score high on test

Well the one in the photo above is Church Lane Elementary.. if that is the school that recieved the new tech, I have no idea.

Donald Trump chiiling in the back XD
Windows Central Newsletter
Get the best of Windows Central in in your inbox, every day!
Thank you for signing up to Windows Central. You will receive a verification email shortly.
There was a problem. Please refresh the page and try again.