Microsoft shows how developers can add HDR image features in Windows 10 camera apps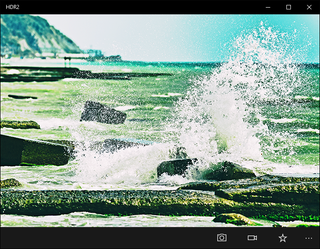 Microsoft reveals how Windows 10 UWP app developers can put in high-dynamic range (HDR) imaging features in third-party camera apps.
In a blog post, Microsoft says:
The blog post goes over some of the APIs, tools and techniques that Windows 10 app developers can use to support HDR features in camera apps, They include learning the basics of the MediaCapture API, along with using the AdvancedPhotoCapture class so that the app can capture HDR photos with a phone that supports those kinds of images. It also shows how apps can capture HDR video with the HDRVideoControl class.
Windows Central Newsletter
Get the best of Windows Central in in your inbox, every day!
HDR+Living image = awesome

Sort of related, but. I really hope that MS ensures that their cameras, in their phones, still rock. My 920 and 950xl take lovely pics. And my living image shots rock.

Maybe i'm wrong, but it seems that my l830 takes worse photos with w10m than the ones with w8.1. Have Anyone else the same impression?

Yep my 830 too now the quality of photos suck with windows 10

MS should allow us to set the third party apps as default camera app.... now that proshot is ready to arrive in the store (on 6th July mostly), I would really love to change my default camera app on my 950 :-)

As far as I know you can.
Settings>Devices>Default camera

You can switch between Microsoft-approved camera apps. :/ At least that has been the case so far.

"Microsoft approved camera apps" This is the problem, it should be a users choice to make a camera app to be their default camera if they wish to. The OS should just give that camera app a special use of RAM so it can be launched as fast as Windows Camera on W10M, together with Camera button. The Store is the one approving these apps (hopefully that the screening is good, which sadly doesnt seem to).

It's because of the security concerns that Microsoft doesn't allow unapproved third party camera apps to be set default Posted via the Windows Central App for Android

And this may affect to limit potential to have more camera apps to come on Windows Store. Yes, we have some, but I remember that the developer of ProShot is been waiting for this forever, giving a user favor to help MS open it. Seriously though, what is the major security issue making an app default? On Windows, we can set default apps with no problem, and there might be even more security concern of rogue exe apps on PC, but on W10M were users download aps from already secured enough Windows Store. It's a hassle and ridiculous that you can't choose defaults apps on W10M. Some of the W10M limitations may be th e reason why other developers arent fond on developing UWP apps, its not because of security but because of uncessary restrictions.

Exactly. But I wish we could set default apps for everything else on mobile, just like on PC. It's a bit annoying to press Foxit MobilePDF every time I open a PDF file, because my phone asks which app I want to use to open it, Edge or Foxit :D

You got two inches, You want the whole yard

Yeah, I always dream big :D You know, when you aim at the moon, the worst thing that can happen to you, is that you land between the stars :D

Land between stars, for several hundred or thousand years. :p

At least, the sight will be beautiful :D Be always positive, bro :D

Especially those majestic clouds. I would actually go further and see outside of the Milky Way to see the whole galaxy! I just have to make sure of fuel though and clearance fo any alien border authorities. :p

Well, you would be the Alien in that situation :P.

I'm afraid it may take ages for MS to bring in Panorama into their camera app... a feature which even low end Andoids have for ages :-(

Yeah the camera needs to add features asap

Dude, this post is not about Microsoft adding features to their own Camera app, but about encouraging developers to add the HDR feature to their own apps, a feature, by the way, which Microsoft themselves don't know how to use as it has always been broken since build 10586.0. Microsoft sucks badly, like, reaaaaaally badly.

my living images in Lumia 950 is not working for long time..... I turned on living image in settings but no use.... (Production build). Any solution???

Anniversary update has the ability to force it on.

Oh I miss that, glad its there then. Then while at it, they should improve or fix the logic of Living Images after.

Living images is a hit and miss on my 650. Plus the adding finishing touches goes on like forever and when i try to edit the light, it says something went wrong.

Yeah, even though the image requires that there should be a moving object on the image to make it work, it still random. The logic implemented on Living Images is really bad that causes this hit-or-miss issue. I have missed so many moments where Living Images could capture a scene or subject that is moving but it didn't. There should be just a toggle where you can just forcefully activate Living Images always. We can put large capacity MicroSD anyways, so storage isn't much of an issue.

I donno what exactly mean of uwp...there are lot of apps available on windows 10 pc but as uwp but not present in w10 mobile...e.g camera360. Which universalism is working here ??

We had the best Panorama app Photosynth but I really don't know why the Fack they removed it. We didnt want any updates. Just that app would have been useful.

They could integrate and merge Panorama and Photosynth, but that would take time though especially their pace of development and their priorities not improving existing features.

What is the point in advocating a technology Microsoft themselves can't use? The previously called Rich Capture, now HDR feature on Windows Mobile is totally broken. I myself own the 640XL and it has NEVER been able to take HDR shots with the Camera app since the upgrade to Windows 10. Microsoft doesn't really care, nor does anybody else as this bug lingers from the very first build 10586.0. I'm so fed up with Microsoft and all of their vain words. Check this thread.

HDR video? Cool. Wonder if any devices support it...

Anybody got any examples of the same photo taken with HDR on and Off with their Lumia to show how much difference it makes to a photo? When I've tried it the difference has been very subtle, but maybe I'm not taking the right kinds of pictures. To test it I took a pic of a purple post-it that's on my desk and the colours are slightly less washed out with it on, but I bet when used on the right kind of photo the effect is more obvious?
Windows Central Newsletter
Thank you for signing up to Windows Central. You will receive a verification email shortly.
There was a problem. Please refresh the page and try again.