Microsoft dives into new features in Windows 10 Maps app for phones and PC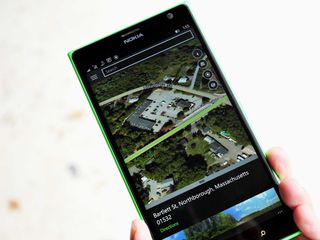 Microsoft is putting the spotlight on the maps apps it has created for Windows 10 for phones, which launched last week with the current 10051 preview build. It has also revealed some updates to the maps app made for the Windows 10 PC preview.
In addition to pinching for zooming in and out of maps in the phone app, users can also tilt the map by scrolling with two fingers. Of course, there's also a search bar which accesses Microsoft's Bing engine to help map users find what they indeed inside the app. Microsoft says:
The app offers turn-by-turn directions, with the best routes based on current traffic conditions, and maps can also be downloaded for offline use. Microsoft adds:
Microsoft has also announced that a number of cities which have been included in the Bing Maps Preview app for Windows 8.1 with 3D images, are now available to view in the Windows 10 PC preview maps app as well. There's also additional streetside panorama imagery as well.
Are you using the new Maps app for Windows 10 on phone? Let us know in comments what you think of it so far and what you would like to see next!
Source: Microsoft
The HD detail in the satellite imagery is certainly impressive.

https://windowsphone.uservoice.com/forums/101801-feature-suggestions/sug...
Everyone click on this link and vote to bring Lumia storage check beta app back on windows store

https://windowsphone.uservoice.com/forums/101801-feature-suggestions/sug...

You won't need it with Maps for Windows 10, the offline maps option will be built into the maps settings.

But the best thing in the Lumia storage check beta is how you can save the maps to the SD CARD.

Exactly what I thought! I even had to refresh GoogleMaps a couple of times just to be sure it's not me! But it just turns out that MS Maps is indeed more HD compared to existing competitors.

Why don't straight away buy here? It is way faster than developed yourself

Not really. HERE has not made a universal app for Windows 10 and they would have to start now, putting the project a few months behind. HERE simply provides some of the mapping and routing data, not the app itself.

I think Microsoft would be foolish not to acquire HERE, should it be put up for sale. 1. If Microsoft doesn't need additional mapping data, why are they licensing from Nokia at present? 2. It's about far more than just an app, for starters acquiring HERE would put Microsoft into 4 out of every 5 car manufacturers... and that's quite a foot in the door of a market in which Microsoft doesn't really exploit. 3. In a more generalised sense, it strengthens Microsoft's position as a viable alternative ecosystem/platform to that offered by the evil G.

I agree with everything you said, but an upvote simply wasn't enough.

What I read frequently at the time of the Nokia Mobile sale is that it is not only the map data, but even more impartant the Nokia map technology that is powering Microsoft Maps. I think they licence both the technology and the Navtec data, which used to be a Dutch company, but is now owned by Nokia Here. Those news stories have also repeated that Nokia was the one which didn't want to sell Here along with the rest of their mobile division, not Microsoft not wanting it. Location services are a strategic key for may other services and apps. I bet Microsoft will try to acquire it. A lot more people see the value of it nowadays, it won't be that cheap anymore.

Funny cause now they want to ger rid of it, they have'nt done anything new except to make an app for IOS and Andriod while ignoring WP and tablets/pc...some iddiot they are!

Some data? Pretty sure it provides all mapping and routing data. Who else is providing it?

They most likely didn't buy HERE because Bing Maps was already in development. Made more sense to finish it up and integrate further into Windows than deal w/ Nokia's hosted solution. Vertically integrate not depend on Nokia.

At the time Nokia did not want to sell HERE. Nokia, afaik,provides map data to MS. The development of the app itself is a minor variable.

Actually, Nokia was willing to sell HERE with their mobile division to Microsoft. It was Microsoft who at the time did not want HERE, in fact, I Nadella and Gates did not want to buy Nokia's mobile division either.

I'm glad Ballmer got his way. He has probably set MS up for a better mobile future.

It has also been reported that Nokia wanted an inordinate amount of money for HERE and that was a factor in Microsoft's decision not purchase. Now that they are attempting to divest themselves of HERE the price tag has likely come down a bit from where it was then.

I read at first Satya didn't ...but later agreed to the buying of Nokia. Also, I heard the HERE suite was too expensive. I think they should buy it just for the data at least. Also there's native apps for android/ios

Nokia was willing to sell if price was right. Ballmer was willing to buy with wrong price. Gates was not willing to buy. Nadella was not in a position to have any say on the deal.

Man there are a lot of folks with intimate knowledge of MS board deliberations, and executive thoughts and feelings. Hope you guys are not using that insight to buy stocks. I think that would be insider trading.

Nah, if our Congress is immune to insider trading laws, we are too.

I think buying HERE division actually adds to the new objective of MS - cloud first mobile first. Now that HERE maps is already available in iOS and Android platforms, with MS vision of going cross platform - Cortana getting introduced into iOS and Android platforms, it would actually be a good selling point to integrate Cortana and HERE maps in iOS & Android platforms. This way the portfolio of MS increases in comparison with at par Google. Buying HERE maps, places MS straight into Automobile division and with Cortana integrated with HERE: it adds beauty to mobile and auto division. Another missed opportunity if MS does not go forward with buying HERE...

HERE has been busy creating HD maps (leaps and bounds above anyone else, including Google) which will make autonomous driving a reality. Also one other factor which would make HERE a great buy for MS is that HERE currently uses Amazon as backend and is one of Amazons biggest customers (though also Amazon is customer of HERE). Moving backend in to Azure would be win-win for MS, less business for struggling Amazon cloud and more for Azure.

And probably they should buy the HERE Maps unit to keep this running.

Wow! Thats Amazing! Thanks MS. Its time to screw scroogle! :D


Probably better to just say time to scroogle.

Considering what a horrible experience it is to use a mobile web version of google maps (or a mobile web version of any map service for that matter), I'm going to go out on a short limb here and say there aren't that many Windows Phone users using Google Maps in the first place. ;D I'm particular to Here+. Never really understood why they didn't fold it into Bing Maps (or is it just Maps now), mainly due to the speed prompts when navigating. Don't have a secondary phone to really put the Windows Phone preview through its paces, and the lack of notifications for email was too big of a killer for me to keep it on my main phone, so I reverted back to 8.1. Definitely have moderate hopes for the new Maps though, based on the work they've done on Messanging and Email (and, the Calendar).

First fix the bugs in the update then show off your features... Idiot update 10

Dude pls don't tell me u are so dumb its beta features get added so do bugs bugs get removed later before final version , got IT GENIUS

Did you install it just so you can bitch? Either give constructive criticism or go back to 8.1 and chill.

Actually you seem like the idiot for updating and expecting a fully functional and finished OS, even though its got TECHNICAL PREVIEW written all over it *sigh*
Some people...

There's always one in every thread...

MS was very clear these would be early builds. I mean, common.

So it will be a replacement for HERE Drive?

Yes, it essentially combines Maps + Drive and adds Cortana/Bing to the mix (the Cortana stuff is still coming).

Any plans to add transit, biking or walking directions/navigation in future builds?

Those will be there as I saw a working version in January.

I love your insider reporting. I cant wait for this maps app! I use Here on Android now too (work phone) because I like the mapping better than Google Maps. Having the same mapping as a universal app will be great! =)

Agreed, This Universal App stuff is awesome. To see the handoff features in action is going to be sweet. Doing a search on your desktop and having it sycned on the ready on your phone... awesome!

I hope it's as good as HERE Transit. HERE Transit is superb in my city: by foot, by bus, by train, it does it all and it does well.

yeah but when Cortana will be in Polish language? almost 40 million country...

Hopefully public transport as well....

Oh, really. Nice, thanks. I thought I knew everything. Well, now I do.

Excellent, I always wanted Cortana in the voice directions instead of a generic robot voice.

Hope they improve all new features in all the globe and not only in US like now.

Y not buy here maps making Bing search become strong. Here will always be an asset to Microsoft.

A few time i use This app or it is Here going to test new feature

Now add Cortana-driven navigation and it will be perfect.

Goodbye Here maps, Here drive and all the Heres. Finally a single app for mapping and navigation.

I am so interested in the maps app.. Probably because the Maps we have now is so limited and without in-built voice navigation. (!!!) Will it be Cortana?

We have Here Maps, it works along with the maps app.

That would be logical. I hope they'll do this :)

New maps app in Windows 10 phone has voice navigation and even street view.

Bing Maps are desert in India. We can use only Google Maps for trusted mapping solutions.

Ok..dunno what you meant by the first line in your comment..but I have used Bing maps here in India and yes...though google maps are better..bing wasn't half as bad!

Windows 10 is looking like an awesome great deal. But I'm not sure if upgrade my Surface pro 3 or not!?!?

well you should when it's finalized, but probably not now if it's your primary machine.

You can tilt the map with two fingers on WP 8.1 too

Interesting! I like how Windows 10 is evolving many good ideas. Super nice.

Are the words technical preview familiar to you? If so don't complain, give feedback. If not don't use the TP at all.

Daniel (or anybody who knows), With the navigation part of the app, are you offered alternative routes prior to the start of your journey? Was always a bugbear of mine with the Here Drive app. Cheers

If you know how to use the drive app from Here....that will be awesome.

Why those round buttons top right? They could simply be at the bottom like all normal buttons... :/ w10 is nothing but inconsistency..

It is a Tech Preview released to get feedback. They are trying out different menu systems in order to get feedback on which ones work better and which ones are prefered more. Jesus.

What about the updates of map data, some areas do not have Cortana, so what will happen? Maybe it will be US only

... If it worked on my phone! I had no issue with any other app just maps!

Yes! Streetside is awesome and its a feature I voted on many times in the user voice page for maps on mobile. It's the only reason I use Google maps sometimes.

Now can it please give voice directions while my screen is off

There is still Here City Lens, and Here Transit to replace, if they want to eliminate Here, altogether.

Good to see a stronger commitment towards maps. I'm really hoping for music updates next, though. The current app is total garbage.

If they can integrate transit data that would be awesome. I know in 8.1 if you click on a train icon it gives you the time, but the interface is not really nice and it doesn't give you the times in both directions simultaneously. For example downtown only, but not uptown until the time expires for downtown.

Really? It was bad before, but I've been using it for the past three days straight and haven't had any issues. I think they've come a very long way with it finally being good.

I'm asking where is indirect points ???? Then it will be real navigation system.....

How is this different from Here maps?.

My guess this is Here maps integration that was mentioned for windows 10

amazing space usage ....NOT http://i.imgur.com/uKXCWP2.jpg

I love the look and new features in the " Maps " Windows 10 phone preview , but when I use turn by turn voice navigation , the " HUD " too wide down , and it was very disturbing sight on the maps . And please add settings for voice navigation

They need to dig into a few billion again to buy Here maps and go full loco. Plus I would be nice for them to add the ability to say the street name plus alternate directions

Why put app navigation so far from our thumb.?

I wish there was an easy way to get the raw imagery for my app. My app uses a special map projection and draws content with Direct3D11, so I would need the raw tiles and draw them myself (its easy to do, I have my own mapping in my Win32 programs down to 1m resolution via the USDA NAIP imagery). Trying to decipher the Bing Maps EULA is difficult!

Can anyone say if it will provide multiple routes at one time or just a single route?

It is obviously the same as Here Drive. Directions and voice are exactly the same. It has some additional features. That is all.

Exactly the same... but with more features... hmmm. FYI - Cortana will be added as well.

What really matters to a map is the map data. Not cortana or other features.

I dont really care with cortana in the maps, she will just distract you while you are driving and make the police catch you.

In the transition from WP 7.5 to WP 8 Nokia Removed Turn by turn navigation in Ecuador, it still doesn't work, MS brought it back to us Ecuadorians, f... Nokia, hurray Microsoft

Hopefully they can add the 3D views in the Windows 10 for phones, it would be a cool feature to show off.

http://az648995.vo.msecnd.net/win/2015/04/4-Maps-with-touch-city-view.jpg

Just hope its as good as the first WP 7 maps. It was soooo goood and knew small paths everywhere.... Ever since 7.5, it just went down hill!

I think HERE is great at offline Navigation but gMaps kills it in everything else. Glad to see Microsoft making it the best of both worlds by adding Bing/Cortana. They certainly have the visual appeal of their apps right, now they just gotta work on functionality...ahem Xbox Music.

Having search results sync across devices is good but I'd like to be able to push certain locations or directions (drive/transit/walk/bike) from one device to another. So I could search for directions on my PC and then push those to my phone as I'm ready to leave. That could trigger a notification on the phone & taping that would open the location/ directions where I left of on the PC. I think that would be very useful & more visible than synced search results.

No voice support and lane guidance ?

Any word on if Bing maps app will tell you what side of the road your destination is when using voice navigation? That is my biggest pet peeve with HERE...

God damn hamburger menus.

Bing Map is amazing... best map and navigation tools ever!

Is there any offline maps navigation in Bing maps?

is there a turn by turn GPS??? or is the Nokia Here still working on win 10???

Looks ugly and inconsistent with anything else.
Who the fuck places thes circular buttons top right when they can be at the bottom in the regular menu that is always used.... Hard to reach and looks bad. And why is the search bar on top?
Everything in W10 is fucking ugly omg except maybe the calculator lol

I would like MS to go for HERE. That will add more salt to their mapping experience.

How is the navigation compared to HERE Drive+?

If ti wasn't for the hamburger button, the tiny icons and the awkward placement of the controls I would've said this looks pretty okay.

Looks great, but I still think I'll use Here drive much often since it works without a data plan, I'm hoping Microsoft can add offline capability to Phone Maps in Windows 10 and I will stop using Here.

Umm it has offline in phone 10 today....

It would seem based on the article, that the new maps app does indeed support offline mapping.

I try to use it. Hope my crash data
Makes it better..

This puts a smile on my face, WP for ever! (though that dead space ticks me off a bit)

I looks fantastic, but I still don't like all the UI elements being near the top, one-handed use suffers greatly. I mean, it /looks/ amazing, but in practice it's a huge step backwards from Metro.

what about if HERE maps are bought by Google , they will pull here app from windows platform straight away , or Apple buys HERE maps. Microsoft have no choice to buy Here maps. otherwise it going to be shitty bing maps experience.

Second paragraph: "find what they indeed inside the app"?

Now update the Bing online maps experience. Why do I need two search boxes?????

If it doesn't have Asian countries (live in Japan, go to south Korea often), I call this horse manure

will they give us maps for our countries that aren't yet available ? If not then we don't care what awesome features they've included in the update

My experience is always a lot of oh's and ah's when a new chapter is written about W10, then I realize me it's mostly US related. Cortana is great, ... if you live in US, Bing is great ...if you live in US, Bing maps the same?? I hope they know the majority of MS users is not only US? When Google or ios come out with new stuf it is global, not only focused on there weakest market! I so wish I could have the same experience of integration here in Europe like the US users.

I don't know if anyone has realised this...but the inability to backspace when typing a number on the call screen sucks.If you make a mistake when typing a number to call,you'll have to erase the whole number and type it again.Microsoft should fix this.Anyway,MICROSOFT RULES.

U mean we need cursor in dialer app.

U mean we need cursor in dialer app.

I absolutely adore the street view. It has such an amazing image quality.

Ideally this could include a radio button that would allow data logging business mileage.

Will this serve as a daily driver ie literally for car navigation? At the moment I use HERE, and it's excellent for the most part although feels outdated.

Ok. It's settled. MICROSOFT: BUY HERE, NOW!!

And they still cant make that battery icon any bigger? Looks horrific... :(

We definetely need option to save the maps to SD card. Please vote for this feature: https://windowsphone.uservoice.com/forums/101801-feature-suggestions/sug... Download few countries and you have used 2 GB of of free space.

I'm not so sure that map data that Here offers isn't well down the path to being a commodity. Nokia bought Navtec for $8billion, now it might be for sale for $2B? What will map data add in the future that Microsoft can use to differentiate itself. It's might be past its prime on the life cycle curve. I'm wary its old news. 2¢. ​

So far Maps sucks. Its displayed position on the map display lags behind reality by about 10 seconds. That does not happen in Here Drive+. Also, I can not find a way to disable voice navigation. And, I can't find a way to pin locations to the Start menu. I can't change the default map app in Win Mobile 10 like i could in Win Phone 8.1, Not happy at all.
Windows Central Newsletter
Thank you for signing up to Windows Central. You will receive a verification email shortly.
There was a problem. Please refresh the page and try again.