Microsoft to shut down Bing Rewards in India just a few months after launch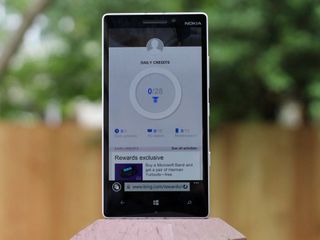 Microsoft has sent emails to Bing Rewards members in India stating it will shut down the program in that country after September 30. Microsoft started offering the program in India, which let users earn credits by using the Bing search site in exchange for e-gift cards, only a few months ago in mid-March.
The emails, as sent to Windows Central readers, said simply that after September 30, Bing Rewards members will no longer be able to claim or redeem credits. Recently, Bing Rewards subscribers in the U.S. were notified that the program was expanding and changing its name to Microsoft Rewards sometime in the next few weeks. However, the emails send to India's Bing Rewards members did not indicate any such change in the program, so it appears that Microsoft is simply ending the program in that country.
Thanks to sundawn, prajwalnn96, and shmsnh for the tips!
Windows Central Newsletter
Get the best of Windows Central in in your inbox, every day!
The rewards were small but at least let us earn points(with unique searches).

I never got the chance to register with Bing Rewards. Always shown msg its expired or rewards not available in ur region.
My primary browser is MS Edge and miss this MS Rewards

Good my free charge coupons of rs 70 and rs30 never reset after redeeming them once

I have 1200 point but no option to redeem.
#Everyone will left behind

Same here. Posted via the Windows Central App for Android

Now we know when NOT in India.....

Nadella left India himself. He must know what he is doing.

Seriously thinking to leave Windows Phone platform and switch to more inclusive Android or iOS. WP is going to gutters. How much patience will MS test? Its only the limited number of fanboys like me who were clinging on to dying WP. Now no more.

Just get yourself a cheap Android and don't look back. You owe Microsoft nothing...and they've done little as a company to warrant our ongoing support.

Already redeemed ₹50 & ₹70 freecharge coupons. Also there were no more redemption offers. I guess no indian companies were interested in Bing Rewards.

₹30* Posted via the Windows Central App for Android

Me too got recharge of 50 & 70 couple of months back but there after no redeemable coupons.

This is the real reason https://youtu.be/p0ysH2Glw5w Posted via the Windows Central App for Android

Monil d, that makes sense. I wonder if the companies didn't see the value. It seemed Microsoft did but something caused them to stop. I wonder how the deal is structured in the US, that its beneficial for MS and the sponsors.

So India gets it and loses it before it ever came to the other north American country...Canada? We better be up next

I don't know who is spreading it. I have not received any mail from Microsoft regarding Bing Rewards.

Bing Rewards Should be GLOBAL!!!!!!

No more phones to india no more bing rewards to india and we are still supporting windows 10 mobile just waiting for Feb 2017 for redstone 2 it is not that good as all are saying m also done with windows mobile ☹

'where there's no profit, there's no clinging on to it' policy of msft.

Except when buying unprofitable websites for 20 billion $.

Be nice they let other countries have a go at it. UK been over looked again but then nearly 2 months later still waiting for my 950xl to get the firmware update for double tap so not much hope in getting bing rewards

I just said I wish to be living in US or India to get access to Bing Rewards days ago, but now...

Ha ha ha. I told you so it was going to be a waste of time.
Windows Central Newsletter
Thank you for signing up to Windows Central. You will receive a verification email shortly.
There was a problem. Please refresh the page and try again.