Microsoft shuts down Cortana search hacks with Microsoft Edge restriction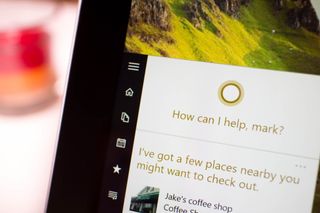 As Microsoft continues to expand the functionality of Cortana on Windows 10, the company has turned its attention to shutting down certain types of hacks that could impact with the way the digital assistant is intended to work.
Specifically, Microsoft says Cortana searches will now only open in Microsoft Edge. This is to prevent certain hacks that allowed users to change Cortana's default search engine by using other browsers — potentially hindering the company's intended search experience. Microsoft explains:
As Microsoft points out, this only applies to Cortana searches. You can still set your own default search engine and browser of choice in Windows 10. Cortana, however, will now default to Microsoft Edge and Bing for a unified experience.
Dan Thorp-Lancaster is the Editor in Chief for Windows Central. He began working with Windows Central as a news writer in 2014 and is obsessed with tech of all sorts. You can follow Dan on Twitter @DthorpL and Instagram @heyitsdtl. Got a hot tip? Send it to daniel.thorp-lancaster@futurenet.com.
It is also called Bullsh**!!! Aproved by me!

Yeah, sure, let's allow all those ask.com and other bs plugins hijack Cortana too. Boron. Send from Bikini Bottom via my ShellPhone 950 XL

The thing is I want to use the search engine I want.
Don't know, maybe add a check box to redirect to your default browser, but don't force it on users.

You can use other engine, but not with Cortana! Can you change the engine behind Siri or Google Now? No.

That was one of the reasons I used the Cortana bar in my taskbar for my searchs: quick access to DuckDuckGo, in the Firefox browser. Some thing that Cortana had but Siri and Google Now lacked.

well the extra thing cortana has that google now and siri lack is that it's used on pc :3

You can enable address bar on the taskbar for search, with your preferred search engine.

And what? Can we use siri or google now on windows 19? No, so bo point in ur comment.. Loser

Are you in the superfastring? Posted via the Windows Central App for Android

It's Microsoft, there needs to be whining.

I'm not 100% sure, but I think Bing is the default engine for Siri, but users can manually change it to Google without a hack.

So you are saying that you don't want extra features over the competition?

Being able to use the browser you want is hardly unreasonable either. What was wrong with how it is now?

Apparently, Microsoft wants to force Edge on us. Or simply cause the hacks to redirect searches won't work on Edge.

I think it has to do with the hacks.

Why can't I play Xbox games on my PS4.....oh Microsoft :)

Xbox games on ps4... wait, sony doesn't support it Posted via the Windows Central App for Android

Nope, just on you. I'm still using Cortana on Netscape with askjeeves. Soooo much better

Cortana uses Bing not just for searches. Hacking the engine breaks Cortana in many ways. Cortana is Microsoft's product and they get to decide what it can and cannot do. Use whatever search engine you want on your browser. Posted from Bikini Bottom via my Pineapple PineBook XPS 13"

It wasn't really a hack. If Cortana didn't found something for you, it opens your browser in Bing. The browser simply takes the Bing search request and sends it back to your search engine. So Cortana still uses Bing internally, but any web search sent to the browser opens in your search engine.

Have to make the Bing division look good, right? There's a reason why Microsoft's search advertising revenue increased by $538 million or 55% last quarter. All those default referrals from Cortana and Edge.

That's a really poor excuse. Edge is a terrible browser, I don't want my searches redirected to Edge. I want them on my default browser. Bing is not much better, would rather have DDG or Google

Maybe you can use the Netscape Navigator and Hotbot combination. Lol

Can I get "Ok, Google" to use Bing?

Why would you want to do that?

The same question applies to Cortana. If Bing works for someone, why would they use another search engine for Microsoft's personal assistant and why should Microsoft allow it?

Bing sucks in Australia, that's why.

I can think of plenty of reasons. I use Bing even when I use Chrome.

I truly prefer the way Bing displays results

Well.use chrome nd google now if that's what you want

First of all, boron! Is an app error. Second. I did not get exactly: What you said you wanna suck? Aproved by me!

Your momma's *******. Posted from Bikini Bottom via my Pineapple PineBook XPS 13"

Wel, i can't let you do that, but i let you do my father;)! Aproved by me!

Sorry, removing choice is bad. My browser Firefox. I don't want to see Edge open on my PC for any reason.

Then you're free not to use Cortana for web searches and do it the way you did it before Cortana. Case closed.

The issue is Microsoft not giving users a choice, everyone should see this as a bad thing, you use bing, i use chrome so why cant we select which app it uses. As it stands i simply will not use Cortana for web searches, which is a pitty as it would be quicker to do so.

Why should they give people a choice? How much did you pay for W10 and Cortana?

Where does this sense of entitlement come from when you are using a product supplied to you by a company for nothing?

Dude, if Microsoft is removing it, there must be a pretty good reason why. If it's a laggy POS when users decide to use Cortana with Yahoo and Opera, Obviously users are gonna ***** about why it isn't working perfect. Plus Cortana isn't optimized for other browsers and other browsers don't care about making Cortana work on theirs. Choice is good, but once it starts impacting the end user experience, there's not much benefit, is there?

Since google is most used and MS knows it they are trying to force ppl to use that bing **** instead

You are really brainless wow... if you don't want to use bing then don't use cortana, simple as that. but of course you will cry and talk stupid crap because it seems, by looking at your comments, that's all you know how to do, brainless stupid crap on few words on comments. Next time stop complaining, buy a brain, and then understand that Microsoft doesn't owe you anything, especially when you probablly got Win10 for free, also, Cortana is their product and they do the best for the company because it's their right by owning Cortana, so if you want to use cortana, then use bing, if not, go away and stop showing how brainless you are.

You realize you just did a lot more complaining than he did? But please, continue to shill.

You're right, he totally did. And what's with all the negative ratings on this one article? Every comment has like -6 to -8 ratings on it. Its like a bunch of 5th graders in here....


Just press the like button multiple times. You'll change the future:))). Aproved by me!

Microsoft shills and employees, that's why.

Yeah, I can't believe all the shills in the industry. They're amount our colleagues. They imitate our friends. There could be a shill in this very room. You could be a shill, *I* could be a shill, in fact, they're could EVEN be a-

actually Internet explores is still used by 54% of all computers i think? well Chromes is rising but believe me when i get the option on edge to have my own background i am quiting chrome for good :3

I use Cortana, Bing and Edge everyday on my SP3 and it is all awesome. All links into my phone too.....so simple, so easy, so works together!

cortana is cool on PC but a disaster on WM10. i miss the 8.1 cortana, which was silky smooth in performance and tries to keep the UI dark and doesnt blind me with white light.

Edge is the way forward. It keeps getting better with age. Chrome started good but went down hill. Posted via the Windows Central App for Android

I wouldn't call it a hack !!!

You are ignoring the fact that Cortana can potentially have a lot of personal information about the user... I would NOT want anything be able to do a Man in the Middle-attack between Cortana and the results. Better keep this closed down. Sent from my Windows 10 PC.

this will upset plenty of people lmao

i don't think so, they have option to use the browser

I guess, but in that case Cortana will lose have of its purpose for that user

Cortana is a Microsoft service built around other Microsoft services, like Bing. I don't go to Google.com and get mad that it doesn't give me Bing search results, so I'm not sure why anyone would be upset that they can't force Cortana to give them anything other than Bing results.

then you don't know people ;) -Don't get wrong I couldn't care less-

I want to know why I can't play my PlayStation games on my Xbox?

Did you install the compatibility DLC? :D

Because you didn't join the Insider Program on PS4 xD

So what's your opinion on Microsoft forcing those Bing results to be viewed in Edge?

Its telemetry data they want

Nah...most people on iPhone, for instance, have no idea that Bing is the default for giving them results when they use Siri. They don't notice a drop off in results, because there isn't any.

I love it that I know that. I catch people saying, "Oh you use Bing?! That search engine sucks!" Only to laugh at their response when I tell them Siri uses Bing.

I love it that I know that. I catch people saying, "Oh you use Bing?! That search engine sucks!" Only to laugh at their response when I tell them Siri uses Bing.

Users on iPhone don't care about what goes under the hood, this is why the bought the least costumizable phone on the market. The want the phone to just work without any other tweaking.

i am mostly upset at google for not allowing me to acces some things on MS sites from chrome and just takes hours to load and gets the page not exist while on other broswers except chrome it exists xD

Nice. Don't let those hacks be "alive". Microsoft is investing a lot on this.

Hello darkness my old friend...

Don't Cortana searches open in the default browser anyway?

Yes, but the default brower isn't always Edge (mine is Maxthon for example). Now it won't open in the default one, it will open only in Edge. Posted via the WC App for W10M on Lumia 730

Well that sounds like a great way to stop people using Cortana for web searches o_O

Not just pretty much for me. For me it's more like: Totally!

Yes, agreed. I use Bing, but I also use Firefox as my primary and default browser. If Cortana searches open Edge instead, I won't use Cortana for web searches. Which is a shame.

Exactly! I use Chrome, with Bing as the default search provider. I have had nothing but bad experiences with Edge. If Cortana launches Edge I won't use Cortana, end of story. I have no problem with Bing, it's Edge I can't stand. Many websites are completely unusable on my Surface if I use Edge, but are smooth as silk when I use Chrome.

Which it seems that's gonna happen to other people who use Cortana with their preferred browser. Everybody isn't convinced enough to use Edge and this is not the way to do it. This might just turn them sour and not to use at all. Sent from Turing Machine

Y'all are giving the general public too much credit. Nobody will really care but the enthusiasts. Probably a lower percentage than amount of sheep that would have been hijacked and wondered why Cortana had changed.

The general public won't realize or care that their searches open in a completely different browser than the one they specifically chose for a reason?

Well the general public when it wants to do a web search has already the web broswer on +5 tabs of it doing its search like a human being instead of tapping the start button or saying hey cortana xD

Haven't you played Halo 5? Cortana did indeed change

Only for zealots. Most won't care.

Yep, only MS zealots will keep using Cortana. The rest will move on.

I'm just more impressed someone else knows about Maxthon. Definitely my one of 2 favourite browsers! Posted via the Windows Central App for Android

Oh yeah for sure, I'd switch to edge mostly for the integration but I just can't leave my trusty Maxthon, too many features I rely on! :)

Doesn't Cortana know how to open specific search page in default browser?

does this mean you have to use edge and bing to utilize all windows 10 can do for you?

as we type i was just trying to decide between edge or chrome for default. looks lik its edge.

gonna stick with Firefox, for me. I'll search with the integrated feature, and keep Cortana searches for local files.
Or create a even better hack that would interrupt all calls to the Edge browser executable and redirect it to the default browser.

would someone walk me through setup. I stated over lastnight and I dont know what to do anymore with all i read... hp notebook win 10

It's only something I have in mind for now.

What do you want to setup exactly?

when i first got this laptop i stopped it from goig to the store and downloading the apps it needed.( i didnt know anybetter. ive had xp and never had a smart phone) so i upgraded to 10 a month ago and last night restarted my pc saving personal files and that it. i have a list in a folder on esktop of apps deleted. they look important. I want to be able to manage from one spot I need to know also if i should use my aol email for microsft account and outlook acount??? I just need somone to tell me what to do cause i want to build on a solid foundation...

First thing you want to do is setup your Microsoft account. You can use any email address that you want. If it's easier for you, create a new Outlook account using the same name you had for your AOL account. What desktop apps are in your folder? Chances are if you never used them and they aren't from MS then they aren't that vital.

@gabriel72, best use the forums. Easier to keep track of responses.

ha, like a POS like Firefox?

@gabriel72 Edge isn't too bad of a browser. It has a few rough spots but it's very fast and the biggest issue it has, like lack of ad-block which makes some websites run poorly, is easily rectified by something like MVP Hosts or waiting for the incoming extensions.

MVP Hosts... Perfect for blocking ads in Windows Store apps. Even if I use it, almost all the ads in my browser aren't blocked. So I still have adblock in it.

MVP works for me on most of the sites I visit, Windows Central included, but each site is different so I imagine people's mileage may vary.

Shhhhhhhh. Don't say it. Maybe the fact of visiting less than reliable websites doesn't help either...

yea :/ well addblock that and a background option the only things i miss from edge and why i dont use :p
but extensions are coming lets cross our fingers in fighting of the ads :D

Eh, makes sense. They aren't taking away the ability to use other search engines or browsers completely but Cortana is really tightly integrated with MS services, especially Edge, and they use a lot of the data they get from her to improve their offerings. Can't really call it anti-competitive either because Google and whoever are free to port their own virtual assistants to the desktop to compete.

They will never be as integrated into the system than Cortana is.

Honestly, they shouldn't be as deeply integrated since that is asking for trouble but for voice search of the web and desktop, I don't see why someone couldn't use an alternative. At the end of the day, it's still Windows, there are usually ways around everything.

Not anti-competitive, but anti-consumer, since it eliminates user choice. I use Cortana and Bing. I don't use Edge as my default browser, though I use it sometimes.

You can still use a different browser, just not for search results that come from Cortana. You can still use whatever you want as your default. You can still search from that default. I doubt that Edge is so bad that people's eyes are going to explode if the search results open up in that browser.

Except it doesn't eliminate user choice. They can always use something else to search and they can always use another browser - this doesn't set Edge as the system default - they just aren't letting you do it through Cortana which, guess what, they don't have to. Someone who really cares will simply use another program for their searches, it's nowhere near as big a deal as you are making it out to be and, for sure, the average consumer is highly unlikely to notice or care as long as they get the results they want.

I don't understand. I had the choice for my Cortana web searches to open up in my default browser. It no longer will. How is that not eliminating choice? I use Bing as my search enginge, so all of my searches still went through Bing, just not in Edge. Why are people keep saying the average consumer won't notice this? Seems like the average consumer is not using Edge, so they will notice their searches opening in a different browser. Some people seem to go along with anything Microsoft does.

So Siri and Google Now are also anti-consumer? Not a single AI allows this kind of behavior, why should Microsoft.

Your only defense seems to be "but Siri and Google Now". I don't use Siri and Google Now, so whatever they do is irrelevent. The funny thing is, I use Bing. When I do a search through Cortana, it does a Bing search in Firefox. I don't want to be forced to use Edge. Why are you so against this scenario? Microsoft is still getting their data from my searches through Bing. I'm a consumer. Removing this choice that Microsoft previously gave is anti-consumer.

Because edge works with cortana. Edge is connected with Cortana. Is that hard to understand this?

All Cortana does is redirect to Bing for a web search. I'm using Bing in the other browser. Microsoft is still getting data from me. What's so hard to understand?

Google blocks MS sites xD
At least i cant acces some MS sites from Chrome -_-

Fortunately YES!!! Finally.

I think it was a smart move. Edge isn't that bad

Not sure about that. There are people who love using Cortana with their own preferred browsers and its configured search engine. This move might even force not to use Cortana at all. Edge isn't that bad if they manage to make it rock solid, less glitchy, and works reliably. Edge issues isn't really because it doesn't have extensions, its because how it tends to behaves at times. Sent from Turing Machine

I don't think the anti-Edge/Bing zealots are as numerous as you might think. I'd love to see the numbers of people who actively go in to change Siri's default from Bing to Google. No one I know even KNEW that Siri used Bing.

I don't really care about the zealots as they will always hate Edge or Bing as much as they want (unless something introduced that they cannot hate on). This is about that some people who are genuinely like to use or liking to use Cortana with their preferred browsers. Having an option to use Cortana with their browser is a win-win, it helps people to use rely on Cortana more while Edge just needs to prove itself. In my case I use Cortana as often but my default web browser is Firefox (I'm currently thinking about using Vivaldi), and unfortuantely I can't use Edge because of its issues like unreliable Tab management, GPU crashing and some sites causing Edge to freeze or restart tab, etc. About Siri, aside from the question of how many people still use it on iPhone since Apple doesn't do anything much exciting about Siri at the moment. Bing is doing fine on Siri and they manage to make it work very well, heck its kinda better implementation than W10M showing clunkier Bing web page on Cortana. Thing is, having an good and balanced option for Cortana is an advantage among other assistants. Yes Siri and Google Now don't have an option while the latter which I don't think will ever have option, but doesn't mean Cortana have to follow the flock. Since Cortana have better chances to be used alot by billions of users, having an option to let use their default web browser would be better approach for most users and avoid having surprises that when they use Cortana, it launches the browser they don't use.

Been using Vivaldi for about a fortnight already ... kinda nice.

Well cortana can search apps on store, your music, photos, everything you have on your pc, can do commands set up many things via voic commands written ones or the buttons and the only thing that changed is that your search will open on MS Edge wow that will really make people not use her at ALL xD these stuff are boring compared to the things cortana does :3.

This is crap. Pure Microsoft evil. Even Google Now works with Bing. /endSarcasm

And let the piss fest begin. Lmao. Posted via the Windows Central App for Android

Oh boy. Another blog post from firefox chief expected?? They were the first to announce they were using this hack.

Workaround in context has become "hack". Thank Lifehacker for that.

Users, wake up! Just Bing it!

The users use bing. Not ms edge Posted via the Windows Central App for Android

What I want to know is why the hell can't I change the default homepage on Windows Mobile. Doesn't even let you change it to Bing, which would be perfect.

Lol & still has trouble with Wi-Fi portals

While I'm not exactly happy about it, it's understandable they would do this. Posted via the WC App for W10M on Lumia 730

Nice... Your Next step should be don't allow Chrome browser in Win10

Next step should be: block desktop apps as Windows RT does

Chrome is a dick broswer rly :P

I guess I'm too late to say, 'let the bellyaching begin'. I shouldn't be surprised people did this, but... to do it and then complain because MS stopped it, wow.

I really like this move. I have been noticing that when ever I use chrome, my PC slows down. I recently fresh install windows 10 and all is fine now. The thing is it was always fine until I install chrome. All my friends too who uses chrome, constantly have to reboot because their PCs keep freezing. Next I wish Microsoft would just ban chrome because it is not doing anything good for Windows!!! Hurry up with ad block extension Microsoft, because it's the only thing holding back Edge.

It could be either Chrome running in the background or Google's updater that's slowing down your computer. Or maybe Chrome just makes it run slower.

Chrome has been caught attempting to illegally patch system DLLs. That can also cause problems.

I've never heard of this, do you have a link to article about it? Posted via the Windows Central App for Android

https://bugs.chromium.org/p/chromium/issues/detail?id=522201#c36 http://www.windowscentral.com/google-working-fix-chrome-crashes-windows-10 Google is doing some very shady things with their 64-bit code. And taking a few too many lazy programmer shortcuts.

Chrome by default runs in the background which can be safety turn off inside the setting and I guess you can also disable startup on Task Manager too. I always do this as there is no benefit for me to run a web browser in the background. Though if your PC became noticeably slower when you have Chrome, it seems you might have bigger problem than that. Chrome doesn't make my other 3 year old laptop slower, it only takes resources when I run it. Sent from Turing Machine

I think we are much better off not using chrome. I have top specs on my laptop, so a browser cannot affect or slow down my PC by just running. It's more than that, chrome seems to be messing with the registry. For me right now I use Edge as my default browser especially for sharing files and annotating on the web and fire fox for YouTube videos and going to site that has alot of adds.

In my case, Edge still have this fundamental issue on how it handles GPU which in my laptop it cause to crash GPU after a while, even with few tabs. This is the only browser and application on that PC that causing the GPU to crash, even running demanding games runs just fine even with high settings. There is also an issue on Edge where its way too sensitive to tear tabs that even with slight drag of the tabs causing it to make new window. What's worst is that there is still a bug where the tab is lost but still running when you tear or insert the tab inside the Edge window. About that, it's still quite clunky to insert tab inside the Edge window too. It also even lacks a functionality where you can drag a link or object outside the window into the Edge tab area to make new tab. Lastly some websites don't work well on Edge that causing it to freeze or crash. Worst, maybe on related issue from Edge, it freezes the WinRT runtime that causes all other Universal/Modern apps, Start, Action Center, Cortana, and all related things became unresponsive, but everything else in the OS run just fine like the most Explorer shell and any Win32 apps. These issues that makes me not able to use Edge at all even I wanted to. Hopefully that by Anniversary Update all these things would get sorted out. I don't even use extensions alot even on Chrome and I didn't really miss having extensions when I was using Edge as the Share charm do most of the things I needed to do, which is sadly Microsoft don't have any emphasis on that OS feature and they even didn't make improvements about it on Windows 10.

Chrome is slow for me also. Only thing holding back edge is ad blocking. As soon as I can use adblock I switch Posted from an Oric-1

Every tsb of chrome is a new process its a memory hog and I uninstalled it years ago

well i have 8gb of ram on my computer and suprisingly chrome does it at least 2gb on 4 tabs xD....

Sometimes I feel like Microsoft is trying to kill Windows.

Defending own product is trying to kill it? If Cortana was made to work strictly with Bing, why Microsoft should open it to others? Can you change the Google Now engine?

At least allow it through developer mode. Antitrust here we go again.

If they allowed it through Developer Mode, malicious browsers/search engines will tell them to enable Developer Mode so that they can "improve" the user's experience. It's why Google no longer allows local extensions to load in Chrome at all; malicious sites told the user to install Chrome Developer Edition and caused the user's installation to become unstable.

My Cortana searches open in Bing, just not in Edge. Now I just won't use it for web searches anymore.

Because reading web searches in Edge causes some sort of negative reaction in you?

Being forcred to waste time switching between browsers is irritating and intollerable. This will just plumet the use of Cortana for those who don't want Edge, which is a lot of people at this moment, as Chrome's growth isn't slowing down for anyone.

We have different levels for what is "intolerable", apparently. Your conclusion relies on the presumption that people hate Edge more than they like the functionality of Cortana. I'm betting that this won't be the case for the majority. Most people just use whatever browser. I think this is a wise business decision for Microsoft. At some point, they can't just keep pumping up the competition and they have to leverage their own brands. I'm also wondering how many searches people are doing from Cortana and not from within the browser directly. In my case, I'd say less than 10% of my PC searches originate from Cortana. I use Cortana a lot, but not for that.

I forgot, this is Microsoft so any decision they make is okay. Even if it goes against user choice.


Tell me the diference to Google or Apple in this case?

Chrome has adblock extension capability. Posted via the Windows Central App for Android

I have user choice for an updated Waze on my device. Google doesn't care.

Lack of adblock causes a negative reaction to me. Posted via the Windows Central App for Android

Hey Mike! Let's go and light a cigarette and ***** about this too. We have lots of time to waste!

I have no issues with Microsoft Edge being the default browser, but forcing Bing down my throat is not done. Improve Bing, and make it a compelling alternative to Google - I know it's a tall ask, but that's the right way for Microsoft. Posted from Windows Central app, Built for Windows 10.

MSFT is not forcing BING down your throat in this case scenario, please read it clearly and I copied it from the article down here for you. "As Microsoft points out, this only applies to Cortana searches. You can still set your own default search engine and browser of choice in Windows 10. Cortana, however, will now default to Microsoft Edge and Bing for a unified experience."

Hmm, I guess I got carried away by the negativity in the preceding comments :) It's not bad, but I'm not really convinced by the reasoning Microsoft has provided. Posted from Windows Central app, Built for Windows 10.

Siri uses Bing :P yea i couldn't believe it either!

All web pages are supposed to open in your default browser, they no longer will if you do a web search through Cortana.

That's the end of the world... the caos...

as long as I keep getting my bing reward.points while using my voice, I'm all in.

No no no! I guess MS just can't go too long without a misstep in reducing freedom.

The Microsoft shills seem to support any change MS makes, even if it limits user choice. I don't use Edge as my default browser, so I'll no longer use Cortana for web searches. It's as simple as that. The funny thing is, I even use Bing for my search engine. What a stupid decision.

How has limiting user.choice worked out for Apple?

So, you want Windows to become more locked down like Apple products?

No. I want MS as is now! This situation is fine to me.
You don't like it? Move to other system... stop complaining about nothing

I'm a consumer who has purchased a lot of Microsoft products. I have a right to criticize their choices. It's called being a consumer, not a blind shill. You don't like my opinion? Then stop complaining about it and move on. See what I did there?

It isn't shilling for MS. It's looking at this fairly. I did not pay for W10. I voluntarily signed up as an Insider, a relationship of mutual benefit - I get early access to new features and MS gets feedback on its performance. It is really hard to complain about something I don't pay for when the decision from their perspective makes sense. Look at it another way. Would you work for free? And if you did, how would you feel if the product of your labour was given to a hypothetical labour market competitor of yours?


So, just bow down to any decision Microsoft makes (even if you disagree) because they gave you a free upgarde. That's not how it works.

I don't have a problem with somone putting forth a different point of view - here's what I disagree with, here's why going a different route will benefit both me and MS - but this thread is full of whining. Further, if someone supports MS's decision, they are a 'shill'. No, actually. I can only speak for me, but I try to look at things from both sides. From their perspective this makes sense, even if it doesn't work for everyone. I'm sure MS appreciates feedback, so by all means, give it to them. Ultimately, it comes down to choices. Can a consumer live with the changes or not? Is there a viable alternative or not? And on their side, does it work for us consumers modify our product? What are the consequences of our decision? Which best moves us toward where we wish to be, in development of good products, in products accepted by the consumer?

I prefer Bing at this point, but that's my preference. I don't expect MS to allow other search engines to work well with Cortana. There are too many variables to be considered and frankly, why should they? It is their product and they want it to work with their search engine only. You can still use other search engines, but they will not allow you to change it to use Cortana. On PC, this isn't such an issue, considering you can install whatever browser you want.

The AI behind Cortana needs this in order to learn.

Ahahaha bellyachers'. I think it was a good move. A move I would've expected as win10 becomes more integrated across all windows devices and services.

I Like it. Whatever search engine and browser you want to use, use it. But when you wanna use a very specialized product like Cortana, Siri or Google Now of a company, you have to follow their rule. There is no harm. choice is your. Either use their product or not. Moreover you did not pay a single penny for this product. No argument with this free service. It has developed to make your life easy not tough.

I don't mind using Bing, but I use Chrome as my default Browser (until Edge gets a little more maturity and runs as smoothly at which point I fully intend to swicth). I hardly think the browser used will have any effect at all on the functionality of Cortana.

I wouldn't have a problem with this, if Edge was complete enough (as promised almost a year ago) to let me stop using Chrome. (Compatibility with extensions, etc). For now this just means booting up Bing in Chrome instead of using Cortana for search. Too bad. Maybe MS should have finished Edge first before doing this. Oh well.

This is a tad annoying for me since I actually enjoy using Cortana to do a web search but Edge definitely isn't my default browser as I switch between Vivaldi and Chrome, this basically stops me from using it altogether which is a shame because I actually like the convenience but I have no logical reason to use Edge especially since it somehow took 10 seconds to load a web search Chrome and Vivaldi completed in 2, But still I'm sure Edge has gotten better but I mean it doesn't have a any of the extensions I use so even if I really wanted to I really can't see myself using it until that is rectified, But this is a shame I hope Microsoft rethinks this because I like the way it worked before, they even got me using bing and not hating it, I know this isn't the most popular opinion here cause to most you guys Microsoft does no evil but the thing is at least on Android search results open in whichever browser you set as default, which I thought was the most logical way to do it but I guess I was wrong. At the very least I hope Microsoft intends to get Edge in shape so I can switch I doubt that highly but hey a boy can dream can't he?

Google Now and Siri work the same way.....so guess Microsoft are following the trend. And, the integrated experience should be better.

Microsoft u have to improve big a lot in other countries.

Nice move. The payback From Windows Central App for Windows 10

They really want you to use Bing. A stupid search engine!

You think Bing is a stupid search engine? funny, I prefer Bing over google, well that's my choice, you can use whatever you like, Yahoo, Cortana, Siri are all powered Bing and you call it a stupid search engine, ask those that use the services before making stupid comment. Sent from WC app (1520) on Windows 10 Mobile

The comments on this forum makes me think that most of the users are kids and can't see the bigger picture. Do you guys want Cortana to look like a version of IE with 17383 toolbars and some crappy search engine? This is a thing that MS is forced to do so it won't happen. This with the risk of ******* off few guys that will.actually change something from the default options. To be honest I'm with MS here to.make the OS a bit more closed, this way malware will be less..

... and that's how you kill Cortana on windows PC

So I guest in a similar way Google now and Siri is dead?

I use Chrome and will continue to do so, I've yet to use Cortana at all Posted via the Windows Central App for Android

Good luck with that. We don't care lol at you :-S

I second that! Posted via the Windows Central App for Android

I would agree about limiting search engines to just bing, but why browser too ?? EU vs IE all over again

Cortana is one of the MS valuable and successful asset. It Should be protected!

It very well protected. Kept confined to just a few regions.

I prefer edge and bing, so I don't know all the complaints about. Firefox, chrome and Google are not great. Tried them and keep going back to edge and bing. I hate a non unified system. Never mind Google's security and privacy! Posted via the Windows Central App for Android

GOOOOD! I have friends who have had their computers send personal information to Ask.com from Cortana thanks to their browser choice being hijacked. I've looked for a way to lock this.

Keeping Cortana useless I see. And the browser lock is inexcusable (except to braindead wincentral drones).

Nah, it's excellent... Those browser/search-jacked computers can burn in hell imho. Sent from my Windows 10 PC.

I see the usual rush to bash MS when they take away any choice at all, especially when it comes to choices that avoid using MS services. On the one hand, I agree that more choice is good and Windows is a platform that tries to cater to that demand, even in the face of competitors that do not and dont really suffer for it. On the other hand, MS' explanation is not unreasonable here. They built Cortana around the use of Bing and they built Edge around making Cortana more useful for the web. Edge and Bing are actually very tied to the Cortana experience and so when these hacks are applied, Cortana's experience is broken. You dont get the whole experience. MS doesn't want to force you to use a different browser or search engine, but they would love to show you how the complete Cortana experience can work. If your a user that hates Bing and Edge, then you wont be using Cortana for search results. If you hate Edge, you also wont be using Cortana for search results, but you will still be able to use the default browser and search engine of your choice and you can still use Cortana for all of its other features, such as launching any app you want (this could be used with your favorite browser for example). Its a risky move for sure, alot of people online hate it when MS pushes any of its own services/experiences, but it may be worth it if it exposes enough users to Cortana functions/features that using Bing and Edge offer. I just dont see a reason to crush MS for this when they created a complete experience using these pieces to compete with companies that do the same thing. They wanted search to be more than simply opening a browser and displaying results, hence why Cortana is integrated into Edge. Ultimately, if they bring an official option to use another search engine and browser for search results, it will probably be after they have created a Cortana extention for other browsers. MS is all about bringing experiences to other platforms, so it wouldnt shock me to see them try to bring Cortana to every browser. If they can offer the same or similar Cortana experience on any browser, then it all changes.

So this means Chrometana won't work anymore? If so, then I guess I'm saying goodbye to Cortana. I already hate using Bing, but not even allowing me to use my browser of choice is too far. Good riddance. Posted via the Windows Central App for Android

People still use Chrome and Firedfox? What is this 2011?

Making it useless in a roaming profile environment as Edge doesn't function in a roaming profile.

It make sense to for bing but edge not so much

Welp, looks like I'll be using those PowerShell commands I have saved to go ahead and remove Edge and Cortana from my Google-centric PC, just like I've done with all their awful "apps". I shut off Cortana and used the search box redirected through Google and Chrome, but if I can't do than anymore, oh well. My frustration with MS's handling of WP and the lackluster syncing across services of information caused me to bolt for a Nexus and a pure Google ecosystem six months ago, and it's been great. I only use MS now to run my PC and my Xbox. Life is better when stuff actually works and is actually available.

lol... Google. Sent from my Windows 10 PC.

Laugh it up fanboy. Works for me after spending years in the half-assed MS ghetto.

Yeah, I came from there so I'll keep laughing. :) I guess you weren't around before they changed their privacy rules and ToS, were you? Back when you owned anything that you did with Google-services. ;) Back when they were not profiling you and selling everything about you.

Yeah, that's the trade off for free stuff that works. Doesn't bother me a whit. Definitely prefer that to never ready for prime time, user tested permanent-beta software that doesn't even talk to each other, or being years behind other platforms. It's ok though, I'm sure an actually usable ecostystem from MS is "coming soon".

I use things that work and don't gave to sell my soul. Works perfectly fine, every day... Synchronizing between my xbox, three computers and two phones. I think you might have gotten the wrong idea about the current state of things... Android however... Don't get me started on the horrible years I spent on that AWFUL platform. I wish my friends would stop buying them so I wouldn't have to waste so much time fixing them.

Ill be nuking them from my PC as well. No need for MS's unfinished browser or its search assistant that is how forced to use said browser. The more MS tries to tighten its fist the more inclined I am to migrate to other tech ecosystems.

"Sell my soul"? Seriously? God, the dramatic flair of the MS fan. I get it, I use to be one too until I finally had enough. So Android didn't work for you, sorry to use it. It's come a very long way since your time, especially on a Nexus. As for syncing, what finally killed it for me was after W10 being out for months, in December, Cortana still didn't know what was happenin on my Calendar. I would make a change or delete an appointment entirely, days before it was to occur; day before it WAS scheduled, Cortana is telling me it's still the old day. Hey you have an appointment tomorrow! Uh, no, I changed that DAYS ago. And this went on for months. Absolutely ridiculous they can't fix that. Don't even get me started on how long, if at all, syncing between Edge on desktop and mobile, favorites and reading list would take. But hey, when you fire most of your QC people and rely on unpaid users, that's what happens.

Cortana is one of the main reasons I dropped Windows phone. I got tired of staring at a spinning circle followed by 'I can't connect right now' whenever I did a search. On my Android phone, I get search results instead. Imagine that.

Ok Google I have found is FAR more cohesive, responsive, and informative than Cortana, especially Cortana on W10 mobile. Oh, thanks for the generic Bing search page. Oh it can tell jokes though? Who cares about such nonsense. Work for me and do what I need. Like know when I change my calendar.

and into the trash cortana goes.

Can I remove kotana? Don't be evil.... Posted via the Windows Central App for Android

Bing sucks, and now so does Cortana. Simple. One less reason to get windows 10 (of many). Posted via the Windows Central App for Android

Well if you don't want to compromise the search experience, you wouldn't have the result come up in Edge. Edge is a horrible, half-baked mess.

This doesn't sound like hacks at all.

I'll agree that this is wrong when Google allow me to use Bing as the search engine for Google Now. Why is it always one rule for Microsoft, one rule for Google?
Windows Central Newsletter
Get the best of Windows Central in in your inbox, every day!
Thank you for signing up to Windows Central. You will receive a verification email shortly.
There was a problem. Please refresh the page and try again.