Microsoft Store coming soon to Florida Mall in Orlando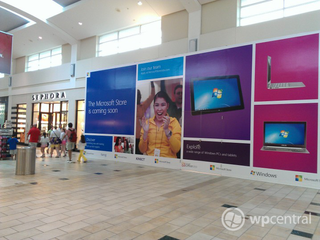 We just got word from a reader that a Microsoft Store is officially "coming soon" to the Florida Mall in Orlando, FL. This news makes the unofficial list of opening Microsoft Stores, which we previously published, look more likely to become reality. We expect the store that's currently behind the colourful set of tiles to open some time later this year to join the one that's also going up in Boston.
According to the Mall map, and if we're reading it correctly in relation to the image that was sent in to us, the Microsoft Store is set to open slap bang next to an existing Apple Store.
Thanks, Michael, for sending in the photo!
Rich Edmonds is Senior Editor of PC hardware at Windows Central, covering everything related to PC components and NAS. He's been involved in technology for more than a decade and knows a thing or two about the magic inside a PC chassis. You can follow him over on Twitter at @RichEdmonds.
I really like the idea of a Microsoft store. Microsoft has so much more to offer than Apple in relation to variety of products and software. I just hope they bring one to Oregon sometime soon.

I'm surprised Portland doesn't have one. I reside in Salem, but do all my shopping in Portland. Lloyd Center or Clackamas needs one!!!!

It is not directly next to the Apple store but pretty close. There is actually an empty spot in between. There has been a rumor floating around for some time, around the same time as the rumors of a Microsoft store started floating about. The rumor is that because that Appla store is so bust that they are going to expand into the empty store to a have a giant mega Apple store. Hopefully this doesn't come to pass, but we have been looking forward to the opening of the Microsoft store.

Yup that's great. When windows 8 & windows phone 8 comes it will be crowded. Also everytime Microsoft opens a new store they always have great entertainment. Not like apple no entertainment zzzzzzzzzzzz boring and dead just like the apps on iPhone dead. LoL...

Microsoft uses the entertainment to get people to show up and make the opening look well attended, Apple doesn't need to do this.

LOL.....I thought you were dead....
Please, welcome mr. ifanboy with need of love around MSFT sites aka SocalBrain.

Before you flame and troll me, i am a dev for Windows Phone, iOS and Android. When the day comes that windows phone has the APPS people actually use, that still arent there like flipboard, omniapps, etc etc, then you can talk. Till then what apps on the iPhone are dead? Quit being a fanboy fail troll and realize people will use what they want because of how it works. I love the windows phone simplicity and well built in integration, but thats it, thats what you get. It's lacking in the app area and so far iOS devs or Android devs have taking more intiative to learn how to code for the other platform instead of how to ADD windows phone as another platform. So, who's dead and who's getting overlooked?

So going to visit when it opens! Hopefully it'll be open in time for Win8.

Still no love outside the US.

I interviewed for a part time spot for this store over a month ago. At least they'll have a good group of candidates by the time it finally decides to open the doors.

Word? I just applied online for a few positions there last night. Did you apply online or did you apply in person and somebody called you?

They actually started the process in early April, so unfortunately you may be a little late. I also applied, and they have filled all there spots. Training is starting soon!

Wouldn't it be awesome if Ben the PC shows up and sticks up a big sign for "Smoked by Windows Phone?"... right next to the Apple Store?

Build one in Portland, OR.....geez...would make money

YES. NOT FAR! Within 30 minutes!

I really want to see what Microsoft has to offer in their store other than pricey business software, an Xbox and now Microsoft Surface.
Windows Central Newsletter
Thank you for signing up to Windows Central. You will receive a verification email shortly.
There was a problem. Please refresh the page and try again.